In this article, we will show you how to make Reels with existing video footage so you can use your prerecorded videos to create fun Reels on Instagram.
You've shot some amazing video footage already, and want to combine those clips to make Instagram Reels? Well, besides recording a new video on the reel, Instagram also allows you to make a reel from existing videos!
If you want to know how to make reels with the existing video? This article will show you the detailed steps. So, let's just move on.
Contents:
Free Templates for Your Reel Video Inspirations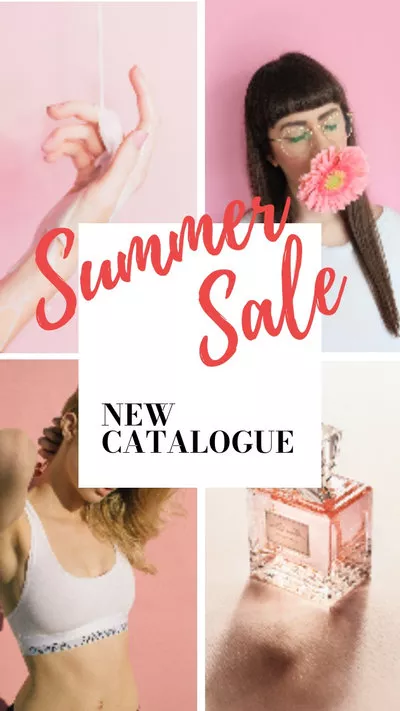 Summer Fashion Instagram Reels
Skateboard Lesson Offer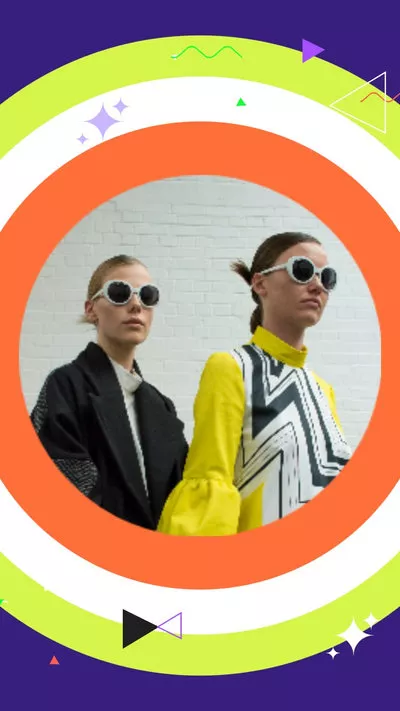 New Arrival Reels End Screen
Also Read: 5 Best Instagram Reel Maker Apps >
Part 1 How to Make Reels with Existing Video on Instagram
To make a reel on Instagram, you can simply record a new reel, or just combine several existing videos into a stunning reel video. Now follow the simple steps below to learn how to make reels with existing videos on Instagram.
Step 1
Launch the Instagram app on your iPhone or Android device.
Step 2
Tap the "+" icon at the top of your screen and select Reels.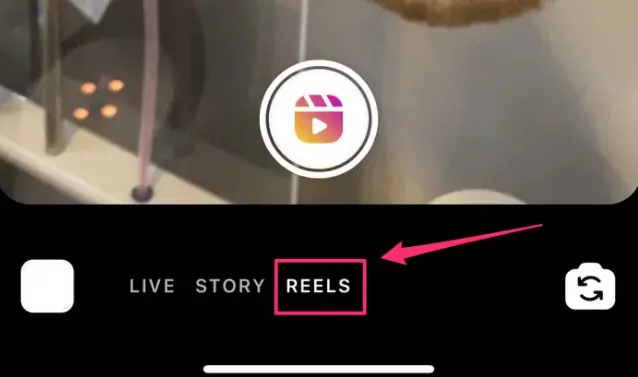 Make Reels with Existing Video on Instagram - Step 2
Step 3
Swipe up the screen to go to your camera roll and locate the prerecorded video clips you want to turn into an Instagram Reel.
Step 4
Tap the video and use the control at the bottom of the screen to trim the video as freely as you wish, and then tap the checkmark. (Here, you can repeat the step to add more clips.)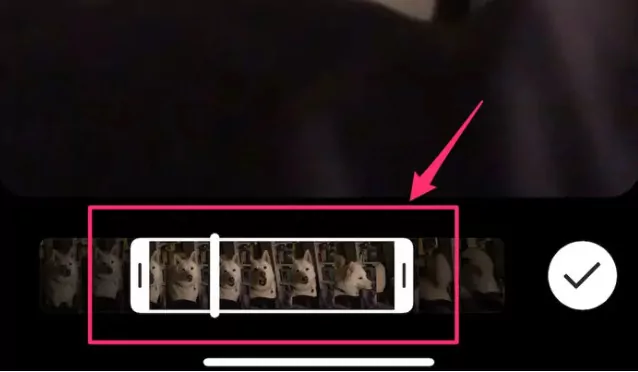 Make Reels with Existing Video on Instagram
Step 5
Edit the video to add any text, stickers, and choose a musical soundtrack, etc.
Step 6
If you're done editing, tap Next, and now you can publish the video as a Reel to your Instagram feed.
Part 2 How to Make Reels from Existing Video with FlexClip
Besides making Reels from existing videos on Instagram directly, you can also use some third-party Reel video editors, like FlexClip, to combine your prerecorded videos and photos and try to make more edits those existing footage to make an outstanding and engaging reel video.
FlexClip is a powerful yet easy video editor online, which has almost everything you'll need to make a custom video professionally. You can use it to make reels from existing videos with great ease. It allows you to add stunning effects, change video speeds, add transitions, etc.
Check the simple steps below to make Instagram reels video with existing videos and photos using FlexClip:
Step 1 Add the Existing Video to FlexClip
Go to FlexClip reels video editor to upload your existing video. Here you can drag and drop your existing footage to the Media section from your computer or scan it with your mobile phone to transfer your prerecorded videos or photos to FlexClip.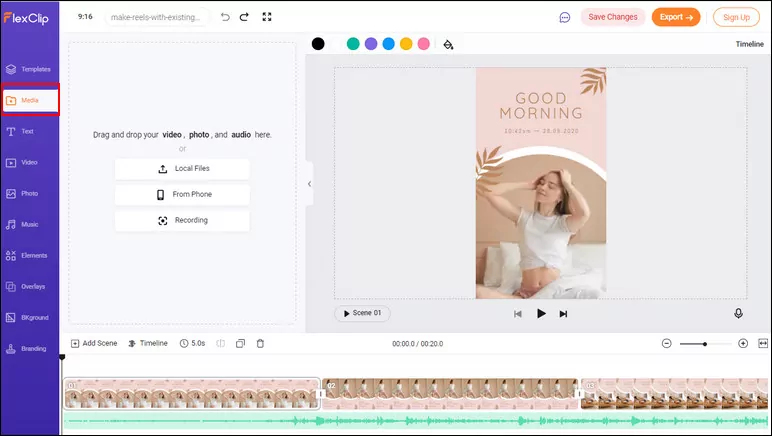 Make Reels with Existing Video Online - Upload Media
Step 2 Edit the Existing Video for Instagram Reel
Pick the proper aspect ratio of 9:16 for your Reel video, and apply the footage to the Timeline. Then you can edit the existing video or photo footage into a stunning Instagram Reel video.
You can add a title and caption to the reel video to highlight your content. Here are various creative text effects and fonts for you to choose from.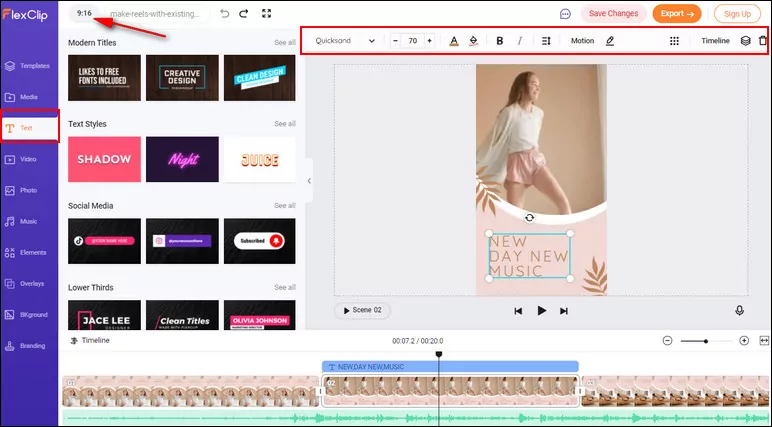 Make Reels with Existing Video Online - Add Text
To spice up your reel video, you can also add music, record voice-over, apply filter and transition effects, add funny animated elements, like emojis, stickers, creative shapes, etc.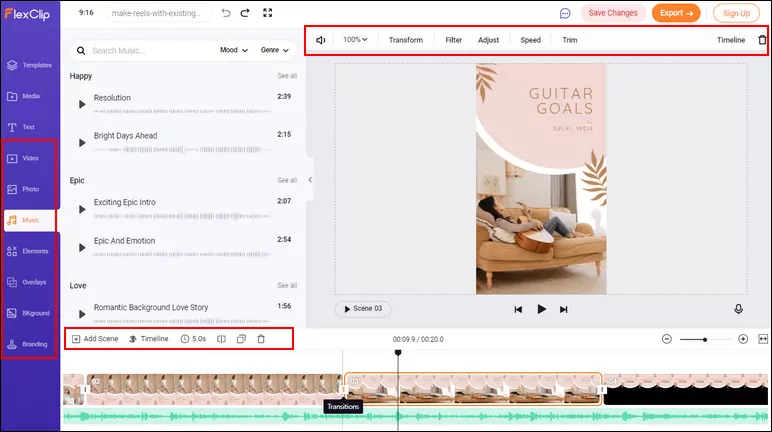 Make Reels with Existing Video Online - Make Edits
Step 3 Download the Video
Once you've done editing and are satisfied with your video, you can export your reel video in 480p, 720p, and 1080p and then post it to Instagram.
Final Words
There you have it. It's pretty easy to make a reel from existing video on Instagram and use a third-party Reels editor, FlexClip, isn't it? Now, you can try it yourself.