I saw other creators posted reversed videos on TikTok and wanted to make one of my own. How to reverse a video on TikTok?
- A user from Quora
A reversed video is a video that is played backward. After the proper reversing process, the video can give off a completely new look.
Depict video: Reversed Video
It is not hard to reverse a video since there are so many online tools. Yet, it can be more convenient if TikTok enables users to reverse videos while making. Luckily, it is possible. Here are the steps to reverse a video on TikTok.
Also Read: 8 Best Video Background Music Resources >
How to Reverse a Video on TikTok
Step 1 Download and install TikTok app on your phone. If you want to put an audio file or voice over to videos in a more flexible and much easier way, FlexClip is what you need.
Step 2 Click the "+" icon and start recording a video clip or upload a video from Camera Roll. Tap the "Check" icon.
Step 3 Press the "Effects" button on the down-right corner.
Step 4 Go to Time Effects > Reverse.
Step 5 After the change is made, hit "Save". Your video is ready to be shared.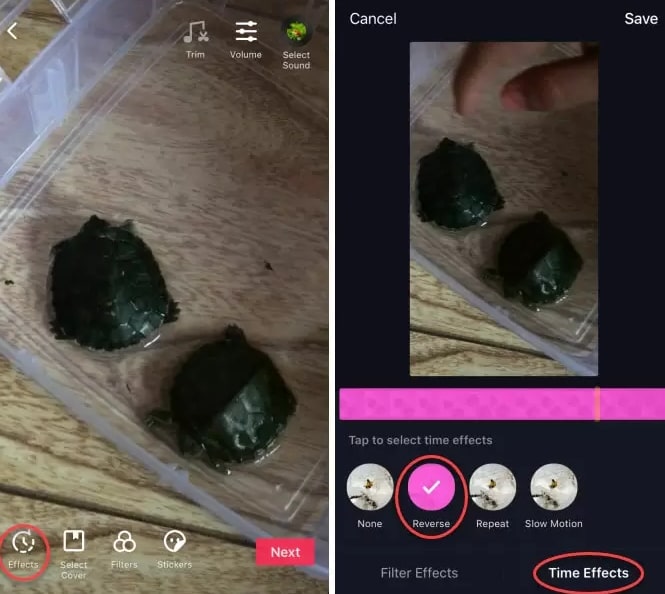 Image Board: How to Reverse a Video on TikTok
Bonus Tip: Frequently Asked As & Qs
1. How to play a video in reverse on TikTok?
No, you can't directly play a video in reverse on TikTok, but you can drag the progress bar to watch the best part of the TikTok video or follow the above steps to reverse a video clip on TikTok.
2. What if I want to save the reversed video without sharing?
After editing, you can save the script on TikTok for future use. The script will not be saved on any folders on your phone. Under this circumstance, you might try some free online tools, like Clideo, Kapwing, or EZgif to reverse video clips without sharing.
These tools are easy to use. Upload the video online, and the reversed video will be saved to your computer.
The Bottom Line
Now, you might have reversed a video on TikTok. We are working hard to discover more ideas and tips and making TikTok videos, please look forward.