Millions of youngsters upload video clips to TikTok every day. Even though TikTok has a long way to go before it becomes one of the leading video sharing platforms like YouTube, Facebook, this excellent application did arouse people's mania for 15-second videos. One of the reasons behind it is the duet feature.
By doing duet on TikTok, you can make clips featured similarly with an original one as comment or reply, with both videos appearing side by side. This kind of video has magical power. Entertaining duet videos can bring you huge fan base, and business duet videos can help you target the right customers.
Depict video: TikTok Duet Video Compilation
Here in this post, we will show you the detailed steps to make duets on TikTok on both Android and iOS phones. Check this article to become an expert in doing duet in TikTok.
How to Make Duet in TikTok
To do duet video on TikTok, you need a phone with TikTok app downloaded and a TikTok account.
Step 1 Launch TikTok, tap on the "Share" button.
Step 2 Tap on the Duet button at the bottom of the screen.
Step 3 Start recording your video. The selected video will be playing on the right side.
Step 4 If necessary, edit the video, like adding special effects, add text, etc. Click on "Next", add hashtags, type your description to the video. Share your video.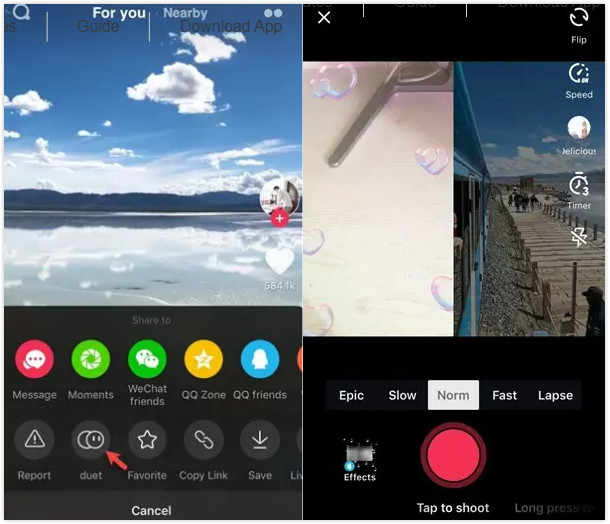 Image Board: How to Do Duet on TikTok
Frequent As & Qs about Making Duet on TikTok
Q1. What Video Can I Make Duet with?
A1. You can make a duet with any TikTok videos from a brand, celebrity, friend, or even yourself, as long as the creator allows you to use the video.
Q2. How to Disable Duet in TikTok?
A2. To disable duet in TikTok, you need to go to the Private Settings.
Head to Account Settings > Privacy and Settings > Privacy and Safety > Who Can Duet Me. From there, you can choose "Everyone", "Friends" or " OFF". The "OFF" option prevents anyone from using your video. The "Friends" option means only mutual followers can duet with your video. Choose one option catering to your needs.
Q3. How to do a Duet on TikTok with Yourself?
A3. After you have made the first video, you can do a duet on TikTok with yourself following the above process.
Q4. The Duet Button isn't There, How to Fix It?
A4. If the user is live streaming, you can't make a duet with his video. Updating TikTok, reinstallment, clearing app caches can all be helpful.
Q5. Can I Upload Duet Videos from My Gallery?
A5. Yes. You can upload duet videos from My Gallery.
Q6. Can I Make My Video Visible Only to the Person with Whom I Duet?
A6. No, your options only limit to everyone, friends only or yourself.
Note We also provide you other tips to help you make great TikTok videos, and get popular on TikTok. Please check them out.
The Bottom Line
Now, you are an expert in doing duets on TikTok. Why not make a duet as soon as possible? If you have any other problems, contact us via Facebook.