TikTok has launched a new feature - Stitch. What is stitch? How to enable stitch? How to do a stitch on TikTok? Check this post and have more fun on TikTok.
What's TikTok Stitch?
Stitch, launched on Sept. 2020, is a brand new way to collaborate with others and gain popularity by allowing users to edit and trim other people's video. Following is a stitch video example.
TikTok Stitch Video Example
Stitch and duet feature may have something in common. The duet feature enables users to create reaction videos in split-screen. The stitch video, however, is a way to add more information or reinterpret other people's video content.
Also Read: How to Do Duet on TikTok >
How to Enable TikTok Stitch
TikTok values privacy. If you are willing to let others stitch your video, that's cool! If you don't feel comfortable opening up your videos for stitching, that's fine. Let's get rid of all worries and enable TikTok stitch!
Step 1
Go to your profile, tap the three vertical dots on the corner.
Step 2
Go to Privacy > Who Can Stitch with Your Videos.
Step 3
Select Everyone, Friends or No one. Save the change.
When you stitch a video, a link to the original video will be added on the caption and users can't erase it. That makes sure all creators are given proper attribution.
How to Do a Stitch on TikTok
It is quite easy to use Stitch feature.
Step 1
Find the video you want to stitch, click on the Share button to your right.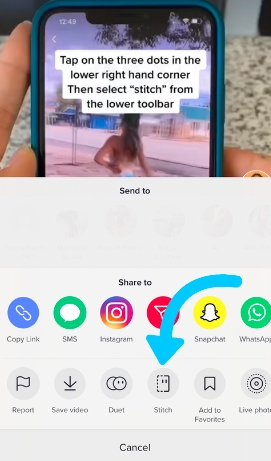 How to Stitch on TikTok
Step 3
Select a clip less than 5 seconds. Press Next.
Step 4
Click the Red dot button and start recording. If necessary, make edits on your recording, like changing video speed, adding filters.
Step 5
Edit the video as a whole. Add texts, stickers or effects you like.
Frequent As & Qs about While Using the Stitch Feature
Q1: TikTok Stitch option not showing. How to fix it?
A1: Always keep your TikTok updated. If you are on the latest version of TikTok but still have no stitch feature, please wait for a few weeks.
Q2: How to find stitches on TikTok?
A2: Can't have enough stitches of a TikTok video? Search #stitch@username. You can see all stitches of a video.
Q3: Can I stitch a video with a video from my camera roll?
A3: Currently, TikTok doesn't support this. But, there are always third-party video editing tools like FlexClip you can try! Download the TikTok video first, and then combine the downloaded video and video from your camera roll. However, make sure you give proper attributions.