This blog offers you a vivid explanation of what aspect ratio is and shows you detailed steps to change video aspect ratio. Follow us and you will find changing video aspect ratio can't be easier.
Table of Contents
What is aspect ratio
The video aspect ratio describes the proportional relationship between the width and the height. Let's say a video is 16 inches wide and 9 inches high, the video aspect ratio (the width to the height) is 16:9.
Here is the most important thing to note. The aspect ratio doesn't represent the actual width and height. That's to say, 16:9 videos don't necessarily mean a pixel size of 16*9, that would be too small.
Also Read: How to Add Music to Instagram Story >
Frequently Used Video Aspect Ratios
Different video aspect ratios fit different devices and occasions. Here are several frequently used video aspect ratios and where they have been put into use.
21:9 videos are especially designed for cinematic, super widescreen, and ultra widescreen. People, except for professional movie directors, rarely produce 21:9 videos. The pixel sizes of 21:9 videos are 2560*1080, 3440*1440, and 5120*2160.
16:9 videos are more common than 21:9 videos. Nearly 60% of videos you see every day are 16:9 videos. Instagram, YouTube, DVD videos are all in 16:9. There are lots definations for 16:9 videos, ranging from 480*320 to 7680*4320.
4:3, also called the "academic format", is for movies made before the 1950s. Now, this video aspect ratio is rarely to be used.
1:1 video is also called square video. This kind of video is usually in 720*720 or 480*480. They are usually seen in Instagram and YouTube.
9:16 video, the vertical video, are spreading across all mobile devices, especially after more and more accepting Instagram and TikTok.
Part 3. How to Change Video Aspect Ratio
Videos in a wrong aspect ratio may give audiences an overly stretched look. To fix problems led by wrong aspect ratio, here in this part, we are showing you 3 ways to change video aspect ratio easily. Please pick the easiest method and follow.
How to Use iMovie to Change Video Aspect Ratio via iMovie
iMovie is on every Mac and iOS devices. Here are two things you need to know before get started changing video aspect ratio with iMovie. First, changing video aspect ratio can only be achieved with iMovie 10 or later. Moreover, iMovie has other restrictions, like videos only in 480p, 540p, 720p, 1080p resolutions can be edited on iMovie.
Step 1
Select a project in the Project Library or click to open one showing in the Project browser.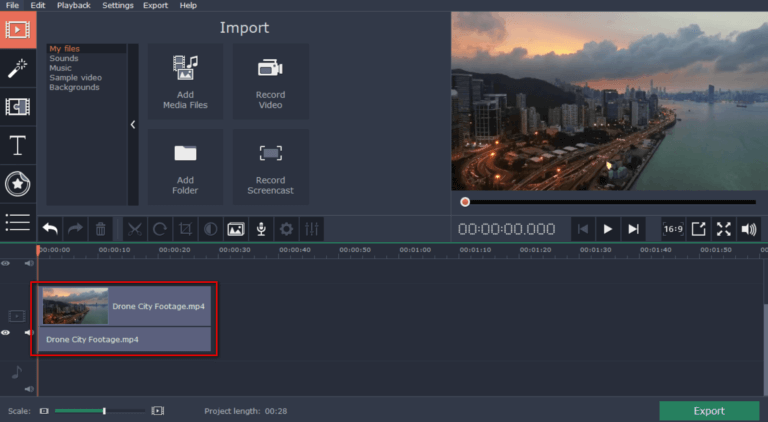 Change Video Apect Ratio on iMovie - Step 1
Step 2
Go to File > Project Properties.
Step 3
Under the option of Aspect Ratio, you can set the export video aspect ratio to either 16:9, or 4:3.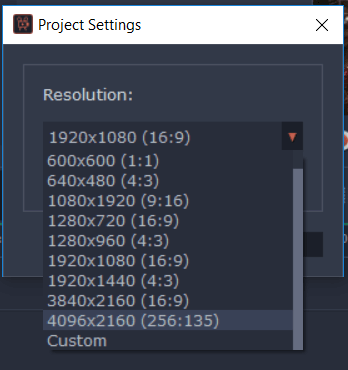 Change Video Aspect Ratio on iMovie - Step 3
Change Video Aspect Ratio with Windows Movie Maker
Windows Movie Maker is one of the default software on all Windows computer. It only provides the basic editing tools, but it can help you change video aspect ratio.
As usual, we need to name its shortcomings before the detailed steps. Windows Movie Maker crops your video while changing video aspect ratio, but it doesn't offer you good viewing, which means it may mistakenly crop out important part of your video.
Step 1
Launch Windows Movie Maker. Drag and drop your video to Windows Movie Maker, wait for it to process your video.
Step 2
Go to File > Save Movie. Scroll all the way down, find Custom Settings. Click on the Create Custom Setting.
Step 3
Here you can change the video resolution according to the aspect ratio. For example, if you want to change a video in 16:9 with resolution of 1080*720 to 9:16, you can change the settings to 360*540.
Step 4
Save the video to wherever you like.
Change Video Aspect Ratio Online without Any Restrictions
Sick of restrictions and the shortcomings of iMovie and Windows Movie Maker? Here comes the detailed steps on how to change video aspect ratio online with the help of FlexClip without any restrictions.
FlexClip is an iMovie-alike video editor with all powerful video editing features. You can change the video aspect ratio to 16:9, 4:5, 1:1, 21:9 and 9:16 in clicks. After selecting the right aspect ratio, you can zoom or drag the video to make sure there won't be any important information missing. No worry about the tedious black bars. You can fill them with colors or beautiful frames. Moreover, while exporting, no quality loss will occur.
Now, click on the Create a Video button and follow us to get started. FlexClip also provides numerous elegant templates. Check them out!
Go to the Media section, click on the Local Files icon and choose a video you want to change its aspect ratio. Drag and drop will also do. Apply to the timeline.
Change Video Aspect Ratio with FlexClip - Step 1
Step 2
Choose the right aspect ratio.
On the upper left corner, select the right aspect ratio.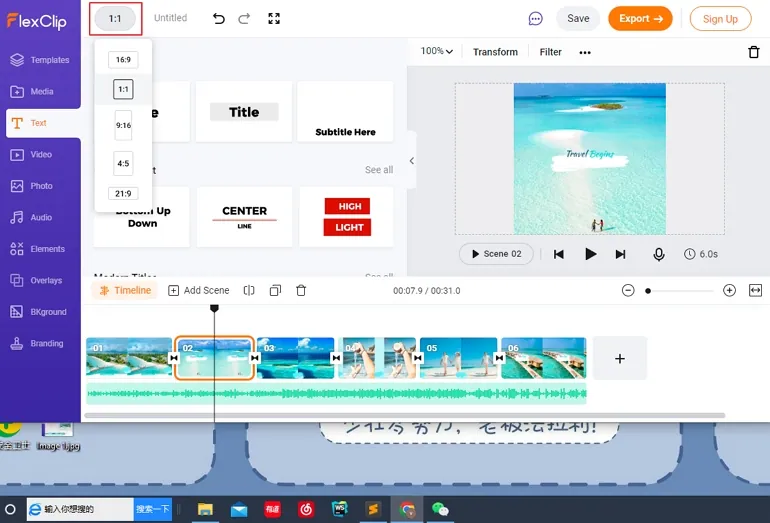 Change Video Aspect Ratio with FlexClip - Step 2
Drag the video so that no important messages are missing. If necessary, make edits like adding filters, text or adjusting colors.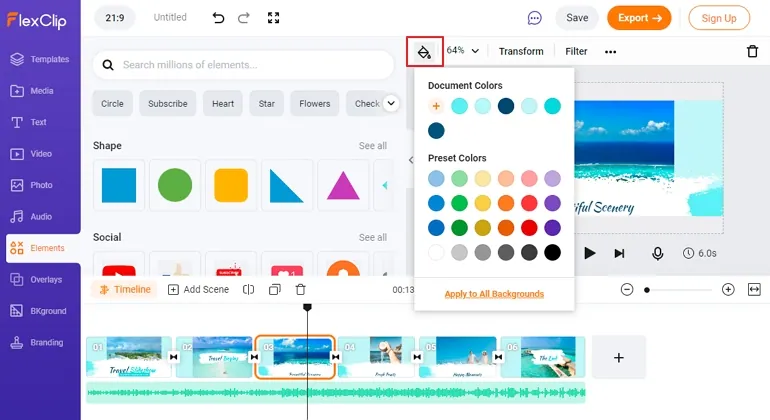 Change Video Aspect Ratio with FlexClip - Step 3
Continue editing or save your video to desktop. You can also share the video to YouTube or via short link.
The Bottom Line
That's all for 3 ways to change video aspect ratio. FlexClip, with its powerful feature, is surely a better tool to change video aspect ratio. By the way, FlexClip can also help you create many kinds of videos, like birthday video, slideshow. Do remember to give it a try!