The blog shows you the best 5 free video croppers and top 5 photo croppers, also their pros for video and photo cropping are listed to help you to meet your needs. You can make your perfect IGTV, Facebook video or other social media posts by these video croppers and photo cropping tools according to different demands. Come to try them for free!
Part 1. Best 5 Video Croppers
Part 1: Best 5 Video Croppers
Cropping videos helps you to get the perfect video size for YouTube, Instagram, Facebook and so on. What's more, Having right video size also can give the best viewing experience. So, come to check out how to crop videos easily and quickly with top 5 video croppers!
* Crop MP4 videos
* Available to change different aspect ratios
* Different exported video formats
* Video editor: more video templates, background music, effects: transition...
FlexClip is a very great online video cropper, it not only can crop your MP4, WebM, MOV video but also offers more editing features for you such as adding animated text, logo, sound effects, music, and watermark.
2 Ways to Crop Videos by FlexClip Video Cropper
1. Crop videos online by zooming in
Step 1
Upload your video to the storyboard and then select the right zooming ratio.
Step 2
Drag the video to the part you need. Save the change.
crop video online by zooming-in
Step 3
Save your adjustments and exported the cropped video.
2. Crop videos online by using the PIP feature
The PIP feature allows you to crop a video into square or circle, into any dimension you like. It might sound like a difficult task, but it is not hard at all.
Step 1
Drag and drop your video to the Media section. Apply the video to the storyboard by clicking on the PIP icon.
Step 2
Go to Crop icon, select the square or circle shape, and change it to any size you like.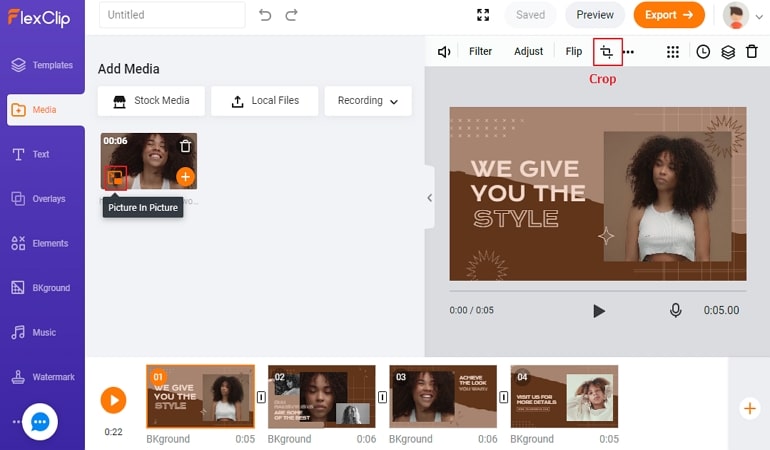 Crop Video Online Using PIP Feature
√ Crop videos: MP4, WebM, AVI, MPEG, FLV, MOV, 3GP and other video files
√ Output different formats and encoding
√ Maximum file size: 100MB
I use Ezgif web in a daily basic. It supports to crop video files in various formats. Meanwhile, it makes easy to see the file size, format, length of the original video. Contrasted with original data, you can set the expecting cropping size and aspect ratio more effectively by EZGIF online video cropping tool.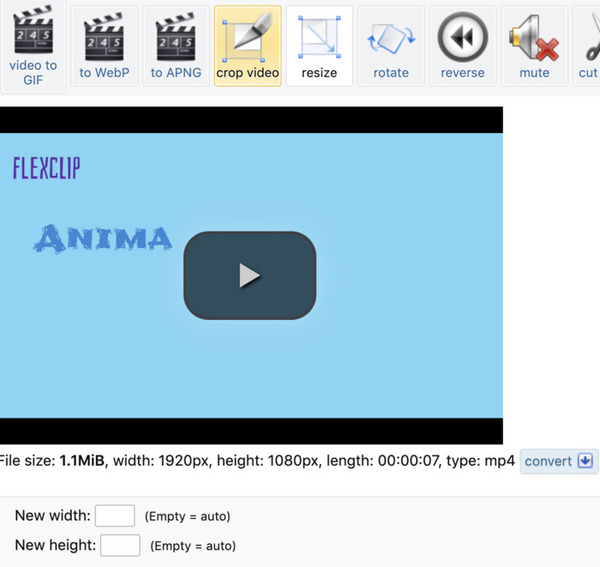 Ezgif Overview
√ Professional video editor
√ Video cropper
If you are a Mac user, iMove is your best choice to crop your videos. Every Mac has the app so there is no need to spend extra money. So just tab the crop icon to choose which cropping tool you want to use.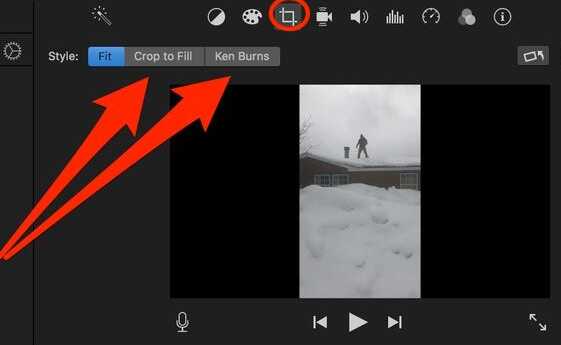 iMovie Overview
iMovie supports 2 options to crop videos:
① 'Crop to File': Crop videos to fit a standard video box. You can change the box size and placement to crop video.
② 'Ken Burns': the feature is named as a famous documentary director, instead of showing a static photo on screen, the Ken Burns effect crops to a detail, then pans across the image.
√ Video cutter
√ Video cropper
√ Different aspect ratios
OnlineVideoCutter is also a handy video cropper which supports you customize the aspect ratio and cropping selection. At the same time, you can rotate your video by Online Video Cutter.
Onlinevideocutter Overview
√ Video cropper
√ Different aspect ratios
√ Different exported formats
The interface of Clideo video cropper is concise, so don't worry it's hard to use. You can drag the video to the centre page. For video cropping, just choose which area you want to crop and name the exported video format.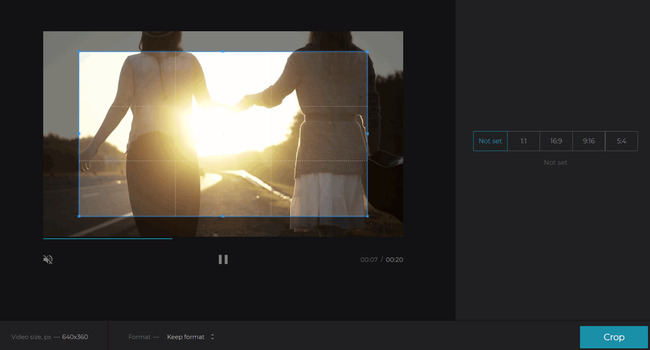 Clideo Overview
Hope these 5 cropping tools can meet your video-cropping demand. Pros of each video cropping tool are listed at the beginning of every introduction, you can try out one of them according to your needs
You may be searching for photo croppers, too. There are 5 photo cropping tools recommended for you.
Part 2: Top 5 Free Online Photo Cropping Tool
Crop photos
Different exported formats
Effects, texts, cliparts
Cropping images has never been a easy thing. FotoJet allows you to crop and modify any photo to the exact size without Photoshop skills.
You can change the specific number to crop the photo's size or modify the cropping box. You'll be amazed at how quickly you can edit your photos online.
Besides, you can resize the size, modify the light, and add effects into your photo. In addition, when you export your picture, you can export the different formats of your photo.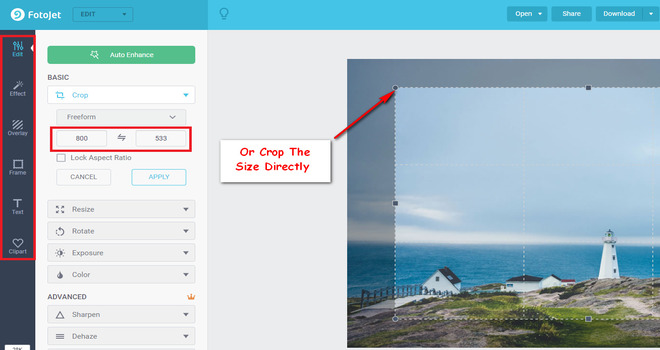 FotoJet Photo Cropper Overview
In addition, when you export your picture, you can export the different formats of your photo.
2. PiZap [Online Photo Cropper - charge]
Crop photos
Effects, stickers
High quality image
PiZap is a fun and easy cropping tool to learn online photo editor. You can select the crop photo's shape (ratio), such as the shape of Facebook cover, but it doesn't support you to change the specific number to modify the image's size.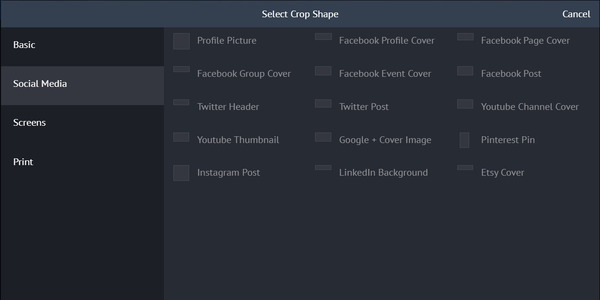 PiZap Photo Cropper Overview
piZad is not a free online photo cropping web, which charges you 2.99$ per month, it's not expensive though. After updating your account, you can add different stickers and enjoy high quality image.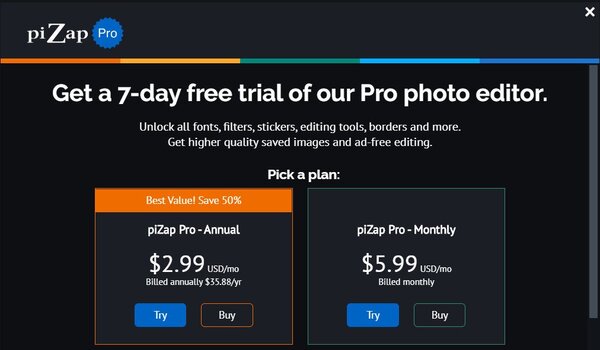 Upgrade PiZap
aspect ratios
portrait and landscapes
Crop photos
Different formats
Effects, texts, cliparts
Befunky provides 5 different types of aspect ratios and allows you to change the 2 different orientations of portrait and landscapes. Also, you can crop and customize the number of the width and height.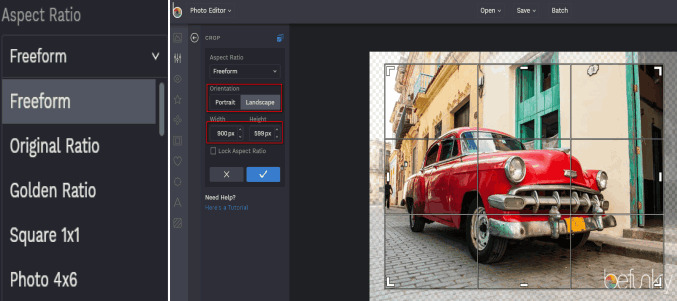 BeFunky Photo Cropper Overview
Similar to FotoJet, it can export the different formats and modify the size of the image.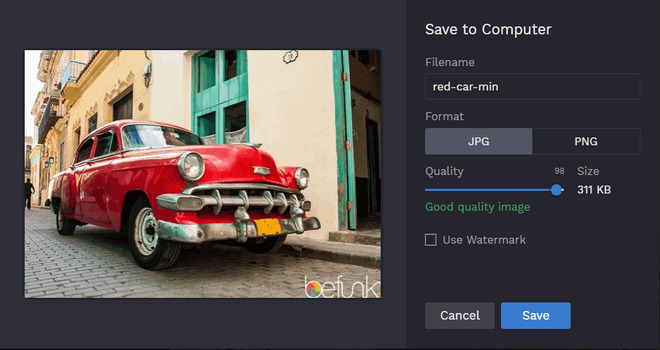 BeFunky Export Cropped Photo
Crop photos
Reverse photos
PicResize is a good cropping tool for picture, and perfect for people who wanna reverse the photo upside down or flip right to left. It also supports to batch resize your photo.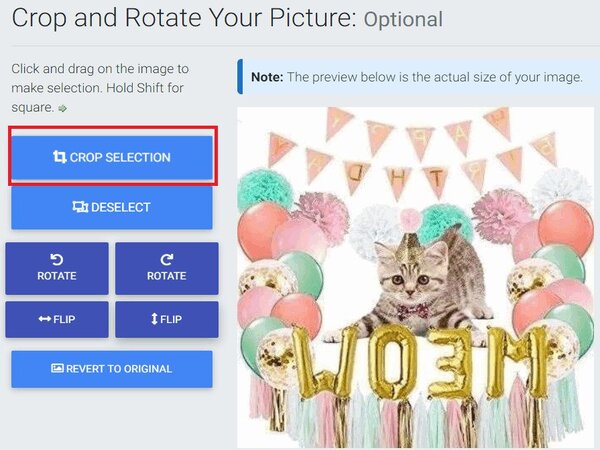 Picresize Overview
Crop photos
Aspect ratio
Change the size
Different exported formats
You can also change the exact size or different aspect ratio of the picture in IMG2GO. Besides, it has more options of exporting formats and quality choosing, and even you can design your DPI of the photo.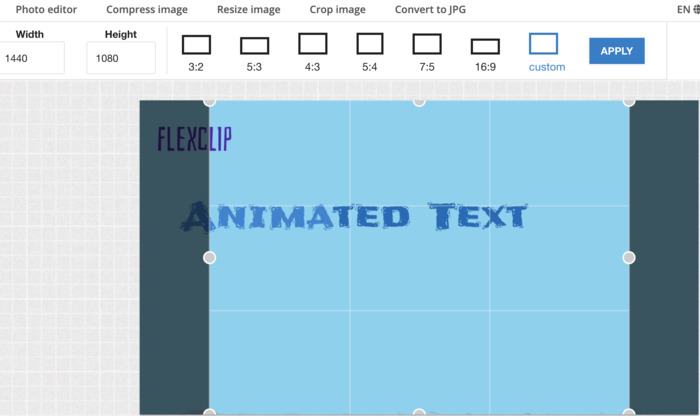 Img2go Overview