YouTube is the king of online video platforms. So how to get more followers and maximize your opportunity on YouTube? First and foremost, you need to use the right YouTube video size to give your viewers the best viewing experience.
So, in this blog, we will walk you through what exactly the right YouTube video size includes, and how to change the dimension, YouTube video's aspect ratio, resolution, and YouTube image size to get your perfect YouTube video size!
Here is what you will learn:
YouTube Video Size: Right Resolution
When you decide to run your YouTube channel, uploading high-resolution video content is essential to offering the best viewing experience for viewers. Since the default YouTube aspect ratio is 16:9, the following 7 resolutions are recommended by YouTube for encoding videos.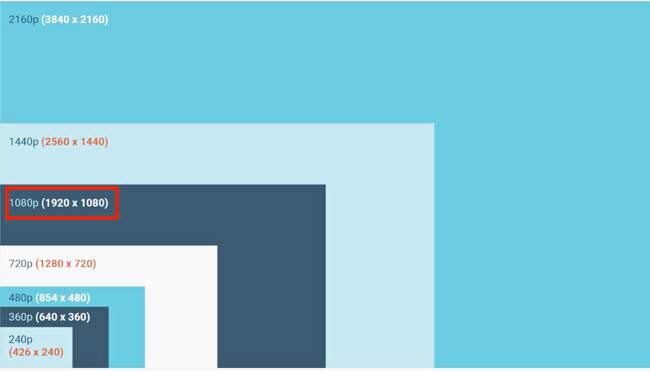 YouTube video resolution from 240P to 2160P (4k)
To most YouTubers, the best resolution for YouTube video size is 1920x1080P, which is the full HD video and the most popular video quality playing on YouTube.
Why 1080P is the Best Resolution for YouTube Videos?
Nowadays, many mirrorless cameras or smartphones can shoot 4k videos (3840x2160p), which is twice the resolution as Full HD videos (1920x1080P). But why does shooting 1080P videos remain the best choice for most YouTubers? Here are our reasons: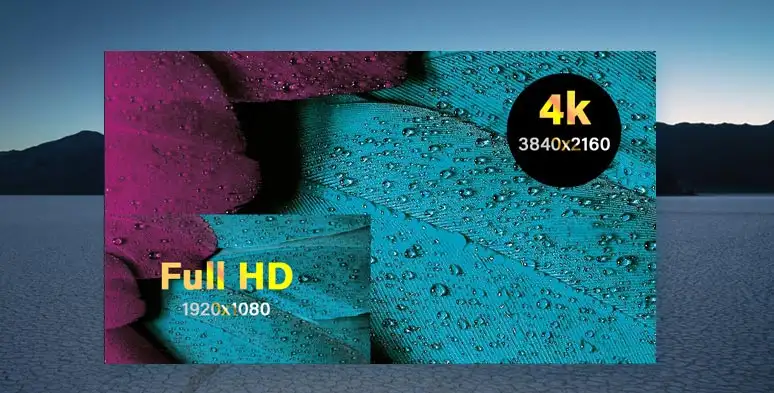 1080P(Full HD) vs 2160P (4K) video
Smaller video file size and more economical. Shoot a 1080P/24FPS video for 20 secs and you get a file of 117.4MB while a 2160p(4k)/24FPS video for 20 secs can produce a file of 260MB. That means shooting 1080P videos saves you from spending more on an extra hard drive and faster SD cards and better gears to shoot and edit a 4K video on PC.
Bandwidth and device compatibility. Smartphone and tablet users account for a large number of YouTube viewers. And most of the smartphones and tablets don't have a 4K display. So, though your YouTube videos offer 4K resolution, in reality, most people can only watch your YouTube videos on 1080P or due to the narrow bandwidth and smoother viewing experience.
How to Change YouTube Video Quality and Resolution
So, if you have filmed a 4K video and want to compress the YouTube video without losing quality, you may use the free FlexClip video compressor. All you need is only 3 easy steps. Upload video > Select 1080p resolution and high quality > Compress.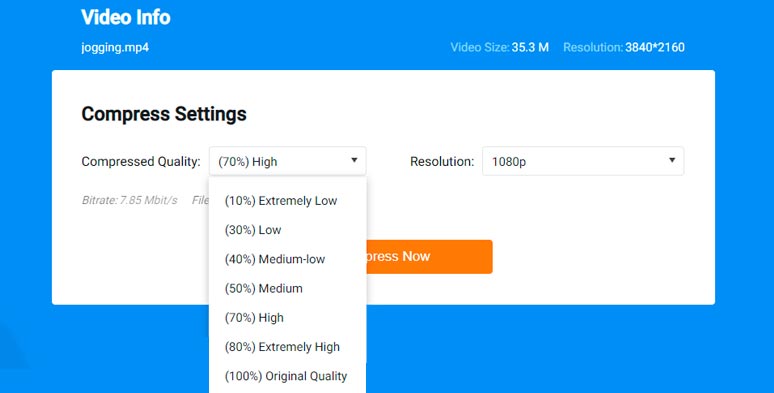 Convert a 4k video to 1080P video without losing quality
How to Change YouTube Video Quality When Watching the YouTube Videos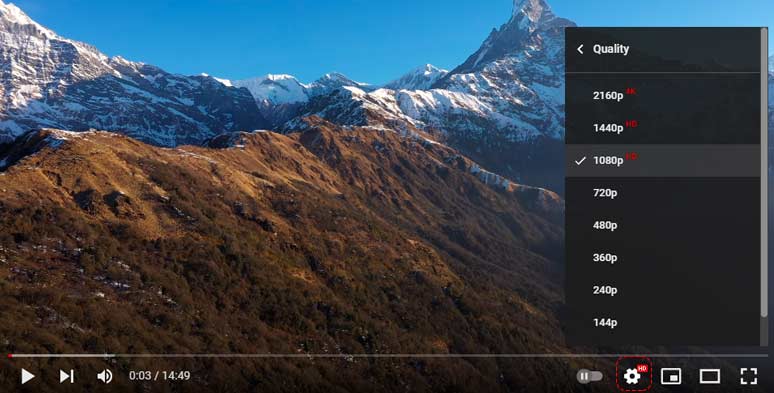 Adjust YouTube video quality while watching the YouTube video
Step 1
Tab YouTube's' settings wheel' on the right bottom of the video screen.
Step 2
Click on 'Quality' to choose the best YouTube video size and quality for a better viewing experience.
Step 3
Choose the video resolution you want.
YouTube Video Size: Right Aspect Ratio
Unlike the video resolution, which is the total number of pixels in an image of a video, aspect ratio refers to the relationship between a video's width and its height.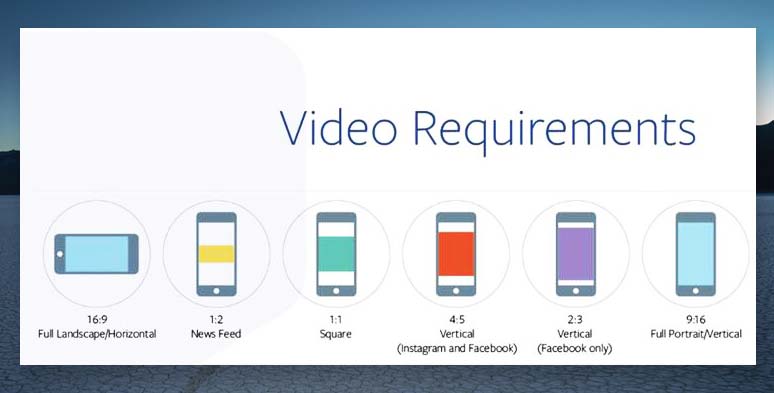 The different aspect ratios of a video
16:9 aspect ratio. This is the default and best aspect ratio for YouTube video size. It's also known as standard widescreen, landscape, or horizontal video.
9:16 aspect ratio
. This is vertical or portraits view, perfect for
YouTube shorts
, Instagram videos, TikTok, Facebook videos, etc.
1:1 aspect ratio. This is a perfect square video for Instagram, Facebook, Twitter videos.
4:3 aspect ratio. This is an old aspect ratio of TV and films used in the '80s and '90s. This aspect ratio adds a kind of old vintage style to your video.
21:9 aspect ratio
. This is the ultra-widescreen aspect ratio for movies. If you want to
make a cinematic video
, you may consider using this 21:9 video aspect ratio.
For YouTube, the right aspect ratio is 16:9, even on Mobile devices. It defaults to play in 16:9 on your PC. If you upload videos with a 9:16 or 4:3 aspect ratio to YouTube, YouTube will add padding or black/white bars on both sides to make it a 16:9 aspect ratio.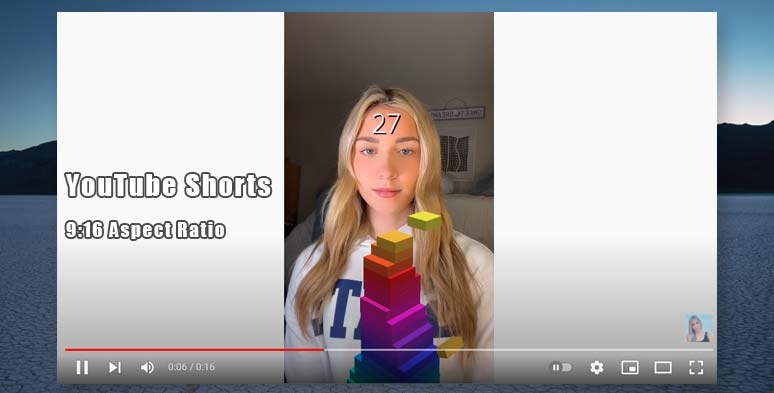 YouTube Shorts: 9:16 aspect ratio
So for the best viewing experience on YouTube, a 16:9 aspect ratio is highly recommended.
How to Change Video Aspect Ratio for YouTube
With FlexClip online video editor, you can easily change the aspect ratio of your YouTube videos. Just access FlexClip > upload your clips > go to "….More" tab on the left sidebar > select the aspect ratio that works best for your YouTube video size > add your video > export.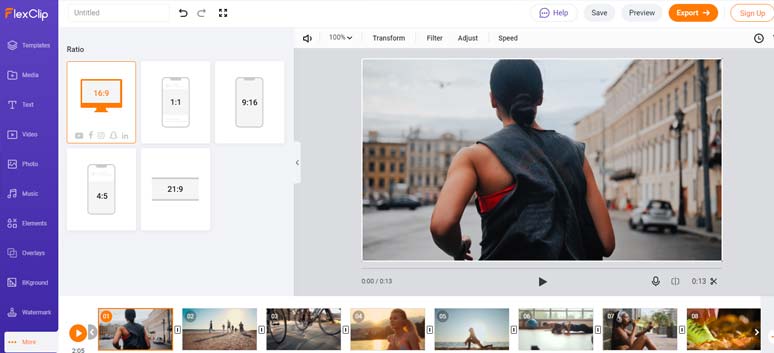 Adjust YouTube video's aspect ratio by FlexClip
You may also add dynamic background and use FlexClip's picture-in-picture feature to add your 9:16 clip to avoid the boring black padding on YouTube.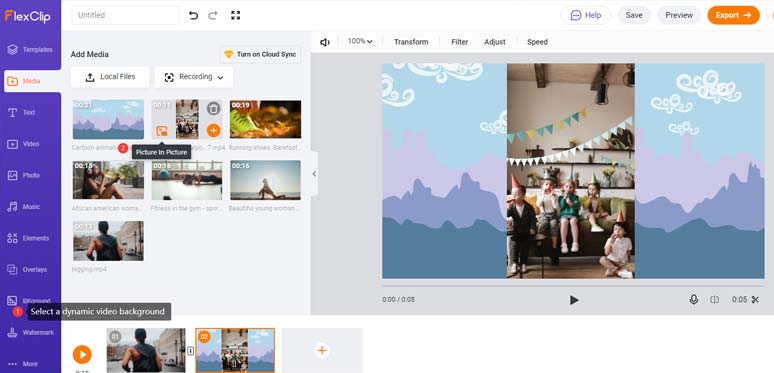 Use a dynamic video background for 9:16 YouTube shorts
The resulting video from the example above:
YouTube Video Size: Right Format
Although YouTube supports up to 16 video formats, the most recommended YouTube video format remains MP4, which is compatible with most devices and online video platforms. Here are the video formats YouTube supports:
Maximum video length: 12hours
To upload videos longer than 15 minutes, you need to verify your YouTube accounts.
As you can see, YouTube accepted many videos in different formats, but if your video format is still not supported, you can try FlexClip video converter to change the format (MP4, MOV, M4V, AVI, WMV, FLV, MKV, etc.) to MP4 or Webm.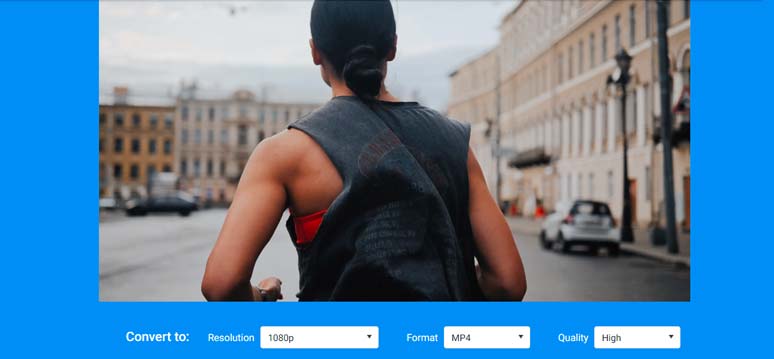 Use FlexClip video converter to convert videos to MP4
YouTube Video Size: Right Video Image Size
Apart from having the perfect resolution, aspect ratio, and video format for your YouTube videos, don't forget to get the right size for the YouTube channel banner and YouTube thumbnail.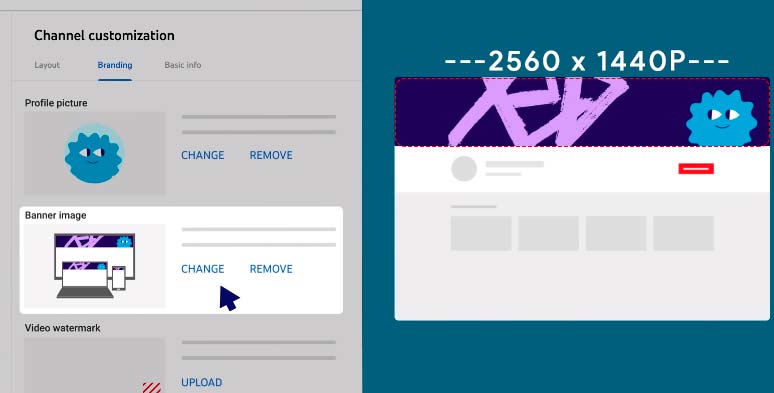 Select the best YouTube banner size
The best YouTube channel banner size is 2560 x 1440p, with an aspect ratio of 16:9
The recommended YouTube video thumbnail is 1280 x 720 pixels
Have no idea how to make a YouTube Channel Cover or Thumbnail? No worries! You can use DesignCap online graphic designer, a handy tool that provides you with thousands of YouTube channel cover templates and YouTube thumbnail templates to make compelling YouTube channel banners and thumbnails.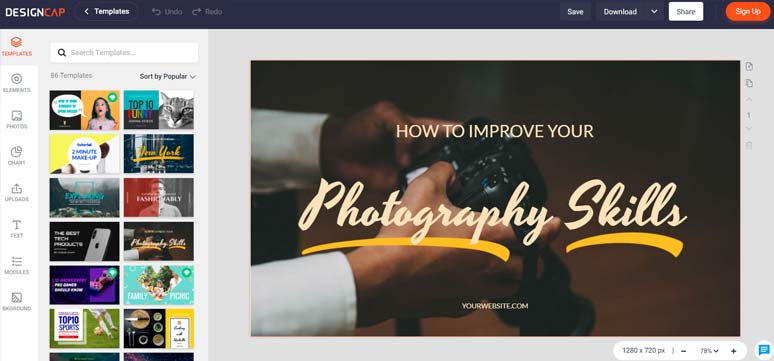 Designcap's free YouTube thumbnail templates
Now, It's Your Move
To sum up, to the majority of the YouTubers, the best YouTube video size is 1080P/30FPS with a 16:9 aspect ratio encoded in an MP4 video file. If you need to compress your big video file or convert it to a video format that is compatible with YouTube or create an engaging YouTube banner and thumbnail, the free FlexClip video editor and its video converter and, DesignCap graphic designer will empower you to create great YouTube videos.