This is a complete guide on YouTube Shorts helping you know everything about YouTube Shorts, including how to create YouTube Shorts videos and upload existing video to YouTube Shorts, and more.
YouTube Short is the newest feature of YouTube that allows users to share short videos that usually go along with trending music. This feature can be found in the Short section of YouTube in a mobile application. In addition, this feature allows users to get several edit options before publishing their respective videos.
YouTube Short works similarly to TikTok and has almost a similar-looking interface. Part of the thrill of this new YouTube short-form video is that it provides rapid gratification for the viewer, who can then go on to the next video for another pleasurable moment, especially among younger audiences. Moreover, YouTube Shorts is a great opportunity for both marketers and creators as they will have the best opportunity to a better understanding of what an audience would respond to.
YouTube Shorts, unlike TikTok, is not a stand-alone service. There is no YouTube Shorts app available in the App Store or Google Play. Instead, YouTube Shorts is found in the service's primary mobile app. Simply launch the YouTube application on your smartphone to start using it. The Shorts section can be found by scrolling down significantly.
Contents:
Free Video Templates for Your YouTube Shorts
Skateboard Lesson Offer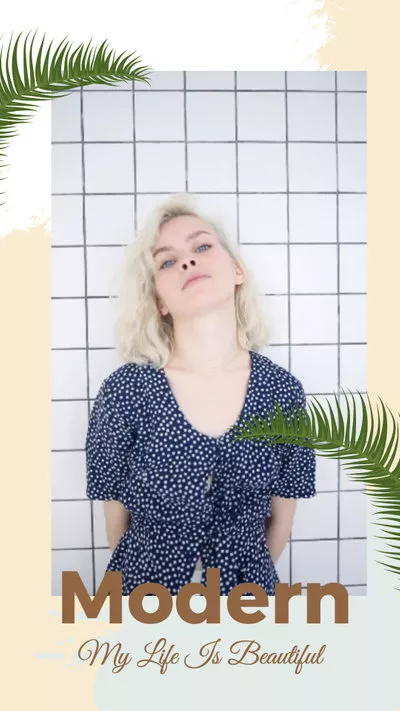 Summer Fashion Intro
Also Read: Easy Ways to Fix YouTube Shorts Not Showing Up >
Part 1 How to Make YouTube Shorts
Step 1
Tap the plus symbol in the bottom center and choose Create Shorts.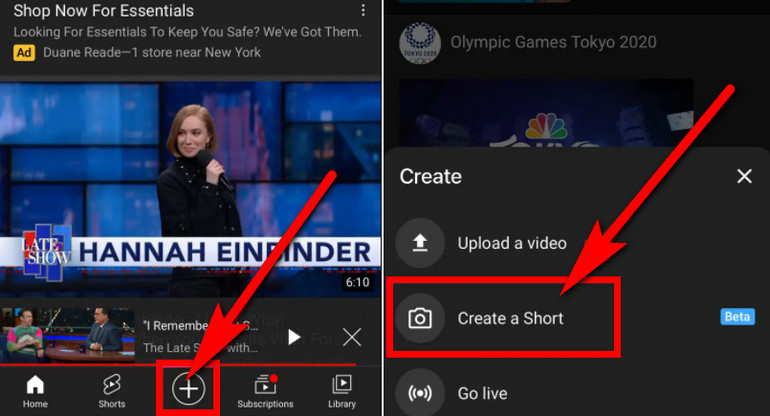 How to Make YouTube Shorts
Step 2
If you're a first-time user of this feature, your device will ask for permission to use the camera and microphone.
Step 3
Once you've been approved, you'll be landed on the YouTube Shorts recording page.
Step 4
The default recording length on YouTube Shorts is 15 seconds. You can set it to 60 seconds by tapping the number "15" above the record button. Here you can speed up or slow down your recording, set a time for the camera, and apply visual filters to your recording, etc.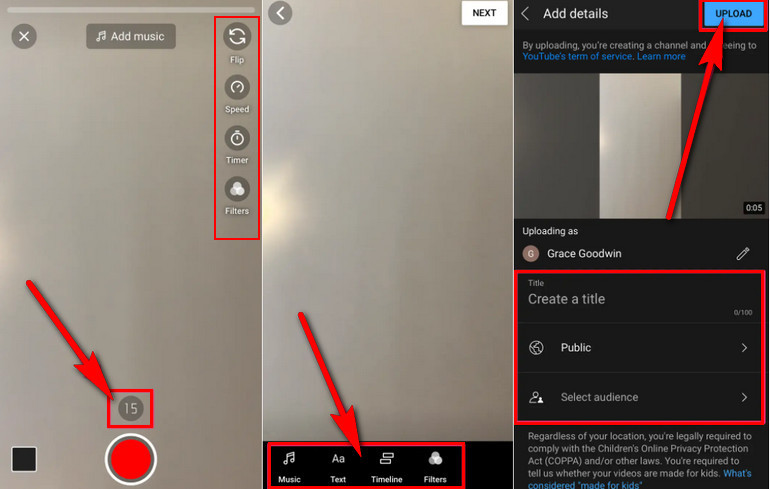 How to Make YouTube Shorts
Step 5
When you're ready, press the Record button. Tap it again to pause the recording, then tap it again to start recording the next part of your video.
Step 6
After you've finished recording, hit the checkmark in the bottom right corner to see a preview of your video and add music, text, and filters—tap Next when you're finished.
Step 7
Finally, add your video title and adjust the sharing options. To ensure that your video is noticed or promoted with other YouTube Shorts videos, include the hashtag #shorts in the title.
Step 8
Tap Upload, and it will be posted to your YouTube.
Part 2 How to Upload an Existing Video to YouTube Shorts
Step 1
Tap the plus button on the YouTube app, then select the Create a Short option.
Step 2
To upload an existing video, tap on the Photo icon at the bottom-left corner.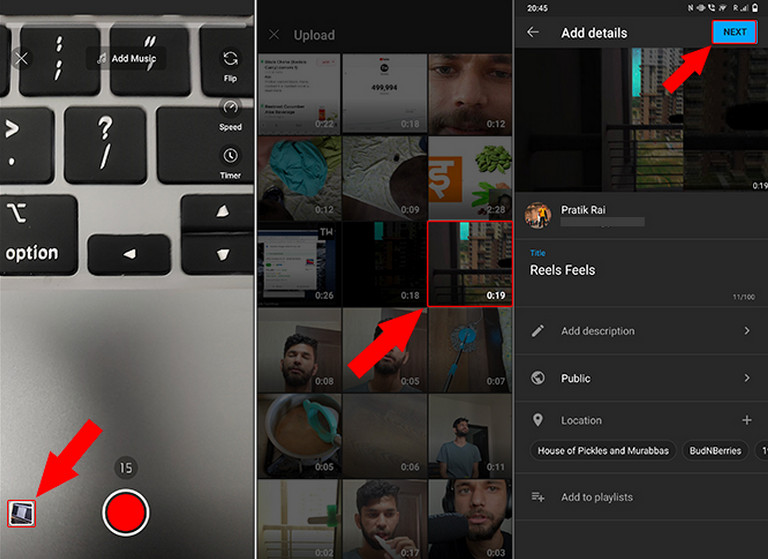 Upload an Existing Video to YouTube Shorts
Step 3
Then tap NEXT to go to the editor screen where you can add text, filters, music, or other audio to your Short, then hit Next in the top-right corner.
Step 4
Upload the short video and share it on social media.
Step 5
Enter the title for the video in the Create a title field, along with the #Shorts tag.
Step 6
Pick the audience to select the target audience.
Step 7
Tap Upload in the top-right corner to upload the short video to YouTube.
Part 3 How to Create a YouTube Shorts Video That Gets Likes
YouTube is always growing and evolving. Today, YouTube is also a marketing platform that can be a very effective business tool when used correctly. However, if you want to increase your sales, you'll need to gain more free YouTube views and likes.
How to gain more views is one of the most difficult problems that people confront when using YouTube Shorts. Many new users ask what they should do and how they should prepare a video that is between 15 and 60 seconds long and captivating enough to entice the audience to watch it. Worry not, because FlexClip is here to boost your YouTube Shorts and get thousands of likes.
FlexClip is an online video maker with user-friendly and straightforward tools, making a professional video production capability accessible to everyone. Now, it is used and loved by millions of people around the globe to create videos for business and life with ease.FlexClip offers:
Royalty-free music and video resources are free to use.
Overlays, transitions, animations are available for all.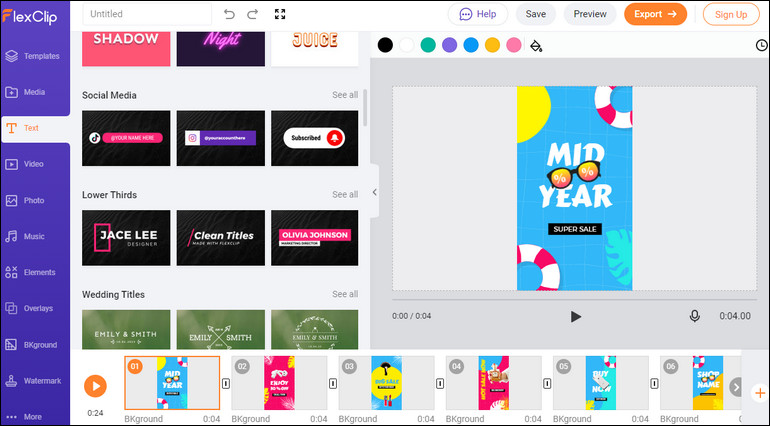 Make YouTube Shorts Videos with FlexClip
Final Words
Finally, the view counts and playback durations of your YouTube Shorts videos will be added to your channel's statistics. Therefore, with the views you get from short videos, your YouTube stats will be affected accordingly. Having additional options for creating content on any social network is beneficial to your approach and will help you reach new users. Start creating your YouTube with FlexClip and drive your content toward new heights. Give it a try now!