With 2 billion active users daily worldwide, YouTube is the most popular and a highly-engaged social platform. Creating your own YouTube channel and keeping uploading engaging videos will open up new opportunities for business and brand building.
So, here we will walk you through how to upload a video to YouTube from PC and iPhone and offer you insider tips as to how to customize detailed settings for your YouTube videos and 2 great tools to create and upload compelling YouTube videos.
Here's What You Will Learn:
How to Upload a Video to YouTube from PC
Overall, there are 5 steps to upload a video to YouTube from your computer in 2022:
Step 1
Upload: Upload videos to YouTube Studio from the web
Step 2
Add Details: Add title, description, thumbnail, tags, etc.
Step 4
Checks: Check for copyright issues in the video content
Step 5
Visibility: Select how to publish a YouTube video, such as a private video, an unlisted video or as a public video or a scheduled video.
So, let's break down these 5 steps in detail.
1. Upload a Video to YouTube
Step 2
Click on the "Create" Icon on the Top Right Corner and Select "Upload Video"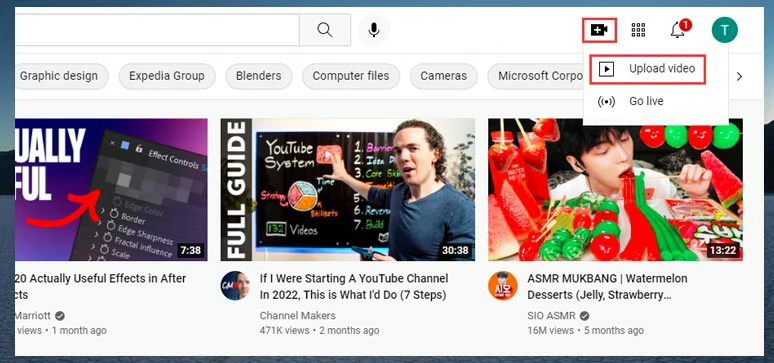 Upload a video to YouTube Studio
Step 3
Select a Video File to Upload to YouTube
Drag and drop video files to upload, then the auto-upload will begin. You may also upload up to 15 videos in batch at a time. Your bandwidth and the physical size of your video will decide how long does it take to upload a video to YouTube.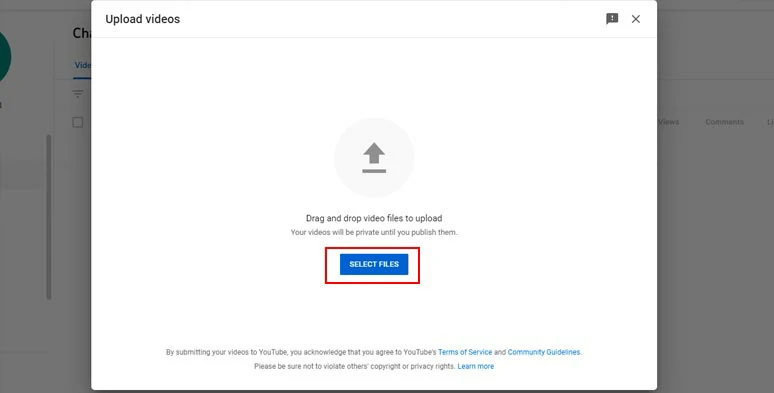 Pop-up window to upload video files to YouTube
2. Add Details
Once your video is successfully uploaded to YouTube Studio, then you can add details to enhance the viewing experience for YouTube audiences. Follow us to go through this cover step meanwhile we will offer you some proven strategies.
The key is to make your title look compelling, clickable to viewers. You can sparkle audiences' curiosity or address one of their pain points.
You may include some keywords viewers are likely to use for certain topics but don't do keyword stuffing. Keep it short and sweet.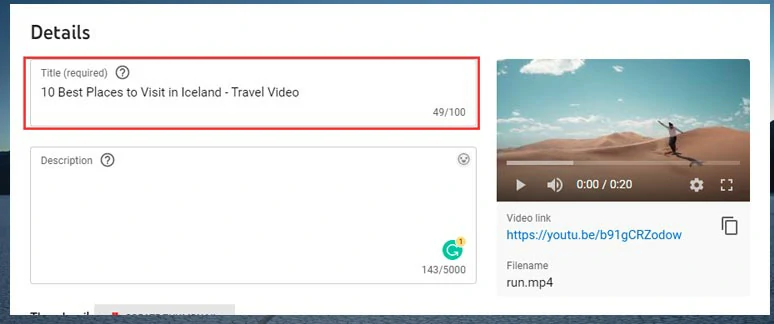 Create a title for your YouTube video
The description is a summary of your video content and will be shown below your title and a snippet of it will be displayed next to the thumbnail in YouTube's search result.

Add descriptions to a YouTube video
You may highlight what this video is about. If it's a long tutorial video, you can add a timestamp to help viewers watch the parts of the video they find most interesting.
Here is an example:
00:00 Intro
00:20 Why you should visit Iceland
00:52 Where are 3 best places to visit in Iceland
01:29 How to plan your visit
Since the first 1-2 sentences or the initial 126 characters of your description will be shown in the search research in YouTube beside your Thumbnail, do your best to make them pitch your video and engaging.
Add 1-2 clickable links for viewers to learn more information or drive traffic to your website. Do it sparingly and wisely.
Thumbnail or cover photo is of primary importance to grab viewers' eyes and click your video. Although YouTube can randomly capture 3 photos of your video for a thumbnail, we highly recommend that you create a custom thumbnail and upload it for your video thumbnail.

Create and upload a custom thumbnail for a YouTube video
1. Have your face shown in the thumbnail for statistics have shown that thumbnails with a face get more clicks than those without a face. Besides, place minimal around 3-5 words next to your face.
2. Use bold words and add bright text borders in the thumbnail to make it scroll-stopping.
3. The best YouTube thumbnail size: 1280 × 720 pixels; 16:9 aspect ratio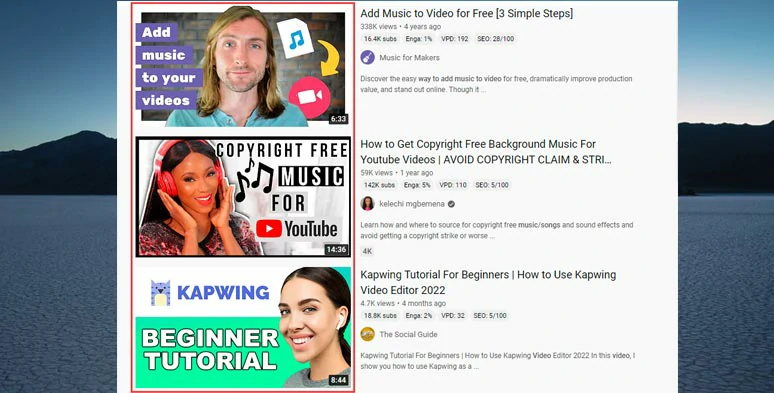 YouTube thumbnails with faces and eye-catching words and elements
If you have uploaded many videos on similar topics, you can create a playlist and group them to this playlist, let's say all your video tutorials, so viewers can easily browse through multiple videos in a list. Meanwhile, you can display such a playlist on your YouTube homepage.
You are expected to select whether your video content is appropriate for kids to view, according to the Children's Online Privacy Protection Act (COPPA). You may also set an age restriction for viewers over 18.
Normally, select "No, it's not made for kids" to reach broader viewers.
If your YouTube video content contains a promo product or services sponsored by a third party, you may check this selection. So, YouTube will let viewers know that your video involves a paid promotion.
Step 7
Automatic Chapters
Video chapters break a long video into different small segments. So viewers can easily watch the information they want. You can check the "All Automatic Chapters" leave it for YouTube to do the job.
However, it's highly advisable to manually add timestamps in the description box in the format below: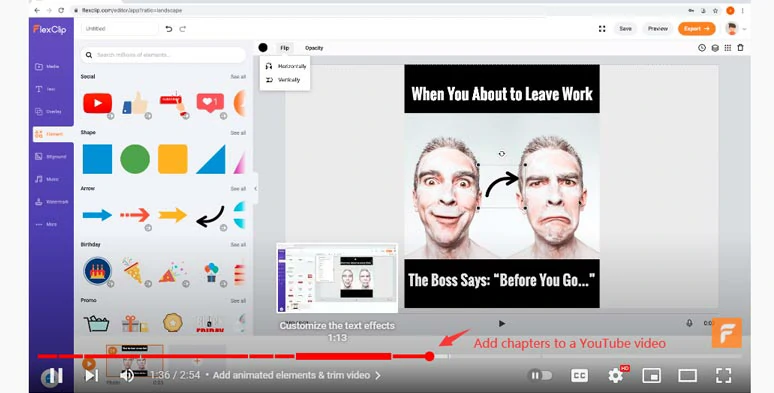 Add chapters to a YouTube video
00:00 FlexClip Video Editing Tutorial
01:43 How to create a project on FlexClip
02:52 FlexClip interface
03:48 How to edit footage on FlexClip
So, YouTube will automatically divide the entire video into different chapters for an easier watch. Remember, the minimum length for video chapters is 10 secs.
Just enter your keywords and end with a comma, a YouTube tag is created. However, if you think you can add many tags, then your videos will be easier to rank or be discovered by other YouTubers, please think again.

Add tags to a YouTube video
According to YouTube: "Add descriptive keywords to help correct search mistakes. Tags can be useful if the content of your video is commonly misspelled. Otherwise, tags play a minimal role in your video's discovery."
So, again forget about keyword stuffing in tags since they won't make your video successful. Instead, focus more on the content of your video.
Step 9
Language and Captions Certification
Select the language of your YouTube Video and if your content didn't appear on US television, just leave Caption Certification unchecked.
Recording Date and Location: Add the recording date and location of your video.
License and Distribution: Give suggestions if your video can be embedded on other websites or you want to add notifications to the subscribers of your YouTube channel.
Short Sampling: Allow others to sample parts of your video or audio to create their Shorts.
Category: Add your video to a category like a film and animation, music, gaming, travel & events, etc.
Comments and Rating: Decide whether viewers can leave comments on a video or whether viewers can see the number of likes on your video.
3. Video Elements
Video elements aim to enhance the viewing experience of your YouTube videos. You can add subtitles, and interactive video content like an end screen or cards to show viewers related videos, websites, or call-to-actions.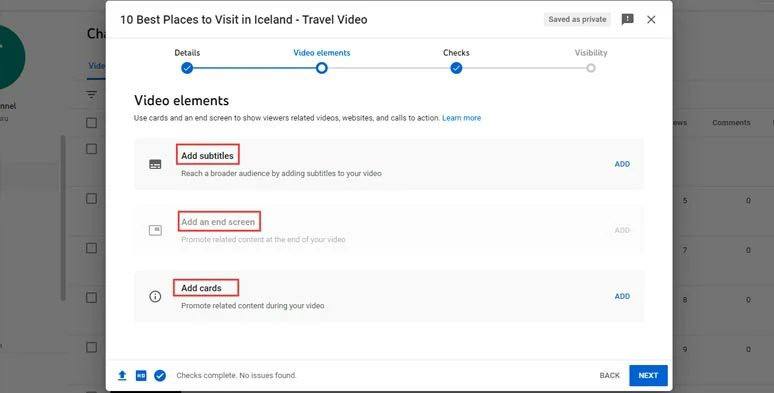 Add video elements to a YouTube video
Add an End Screen. Add related videos worth watching for viewers at the end of a video. To use this feature, your video must be at least 25 secs long.
Add Cards. Add interactive content during your video
4. Checks
Literally, on this page, YouTube will automatically screen your video for copyright issues, such as the YouTube background music used in your video. If nothing goes wrong, simply hit the "Next" button.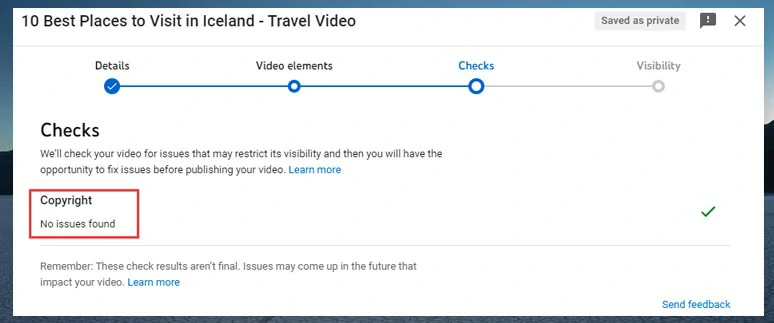 Check copyright issues of your YouTube videos
5. Visibility
Here, you have 4 options to decide how you want to publish your YouTube video: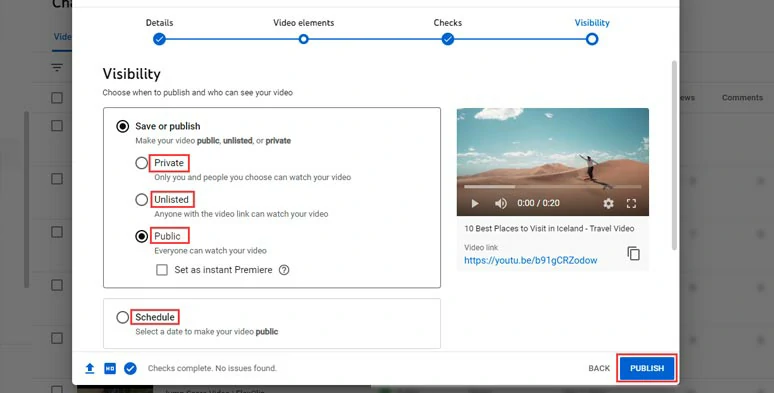 Select how you want to publish a YouTube video
Private. Publish a private YouTube video that only you and chosen people can watch your video.
Unlisted. This is a tricky private YouTube video. An unlisted YouTube video won't show up on your YouTube channel's homepage or in the search result. People can only watch an unlisted video if they know the video link or browse a webpage with this video link or the embedded code.
Public. Publish a public video that everyone can watch on your YouTube channel.
Schedule. Set the date and time when to make your video to be published to the public.
Finally, press the "Publish" button, then your YouTube video is successfully uploaded and displayed on your YouTube channel. If you don't choose any other these 5 options, your uploaded video will be saved as a draft.
How to Upload a Video to YouTube from iPhone
To upload a video to YouTube from iPhone, you need to download YouTube's mobile app first and the rest is easy peasy lemon squeezy.
1. Launch YouTube mobile app and Log into Your YouTube Account
2. Tap the "+" Button in the Middle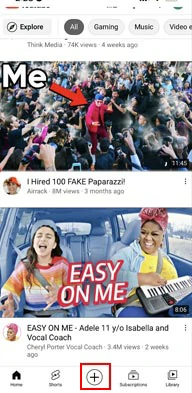 Tap the YouTube video upload button
3. Select and Upload an Existing Video From Your Camera Roll
Upload a 16:9 video to create a YouTube Video
Upload a YouTube video by YouTube mobile app
If you want to live stream on YouTube, just tap "Go Live". Here, let's tap "Upload a video" to create a normal YouTube video.
4. Tap Next
Here, you can preview the video to be uploaded. Just tap "Next".
5. Add Details to the Video and Tap Next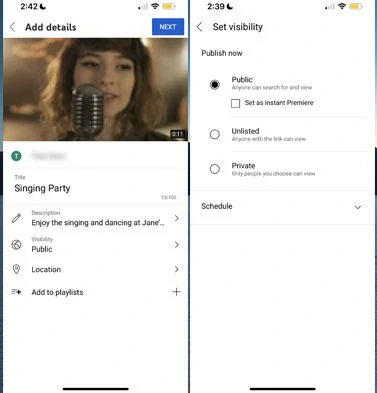 Add details to a YouTube video on YouTube mobile app
Customize Video Visibility (public, unlisted, private, or scheduled video)
Add to Playlist (optional)
6. Select Audience and Publish
Decide whether your video is made for kids or not or is it necessary to restrict your video to viewers over 18. Finally, tap "Upload Video" to publish the video on YouTube. Done.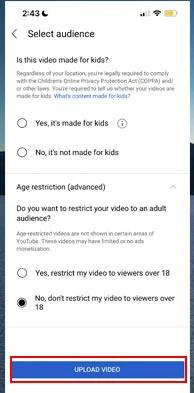 Select audience and upload a YouTube video
2 Bonus Tools for YouTube Success
To take your YouTube videos to the next level both in creating and uploading, we'd also like to recommend two user-friendly tools to you: one is a feature-packed online YouTube video maker, the other is an expert YouTube SEO tool.
1. FlexClip
For YouTube content creators, FlexClip online video maker is a treasure trove to create scroll-stopping YouTube video content and upload it from PC to YouTube in a breeze.
Use the feature-rich FlexClip online video maker to edit and upload videos to YouTube
With FlexClip, you can:
Select from a wide array of
YouTube video templates
, covering YouTube intros and
outros
, How-to YouTube videos, YouTube gaming videos, fashion &
makeup videos
podcasts, fitness, vlog, sports, music, promo videos,
webinar teaser
, etc.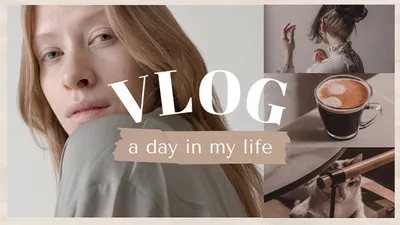 Vlogger Youtube Channel Intro Outro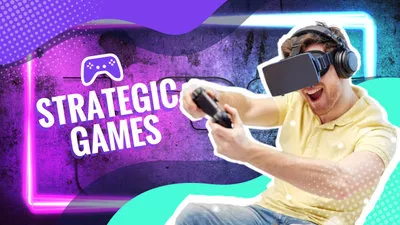 Game Blogger Intro Outro
Animated Sport Intro
Cooking At Home
Drag and drop your video assets to create compelling YouTube videos on the intuitive timeline within your browser in clicks away, with no downloads and experience needed.
Enjoy free access to 4M+ high-quality and royalty-free stock assets, including, photos, videos, music,
sound effects
, GIFs, illustrations, text animations,
circle transitions
, and
glitch overlays
, while tons of user-friendly tools like speed control, picture-in-picture tool, screen recorder, crop mask, image background remover, etc. are readily available.
Done with the editing, you can directly share your video to YouTube, Google Drive, or Dropbox; a clickable link and embed code are also available for a private share, blogging, or other repurposing.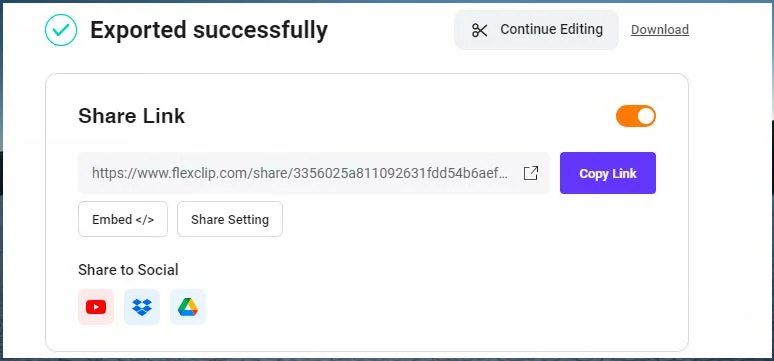 Directly upload your YouTube video to YouTube with one click.
2. TubeBuddy
TubeBuddy is a professional YouTube video SEO tool that works across platforms on Chrome extension, mobile apps on IOS, Android. It starts with a free version and if you need to use advanced tools, you may go for subscribed users.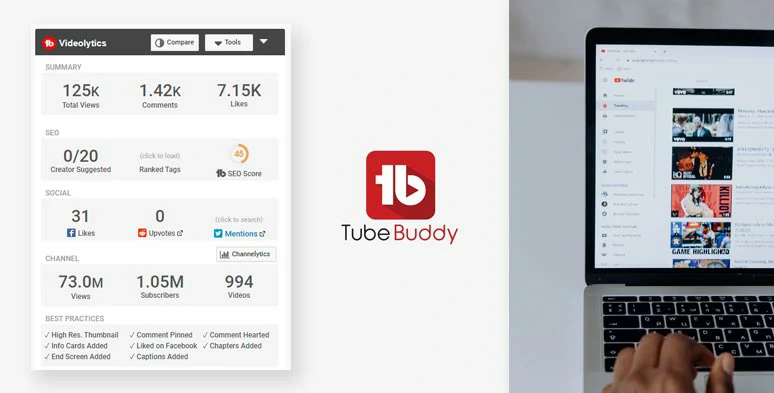 TubeBuddy, YouTube video Seo tool
Use TubeBuddy's powerful keyword explorer tool to get trending topics, titles, descriptions, tags, etc. as you upload and edit details for your YouTube videos.
Screen each YouTube video for the best practices, such as high-res thumbnail, comment pinned, comment hearted, infor cards added, captions added, etc.
Reveal the tags used by other YouTubers' videos and ranking
Filter the comments, etc.
Now, It's Your Move
Well, if you've made it here, we have reasons to believe that our tutorial does make sense to you. Hopefully, you can use our suggestions and tools like FlexClip or TubeBuddy to create and upload scroll-stopping videos to YouTube and begin the road to YouTube and business success.