Nowadays, makeup videos or beauty makeup tutorials have become mainstream in sharing makeup techniques, makeup inspiration, and beauty product reviews.
So, whether you are a makeup artist or a makeup enthusiast who is keen to record your newly-inspired makeup as a video and share it on YouTube, Instagram, or TikTok, etc., we've got you covered.
In this post, we will be walking you through an A-to-Z makeup video tutorial on how to do the setup, what to do when filming a makeup video and how to refine makeup video recording to be more engaging and professional, plus offering you loads of proven practices via top YouTube makeup artists for making a great makeup video.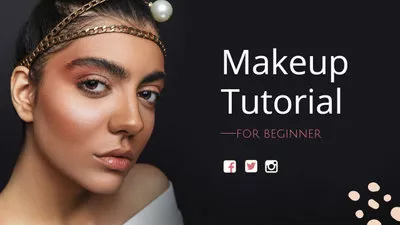 Makeup Tutorial For Beginner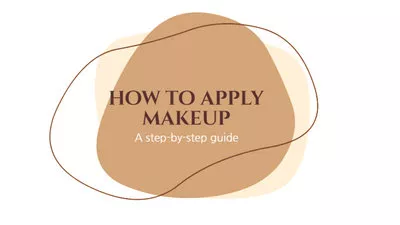 Neutral Makeup
Here's what you'll learn:
How to Setup for Making a Makeup Video
Well, the prerequisite for making an engaging makeup tutorial video is to have all the gears ready. For ordinary people, you don't need to have a fancy studio to start with.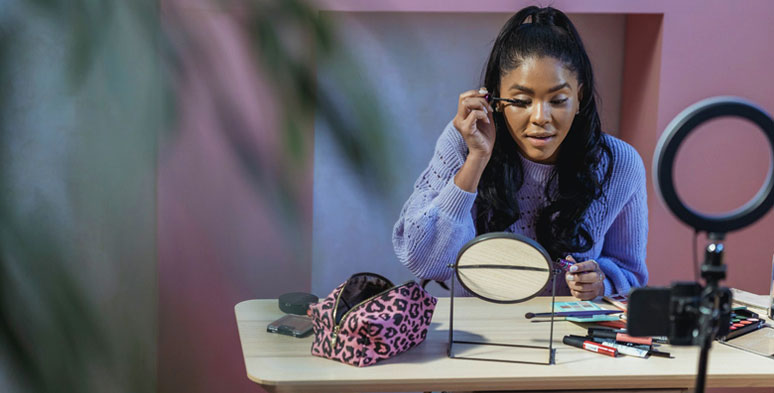 Makeup video setup for beginners and makeup artists
Instead, having a small room with a clean background, ample lighting, and even an iPhone for recording and editing would be enough to kick off your journey of being a makeup artist or beauty YouTuber.
So, let's take a look at some of the basic gears recommended:
iPhone: Using an iPhone or any other brand of cellphones is the most convenient and affordable option for filming a makeup video.
Cell Phone Stand: Select a sturdy cell phone stand that allows you to adjust its height, rotation angle (360 degrees) based on your needs. Of course, if you are using a compact camera or a DSLR, you need a solid tripod and 128G SD card for storage.
Ring Light
: Lighting is one of the crucial setups for making all videos, esp. to a makeup tutorial video. While having a ring light will create the flattering catch light in your eyes together with ample and constant lighting, making you look double attractive before the camera. You can also have a light stand, softbox diffuser, or filters to enjoy the studio light effect at a low cost.
Learn more about lighting for video making
.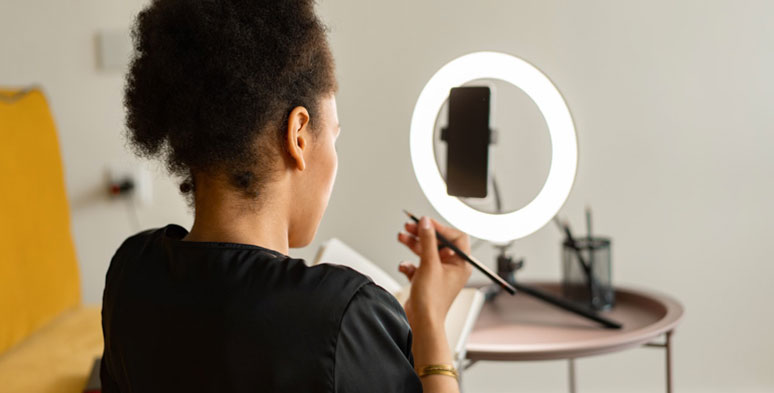 Use ring light to create flattering catch light for makeup videos
External Mic: To ensure you have both quality video and audio, it's advisable to use an external microphone to record the audio separately. You can get a versatile clip-on mic like BOYA by M1 ($14.95) to record quality audio.
Editing Software
: After you're done with the recording, you need a flexible video editor to trim the unwanted clips, add texts and other video effects, and mix the audio. If you don't have a budget to buy an expensive video editor like Premiere Pro or Camtasia, an alternative is to use a free and feature-packed online video editor like FlexClip. We will cover that in detail later.
Check the 5 free video editing software in 2021
.
Avoid distracting elements like a cluttered room, bright light, shining jewelry in the background to take your viewers' attention away.
How to Film a Makeup Video Using iPhone
Step 1: Adjust the Recording Angle, Lighting, and Have all the Cosmetic Products Ready
Put your iPhone on the stand and adjust the angle of the iPhone, horizontally for YouTube makeup videos, vertically for Instagram, TikTok, etc. Then flip the camera lens by switching to the front-facing camera.
Flip the camera to the front-facing camera for recording a makeup video
So you can see yourself on the iPhone screen and adjust the posture and composition flexibly. Besides, a front-facing camera allows you to easily pause or stop the recording. If you are using a DSLR for filming, do choose one that has a flip-out screen.
Next, turn on the ring light and set the color temperature to 2700-3000K to have soft warm light and have an external mic connected to the iPhone and use iPhone's built-in Voice Memos for audio recording. Check the free online voice recorder.
In addition, new makeup and clean brushes are preferable if you don't want to compromise the overall effect, and foundation, concealer, and bronzer and eyeliner, and Mascara, eyeshadow palette, etc. should be laid over the table in an orderly fashion for easier reach.
By the way, don't forget to wash your face with lukewarm water and switch off all the apps' notifications on your phone to get everything ready.
Step 2: Record the Makeup Video Tutorial
A makeup video consists of 3 parts: the greeting, actual makeup, and the ending.
Greeting or Intro: Explain the purpose of making this makeup video and most importantly show how this makeup video can benefit the viewers. You may also show the finished makeup for the viewers to get their attention.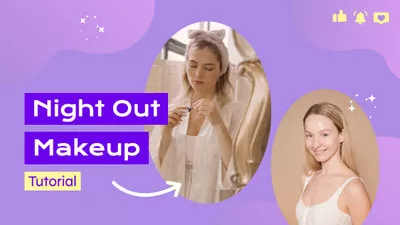 Makeup Tutorial Youtube Intro
Actual Makeup: Demonstrate how the makeup is done and recommend beauty products and offer your review.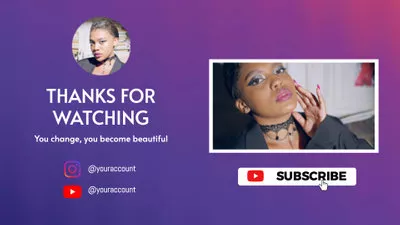 Makeup Youtube Outro
As you record the makeup video, follow the rule of the thumb of "Show and Makeup", which means you should first show the details of a cosmetic product like its brand and explain its benefits and then proceed to apply it to your face and clearly explain how it works.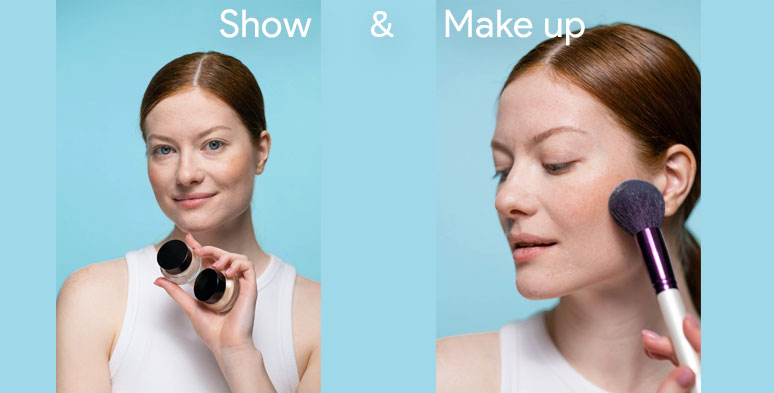 Show the details of cosmetic products and then do the makeup
Meanwhile, you can pose differently and use different angles to show the makeup effects to the viewers.
After you've done the makeup, don't forget to take a photo because it will be needed to create a "Before and After" photo for the cover thumbnail for YouTube, or Instagram, etc.
Besides, it's also advisable to run a test recording to see if the video and audio recording, lighting, and your pose work flawlessly. You may also practice your lines many times to speak in a friendly and calm tone.
How to Edit a Makeup Tutorial Video by FlexClip
Well, after you have prepared all the makeup video footage, images, and audio files needed, it's time to edit them into a compelling makeup tutorial video. Though you are an expert in beauty and makeup, for video editing you may feel overwhelmed by the steep learning curve of using Adobe Premiere Pro, and economically unnecessary.
So, a great solution is using FlexClip. It's an easy-to-use and feature-packed online video maker that allows you to create scroll-stopping makeup tutorial videos in a breeze. No software download and experience are needed.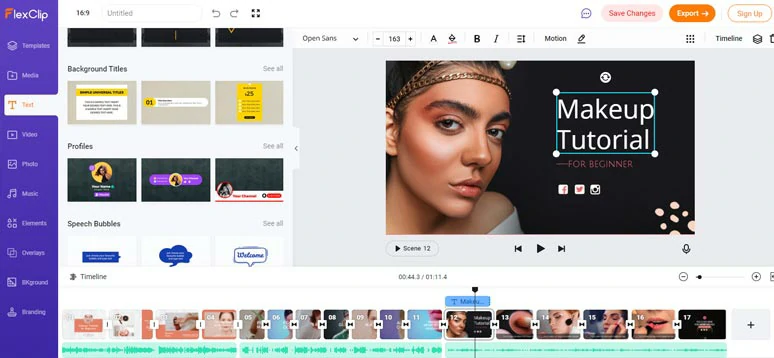 Create makeup tutorial videos for beginners by FlexClip online
With FlexClip, you can:
Easily select from tons of designer-made and fully-customizable beauty and makeup video templates (16:9; 9:16; 4:5; 1:1 aspect ratio) and drag and drop your footage and images to customize a captivating makeup tutorial video in minutes.
Use 3M+ royalty-free and high-quality stock assets, including BGM, sound effects, videos, images, GIFs, emojis, dynamic elements, etc. to add styles to your video.
Enjoy an intuitive timeline in your browser for an easy edit for trimming, merging, splitting clips and image/audio files, and adding other video effects like video transitions, masking, speed control (0.2x-8x), picture-in-picture, etc.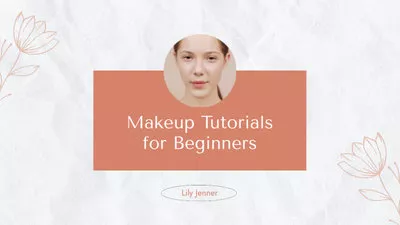 Beauty Tutorial
Step 1
Select a makeup tutorial video template
, preview it and click the Customize button. You may also select any makeup video template within the FlexClip video editor and add it to the timeline for edits.

Select a free makeup tutorial video template to begin with.
Step 2
Upload your makeup video footage, image, and audio files to FlexClip directly from your phone or the local PC.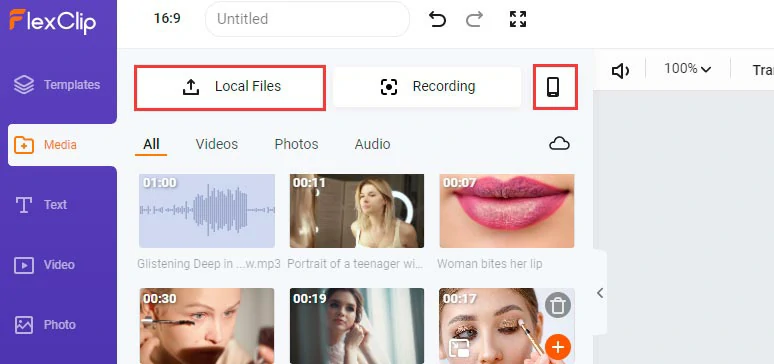 Upload makeup footage, images, and audio files to FlexClip.
Step 3
Drag and drop your footage and images to replace the default video/image in the template. You can drag the slider inward to trim the clips and images.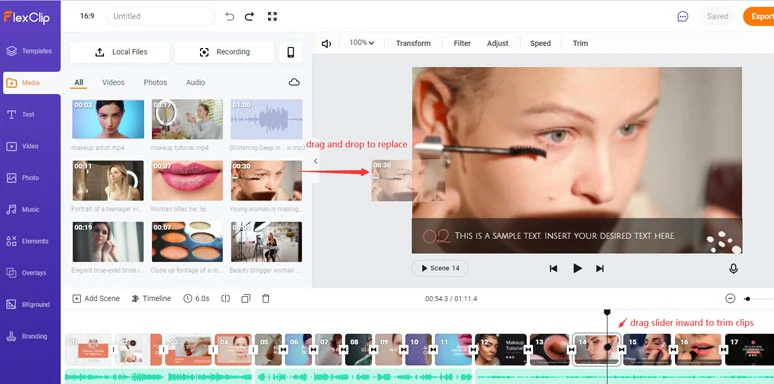 Drag and drop your video assets to replace default elements in the template.
Step 4
Customize the text and text animations: Select a premade text and customize it. You may also change its font, color scheme, motion, style, position, layer, size, etc., or click the Text tab and scroll down to select from hundreds of text animations and pick one you like.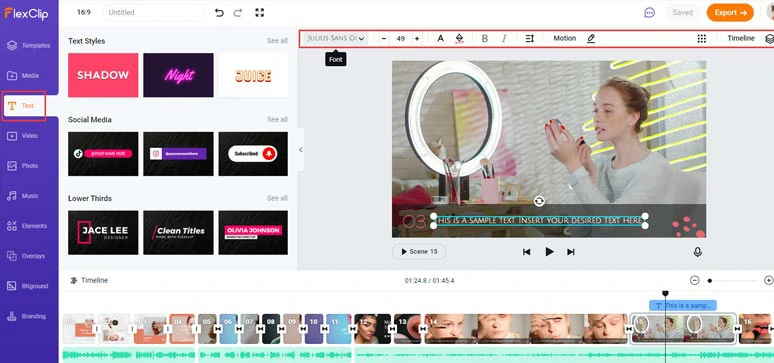 Customize the text animations for the makeup videos.
Step 5
Add video effects: You can click the picture-in-picture button to add a b-roll into the video for a detailed explanation; or check the Elements tab and select an animated arrow, shape, subscribe buttons, etc. to spice up the video. Besides, overlay video transitions, speed control, etc. are also readily available.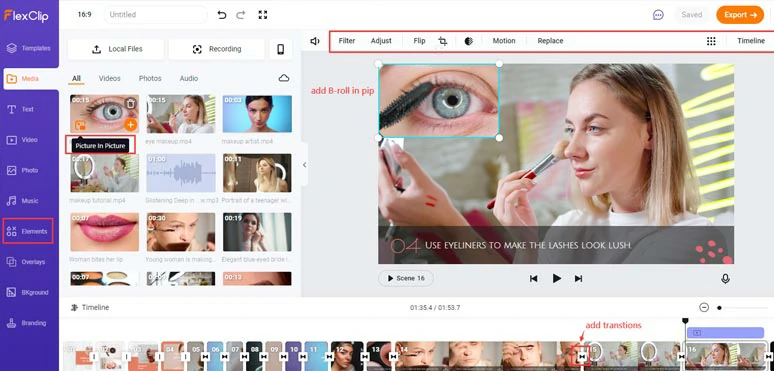 Add picture-in-picture effects, transitions, etc. to makeup tutorial videos.
Step 6
Add pre-recorded voiceover, music, and sound effects: Now, you can import your voiceovers onto the timeline to match the video scene. Next, click the Music tab where you can add multiple layers of free BGM and sound effects to add rhythm and emotions to the video.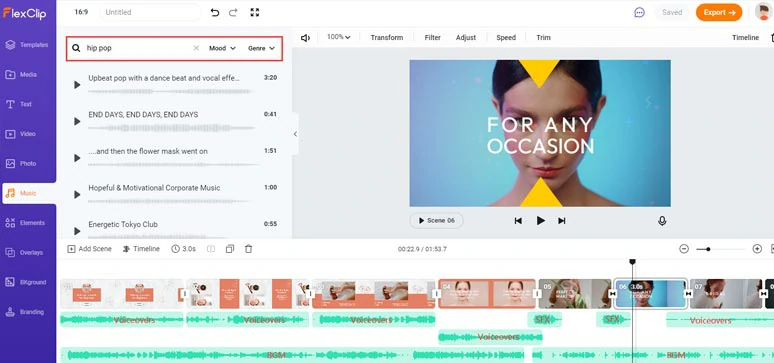 Add royalty-free BGM, sound effects, and pre-recorded voiceovers to makeup videos.
Step 7
Preview and share: Click the Export button to directly download the video to your local PC or share it to YouTube, Google Drive, and Dropbox. A clickable link and embed code are also available for blogging or a private share. Pretty handy.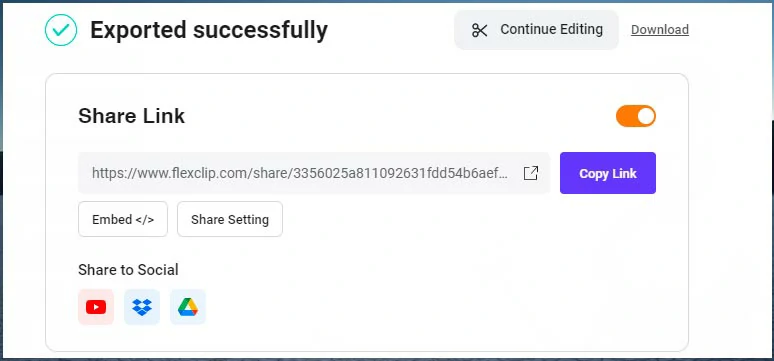 Multiple ways to share a video.
Get Inspired from the Best Makeup YouTubers
Lack of inspirations to create captivating makeup tutorial videos? Let's learn from some of the hottest makeup YouTubers. Here, we handpicked 3 distinctive makeup YouTubers and helpfully you can get inspired from their makeup videos.
1. Transform Yourself into a Movie Character or a Celebrity Using Makeup
Well, people are often obsessed with a makeup artist who can use their makeup expertise to perfectly transform her into a popular movie character or any celebrity. So, this could be a great kick-start for your makeup channel on YouTube or Instagram.
Wonder Woman Makeup Tutorial Video
Here, Carli, the makeup artist, successfully uses her power of makeup and transformed her into the charming Wonder Woman, played by Gal Gadot. You can learn from her about how she teaches the viewers to do the makeup and the way she speaks and makes the makeup video.
2. Check How the Celebrity Makeup Artist Makes the Makeup Video
With 8.84 million YouTube subscribers, Tati Westbrook is a Hollywood makeup artist and stylist who posts beauty hauls, makeup tutorials, and beauty products reviews to her channel. We are sure you can learn a lot from how she reviews the beauty products in her makeup video and run the makeup YouTube channel overall.
Tati Westbrook's review of $11 drugstore foundation
3. Show Your Personality and Create Instantly-recognizable Makeup Videos
With so many makeup artists competing on YouTube's beauty video channels, to stand out from the crowd, you gotta spice up your makeup videos with distinct character and presenting styles.
Having a staggering number of 13.8 million fans on YouTube, Nikkie de Jager, a Dutch beauty and makeup influencer, sets a great example of how the power of makeup could be through her straightforward personality and compelling makeup videos. Get inspired from her makeup tutorial videos below.
Nikkie shows TikTok makeup trends
Now, It's Your Move
So, if you've made it here, we are sure you must have learned a lot from our makeup video tutorial. Hopefully, you can create original and thumb-stopping makeup tutorial videos by using FlexClip and your inspiration. If you have better solutions to create makeup videos for YouTube or Instagram, don't hesitate to reach us on our official Facebook or Twitter, etc.