So, you wanna record your voice online for Google Slides or record your singing and put it online for everyone to enjoy or record your voice as an MP3 file for blogging, a podcast, or a tutorial video…and you don't know which online voice recorder you should turn to?
No worries! In this post, we got you all covered. We will walk you through the 5 best free online voice recorders and offer you bonus tips as to how to record the high-quality voice recordings you need. So, let's rock and roll.
Here is what you will learn:
5 Best Free Online Voice Recorders You Need
5 Best Free Online Voice Recorders You Deserve
Using a free voice recorder online gives you the flexibility to record your voice at home on your pc and you can edit and share the recording in a snap for various social media. We've tested out 5 user-friendly online voice recorders and hopefully, you can find an ideal online voice recorder that works best for your needs.
1. FlexClip
FlexClip is a free and feature-rich online voice recorder and video editor. If you need to record your voice for an explainer video, a promo video, an anniversary slideshow video, or even a music video, FlexClip can help you record, edit and merge audio and videos and photos in one place in a breeze.
Record your voice online by FlexClip free online voice recorder
Just upload your video and photo assets to FlexClip and connect your mic to your PC and long-press the recording button to record your voice. Or you can upload your voice recording from your phone and mix the audio with photos and videos using FLexclip. The edited video projects can be downloaded as an MP4 file (1080P) or directly shared to your YouTube channel or Dropbox for saving.
Besides, don't forget to check out FlexClip's vast media library where 4M+ stock assets, including royalty-free HD videos, photos and BGM, and sound effects, and thousands of designer-made video templates are available, not to mention tons of handy video editing tools, like video filters, transitions, picture-in-picture effects, dynamic elements, and GIF maker, etc.
They will unleash your creativity for audio and video creation.
Prominent Features:
Record, edit and merge audio, video, and photos
4M+ royalty stock assets: videos, photos, music, and sound effects, GIPHY's GIFs
Create picture-in-picture effect
Awful lots of video tools: trimmer, timer, dynamic elements, text animations, custom logo, etc.
Intuitive interface offering storyboard and timeline modes for everyone.
Who Is FlexClip Best Suited For?
If you want to record your voiceovers and make some edits to blend them with your photos and videos, FlexClip, a versatile online voice recorder, and video editor, should be your go-to choice for recording your voice online for free.
2. Online Voice Recorder
Online Voice Recorder is a free in-browser voice recorder that features a minimal interface for users. Just left-click the red recording icon, then you are ready to record your voice online.

Use Online Voice Recorder to record your voice
Done with your voice recordings. You can playback and trim the unwanted parts and then directly download the audio file as an MP3 to your local computer.
Prominent Features:
Download MP3 voice recordings
Who Is Online Voice Recorder Best Suited For?
If you only wanna record an MP3 voice recording and later upload to your Google Drive and further insert it to your Google Slides or on other platforms, the free and easy-to-use Online Voice Recorder is a great tool to meet your needs.
3. Rev Online Voice Recorder
Rev Online Voice Recorder is one of the latest free online voice recorders that work on Google Chrome and Safari. It's free and intuitive. You press the "Record" button and then the recording starts. To stop the recording, hit the "Pause" button.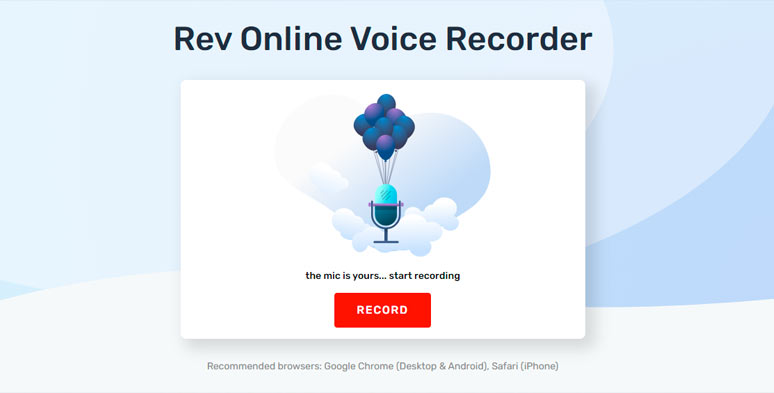 Record your voice online by Rev Online Voice Recorder
Once the recording is finished, you can instantly preview your recorded voice. You may rewind or forward the 15 secs of the audio or trim the audio. If you are satisfied with the voice recording, you can directly download it as an MP3 file.
As a company specializing in converting audio and video to text, Rev also offers you paid service to convert your voice recording to text if you need its auto-transcription feature.
Prominent Features:
Record your voice and download an MP3 voice recording
Trim your audio and easy preview
Works on Google Chrome and Safari
Who Is Rev Online Voice Recorder Best Suited For?
If your voice recording is long, esp. for the audio narration for a movie or a documentary video and you need to add subtitles to the video later yourself, so you can use Rev Online Voice Recorder to record your voiceovers and later use its paid human service to transcribe your audio to text and it may save you tons of time.
4. Vocaroo
With a distinct anime and minimal interface, Vocaroo is another user-friendly free online voice recorder. Just press the red "recording" button and then you can record your voice. You can directly download the voice recording as an MP3 file to your PC.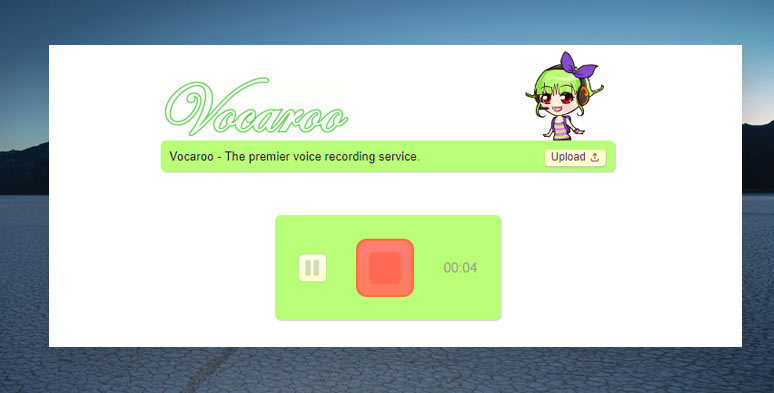 Vocaroo free online voice recorder features an adorable anime style.
What makes Vocaroo different is that it offers you multiple ways to save and share voice recordings. You may directly share your online voice recordings to Facebook, Twitter, Reddit, Whatsapp, or by your Email.
Vocaroo may also generate a sharable link and a QR code or an embed code for blogging which is super useful. The only drawback is there is no way to trim or split the voice recording on the spot.
Prominent Features:
Record your voice online and download its audio file as an MP3
Multiple ways to share your voice recordings online: Facebook, Reddit, Twitter, QR code and embed code, etc.
Who Is Vocaroo Best Suited For?
If you wanna immediately record your voice online and share it with friends on various social media, Vocaroo's versatility for social sharing definitely gives its edge over other free online voice recorders. With Vocaroo's auto-generated sharable link and embed code of your voice recording, bloggers can easily embed your audio recording in your blog post or Emails for newsletters.
5. VirtualSpeech
VirtualSpeech is another free online voice recorder alternative. For its first-time users, VirtualSpeech offers you free voice recording and direct download of your audio as an OGG file, which has better sound quality and a smaller compressed file size than MP3.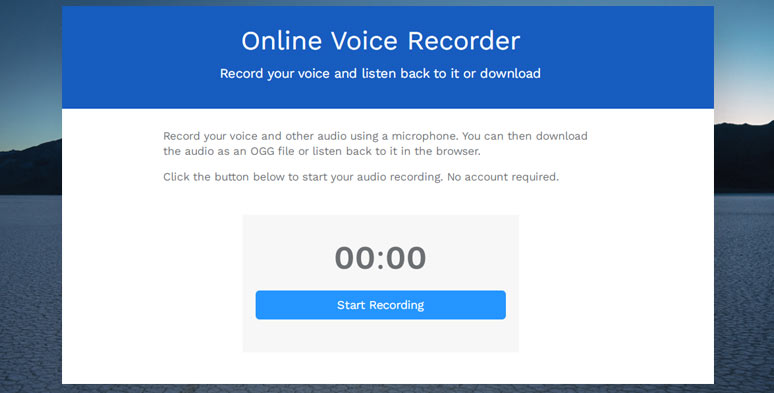 Versatile VirtualSpeech online voice recorder
You may also convert the OGG audio file to an MP3 and use its auto speech-to-text tool. Just enter your email address, the VirtualSpeech will send you the converted MP3 audio file.
However, such a generous voice recording and auto-to-text service are only offered once for an independent ID. The next time, you visit VirtualSpeech's online, you need to pay $5 for unlimited recording for one year. Yet, it still seems to be an affordable choice for many.
Prominent Features:
Record your voice as an OGG file
$5 unlimited voice recording annually
Who Is VirtualSpeech Best Suited For?
Although VirtualSpeech is only a one-time free online voice recorder, it still offers an affordable bargain for its high-quality voice recording feature and auto speech-to-text tool. If you need a day-to-day online voice recording tool or crisp and clear voice recordings for a podcast, VirtualSpeech can be a viable option.
Bonus Tips to Record High-Quality Voice Recordings
Now, you have some of the best choices for a free online voice recorder. For beginners, to record high-quality voice recordings, the following battlefield-tasted advice is also helpful.
1. Find a Quiet Room for Voice Recording
To most ordinary people, to record your voice in a professional studio seems unnecessary in most cases. So, your quiet bedroom or study room would be an ideal place to capture your voice. If you have pets, don't forget to keep them out temporarily.
2. Get a Condenser Mic
All the free online voice recorders mentioned above need an external mic to be connected to them to record voices. To capture your delicate and crisp voice, using an affordable condenser mic, with a price ranging from $35 to $200, will take your voice recording to the next level, compared with an ordinary USB mic.
Of course, if you don't have a condenser mic available, a backup plan is to use the headphone or earbuds of your iPhone. Since there is a quality built-in mic inside of it, it will also help you capture crisp and clear vocals.
3. Use a Foldable Arm Stand to Secure Your Mic
Having a foldable arm stand to hold your mic gives you the maximum flexibility to record your voice to any degree you want, esp. when you are singing or recording audio narration for a video and movie.
All you need to do is secure your mic on the arms stand and attach the foldable stand on a table or wherever you want.
4. Consider Using a Free Desktop Voice Recorder
If what you pursue is the ultimate audio quality, using a free and versatile desktop voice recorder actually works better than an online voice recorder, since your voice won't travel through the web to the other end of the in-browser voice recorder, which might cause distorted audio or time lag due to the unstable internet connection.
A recommended desktop voice recorder is Audacity. It's a free and open-source voice recorder app on PC that works on Windows, Mac, and Linux. You can use it to record multiple audio tracks, easily trim, split and delete or highlights parts of the audio and apply audio effects like echo, reverb, etc. You may save your recordings as an MP3, WAV, OGG.

Audacity free desktop voice recorder
5. Focus on Your Content and Practice A lot
For first-timers of voice recording, do speak in a calm and friendly tone and strike a balance between educational and entertaining content. Your listeners will appreciate your efforts. Besides, do practice a lot to make sure that your voice won't sound like a robot.
Now, It's Your Move
So, hopefully, our recommended free online voice recorders and voice recording tips will do you a great favor when it comes to voice recording. If you need to record your audio narration or voiceovers to a video, using the feature-packed FlexClip online voice recorder and video editor can be the best choice. If you only need to record an mp3 audio file, the other 4 free online voice recorders will also serve you well. So, start recording your voice now.