This article shows you 6 AI-powered headshot generators that enable you to generate high-quality headshots. Pick the best one to help you out!
AI headshot generator is a big improvement. Different from normal AI image generators which are not good at generating faces, AI headshot generator utilizes AI technology to resemble headshots from your photos. Once you upload real pictures, the headshot generator will train itself with those pictures, gain knowledge about the facial features, and reconstruct the faces. You can even experiment with various hairstyles, and outfits.
If you also want to utilize the power of AI to revamp your LinkedIn, or boost job applications, here are the 6 best AI headshot generators to try.
Can't Miss: Best Text to Speech Tools You Can't Miss >
1. Aragon
Price: $29 per person
Aragon is the #1 AI headshot generator that turns your selfies into realistic headshots. To use it, you need to first upload at least 12 photos of different angles, then wait for at least 60 minutes. After that, you can select from over 200+ headshots of different styles and download your favorite ones. You might have problems with the selection because all pictures look so nice.
The pictures you uploaded will be safe and Aragon team will not use them for testing and developing their service. If the pictures generated don't really represent you, you can get a refund soon.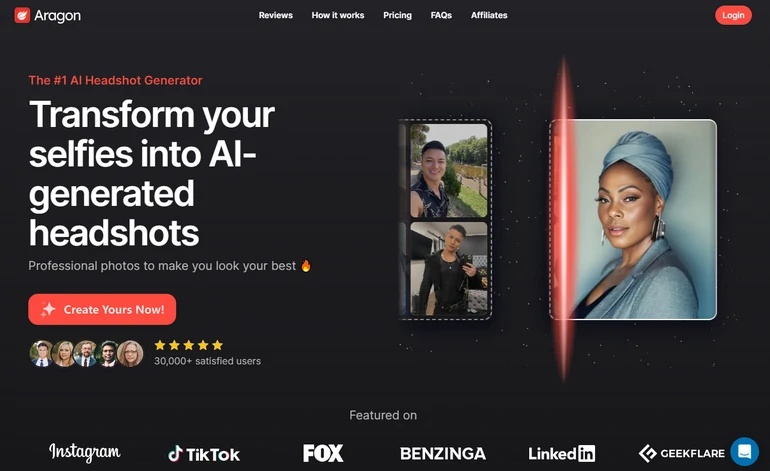 AI Headshot Generator - Aragon
Main Features:
1
Train an AI Model with Your Pictures & Generate over 200 Headshots
2
Ultra High Resolution of 1024*1824
2. Fotor
Price: 5 credits for free
Fotor can generate outstanding headshot pictures. You can choose to generate AI headshots with your pictures or text. What we like about Fotor's AI headshot generator is that you can preset the styles. You don't have to spend much time filtering out the outputs in styles you don't like. It also supports generating headshots of different aspect ratios for different platforms.
Fotor also uses advanced algorithms to ensure consistency and professionalism. Upload all your team members' photos and generate headshots in the same style to enhance your company's image and show expertise.
AI Headshot Generator - Fotor
Main Features:
1
Generate headshots from images or texts
2
Allows you to preset styles
3
Consistency. Generate headshots of different people in one style
3. FlexClip
Price: Free
FlexClip can't generate a headshot from your own pictures, but it is integrated with the most advanced models like Stable Diffusion, Dall-E to help you generate a satisfying headshot from texts in high quality. Most text-to-image generators don't do very well in dealing with faces, but FlexClip generates natural headshots that you might recognize as a real person. Moreover, it understands your prompt. No elements will be missing.
As for the output, you can select from 17 image styles and 3 aspect ratios. Each time, FlexClip generates 2 photos at a time. If you are not satisfied with the results, you can always regenerate in one click.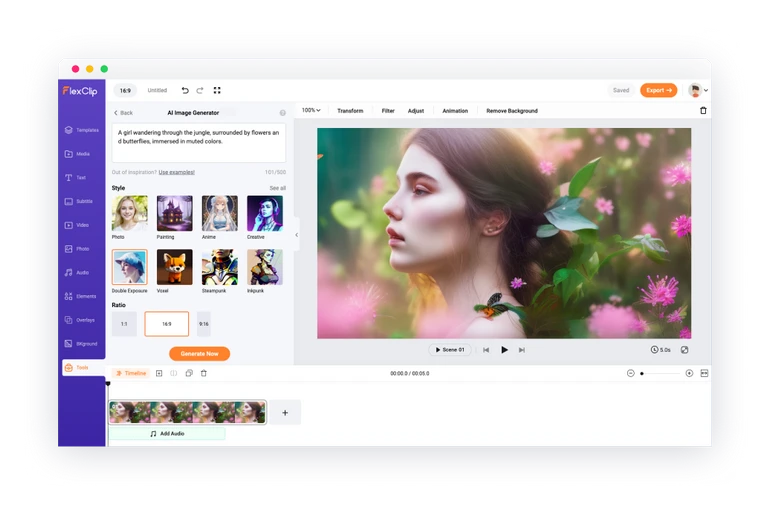 AI Headshot Generator - FlexClip
Main Features:
1
Generate pictures according to your prompt
2
17 image styles, 3 aspect ratios
4. Instasize
Price: 3-day free trial. Subscription starts from $4.99 per month
Instasize eradicates the complicated process of traditional photography. It utilizes the latest AI algorithms to mimic human creativity and deliver the best results as quickly as possible. You only need 5-10 photos of yourself to create a perfect headshot. After AI learns all details of your face, you can select from the available presets to customize and select the preferred style, background or aesthetic you want. All headshots generated are very realistic.
Instasize is also a great photo editor. It enables you to make all edits you like, for example, upscale, add text, colorize. Explore endless possibilities with Instasize.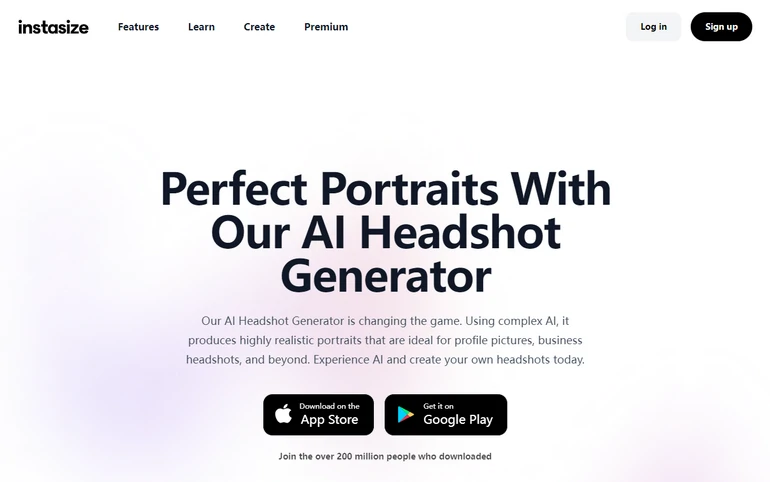 AI Headshot Generator - Instasize
Main Features:
1
Generate realistic portraits
2
Choose the style, background or aesthetic you like
3
Edit your AI portraits to make them more real
5. Fotorama AI Headshot Generator
Price: $9.99
Fotorama is an app working on both Android and iOS. It uses the latest AI algorithm to reproduce every detail, texture, and color. The images generated are like those taken with a high-end DSLR. Except for headshots, you can also use AI to generate more photos with different outfits, scenes, poses. If it looks nice, you can take a similar photo!
We love Fotorama's sharing system. Since it is an application, you can easily share photos with friends on social media.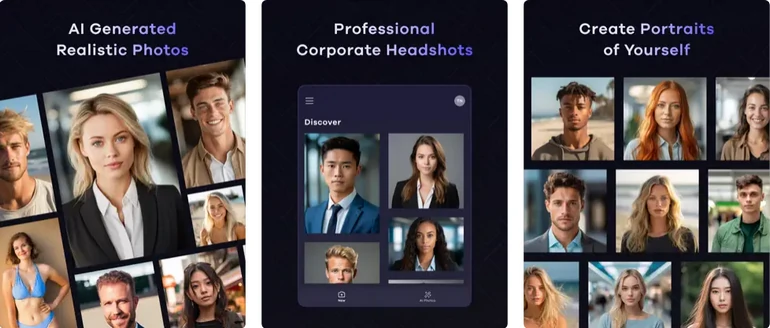 AI Headshot Generator - Fotorama AI Headshot Generator
Main Features:
1
Create portraits of yourself
2
Try different styles and poses, and then take similar photos
6. Secta
Price: $49 per person
Secta.AI specializes in generating headshots best to improve your online presence. With Fotorama, you get 100% satisfying photos. In one generation, you get 300+ professional headshots in whatever style you like. Moreover, you get a private gallery created by Fotorama with the all photos you like so that it is easier to manage. The process time is also quite short. Within 2 hours, you get perfect headshots.
Fotorama also includes several photo editing tools to level up your headshots, for instance, recolor, retouch, uncrop. Make every detail of your headshot perfect.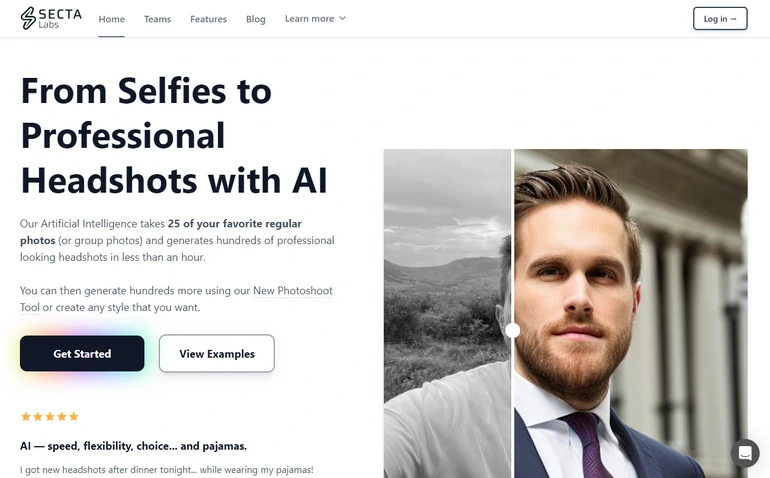 AI Headshot Generator - Secta
Main Features:
1
Generate 300+ photos in one go
3
Photo editing tools like recolor, retouch to level up the headshots.
The Bottom Line
Now, it is your move to create an AI headshot. Whichever tool you go, please check the local regulations and laws to avoid any legal issues. Except for generating headshots, AI can also be used to generate a video from text, do voiceover with natural voices. Do feel free to try out AI tools to make your life more convenient than ever!