FlexClip is an AI-powered video maker that has revolutionized the way people create and share videos. This powerful tool uses advanced technology to help users create engaging videos in a matter of minutes.
One of the main benefits of using FlexClip is its ability to automate the video creation process. With traditional video editing tools, creating a video can be a time-consuming and complex process that requires a lot of technical skills. However, FlexClip's AI-powered technology makes it easy for anyone to create professional-looking videos, regardless of their experience or expertise.
Key Features that Make FlexClip an AI Video Maker
Text to Speech Functionality: FlexClip features a text-to-speech tool that can convert text into high-quality, natural-sounding audio. It is available to choose from a fantastic selection of 400+ voices across 140+ languages including English, French, German, Hindi, Spanish, and Chinese. This tool is widely used in the e-book and audiobook industry to turn written content into spoken words. And in the entertainment video, text-to-speech technology is super helpful in creating synthetic voices for animated characters or video game characters.
AI Auto Subtitle Generator: Our auto subtitle tool uses advanced machine learning algorithms to accurately recognize audio in your creation and place subtitles separately at the right moments of the video. It can be used in media production such as film or TV shows or add captions to social media videos like Instagram Reels, Facebook, and YouTube that can further increase engagement rates and help in reaching a wider audience.
One-click Background Removal: Remove background from all types of images with AI cutout tool. You can easily erase backgrounds from portraits, product photos, and graphic elements. Then download images with transparent backgrounds or continue to change the background to different scenes as you like.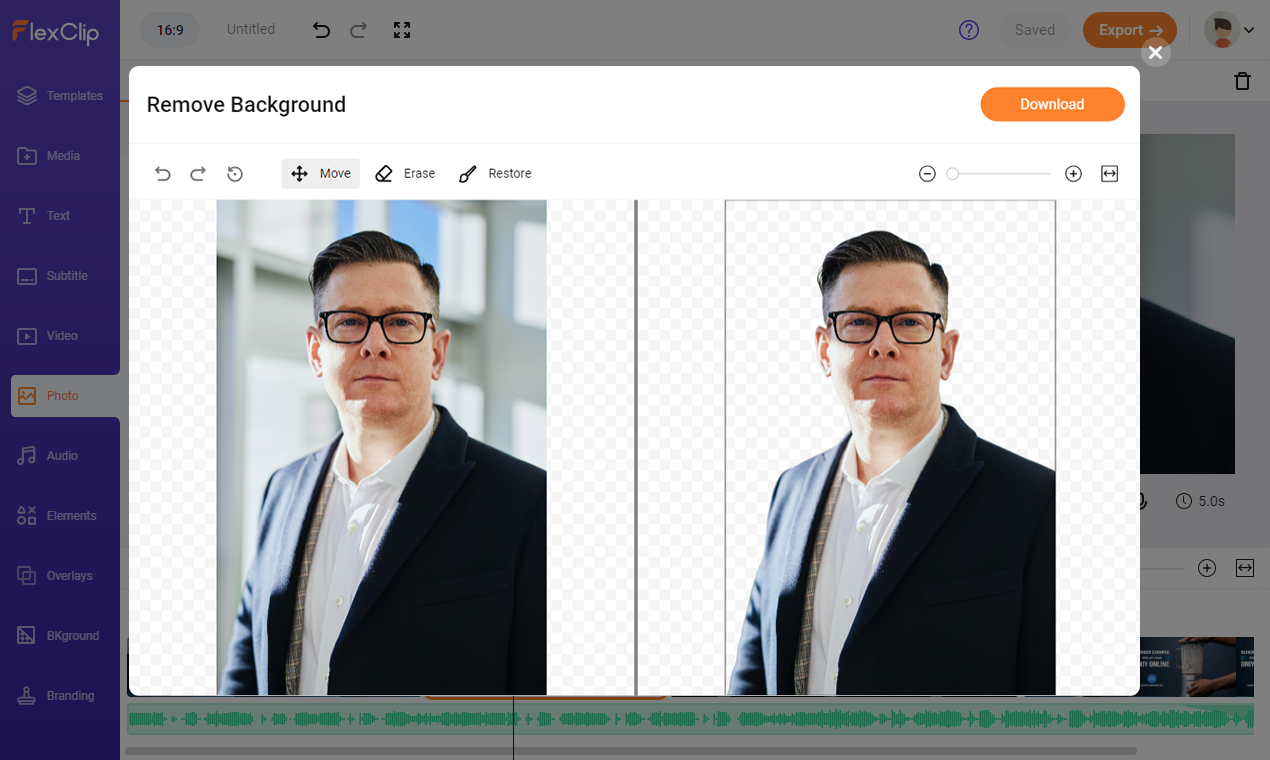 Automated Video Creation: Users can create videos from scratch or use pre-built templates to produce videos quickly. The software provides access to a vast library of templates, stock images, video clips, stickers, and text animations that users can choose from and customize to their liking.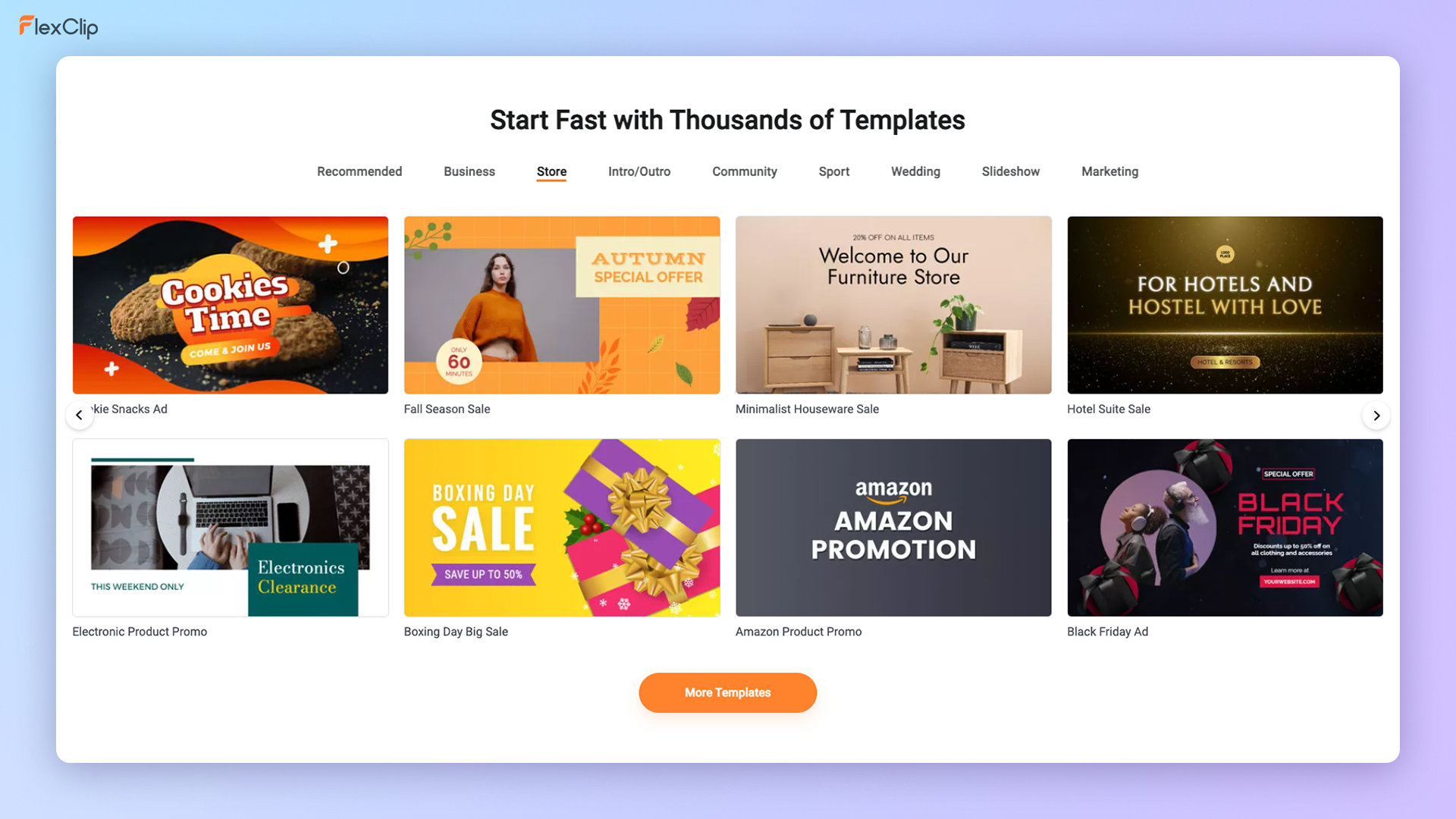 Intelligent Video Editing: FlexClip's AI technology enables users to automate many of the tedious editing tasks that would typically take up a lot of time. For example, it can automatically trim footage, apply transitions, add animations, and adjust the color grading.
Customizable Branding: FlexClip enables users to add their own branding elements, such as logos and colors, to their videos and save as templates, which are easily accessible for further video projects. This feature ensures that videos are consistent with a company's branding and messaging.
Collaborative Workflow: FlexClip has a collaborative workflow that allows you to collaborate on video editing with team members, saving you much time and maximizing efficiency especially to produce marketing or promotional videos.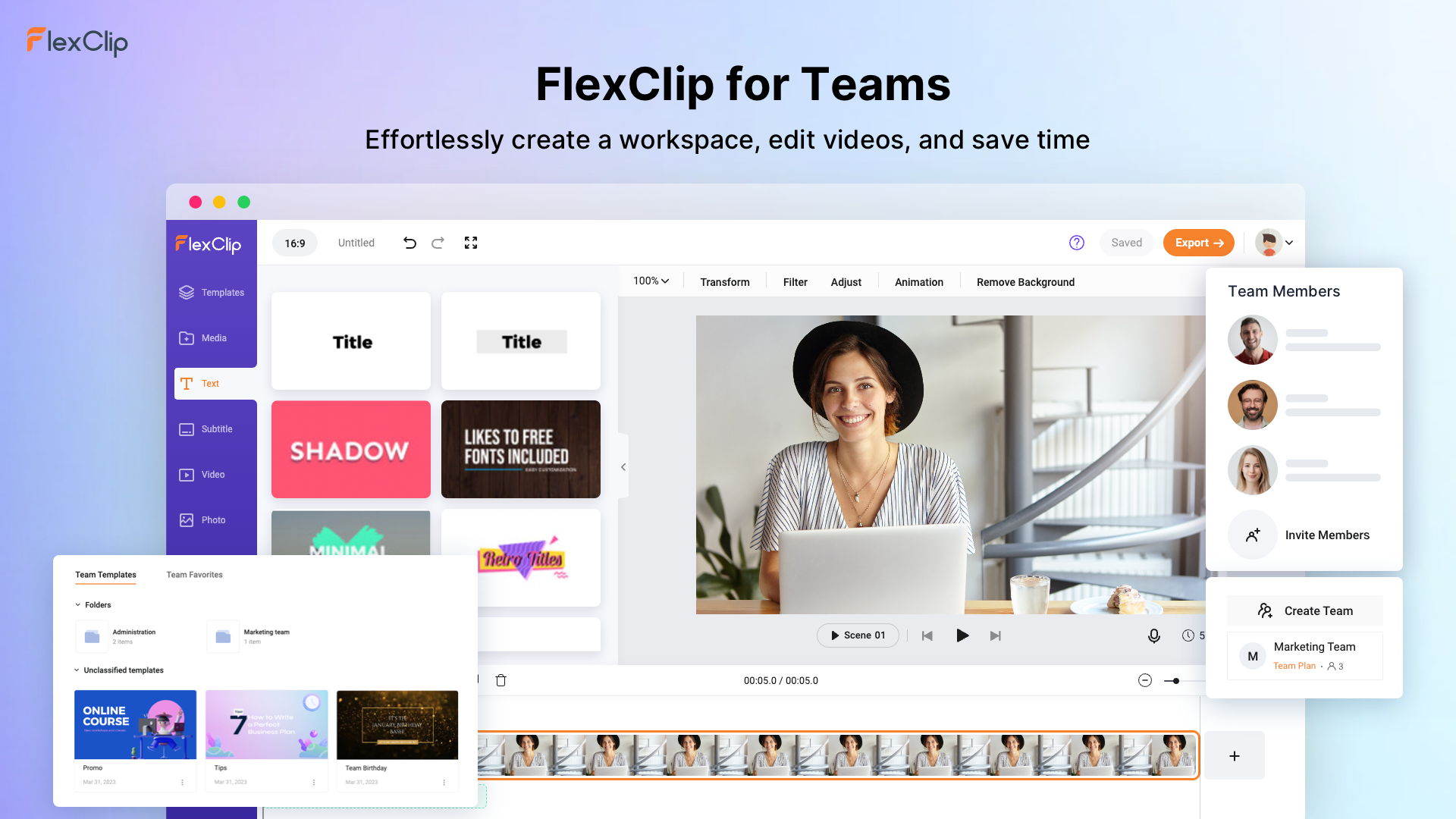 New Exciting AI Features
We are thrilled to announce that a fresh set of AI tools is added to FlexClip. With these new features, you can revolutionize the way you create videos and take your content to the next level.
AI Image Generator: Transform Words into Stunning Images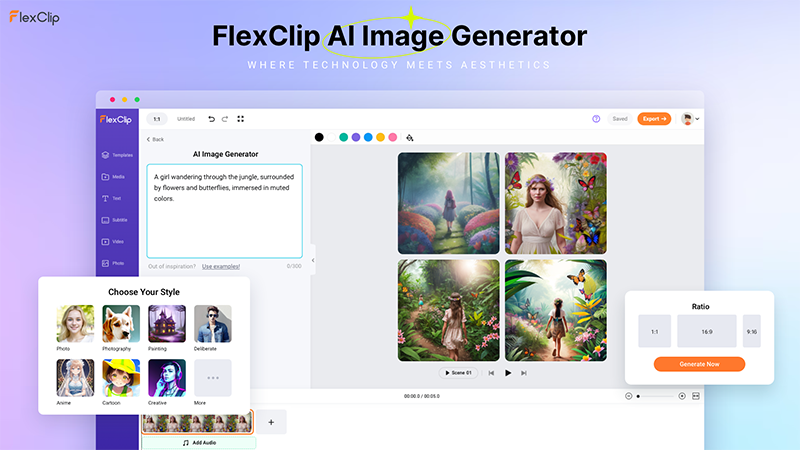 With FlexClip's AI image generator, you can easily produce stunning artistic pictures, illustrations, and anime characters in seconds. Simply type in your desired text, and let the AI work its magic.
AI Script Generator: Easily Create Scripts and Generate Ideas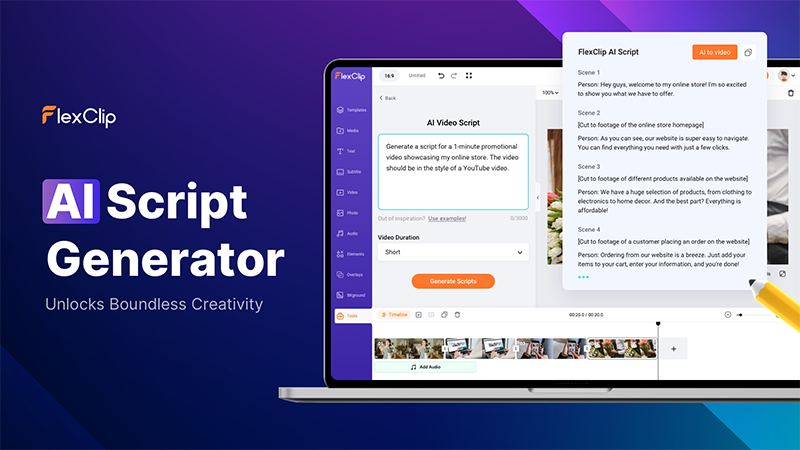 Ideal for businesses and individuals who need to create a large number of videos quickly and efficiently, FlexClip's AI Script Generator uses artificial intelligence to analyze the user's needs and generate scripts and ideas.
AI Text-to-Video: Repurpose Your Content into Engaging Videos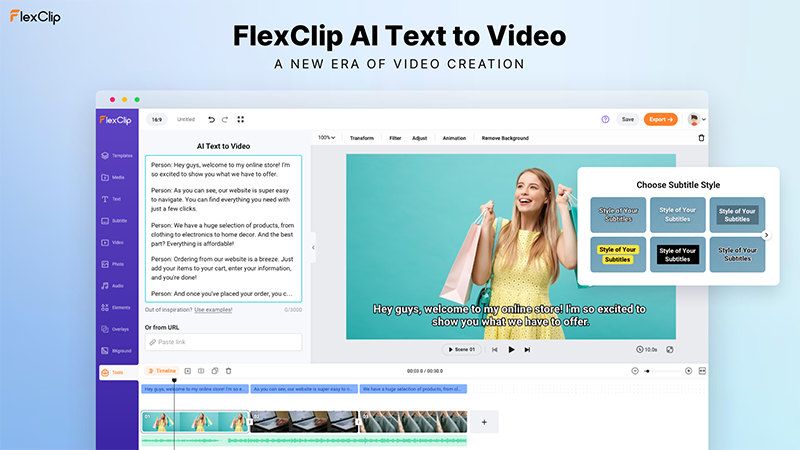 With FlexClip's AI text-to-video feature, you can convert written text into a video from prompts or URL, making your content more engaging and visually appealing. Say goodbye to boring text-based content and hello to dynamic, engaging videos.
Why People Choose FlexClip AI Video Maker
From the following reviews, you will learn why our users love FlexClip and what make FlexClip stand out from the competitors.
Review from Shaheer Malik, a professional UX Designer/ Writer. He said, "FlexClip is a fantastic online video editor that offers a wide range of features and functionalities to create engaging and professional videos. Whether you are an educator, marketer, influencer, or small business owner, FlexClip has something to offer. Its intuitive user interface, all-in-one toolkit, flexible editing options, AI-powered text-to-speech and auto-subtitle features, high-quality audio library, affordable pricing, and excellent customer support make it an excellent choice for anyone looking to create high-quality video content". Check the review here.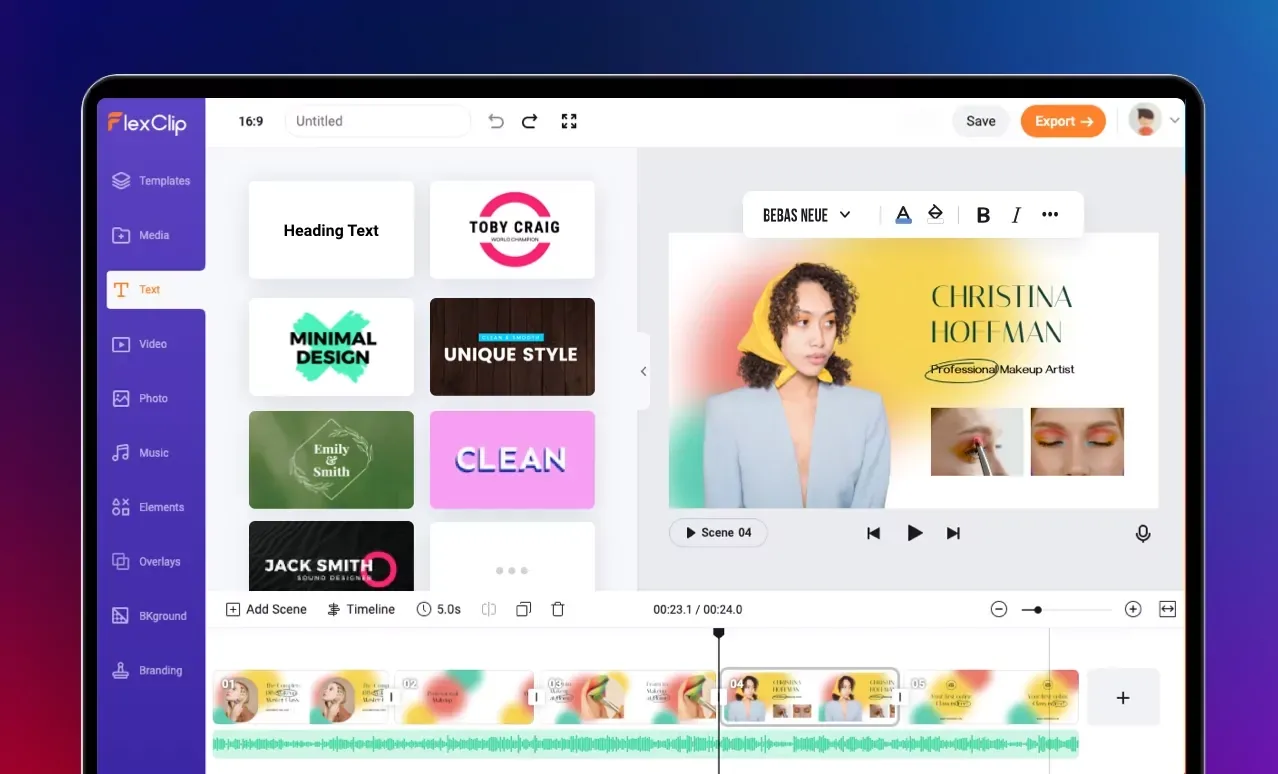 "If you're looking for an easy and efficient video editing software to create stunning videos, FlexClip is should definitely be one of your top choices. It allows you to create professional-looking videos without any prior video editing experience. With templates, effects, and transitions, creating videos has never been easier", stated Henry Hoe, a decisive marketer. Check the review here.
Troy, a fan of AI tools, conducted a detailed review of FlexClip and bestowed it with a rating of 4.5 out of 5. He writes, "If you're a marketer who spends a lot of time on videos, this software will be worth it. Whether you're creating video ads for businesses or clients, or just shareable social media posts, you can create it all in minutes with FlexClip".
Beyond that, FlexClip is also honored as the best video maker on TechRadar - one of the most popular and trusted sources for technology enthusiasts around the world.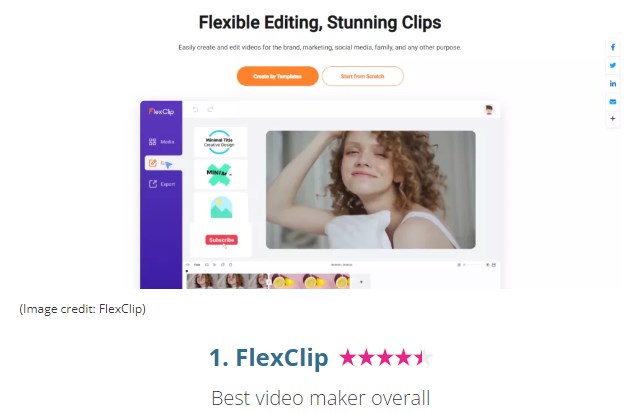 FlexClip has several advantages over competitors. First, it is easy to use, even for users with no video editing experience. Second, it is affordable, with monthly pricing plans starting at just $4.99. Finally, it is a cloud-based platform, meaning users can access their videos and projects from anywhere with an internet connection.
Compared to other complicated video editing tools, such as Adobe Premiere Pro and Final Cut Pro, FlexClip offers a more accessible and affordable option for video editing.
What You Can Do with FlexClip
Business Promotion: FlexClip helps businesses create professional-looking videos for their websites, social media channels, and marketing campaigns.
Social Media Advertising: FlexClip can help individuals and businesses create engaging videos for social media advertising campaigns, such as Instagram, Facebook, and Twitter.
Education and Training: FlexClip can be used in educational and training contexts to create instructional videos, tutorials, and presentations.
Entertaining: You can make entertaining videos with FlexClip, such as comedy skits, dance or music videos, or even funny animal videos. These videos tend to go viral, grabbing much more views and likes than text content.
Use Cases & Samples
Want to create videos using the power of AI but have no clues? Check these samples by our creative users:
Education Video: Make a video to promote your educational institution or provide information on a particular subject or teach a new skill.
ChatGPT + FlexClip: Here is a detailed video tutorial that explains how to generate personalized audio files for your students by using the artificial intelligence of ChatGPT and FlexClip.
AI-generated Video: Go to our text to video tool, input your text prompt and get the automatically generated video like the sample below in minutes.
YouTube Video: Quickly create videos using ChatGPT and FlexClip video maker to start a successful YouTube channel.
Intro & Outro: Video intros and outros help to establish a brand identity and grab the viewer's attention at first sight.
Vlog: Check the mini vlog made with FlexClip and learn how to improve your video editing.
Company Presentation: Show your company profile and services with a video to get more potential customers.
Book Trailer: Create a book trailer to provide a glimpse into the story, characters, and themes of a book.
Marketing Video: Make an animation video with cartoon characters to promote the store.
News Ticker Video: Easily create a news broadcasting video with a realistic scrolling news ticker.
Product Launch Video: Create a video about leaks and news of popular product launches such as iPhone.
Holiday Video: Send your sincere holiday greeting messages with a special and heartwarming video.
Real Estate Video: Make a photo slideshow to showcase the property and attract more potential buyers.
Birthday Video: Make a creative video collage from your photos to send best wishes for your friend.
Baby Photo Slideshow: Display your baby's lovely pictures by making a slideshow with music, transitions, and effects.
Travel Video: Create a video from your photos and clips to share the beautiful scenery and travel stories.