This article introduces you 8 AI TikTok video generators to help you create TikTok videos in seconds. Get one AI TikTok video generator to create viral TikTok videos in seconds.
TikTok now has billions of active users every day and this number has never stopped growing. As a TikTok video creator, the chance to get famous on TikTok is big due to the huge audiences, but the competition is also getting tremendous than ever.
The key to remain popularity is consistently creating high-quality and up-to-date content effectively. Though it is easy to say, those two requirements are quite hard to follow. Many TikTok creators are utilizing AI to meet the changing algorithms.
We understand that you don't want to fall behind. After hundred times of tests and comparison, we have selected 8 AI TikTok video generators to help you create engaging videos. Let's look at them and select the best one to generate AI TikTok videos.
Can't Miss: Best Slideshow Video Makers to Try >
TikTok Video Templates You Might Love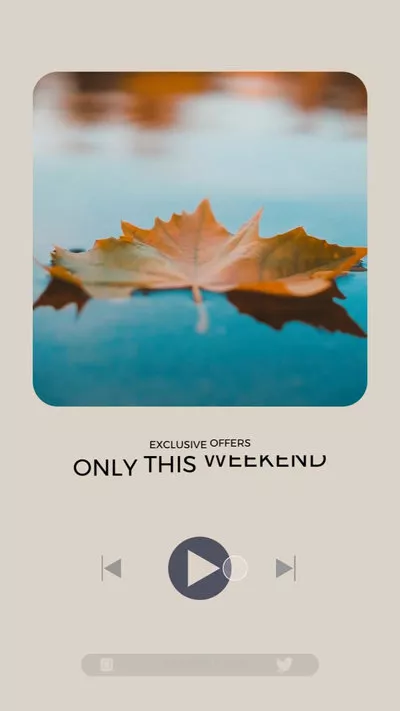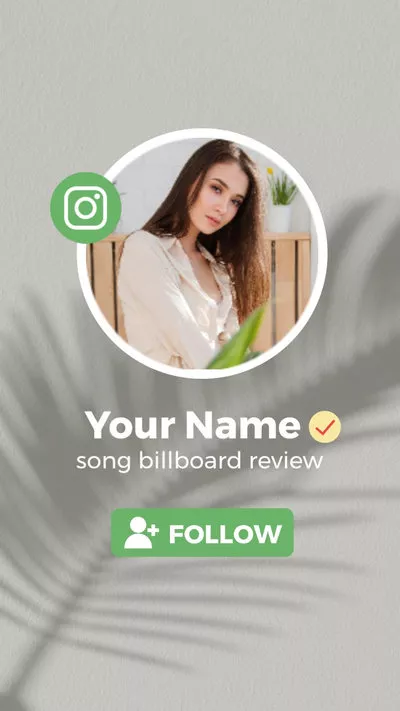 Best 8 AI TikTok Video Generators in 2023
1. FlexClip
FlexClip, incorporated with the latest ChatGPT, has numerous editing tools, templates, media resources, and AI features to help generate AI TikTok videos in seconds.
To list some of the best editing tools, video filter, animation, changing video speed, adjusting color. FlexClip has any video editing tools you can ever think of. Check all features on Tools Page. The millions of clips and elaborate 5000+ video templates will offer you endless inspiration.
The newly-added AI features will significantly fasten the TikTok video creation process. The AI script generator can help you generate great video scripts in seconds, saving you from the trouble of coming up with good topics and content. The AI text-to-video tool will generate a TikTok video based on the script. The AI text-to-speech tool will help do the voiceover.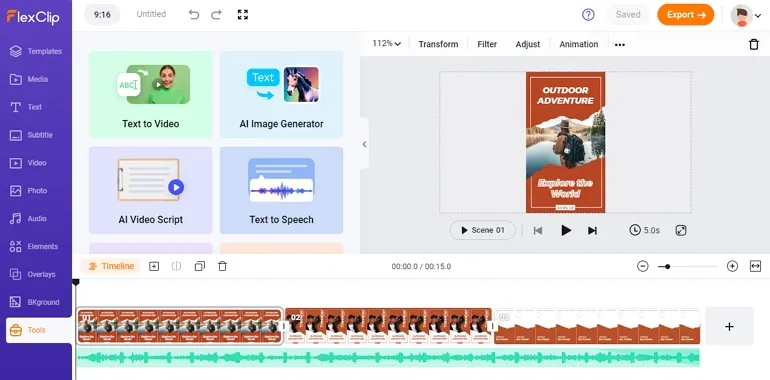 AI TikTok Video Generator - FlexClip
2. CapCut
CapCut is developed by BiteDance to encourage users to create videos and upload them to TikTok. Currently, CapCut can work well online, on mobile phones, on Windows desktop.
It has many interesting features for you to explore, for example, remove background, image upscaler, old photo restoration, portrait generator. The best part of using CapCut is the trending resources. You can find any popular font, music, stickers, effects with CapCut.
As for generating AI videos, CapCut has the great text-to-video feature. Input any text, CapCut can generate a video for you. You can even select a video template to get started. Most resources CapCut used to match the text script well.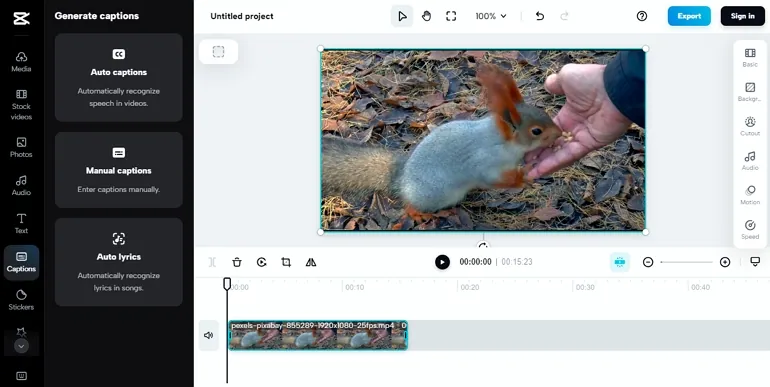 AI TikTok Video Generator - CapCut
3. Synthesia
Synthesia is one of the first AI TikTok video editors. It has only some basic video editing tools like text editor, add shape, and some customizable templates. It is best for creating tutorial videos, explainer videos, training videos for TikTok.
The most eye-catching feature of Synthesia is the AI avatar. You can select an avatar and let it speak anything for you. You can also customize your own avatar. The Synthesia avatar is realistic enough. However, Synthesia offers you the option to add gestures to make the avatar look more natural. 120 languages, 400 voices are there ready for you to use.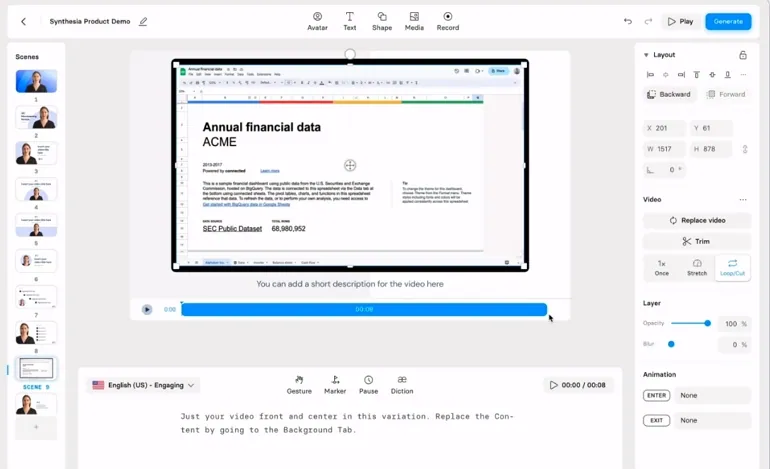 AI TikTok Video Generator - Synthesia
4. Pictory
Pictory is a video editor you can use to create high-quality videos. You don't need any design or video editing skills. Like Synthesia, there are no complicated editing tools.
Pictory has many powerful AI tools. It can help generate AI videos using any script. It can even help turn a blog to a video. Have a video to share to TikTok but too long? Use Pictory to generate a video highlight. Using text to edit a video is also possible. Once a long video is uploaded, Pictory will show the script of the video. Remove any sentence, the related video will also be removed.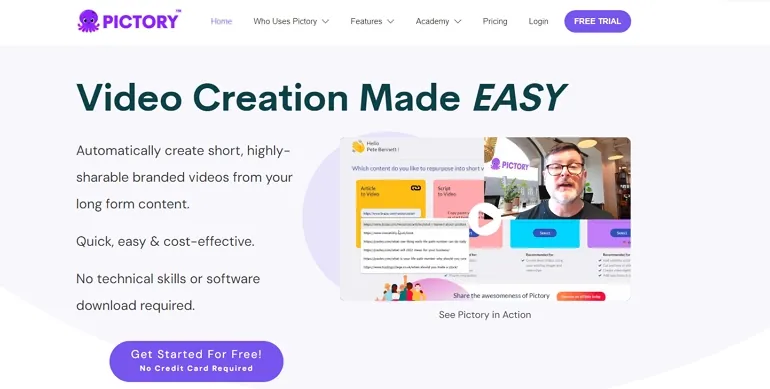 AI TikTok Video Generator - Pictory
5. Simplified
Simplified is a trust-worthy AI tool to design and create TikTok videos. It utilizes artificial intelligence to help generate captive engaging content.
Firstly, it provides suggestions, ideas, and even helps with sentence structuring with the AI writer., making the writing process smoother and more efficient. Whenever you are stuck in trouble, Simplified's AI writing tool will always be there to help.
Besides that, Simplified can also be used to generate images, remove image background, etc. Add your ideas to the video!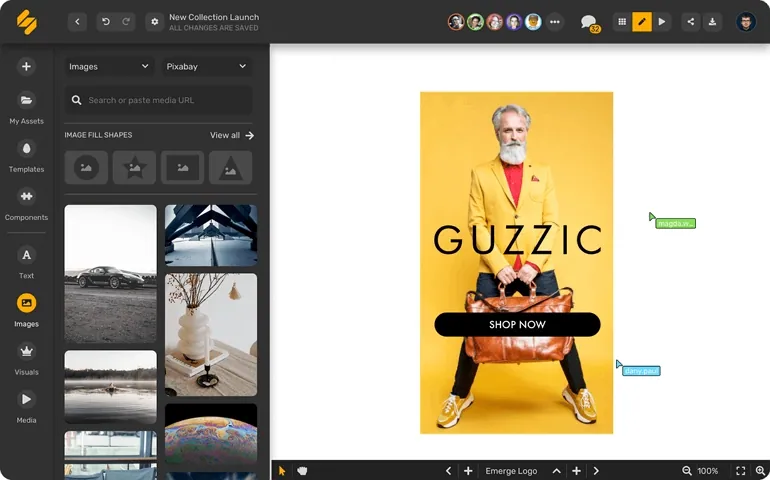 AI TikTok Video Generator - Simplified
6. Nova.ai
Nova.ai is an online AI TikTok video editor that helps you cut, trim, merge, resize your TikTok video clips. Numerous emojis, and music are there waiting for you to level up your work.
Nova.ai has three useful AI features to fasten your TikTok video creation process. They are auto-subtitle, translate and TTS. Free users can add captions, translate for a 30-minute video, and add audio of 1000 characters.
Lucky for those who need to share the TikTok video to other social media platforms like Instagram, Facebook. Nova.ai has the smart presets feature to change your video technical settings and adapt your videos to any video distribution platform.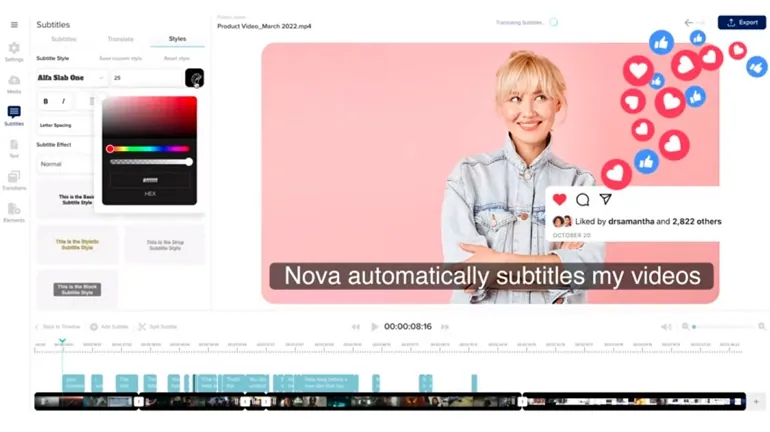 AI TikTok Video Generator - Nova.ai
7. Lumen5
Lumen5 makes it easy to create great TikTok videos. It is based on storyboard. That means even if you are new to video editing, you can catch up with all editing features and make edits. The editing features are limited to adding music, text, icons, changing colors. However, the media library containing millions of photos and videos is worth exploring.
Lumen5's text-to-video feature and audio-to-script tools can significantly improve TikTok creation efficiency. After uploading a video clip to Lumen5, it automatically turns the audio to a script. If necessary, you can turn the text to a video.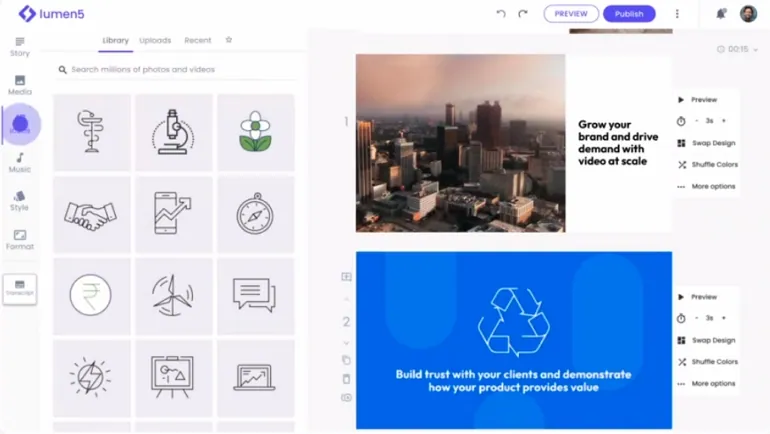 AI TikTok Video Generator - Lumen5
8. Elai.io
Elai.io is a well-known AI video generator which can be used to turn blog text to video. Paste the blog post or an article link, your text will be transformed into a video in just 3 clicks. Elai.io uses the latest language processing model which can fully understand your prompt and matches the pictures and videos in the stock library with the text.
Elai.io also has realistic AI avatars to help speak out everything for you. No matter what region you are targeting, you can always find the avatar your audiences will love. Now, create videos at a large scale and hassle-free.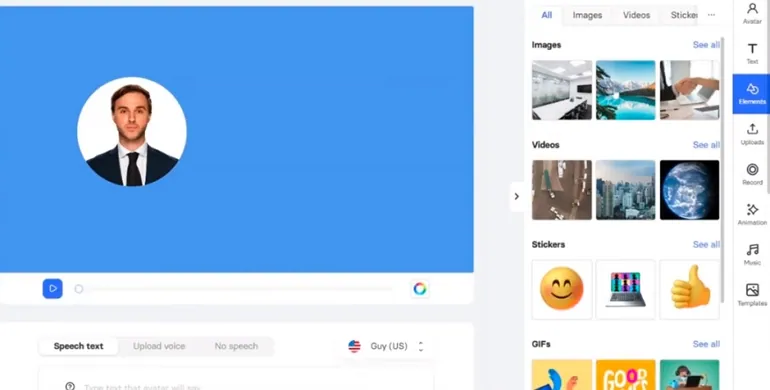 AI TikTok Video Generator - Elai.io
FAQs
1. Can you make TikTok videos with AI?
Sure. AI can help you make TikTok videos. Take FlexClip as an example, FlexClip can help you generate video script and turn script to a video. It can also help you generate images from prompt, add voiceover with AI, automatically add captions.
2. What is the best AI to generate TikTok videos?
FlexClip is the best AI tool to generate TikTok videos. It provides one-stop service to generate AI videos from generating video script, generating a video from script, auto-captioning, adding voiceover. Give theose tools a try!