The storyboard and timeline are two different video editing modes. The storyboard mode is a sumplified view, suitable for newbies to quickly assemble and arrange clips. The timeline mode, however, shows you all video and audio tracks. It is the best editing mode for professionals to make precious edits and create stunning visual effects.
Looking for the best timeline video editor? Among hundreds of video editors, it is hard to figure out their features and find their limitations. No need to search and make comparisons! Here in this post, we will introduce the best 6 timeline video editors to help level up your video. Pick the one you like most.
Can't Miss: Top 12 Best Free Slideshow Makers >
Best 6 Timeline Video Editors Online
Best Recommendation: FlexClip
FlexClip provides the best video editing service with two editing modes. You can stay in the storyboard mode for some basic edits, or challenge yourself to make something creative in timeline mode. In general, FlexClip is a safe choice for both beginners and professionals.
As a timeline video editor, FlexClip has the most clear interface. No matter what edit you want to make, you can always find them in seconds. You will no longer waste any second figuring out the features.
Simplicity doesn't mean short in features. To name a few FlexClip's powerful features, AI subtitle generator, text reader, PIP, color correction. Besides that, you have access to FlexClip's media resources. Millions of photos, videos, and music are ready to level up your work. Stunning visual effects are also available.
Best Timeline Video Editor - FlexClip
Top 2. WeVideo
WeVideo is also equipped with two video editing modes. All users will start from storyboard mode. Upgrading to storyboard video editing mode is optional. Even though an upgrade to storyboard mode provides you more features, payment is required. What you can do with WeVideo are adding text, audio, transitions, backgrounds, changing video speed, trimming video and more. During the 14-day free trail, you can export the video as GIF, or download the audio.
Pros:
Powerful feature
Relatively easy to use
14-day free trial is available
Cons:
Slow upload/export
Only two video layers available
Every video you exported will contain a watermark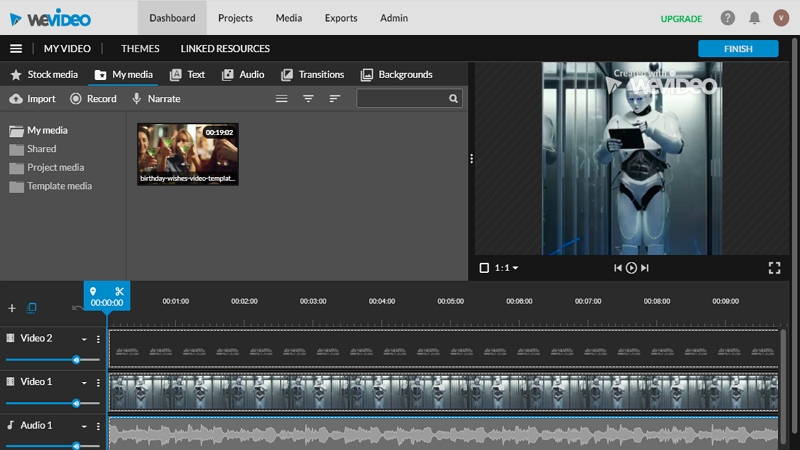 Timeline Video Maker Top 2- WeVideo
Top 3: RecordCast
RecordCast means recording screen and editing videos in several minutes. As a 100% free timeline based video editor, it has everything you need for editing. You can easily drag and drop video clips to the timeline, add text, add music, and background to create beautiful videos. No register, no download is needed. Give it a try!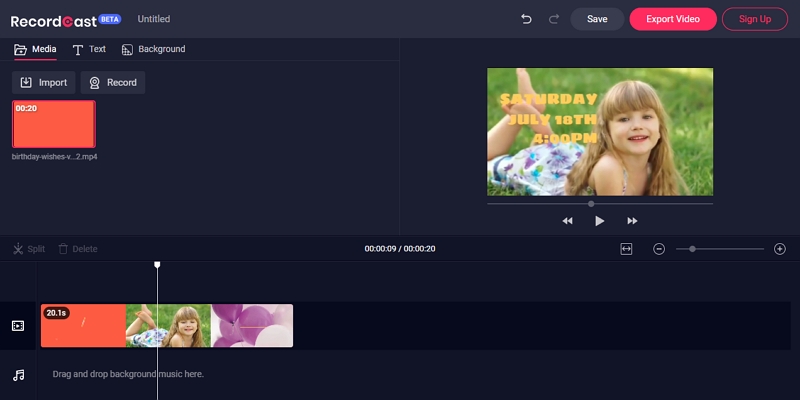 Best Timeline Video Editor Top 3- RecordCast
Top 4. Clipchamp
Clipchamp is one of the mainstream online timeline video editors. It provides beautiful video templates and powerful video editing tools. Besides all basic features, it allows you to add video effect, change color balance and more. We strongly recommend it to people who want to create professional movies. However, please be noted that to use premiere features and remove watermark, you need an upgrade.
Pros:
Powerful feature
Clear interface
Fast response
Cons:
Free version goes with watermark
Slow export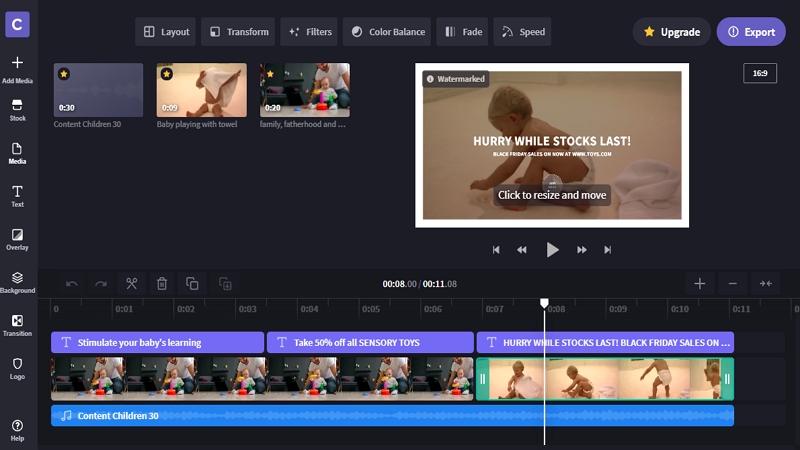 Timeline Video Maker Top 4 - Clipchamp
Top 5. InVideo
InVideo's online video editor helps you make professional videos from premium templates, images, music. It is developed to serve from small businesses to professional video production companies. Even though it has numerous features, the timeline is actually clear and quite easy to catch up with. All you need to do is dragging and dropping everything to the timeline. All elements will be listed in case you want to make edits in batch.
Pros:
Powerful feature
Cute animation
Cons:
Slow response
Free version goes with watermark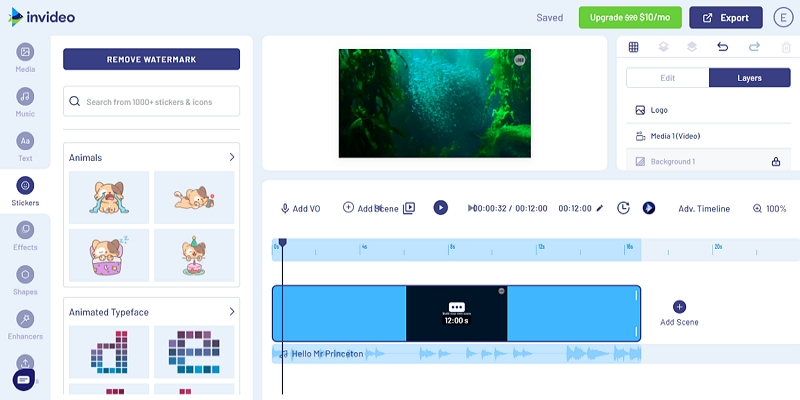 Timeline Video Maker Top 5 - InVideo
Top 6. Kapwing
Similar to WeVideo, Kapwing provides both timeline and storyboard mode for users. However, in timeline mode, you can only preview and do some basic cuts. All editing features are in their storyboard. They are all worth trying. Maybe someday Kapwing will update its service and migrate storyboard features to the storyboard. Please look forward.
Pros:
Powerful storyboard feature
Easy operation
Cute video templates
Cons:
Free version contains watermark
Timeline mode has no editing features
No media resources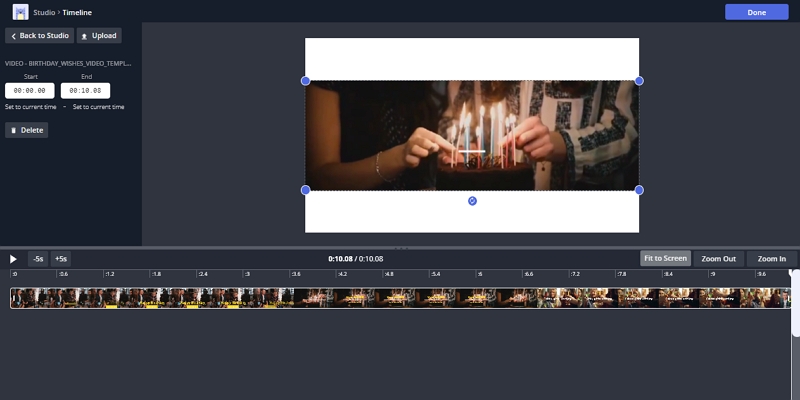 Timeline Video Maker Top 6 - Kapwing
The Bottom Line
That's all for the 6 best timeline video editors online. If you find this post helpful, please do share it with others. Which timeline video editor is the best for you? Remember to share your thoughts via Facebook.