Traditionally, making an audiobook is an arduous task. You need to hire a professional dubber, get recording equipment first, and then record for the next several days or even weeks. The whole process would cost thousands of dollars.
The shortcut to create an audiobook is using AI. There are loads of audiobook makers integrated with AI to read any book with natural voices. In the following parts, we will show you how to make an audiobook and some of the best audiobook makers. Without further ado, let's jump in!
Can't Miss: How to Make Animated Videos with AI & ChatGPT >
How to Make an Audiobook
Firstly, we need to go to FlexClip's AI text-to-speech tool, that can help read out your book online. Currently, FlexClip converts 1000 characters to royalty-free speech at a time for free. No download, no registration required. Click on the Text to Speech button below to enter the conversion page.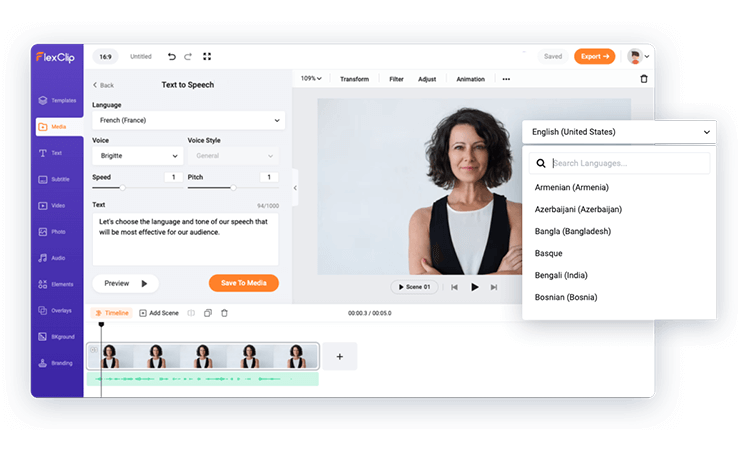 FlexClip - Best Audiobook Maker
Step 1
Choose the language,narrator, and voice style. FlexClip supports 140+ languages and provides 400+ natural sounds. Pick your favorite voice.
Step 2
Change the reading speed,and pitch to personalize the audio.
Step 3
Copy the text to the square.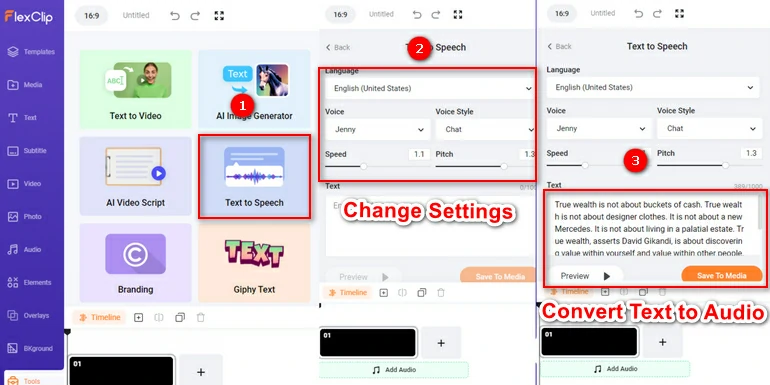 Make an Audiobook with FlexClip
Step 4
Preview the voice, and click on Save to Media. The audio will be downloaded to your computer in WAV automatically.
1. You can turn the audiobook you just generated into a video! Just paste the script to the
AI text-to-video
tool and let it generate a cool video for you, or add a background to create a podcast.
2. The audiobook you generated with FlexClip is royalty-free! Share or sell it wherever you like.
Alternatives for The Best Audiobook Maker
FlexClip's text-to-speech tool is cool, but it is always safe to have a backup plan. The best alternatives of the best audiobook maker are as follows.
1. Audie.ai - Online Audiobook Maker
Audie.ai uses the sate-of-the-art AI-based text-to-speech technology to generate audiobooks for you. Log in and you can immediately enjoy a wide selection of clear, natural-sounding narration with varied pacing and inflection. Every account comes with free 2500 credits.
Audie.ai strives to become the best in making audiobooks, so the developers added lots of features to improve the audiobook quality. You can duplicate any voice and use it on your audiobook with the voice clone feature. Besides, you can create a dialogue with different voices in one paragraph.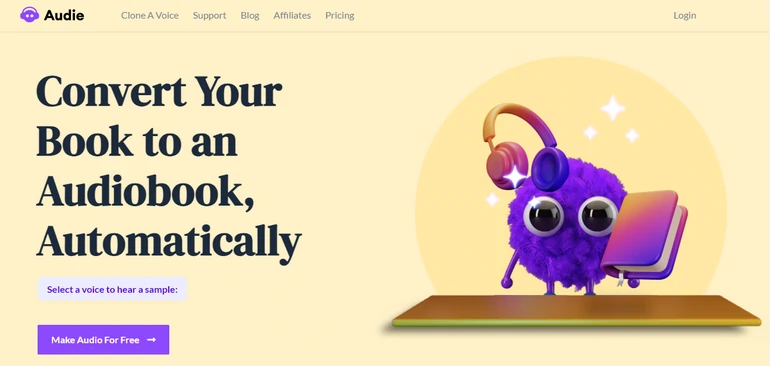 Best Audiobook Maker Alternative - Audie.ai
2. Enounce - Audiobook Maker for Android
Enounce converts your document into audiobooks in real-time. It supports 220+ voices and 51 languages including English, Mandarin, Hindi, Spanish. You can even add some background music to highlight the atmosphere. The output is rather satisfying.
Enounce puts much effort into helping you edit the document before you turn it into an audiobook. You can remove any pages of the document you uploaded, or change the text. Besides, Enounce can even read texts in images or handwritten texts.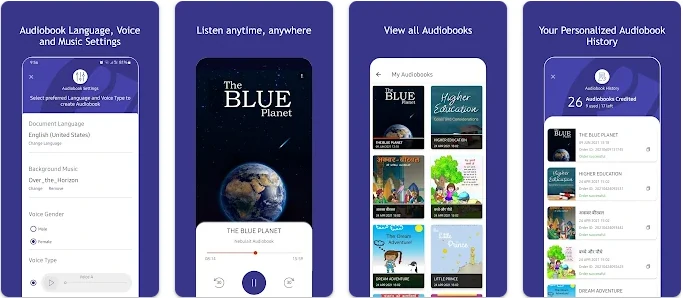 Best Audiobook Maker Alternative - Enounce
3. Audio Book Creator - Best Audiobook Maker for PC
Audio Book Creator works on both PC and Mac. This software can successfully convert ebooks to audiobooks using text-to-speech technology. It supports all languages supported by PC, for example, English, Arabic, Chinese, Czech, Danish and more. The software supports ebooks in epub, pdf, ibooks, txt. No internet connection is required.
You will get audiobooks in M4B format. This format allows you to stop listen anywhere and come back from where you left off. The downside of using Audio Book creator is that you can't distribute the audiobook you created.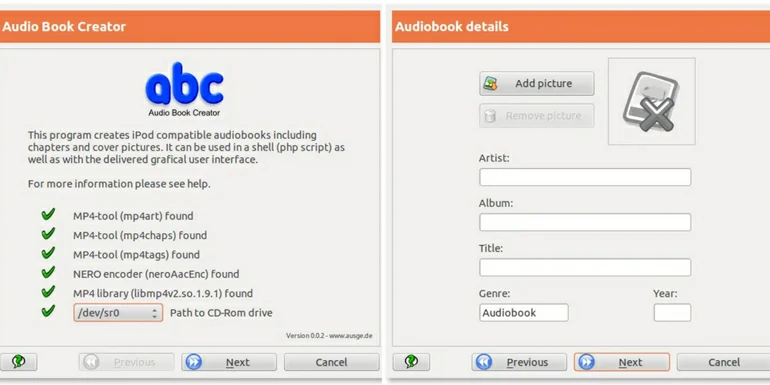 Best Audiobook Maker Alternative - Audio Book Creator
4. Audiobook Builder 2 - Best Audiobook Makers for Mac
Instead of converting text to natural speech, Audiobook builder helps organize the tracks you've already recorded or audio clips from CDs. You can join audio clips together as a chapter, adjust audiobook quality, or change the volume info.
Audiobook Builder 2 works collaboratively with other software. Once the audiobook is done, you can directly drag and drop it to Books, Music, or iTunes.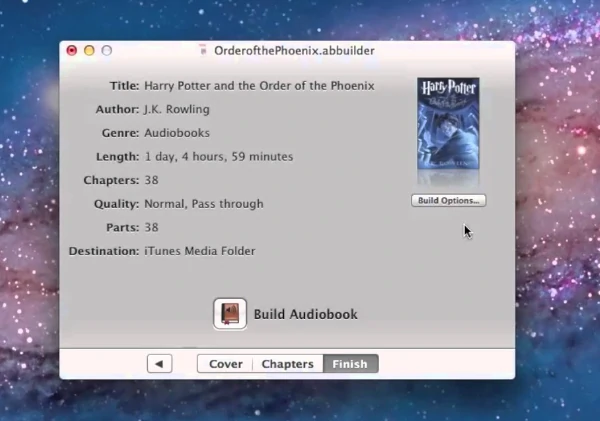 Best Audiobook Maker Alternative - Audiobook Builder
FAQs
1. Can I make an audiobook of someone else's book?
You can't make an audiobook of someone else's book directly. Before doing so, you need to ask for the writer's license, which usually requires a large sum of money.
2. Is it legal to post audiobooks on YouTube?
Sure, it is legal to post audiobooks on YouTube. However, if the book is copyrighted, there might be a problem.
3. Does audiobook have copyright?
Yes, audiobooks have copyright. Copyright laws protect of for the authors of their original works, including audiobooks.