Speech to text converter is convenient for life and learning, and can improve our work efficiency to great extent. For example, you can use the voice-to-text tool to record some important meeting content during a meeting. And we often need to convert the voice in the recorder into text is you're a journalist. It is too troublesome to write while listening. This is when the speech to text converter comes in handy.
If you are looking for the best online speech to text converters, you're in the right place. Let's walk through this quick guide and get 4 awesome free online speech to text converters.
Best 4 Speech to Text Converters:
Also Read: 6 Great Ways to Automatically Transcribe Videos to Text
1. FlexClip - Best for Auto Subtitles
The first online text to speech converter we want to introduce is FlexClip, which is best for you to automatically convert any voice or speech to text for the subtitles or open captions of your Podcast videos, YouTube videos, Zoom recordings, Instagram or TikTok videos, etc.
FlexClip offers a powerful auto subtitle generator can identify 140+ languages with multiple accents in your audio file or any video and automatically convert the voice to text with exact timestamps and up to 99% accuracy. Later, you can easily customize text styles, fonts, colors, alignments, text background fill, or split, or merge auto-generated subtitles freely.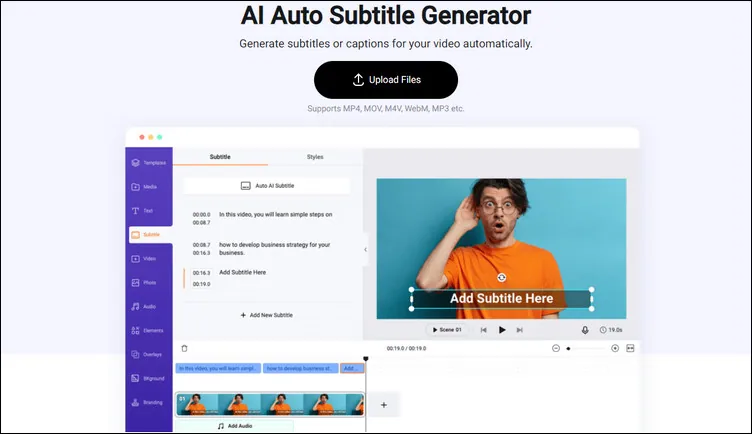 Image board: Best Speech to Text Converter - FlexClip
What's the best thing about FlexClip is that more than a text to speech converter, it is a feature-packed and assets-rich online video editor/maker, which can help you do so much more than convert voice to text with its additional powerful editing tools, such as combine your Zoom recordings, add facecam to video, edit your dji video or any, and make more cool edits to make professional-looking videos for YouTube, Instagram, or any social media platform.
Quick Tips:
①Convert Voice Recording to Text Automatically >
②Make a Custom Text to Speech Voice >
Have no ideas on how to edit your video? You can rely on FlexClip's pre-made templates for some inspirations. All of them are fully-customizable; just by dragging and dropping your video assets and you can create a scroll-stopping video in minutes, which can be a great timesaver.
Anniversary Photo Collage
Holiday Vacation Recap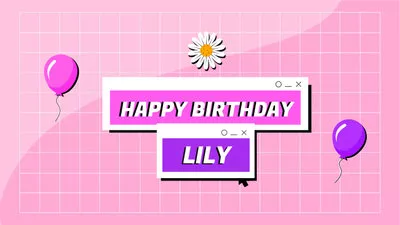 Happy Birthday To My Sister
Travel Journal Slide
Such a powerful online video maker with ai speech to text feature, FlexClip wins our top recommendation to convert the voice to text in a video and quickly make auto auto subtitles for your content. If you just want to convert your audio file to text, instead of making subtitle or caption in a video, here are 3 other speech to text converters you can try! Please keep reading.
2. Speechnotes
Speechnotes is an online speech to text converter that can help you convert speech to text easily without downloading any software to computer. You can use this speech to text tool to automatically transcribe recordings, audio and video files, YouTubes and more.
This reliable and secure online speech-to-text converter, using the most accurate automatic transcription engines, helps you quickly and accurately convert any speech or voice to text, it can also helps dictate your notes instead of typing, saving you time and effort. Simply upload your files or transcribe directly from Google Drive, YouTube or any other online source and start converting them into text.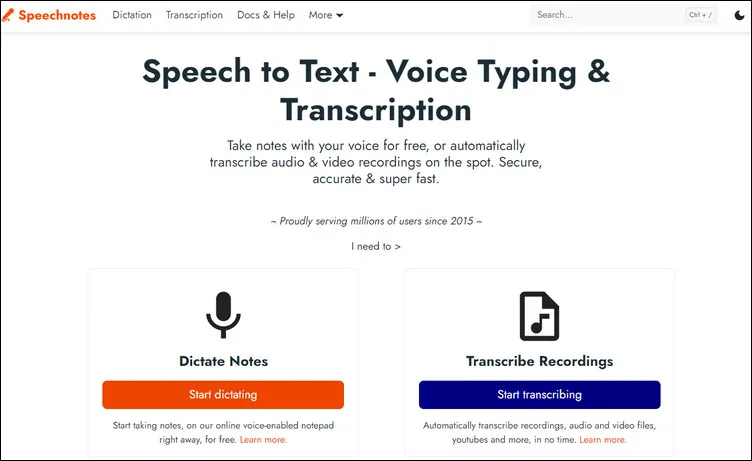 Image board: Best Speech to Text Converter - Speechnotes
3. Notta
Notta also offers an online audio to text tool to help you automatically convert speech or voice to text in an easy and simple way. Its simple and intuitive interface design can helps you to transcribe speech to text with a high accuracy up to 98.86% and more in a few minutes. By the way, this website is secured with SSL certificates to protect your privacy. Never worry about the security & privacy!
With the powerful speech recognition feature, it supports up to 104 transcription languages, including English, German, Spanish, French, Hindi, and much more! And it is compatible with many audio and video file formats such as WAV, MP3, M4A, CAF, AIFF, AVI, RMVB, FLV, MP4, MOV, WMV. Notta must be one of your best online transcription tool to help you convert any speech or voice into text.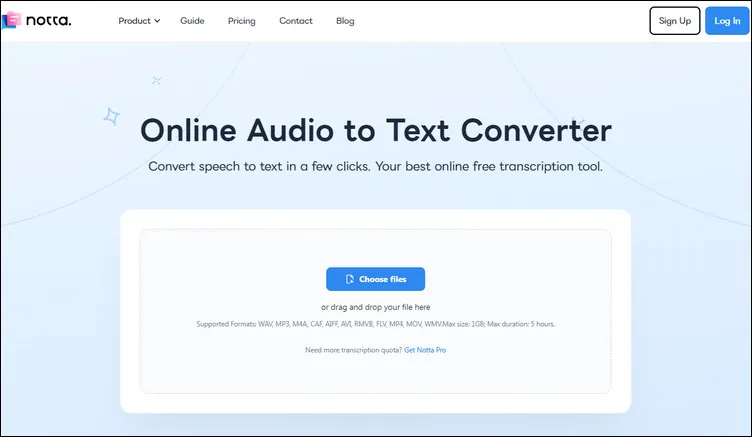 Image board: Best Speech to Text Converter - Notta
4. Podcastle
Podcastle is a great service that offers a ai solution to convert speech to text with its advanced speech recognition tool. With Podcastle's voice to text software, you can turn your voice to text online without overwhelming in just a couple of steps: upload, transcribe, and export!
Converting a voice file into a text file has never been so easy with Podcastle! It allows you to convert all popular voice formats, including MP3, WAV, and even MP4 to text. All you need to do is upload your audio file and let its smart technology do the rest. Once it's done, you can choose either PDF or DOCX format and download your transcription.
Image board: Best Speech to Text Converter - Podcastle
Final Words
That's all about 4 best speech to text converter to help you turn voice to text quickly and easily. By the way, FlexClip, the first tool we introduced, is also an excellent video maker that offers various types of video templates. Just try it now!