Are you preparing for the upcoming webinar, yet afraid that only a handful of people would register for and join the online discussion? A great solution is to create a captivating webinar teaser video to spark target attendees' curiosity and create a buzz for the coming online event.
So, in this tutorial, we will break down the secret of a successful webinar teaser video into actionable strategies and walk you through how to make a compelling teaser video for a webinar that allures prospective attendees.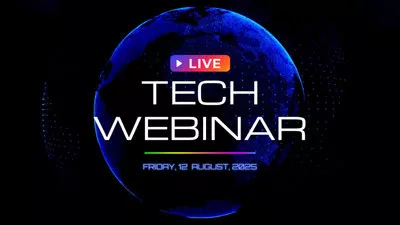 Universal Tech Webinar News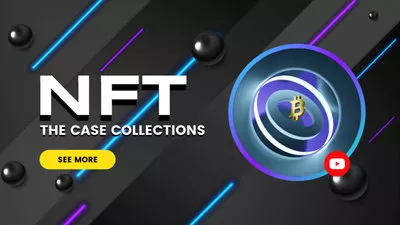 Abstract Nft Tech Webinar Youtube Video
Here is what you will learn:
Also, read how to make a great meet the team video for your brand.
What Makes a Great Teaser Video for Webinar
Well, only highlighting the time and title of the upcoming webinar in the teaser video won't make a great webinar teaser. You gotta plan it tactically. Here we broke down a great webinar teaser video into 6 real-world and actionable strategies for you.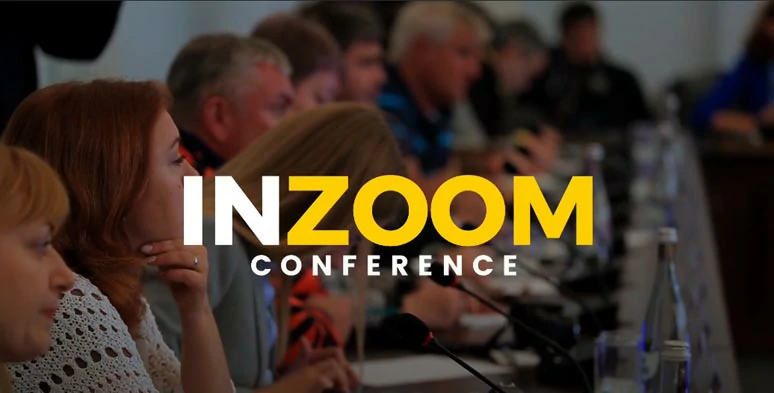 Ingredients for making a great webinar teaser video.
1. Capture Viewers' Attention
Being able to grasp target viewers' attention in the first 6 seconds or not is what makes or breaks a webinar teaser video. To that end, here are several things you can do to grab prospective attendees' attention.
Write a compelling webinar title for the teaser video. What we mean is the specific, punchy title in your niche that directly addresses the pain points the viewers can relate to. So, you can build hype and incentives for the viewers to sign up for your webinar.
Now, Compare the Following 2 Titles of a YouTube Webinar Teaser:
A: " 6 Ways to Grow Your YouTube Channel"
B: " How I Got 100k Subscribers & 10 Sponsored Videos in 6 Weeks, without Showing My Face"
Apparently, the title B sounds far more enticing than title A for it addresses the pain points of YouTubers who are camera shy and offers a clear objective of this webinar, i.e. how to grow from 0 to 100k subscribers and win the favor of YouTube video sponsors.
Use text animations, contrasts in colors, shape, etc., dynamic video transitions, and inspiring music. Our eyes and ears are born to be responsive to moving objects, contrasting colors, and upbeat sounds. Make sure you make the most of these elements to add vibes, emotions, and rhythms to your webinar teaser video.
If you have no experience in graphic and video design like me, using the designer-made and fully-customizable webinar teaser video templates can make your edits 10x faster.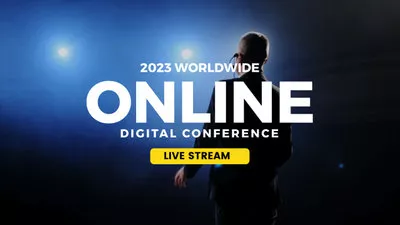 Online Webinar Invite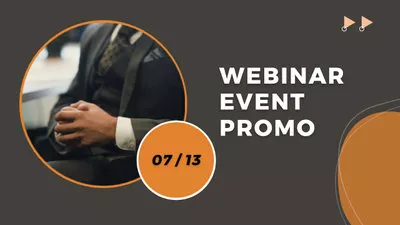 Webinar Event Promo
2. Clearly Set the Webinar's Objective
No great webinar teaser video is without a clear goal, esp. when viewers need to set aside spare time for a 60-min webinar. Make sure you :
Clearly explain what benefits your target audience can get by attending the webinar.
What intriguing sessions, such as interviews, presentations, Livestream
Q&A
, etc., are involved in your webinar.
3. Leave a Hook
Just like a movie trailer, a great webinar teaser video never reveals all the details in the video. Instead, it will leave an easter egg to create hype and suspense for the viewers. Here are some proven strategies you can use: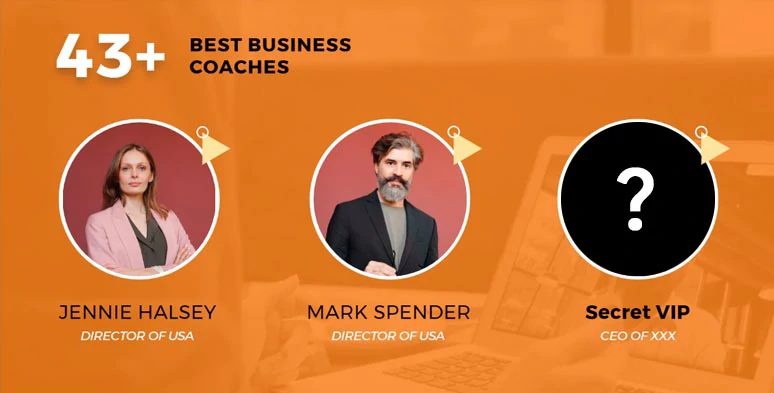 Leave a hook for your webinar teaser video.
Mentions that some influencers or VIP CEOs in the niche will join the discussion during the presentation and Q&A session. But don't reveal his/her name and photo.
The organizers of the webinar prepared special giveaways, coupons, even mascots, etc. for the webinar attendees.
4. Add B Rolls
B rolls such as previous webinar screenshots, video footage, and image, concerning webinars attendees' testimonials, your company/brand's rewards, infographic, in the niche, etc. will also add value to your upcoming webinar and prompt viewers to register for your webinar.
5. Use Strong Call-to-Actions
After you've shown your honest invitation and the benefits of the webinar, a crucial step is to add strong CTAs to remind viewers to sign up for your webinar. For example:
Do visit our Facebook/IG/Twitter/website and sign up for the webinar now.
The first 30 participants will get a lovely present or mascot.
Don't miss out on the once-in-a-year opportunity to communicate with your idol.
6. Keep it Short, Sweet, and Witty
The best video length of a punchy webinar teaser video is around 30 sec-1 min. While the video resolution shall be at least 1080P/30FPS. Besides, don't forget to infuse it with your sense of humor in the teaser video, which will make it more impressive.
How to Create a Catchy Webinar Teaser Video by FlexClip Online
Instead of using Premiere Pro where every text animation and video effect have to be created from scratch, a more user-friendly and versatile tool recommended is FlexClip online video maker.
Use feature-packed FlexClip video maker to create a catchy webinar teaser video online.
With FlexClip, you can:
Select from designer-made and fully-customizable
webinar teaser video templates
to create a compelling webinar teaser in clicks away. To individuals and small teams who have no design experience and has a limited budget, it can be your great savior.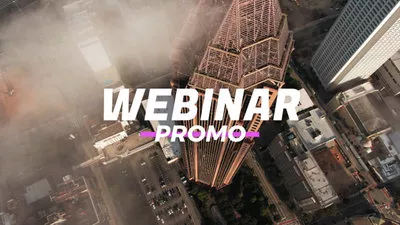 Webinar Teaser
Tech Webinar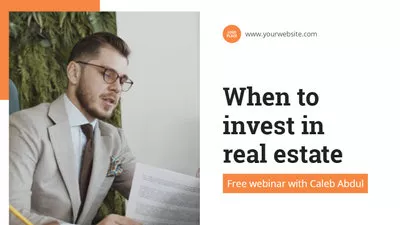 Real Estate Webinar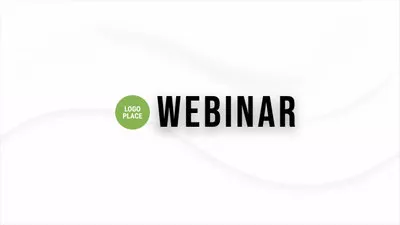 Webinar Forecast
Enjoy free access to 4M+ stock video and image assets, 7.4k+ royalty-free BGM and sound effects, a one-stop solution to get all the high-quality video assets you need and avoid copyright issues.
Tons of
image and video tools
and effects are readily available, such as image background remover, picture-in-picture effects, video speed controls, crop mask, overlay transitions, share and subscribe text animations, screen recorder, etc. Feel feel to unleash your creativity.
Step 1
Select a webinar teaser video template, preview it and click the Customize button.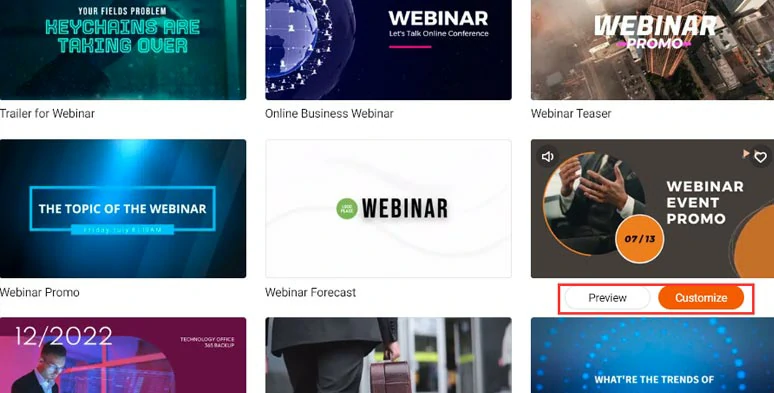 Select a webinar teaser video template.
Step 2
Upload your video assets to FlexClip from your PC or directly from the phone.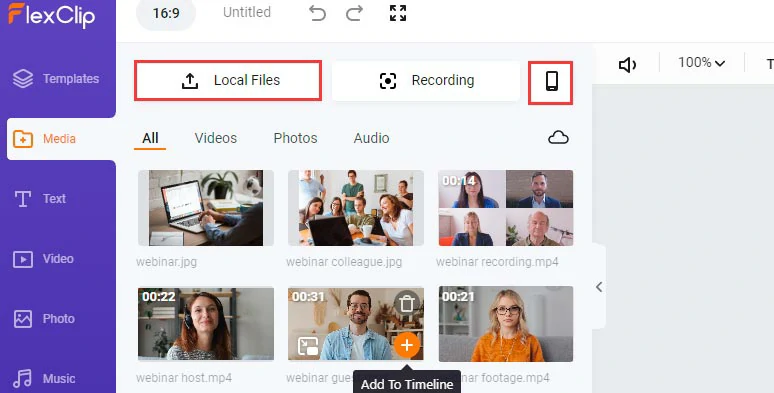 Upload your webinar image and video assets to FlexClp.
Step 3
Drag and drop to replace preset images and video background with yours. Then add other clips to the timeline and trim and split clips and adjust their order on the timeline.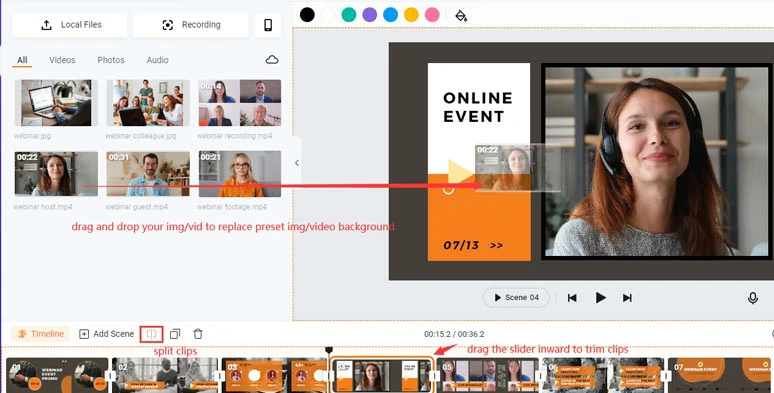 Drag and drop your images or videos to replace default images or video backgrounds.
Step 4
Customize texts and text animations for CTAs: All the fonts, text styles, color schemes, animations, opacity, layer, and spacing are fully customizable. For more preset text animations, just click the Text tab and scroll down to discover more such as social media, profile, lower thirds, etc. Feel free to play around with it.
Customize texts, their styles, and animations for your webinar teaser video.
Step 5
Add video effects: Add overlay video transitions to create a smooth scene transition; go to the Elements tab to add decorative shapes, illustrations, social media subscribe buttons, etc., or
change video speed
or use the picture-in-picture tool to add B-rolls in a video, etc.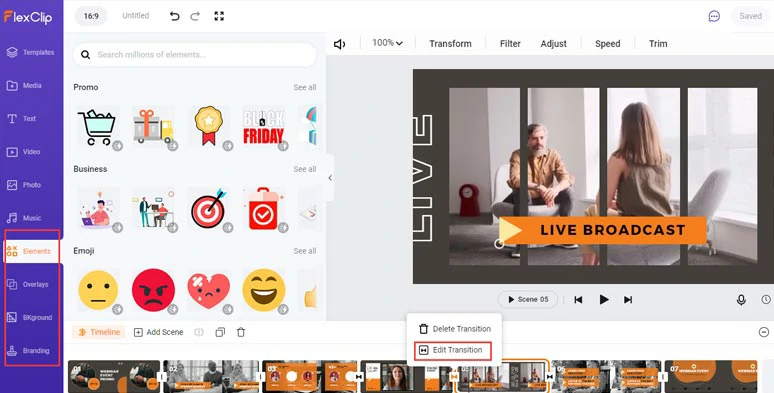 Add diverse video effects to spice up the teaser video for your webinar.
Step 6
Add multiple free BGM and sound effects to add rhythm and emotions to the webinar teaser video, with full controls to the music volume, fade-in/out effects, and selection of music duration.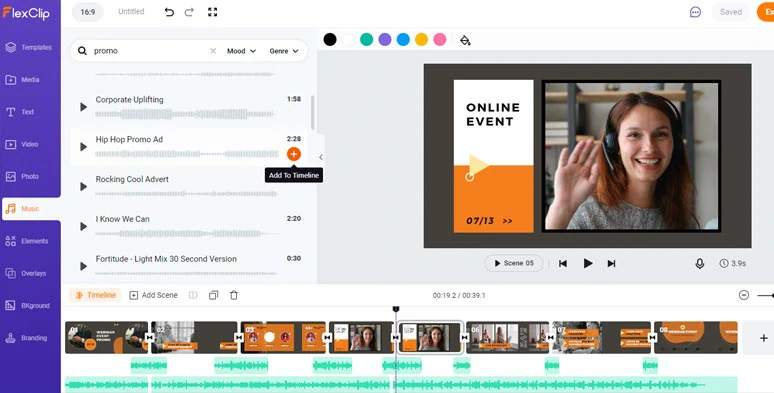 Add multiple free music and sound effects to enhance the webinar teaser video.
Step 7
Preview and share: You can directly download the teaser video to your hard drive or share it to YouTube, Google Drive, and Dropbox. While a clickable link and embed code are also available for your blogs and repurposing.
How to Share a Webinar Teaser Video
Once you have made the killer teaser video for your webinar, the next big thing is to maximize its exposure to the world. Here are some proven strategies you can use to share your webinar teaser video.
Newsletter. Send a newsletter 4-5 days ahead of the webinar to inform the online event. Then send the 2nd newsletter (1-2 days before the webinar) as a reminder.
Make the most of your social media. Post webinar teaser videos on YouTube, IG, and Facebook, including chat groups, Twitter, Linkedin, TikTok, etc.
Website. Create a banner on your website's home page with a link to a webinar teaser video on YouTube, or add a webinar teaser video on the landing page of the company event page on your website.
Use joint promotion. Contract close business partners in the niche and share your webinar teaser video on their social account or website; If you have an extra budget, you can sponsor YouTube influencers or reach affiliates or other opinion leaders in your niche to promote your webinar.
Now, It's Your Move
So, hopefully, you find this A-to-Z guide on creating a catchy webinar teaser video helpful and can make a captivating teaser video for your upcoming webinar using FlexClip. Finally, don't forget to share this post with friends on Facebook or Twitter and leave your comments for us. Looking forward to seeing you there.