Creating a Q&A video for your YouTube channel is a popular way to let your viewers know more about you through a cozy chat and offer you a great opportunity to express your gratitude for their consistent support.
In this tutorial, we will explain why it's worth making a Q&A video and offer you actionable strategies for making your first Q&A video, and walk you through how to easily create a captivating Q&A video online.
Here is what you will learn:
Why Create a Q&A Video for Your YouTube Channel
Well, no matter what niche you are in on YouTube, let's say, makeup artists, photographers, fitness and technology gurus, gamers, travel Vloggers, etc., making a Q&A video can benefit you in the multiple ways: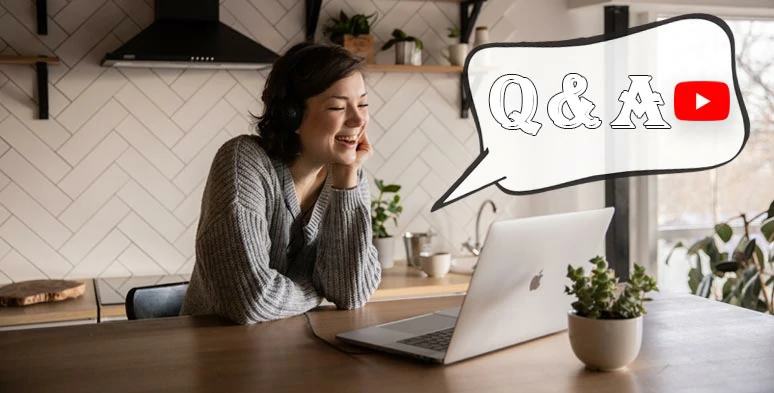 Benefits of making a Q&A video for viewers on your YouTube channel.
Build trust with viewers: Nothing beats an intimate and friendly chat when you sat down and patiently answered interesting questions as to your YouTube video contents or personal interests and hobbies, etc., esp when you want to dedicate this Q&A video to the support of fans as the subscribers and the video view hit a new high.
Craft your online persona. Psychologically, people love authentic and genuine interaction. Q&A videos offer you a golden opportunity to shape your YouTube persona and clarify what sets your YouTube channel and video content apart from a sea of YouTubers.
Enrich YouTube video content. Got stuck for new ideas for this week's YouTube update? Creating a Q&A video to address viewers' most-concerned questions offers you a buffer to reflect on the topics you've covered lately. You can even ask your viewers, what topics they want to see on your YouTube channel and strive to create YouTube videos to meet their needs.
Repurpose Q&A Videos
. As you post a Q&A video on YouTube, you can
embed the video in emails
as a newsletter or paste its embed codes into your blog post to further promote it. Or re-edit it with a creative twist for your other social media like Instagram, Facebook, Twitter, or TikTok to boost engagements.
Actionable Strategies for Making Your First Q&A Video for YouTube
Q&A videos involve more than simply answering questions from the viewers. You need to plan it tactically. Having discussed with a couple of YouTubers around us, we've rounded up some actionable strategies for your first Q&A video on YouTube.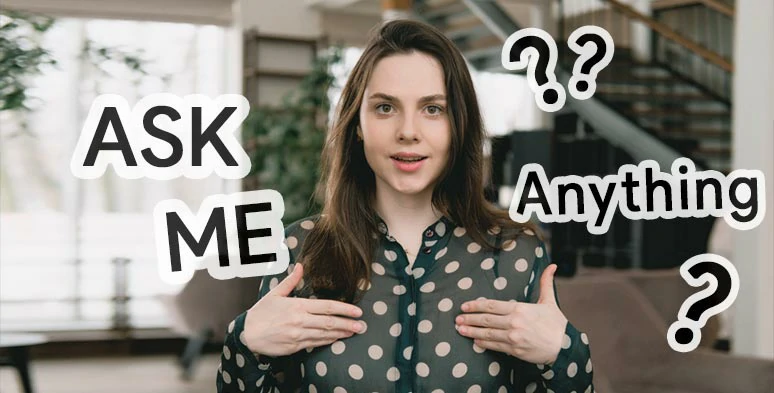 Plan your first Q&A video strategically.
1. Create a buzz for your first Q&A video
You can create a 1-2 min video on YouTube, telling your followers and viewers that " Hi, guys. To mark the 10k subscription on my YouTube channel, I will make a Q&A video for you. So, please leave comments on what you want to know most about me, thanks.".
In this way, you can source valuable Q&A questions for your first Q&A video and make a list of questions accordingly or make screenshots of questions to be displayed later.
2. Select Q&A questions strategically
Apart from frequently asked questions, select interesting questions that are in line with the content and brand image of your channel, such as "what makes you do makeup video tutorials on YouTube?", "Do you run a business offline?". Avoid questions that are potentially controversial or too personal.
3. Be sincere, humorous, and punchy
Dress properly and speak in a casual and friendly tone, preferably with an infectious smile and a sense of humor. Be sincere and straightforward when answering a question.
4. Add a personal flair to your Q&A video
Apart from directly addressing the viewer's questions, you may offer two answers and play a true or false game for better interaction, or later add animated texts, elements, or funny GIFs and sound effects to spice up your Q&A video. Just think creatively about your styles.
5. Camera angle, lighting, and audio when recording a Q&A video
If you use an external webcam to record the Q&A video, do place the camera slightly above your forehead to get the best position for recording.
Use consistent ring light for lighting and preferably use an external mic like the built-in mic on your iPhone's headphones to record quality audio. Avoid overhead and split lighting or light from below if you don't want to look like a Frankenstein. LOL.
6. Add chapters to your Q&A video on YouTube
As you add descriptions to your Q&A video, you can divide each question into a clickable chapter or timestamp, so viewers can easily navigate to the question that interests them.
Just copy and customize the following YouTube video chapter format in your video description. YouTube will automatically generate a question and answer timestamp for you.
0:00 Intro
0:23 Where are you from?
0:44 Who are your favorite chefs?
0:51 What are your bucket lists?
How to Easily Create a Captivating Q&A Video Online
To create an engaging Q&A video with your styles for YouTube, you don't need a robust video editor like Premiere Pro, all you need is an easy-to-use and feature-rich online video editor—FlexClip. No software download and design experience are needed.
Create a captivating Q&A video for YouTube by FlexClip online.
With FlexClip, you can easily select from hundreds of designer-made
YouTube video templates
, including YouTube intros and outros and subscribe buttons, and customize your Q&A video in just clicks away.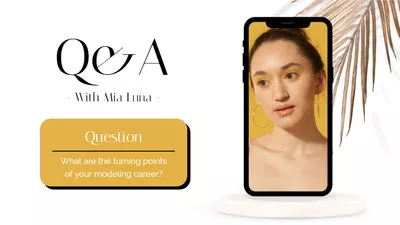 Question And Answer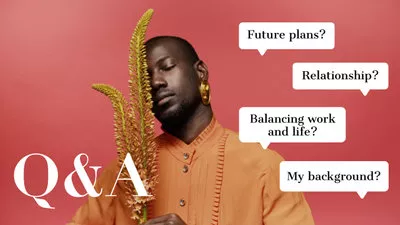 Q And A Youtube Channel Intro Outro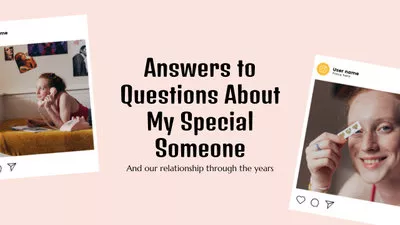 Relationship Recap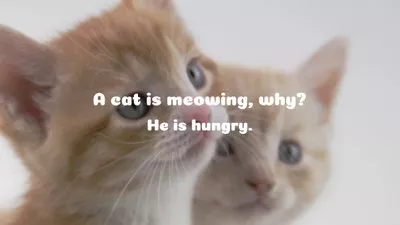 Cat Questions
The intuitive timeline interface with tons of
image and video tools
allows you to easily remove image background, and add image and video overlays to Q&A videos for picture-in-picture effects, or mask out images and videos with styles, etc.
You may also enjoy free access to thousands of royalty-free videos, music, sound effects, dynamic elements and GIFs, and stickers, which empowers you to create funny and compelling Q&A videos with ease.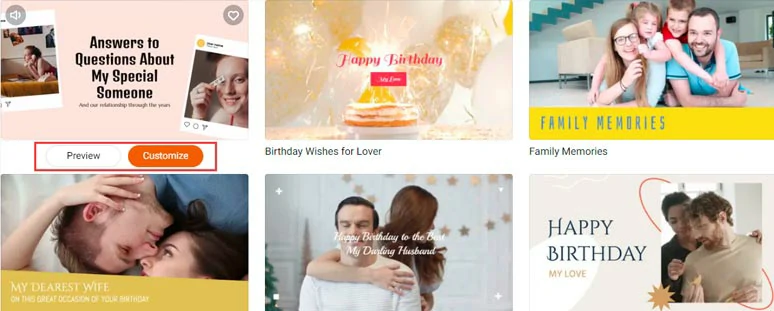 Select a video template to work with.
Step 2
Upload your footage, images, audio, or GIF files to FlexClip from a PC or mobile phone.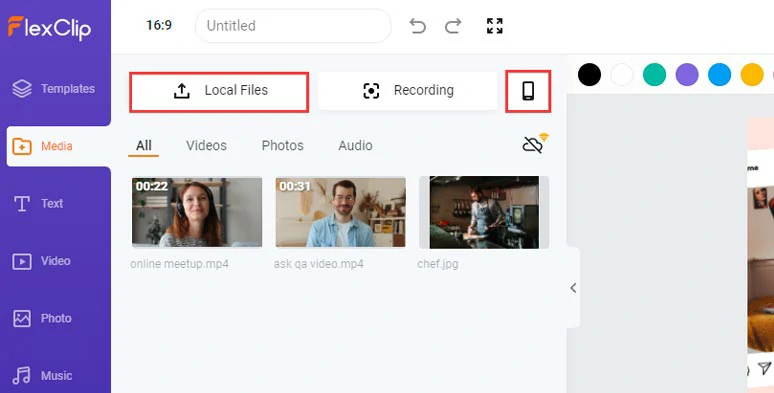 Upload footage and images to FlexClip.
Step 3
Drag and drop a video or screenshot image to replace the default video background and images. Or delete the unwanted premade elements in the video. You may also drag the slider inward to trim your clips or split footage for the rough cut.

Replace the default video background and images and delete unwanted elements.
Step 4
Customize the speech bubble animation: Go to the Text tab > scroll down to select Speech Bubbles > choose a text animation and customize the details such as viewer's question, font, color, motion, position, layer, etc. Or check the Element tab to add shapes and animated arrows or call-to-action subscribe buttons, etc. to jazz up the video.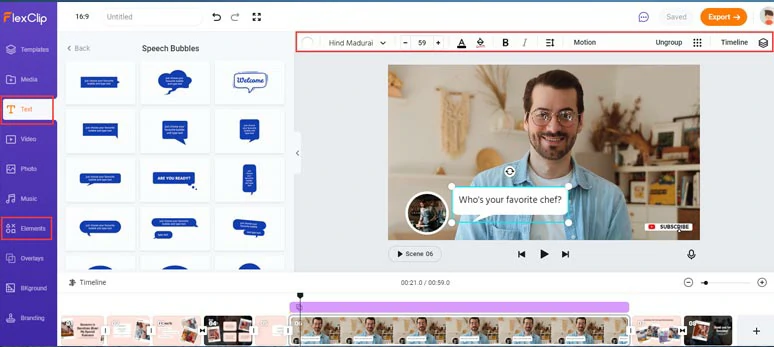 Customize the text animation and add other dynamic elements to the Q&A video.
Step 5
Make more edits: Go to the Music tab and add free and multiple BGM or sound effects to the Q&A video to enhance rhythm and vibes or add overlay transitions to make a smooth scene transition from one question to another.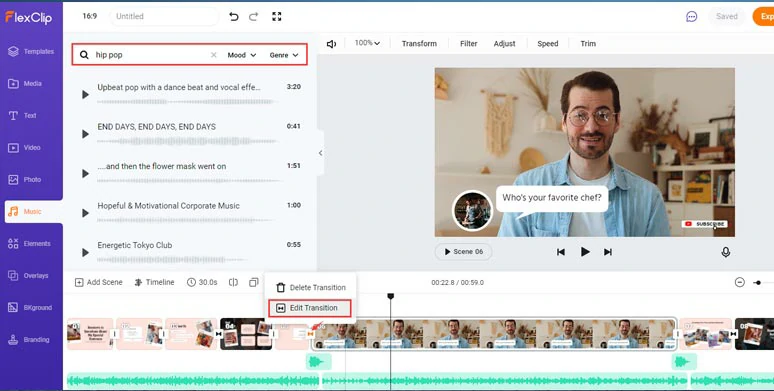 Add free music, sound effects and overlay video transitions to your Q&A video.
Step 6
Preview and share: click Export, you can directly download the video to the local PC or share it to YouTube, Google Drive, or Dropbox or get a clickable link or embed code for your blog or a private share.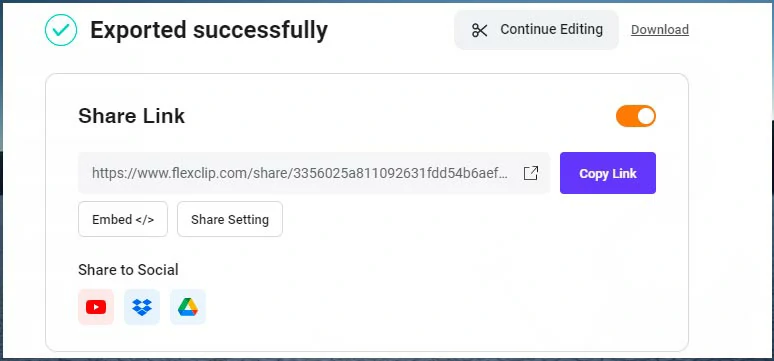 Multiple ways to share and repurpose your Q&A videos.
Now, It's Your Move
To sum up, creating a Q&A video for YouTube brings you a perfect chance to have a friendly chat with your supportive followers and build mutual trust, and boost engagements on other platforms. Hopefully, you can create a captivating Q&A video with FlexClip online. If you find this tutorial helpful, don't forget to share it with friends on FaceBook or Twitter, leave your comments and tag us. Appreciated.