TikTok's latest Q&A feature offers an easy way for viewers and TikTok content creators to stay well-connected. When viewers watched a creative TikTok video, they can directly ask questions about the video content and learn more about the creator they like.
So, in this post, we will walk you through how to add Q&A on TikTok and offer a feasible workaround if your TikTok account is not eligible, plus other frequently asked questions for Q&A features on TikTok.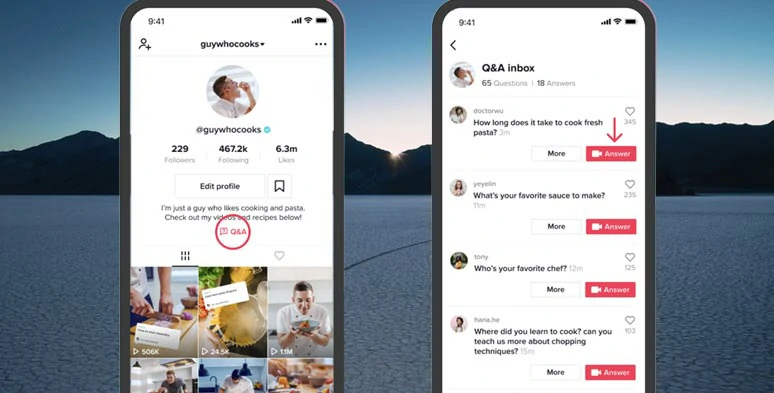 The latest Q&A feature on TikTok.
Here is what you will learn:
Here is a quick takeaway to add the Q&A feature on TikTok:
Currently, only individuals with a TikTok Creator account can add Q&A on TikTok.
To be able to switch to a TikTok Creator account, you need to have at least 10k followers, and at least 100k video views in the last 30 days, etc.
Once the Q&A feature is activated, a Q&A icon will appear below your TikTok bio and viewers can ask questions for a posted TikTok video or a live streaming TikTok video.
Creators can answer viewers' questions through a normal comment response or a video reply.
All the video replies will be aggregated on the Q&A page and be visible to all viewers as a Q&A directory for an easy check.
Also, read the 15 tips to go viral on TikTok.
How to add Q&A on TikTok
How to set up Q&A feature on TikTok.
Step 1
Switch to the creator account: Go to the TikTok profile page > tap the menu icon on the top right corner > select Manage Account > click Switch to Pro Account > select Creator > choose a category for your creator account > indicate your Gender > tap Done.
Step 2
Add Q&A feature on TikTok: Head back to settings > select Creator tools > tap Q&A > tap Turn on Q&A > then the Q&A icon will be added below your TikTok bio. So viewers can tap the Q&A section, which looks like a question mark, to ask you questions or check the questions responded.
How to Answer Viewers' Questions through a Video Reply
How to respond to a viewer's question with a video reply on TikTok.
Step 1
When you receive a question, it will appear in the Q&A section of your profile. Tap Answer to record a video, as usual, to respond to the question. While the viewer's question will appear as a sticker above the recorded video.
Step 2
Edit the answer video: You can move or resize the viewer's question as you answer the question. Or add texts, stickers, effects, and sounds as you normally do and tap Next.
Step 3
Post the answer video: The person who asked the question will be automatically tagged in the description. Add your texts or hashtag, etc., and post the video.
Besides, the posted answer videos will be curated and visible on your Q&A page and other viewers can click the Q&A section below the TikTok bio to browse all the Q&A videos.
Alternative: Create a TikTok Q&A Video for Viewers Online
Well, though TikTok's Q&A feature makes it easier for both viewers and creators to communicate with each other and dive deeper into video content, there is a catch.
For TikTokers without 10k followers and 100k video views in the last 30 days or at an age that is below 18, you won't be able to switch to the Creator account and use the Q&A feature.
If you live in places other than the US, UK, France, Germany, Spain, or Italy, chances are that you may also not be able to use the Creator account.
So, for some reason, if you won't be able to switch to the TikTok's Creator account and use the Q&A feature to answer viewers' or followers' questions, a great workaround is to create a TikTok Q&A video using FlexClip online video maker and post it to your TikTok account.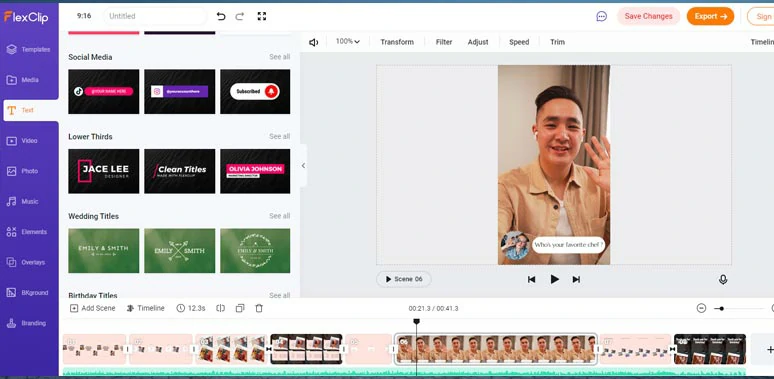 Create a Q&A video for TikTok viewers by FlexClip online.
Here are a couple of reasons why it works: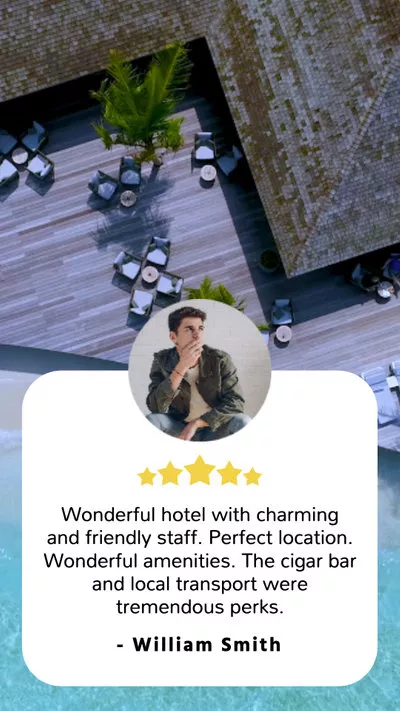 Hotel Guest Review
Truth and Lie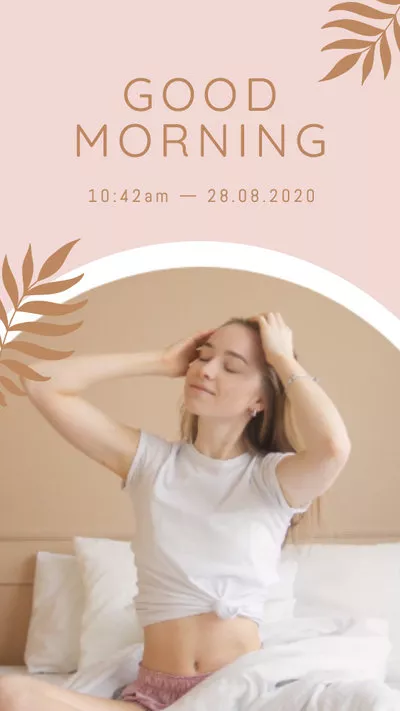 Good Morning
With FlexClip, you can easily select from hundreds of stylish and fully-customizable
TikTok video templates
and drag and drop video footage, text animations, and other elements to customize a Q&A video in minutes.
No software download and design experience are needed. Video edits are done on the intuitive timeline within the browser. Pretty convenient and not laggy.
Over 3M+ royalty-free video assets, including, music, images, sound effects, GIFs, stickers, and dynamic elements empower you to create scroll-stopping Q&A videos like no other.
Besides, tons of user-friendly
image and video tools
, such as speed controllers (0.2x-8x), image background removal, picture-in-picture, overlay video transitions, image, and video masking, etc. will take your TikTok videos up a notch.
Step 1
Select a TikTok video template
, preview it, and click the Customize button. Let's select a hotel guest review template and customize it into a TikTok Q&A video.

Select a premade TikTok video template to begin with.
Step 2
Upload your pre-recorded Q&A videos or screenshots to FlexClip from the PC or your mobile phone.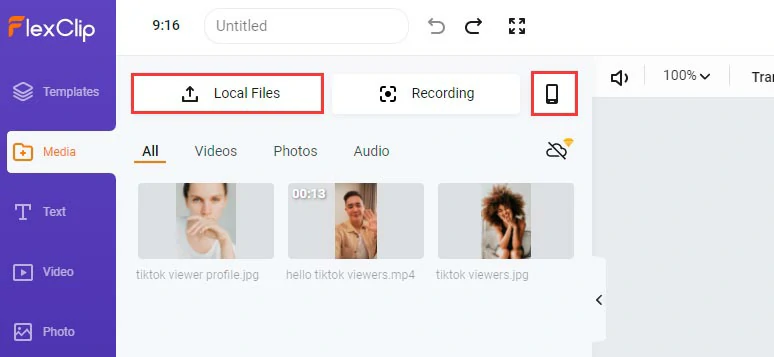 Upload footage and images to FlexClip.
Step 3
Drag and drop footage or image to replace the default video background and images. Or drag the slider inward to adjust the video duration and split the video as well.

Drag and drop to replace the default video background or images with yours.
Step 4
Edit the viewer's question: If you don't like the premade text animations, just delete them, then go to the Text tab > scroll down to select a text animation from the Speech Bubble or Quotes category > customize the text with the viewer's question and its the font, color, and motion, position, layers, etc. Everything you see is fully-customizable.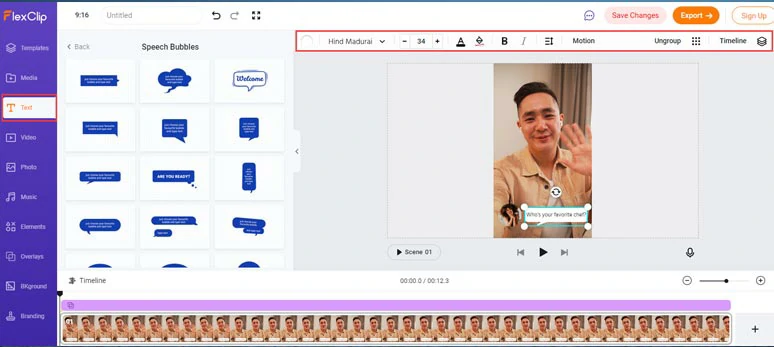 Customize the animation of TikTok viewers' question.
Step 5
Enhance the visual experience: Click the transition tool to add a trending overlay transition between two clips; go to the Elements tab and select decorative elements like animated arrows, Like, Comment, and Follow buttons, promo icons, or use mask to add styles to images and videos.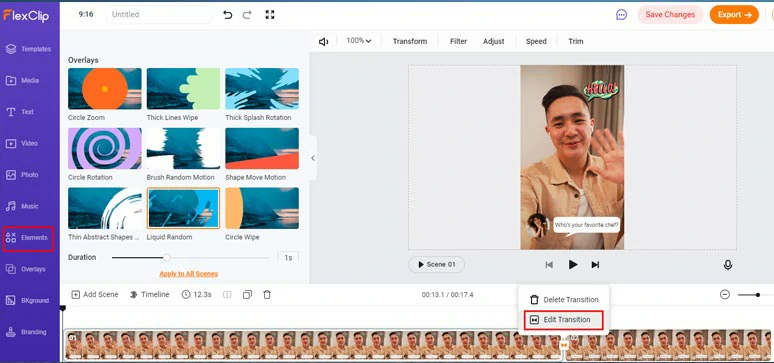 Use overlay video transitions or dynamic elements to add styles to TikTok Q&A videos.
Step 6
Add royalty-free and multiple music and sound effects like Pop up sounds or whoosh transition SFX to add rhythm and vibes to the Q&A video.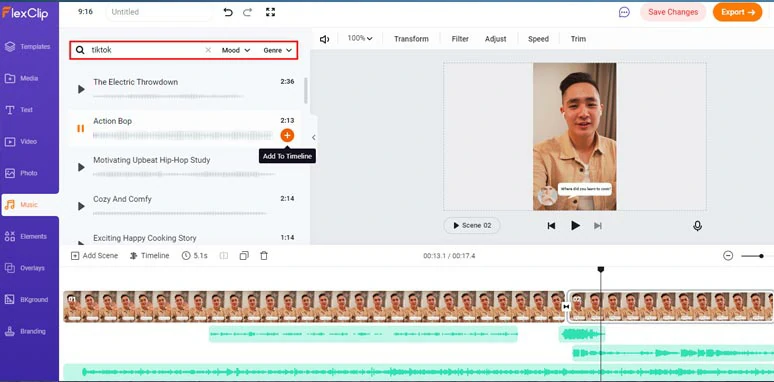 Add free music and sound effects to your TikTok Q&A videos.
Step 7
Preview and share: Done with the editing, click the Export button to download the video to your PC and post it to the TikTok. You may also save the video to Google Drive, or Dropbox, and get a clickable link and embed code for repurposing the Q&A video like sharing it to your blog and other social platforms.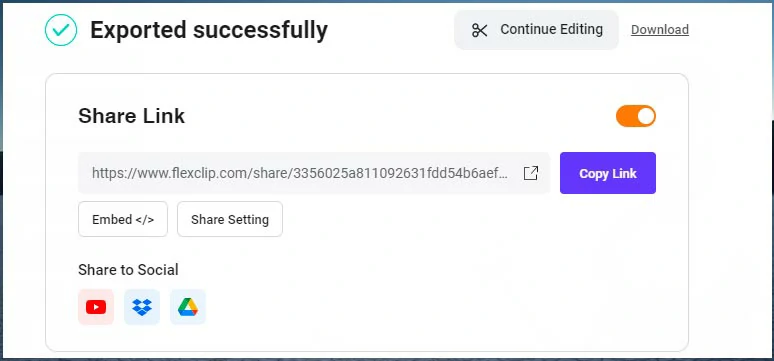 Multiple ways to share the Q&A video.
FAQs about Q&A Feature on TikTok
1. Why can't I put Q&A on TikTok?
To add Q&A on TikTok, you need to switch to a TikTok Creator account. To meet the requirements, your TikTok account must have at least 10k followers and one of your videos has at least 100k video views in the last 30 days. Besides, you must be at least 18 and preferably users in the US, UK, France, Germany, Spain, and Italy.
2. How to turn off Q&A on TikTok?
Log into your Creator account > go to Setting and Privacy > Creator > Q&A > Turn off Q&A.
3. How can I have Q&A on TikTok Live?
Once you turn on the Q&A feature on your Creator account, viewers can ask you questions when you go live on TikTok. Views can click the Question mark icon to ask you a question. Then, you will get notifications in your question and answer icon, just tab it > select a question > tap Answer. You may also tap the 3 dots on the top right corner to report/remove a question or mute/block an account.
Now, It's Your Move
So, adding the Q&A section on TikTok proves to be an effective way to let viewers learn more about your video content and you as well. As a TikTok content creator, you definitely deserve it. Hopefully, you enjoy this tutorial. If you find it helpful, don't forget to share it with friends on Facebook, Twitter, etc., and leave your comments and tag us. Looking forward to hearing your insights.