Meet a team video is a crucial brand image video content that helps your company build trust with the target customers by introducing them to your team members behind.
When used properly, a meet the team video can benefit your business in multiple ways. So, in this tutorial, we will walk you through how to make a great meet the team video with many examples and proven strategies.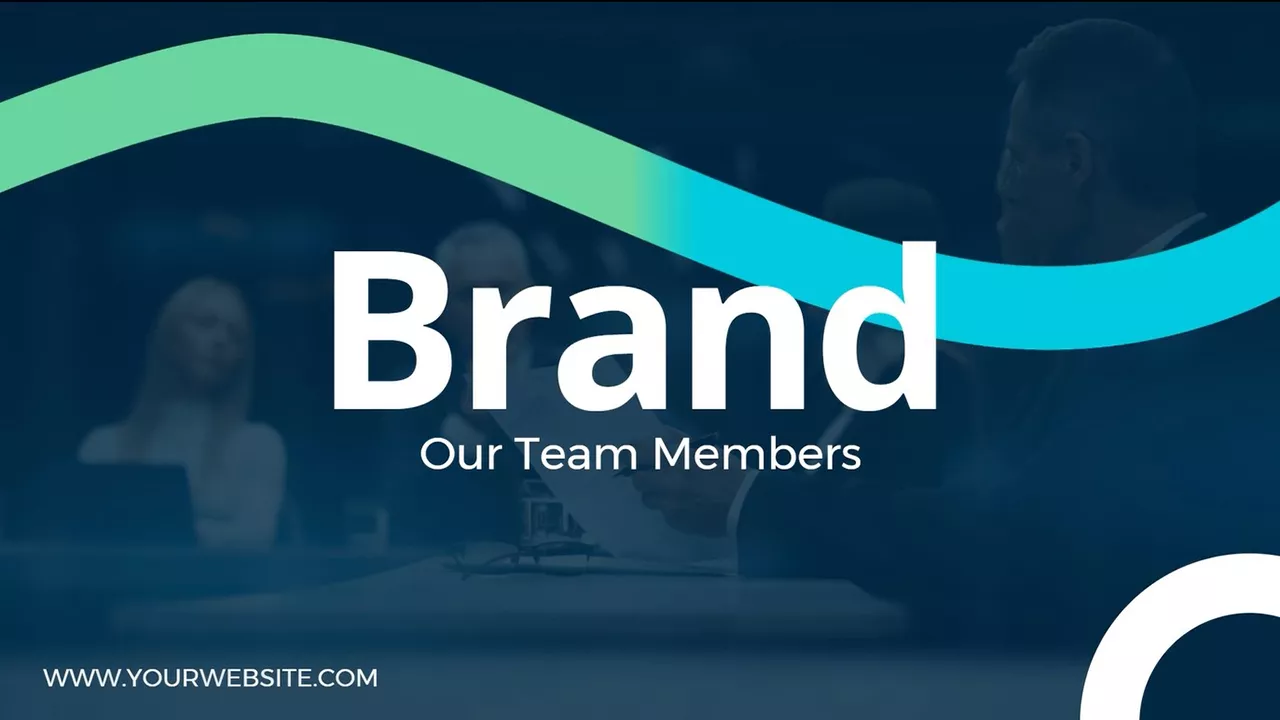 Meet the Team Video for Brands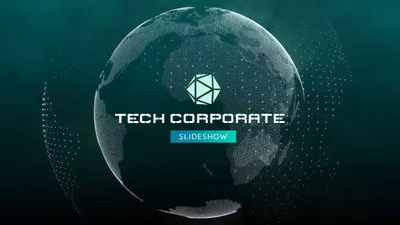 High-Tech Company Meet the Team Video
Here's what you'll learn:
Also, read How to Edit a Zoom Recording for Free on PC.
Why Create a Meet the Team Video
Seeing is believing. There is no better way to gain the trust of customers than showing them the expertise and faces of the strong team members in your company.
Create a meet the team video for brands.
With a well-crafted meet the video, you can:
Establish the authenticity and credibility of your brand to the customers.
Showcase the team's spirits, know-how, and dedication through the behind-the-scenes videos.
Add a deep sense of humanity and care for the customers through team members' infectious smiles, eye contact, dialogues, working scenes, etc.
Repurpose the meet the team video for the about us page of the company's official website or post it on YouTube, TikTok, Facebook, Twitter, etc. to build brand image and boost engagement.
5 Best Meet the Team Video Ideas You Need
Here, we broke down the formula of a great meet the team video into the following essentials with sample videos. So, you will know what should be covered in filming and making a great meet the team video for your team.
1. Brand Recognition
As a brand image video, a great meet the team video should clearly display the brand's logo, name, and brand slogan either in the intro or outro of the video. Those are the holy trinity of a brand to install brand awareness into the target customers.
2. Identify Team Members and Display Teamwork Spirits & Work Environment
This is one of the most vital elements for creating a successful meet the team video.
What you can do is:
Film a typical staff smiling to the camera or offering proactive services for the customers in each department, let's say sales manager or product manager, or customer service.
Use the following shot to track the movement of an employee for a seamless
scene transition
from one post to another and showcase their expertise and dedication at work.
Combine close-up sense, with middle distance, and panoramic scenes from multiple angles to show the smooth working flow and pleasant work environment of your company.
If your company has a large team members, using a
video collage
of friendly employees or company group photos will also do the trick.
Below is a creative meet the team video, made by MadeComfy, a professional property management company in Australia. Watch closely how the narrator and multiple camera movements and scene transitions are used to introduce the team members, workplace, and brand image.
Meet the team of MadeComfy.
An interesting thing is that through the introduction and interaction between the narrator and the team members in different departments of the company, the high working efficiency, and harmonious workplace relationships between staff, the brand's services are deeply imprinted on the viewers.
Well, nowadays, so long as you have any smartphone or mirrorless camera, capable of filming 1080P/30FPS FHD videos, you can use it to record a meet the team video. You may also need a 3-axis gimbal stabilizer to help you produce stable video as you hold your phone or camera with your hands.
Besides, you also need a lavalier mic that can hang around the speaker's neck to record quality audio and affordable 2-3 LED light to have consistent lighting when shooting indoors.
3. Use Employee's Interview or Narration
Using employees' interviews or narration to describe their daily work, and job responsibility and share stories of personal growth in the team or how they dropped other offers and joined your company will make customers learn more about your team and add a sense of humanity and drama to a meet the team video. Highly recommended.
Check how Amazon skillfully introduced her People Technology team through interviews and narration in the meet the team video below:
Meet the Amazon People Technology Team.
4. Add B-rolls to Enrich a Meet the Team Video
Aside from the on-the-spot meet the team video footage, it would be a great idea to add b-rolls such as an award-winning scene of your team in the industry, a high-end business exhibition your team attended, and a joyful celebration of a team member's birthday, annual trips overseas, etc. to the video.
These precious videos, images, and shared memories will add value to your team video and make it more trustworthy with emotions viewers can relate to.
A case in point is the Peak Support's meet the team video, in which tons of flashbacks and b-rolls of different scenes, interviews, narrations, photo memories, etc. give viewers the impression that the company itself is a big family and it grows together with expanding and dedicated teams.
Meet the team at Peak Support.
5. Be Creative, Sincere, and Customer-oriented
Well, apart from the traditional meet the team video where you get to know a company's staff and corporate culture through job titles, dialogues, and interviews, you may also prepare the video as follows if your company offers tangible products for customers:
Source the FAQs of customers from the customer service team and prepare the scenes to be shot accordingly.
Think creatively about how you can display the workplace, expertise, and dedication of each team member through collaborative efforts at all levels.
Keep the meet the team video short (around 2min), sweet, and punchy, and speak for itself.
Here, we've found a textbook meet the team video example made by the famous camera corporation—Nikon.
Meet the team of Nikon.
In this nerve-soothing video above, there is no dialogue and no fancy edit, yet through the nerve-smoothing melody and sound effects and the display of the stunning craftsmanship of each team member in the workplace, you get to know the team members work with each other in the behind-the-scene and how the quality of the products is guaranteed. Awesome!
How to Create a Meet the Team Video Online with Templates
After on-the-spot filming and video assets gathering are done, now it is time to come to your PC and edit all the footage into a compelling meet the team video. A versatile and easy-to-use tool you can use is FlexClip. It is a feature-packed AI online video maker that unlocks your creativity to create a thumb-stopping meet the team video in clicks away.
Create meet the team video by FlexClip AI video maker online.
With FlexClip, you can:
Select from 1,000+ designer-made and fully-customizable
business video templates
(16:9, 9:16,1:1,4:5, aspect ratio). With easy drag and drop of your images and clips, you can create a compelling and fun meet the team video in minutes.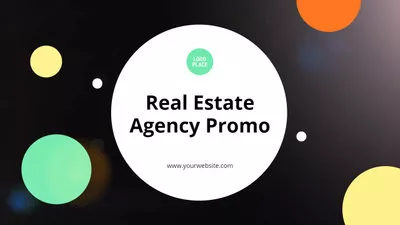 Creative Simple Real Estate Company Introduction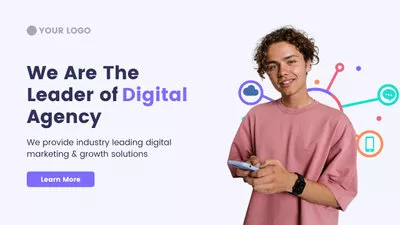 Marketing Agency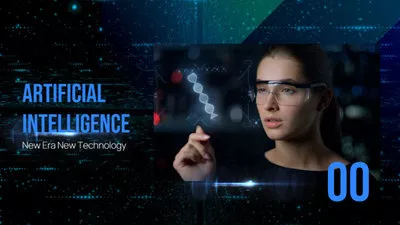 Ai Robot Presentation Technology Universal Simple Company Webinar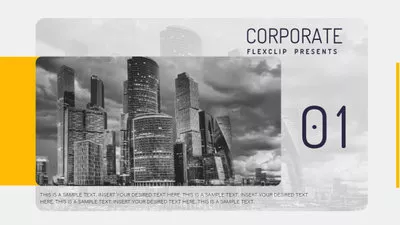 Corporate Slideshow Company Business Photo Record
Use 4M+ royalty-free and high-quality stock assets, including studio-like music tracks & sound effects for brands and corporations, diverse videos and images, animated business illustrations, text animations, motion graphics, etc.
Use a wide range of powerful AI video, image, and audio tools, such as
free text-to-speech generator
,
AI auto subtitle generator
, and
image background remover
,
video to audio converter
, and text to image generator, and AI video script generator and text to video generator, etc, which will streamline your video editing workflow and save you a lot of precious time.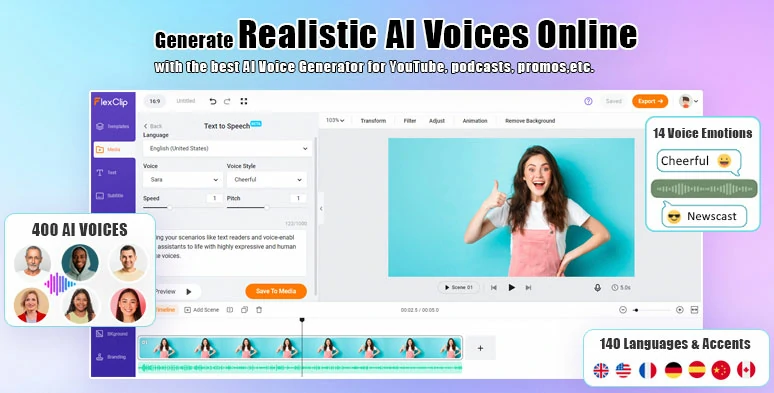 Easily convert your video scripts to realistic AI voices for your meet the team video.
When experiencing a creative block in video edits, you may utilize FlexClip's
team collaboration feature
and send emails or links to invite colleagues or friends and work with them to create meet the team video.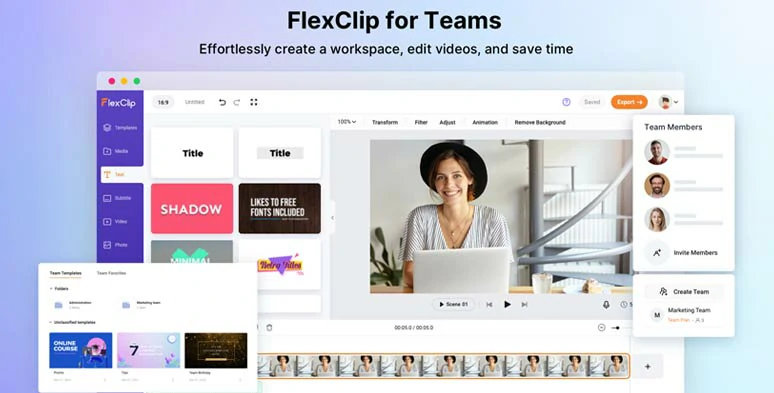 Team up with your teams to create meet the team video.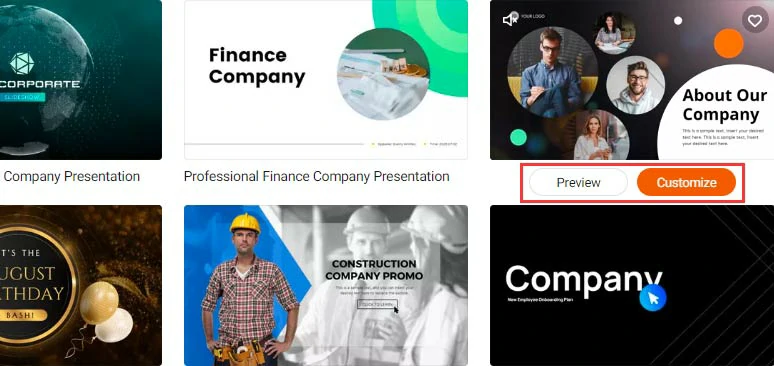 Select a free meet the team video template to begin with.
Step 2
Upload your video assets from your PC, phone, Google Drive, One Drive, Dropbox, or Google Photos.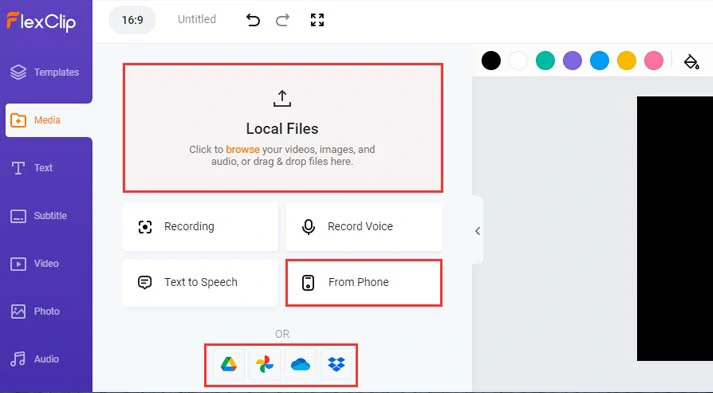 Upload team member's footage and images to FlexClip.
Step 3
Drag and drop an employee's clip or image to replace the premade image/video in the video template. You may also drag its slider to trim its duration as well.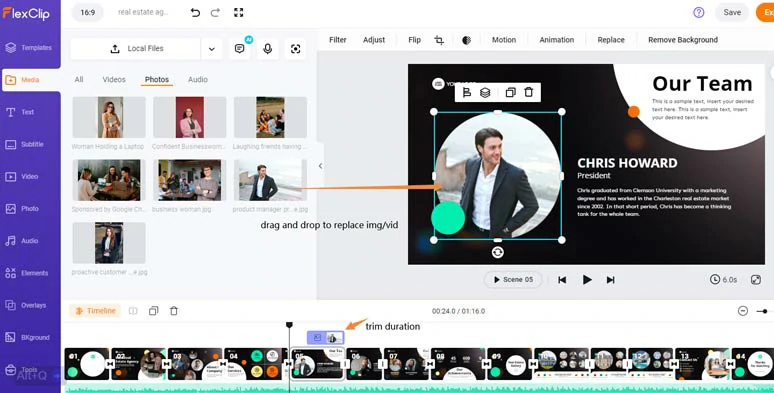 Drag and drop to replace premade images or videos with yours.
Alternatively, you can layer a colleague's profile image over the video background > click remove image background to easily remove the image background > adjust the image's layer, size, and position.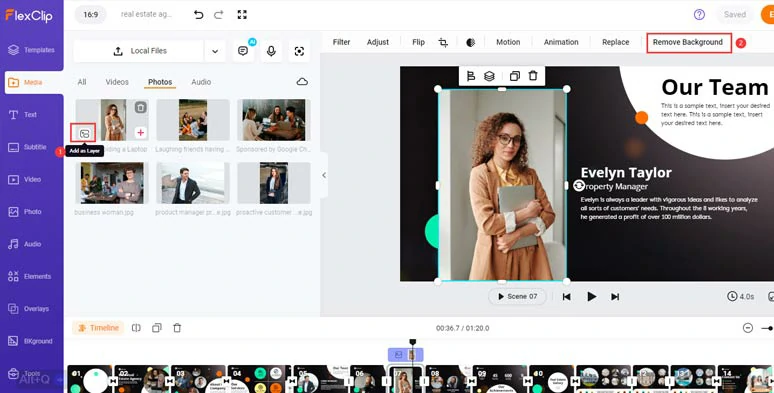 Layer the colleague profile image over the video and remove the image's background.
Then, you can click the Motion tool and animate the image with styles to your liking. Easy peasy lemon squeezy!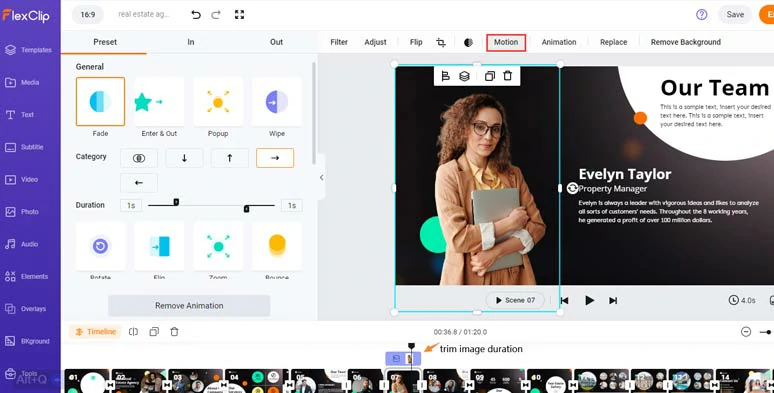 Easily animate staff images to your liking.
Step 4
Customize titles and text animations.
Double-click the premade text > customize the titles, its font, color, motion, style, position, layer, opacity, etc.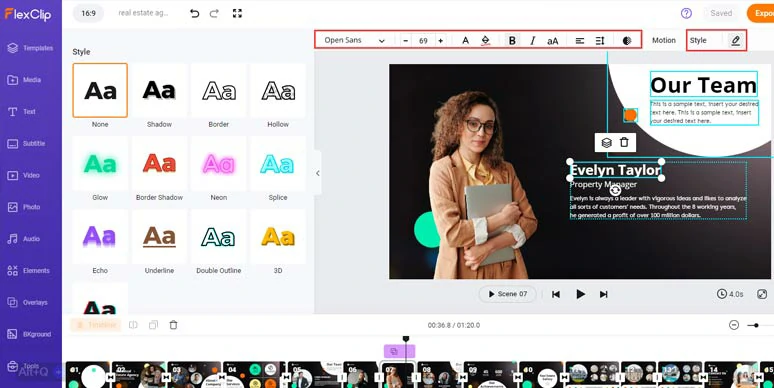 Customize the text, text styles, text color, size,etc.
By clicking the Motion tab, you can easily animate the text with styles, such as typewriter, glitter, burst, bounce, cinematic glitter, etc.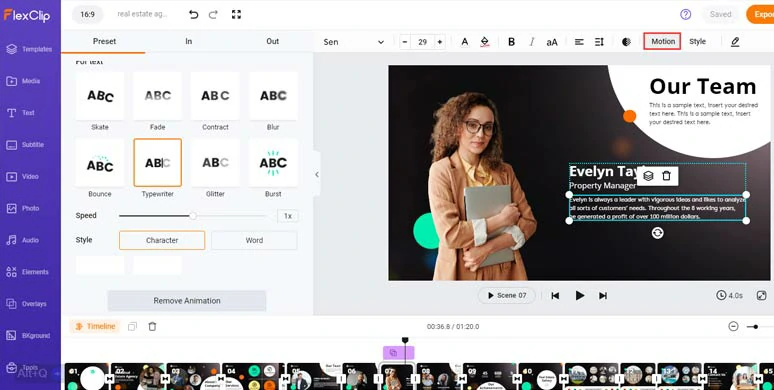 Customize the style of text animations.
If you don't like the existing text animations, click the Text tab, you can use hundreds of readymade and editable text animations, like lower thirds, social media's like, comment and subscribe titles, news titles, profile titles, speech bubbles, quote titles, call-out titles, search bars, etc. to meet your specific needs.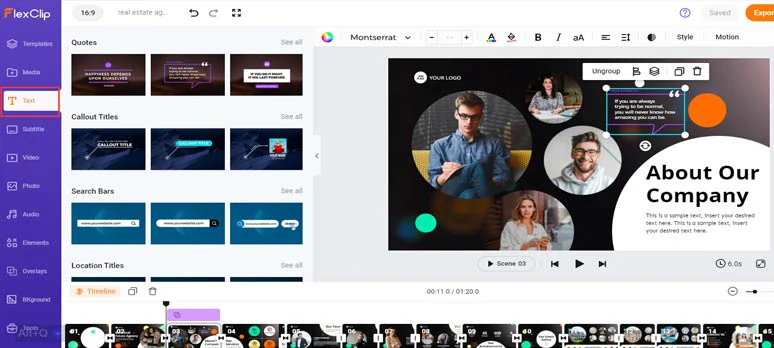 Use more stylish and editable text animations.
Step 5
Convert video scripts to realistic AI voices.
With FlexClip's free text-to-speech generator, you can convert your video scripts to realistic AI voices with one click to introduce your team members and brand. There are 400 AI voice avatars available in 140 languages and accents. Besides, you can set the AI voice's styles, emotions, voice speed, and pitch. Pretty helpful!
Just click the Media tab > Text to Speech > select the language and accent > select an AI voice avatar and preview his/her voice > set voice style, such as newscast, chat, assistant, friendly, hopeful, excited, etc. > customize voice speed and pitch > copy and paste your script and preview it > hit "Save to Media" button.
Convert video scripts to realistic AI voices for audio narration in the meet the team video.
Then, head back to the Media tab > add AI-generated voiceovers to match different scenes. You can adjust the audio's volume, trim, or split it.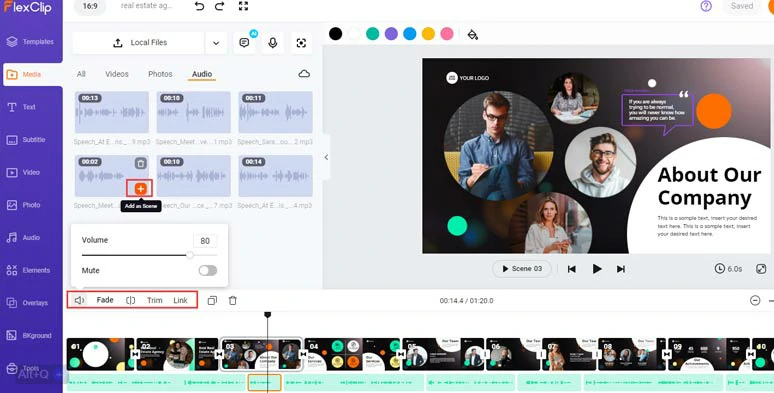 Add realistic AI voices to match different video scenes.
Step 6
Automatically add subtitles to the meet the team video.
To make your video content more sharable and accessible to all viewers on social media, it's advisable to add subtitles to it. With FlexClip's AI subtitle generator, you can do it effortlessly with up to 95% accuracy.
Just click the Subtitle tab > Auto AI subtitle > identify the language and its accent in your video > hit Next > set the style of subtitles > press the Generate Subtitles button. Then, FlexClip shall automatically add subtitles or burned-in captions to your meet the team video.

Auto-generate subtitles to your meet the team video.
Later, you can proofread the auto-generated subtitles and fine-tune the text fonts, text size, color, background fill, opacity, alignment, etc. of the subtitle.
Fine-tune the style of auto-generated subtitles.
Or, easily press "Enter" to split a long subtitle or merge two short subtitles with the click of a button.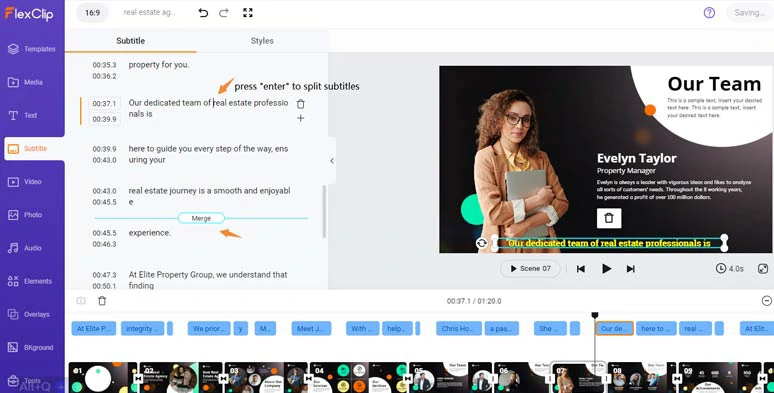 Easily split or merge subtitles.
Step 7
Add royalty-free music, sound effects, transitions, and more.
Having the right music and sound effects is essential to setting the tone and evoking emotions from viewers in meat the team video. Click the Audio tab > type in "corporate" in the search bar. You can find hundreds of upbeat and inspiring corporate music for your meet the team video.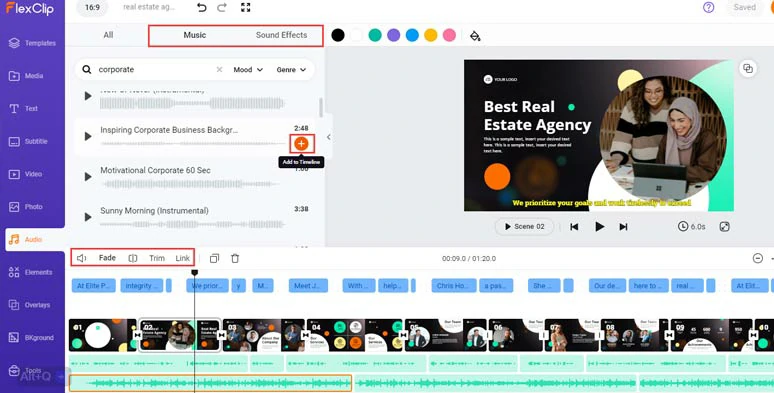 Add royalty-free corporate music and sound effects to meet the team video.
Besides, cinematic transitional sound effects like "whoosh", "swoosh", "riser", "hit"etc. are also available for text reveal. You can trim, split audio, adjust the audio's volume or apply fade in/out effect for seamless audio transition.
Click the transition tool between two clips, you can use 200+ trending video transitions like a circle, liquid splash, glitch, zoom in/out, brush, etc. to jazz up your video.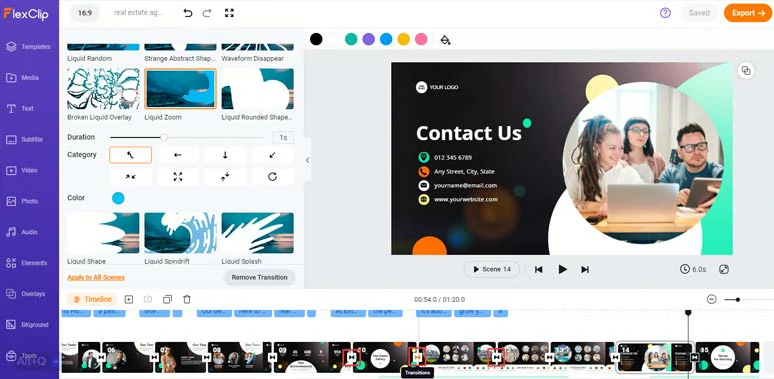 Add seamless transitions to the video.
In the Elements tab, thump-up animations for YouTube, TikTok, Facebook, funny Emojis, animated business illustrations, etc. are also available to add a personal flair to your meet the team video. Please feel free to explore!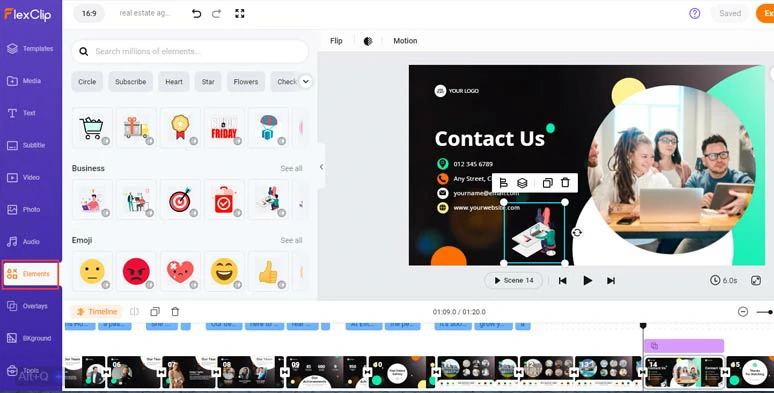 Add animated business illustrations and funny emojis to meet the team video.
Step 8
Preview and share.
Done with the editing. You can download the 1080P MP4 video to your local PC, or directly share your video to YouTube, Google Drive, One Drive, Dropbox or even TikTok; a clickable link is also available for your blog posts, newsletters, or other repurposings.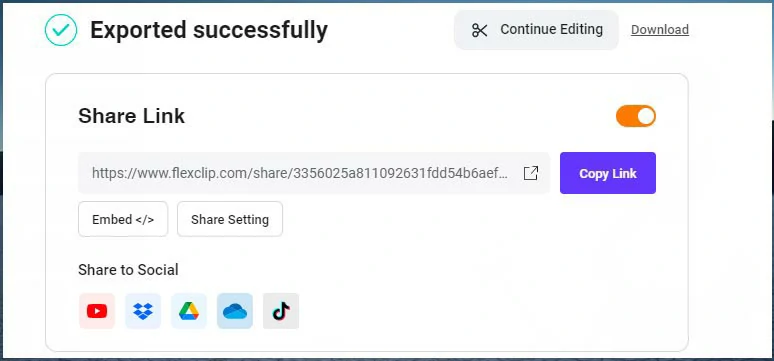 Easily share or repurpose your video content.
Now, It's Your Move
Creating a meet the team video offers an easy gateway for the target customers to learn more about your team and corporate culture behind the scenes. And it's easy and worth creating one to build trust with customers and boost brand awareness. So, if you find this tutorial helpful, don't forget to share it with friends on Facebook, Twitter, etc., and leave your comments for us. Looking forward to your views.