Widely used by TV networks, news tickers are great tools to keep viewers informed with the latest news update. If your video project involves news broadcasts, current events, or the latest news in your niche, then adding news tickers to your video would be a fantastic choice.
So, in this tutorial, we will walk you through how to easily create a realistic scrolling news ticker like what you've seen on BBC or CNN, using an easy-to-use online video maker and Adobe Premiere Pro. Let's, dive into it now!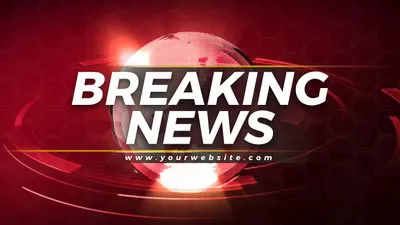 Breaking News Graphic Pack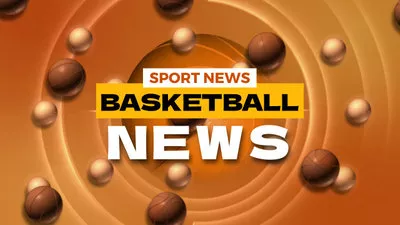 Basketball Sports News Youtube Video
Here is what you will learn:
Also, read the 3 best sports intro makers.
What is a News Ticker
A news ticker is a scrolling or creeping line of news titles placed at the lower third of the screen to bring viewers the latest news update. News tickers can be displayed horizontally or vertically on the screen for sports news, breaking news, weather report, etc.
Here are two classic news ticker examples you've probably seen on news network:
A typical scrolling news ticker where news headlines scroll up and down.
A scrolling and vertical news ticker in BBC News.
A typical creeping news ticker where news headlines run from right to left.
A horizontal news ticker moving from right to left in BBC World News.
One interesting thing is that very often all the texts in a horizontal news ticker are capitalized as shown above. If you wanna create a realistic CNN news ticker, you can follow suit.
Besides, CNN Sans, Helvetica, and Gotham are believed to be three of the most popular fonts for news tickers. Of course, it's not mandatory. You may also use meme fonts like Montserrat, and Impact, as well. It all depends on your aesthetics and styles.
How to Create a News Ticker by FlexClip Online
Well, creating a professional news ticker as you've seen on BBC or CNN is not as hard as you might expect. A proven strategy is to use a custom news ticker template. It is especially helpful if you don't have much experience in graphic design and video editing or couldn't afford the time to make a news ticker from scratch. To that end, FlexClip online video maker can be your treasure trove for making news tickers.
Use the feature-packed FlexClip online video maker to make news tickers.
With FlexClip, not only can you select from 200+ designer-made news ticker video templates but also easily drag and drop to customize all the video elements to your heart's content.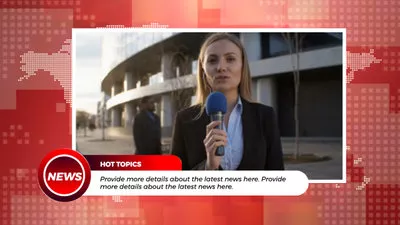 News Report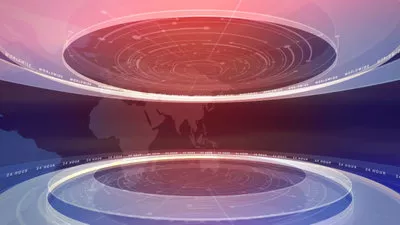 Latest News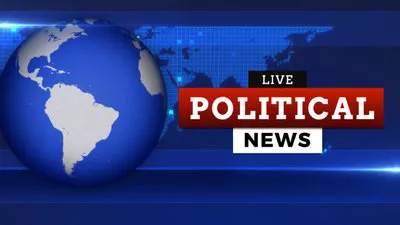 Animated Political News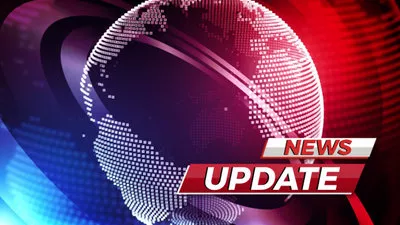 News Update
Besides, FlexClip also offers tons of news titles animations for you to choose from, and each news ticker template is provided with quality and
royalty-free news intro music
, which saves you tons of time for finding free news intro music online.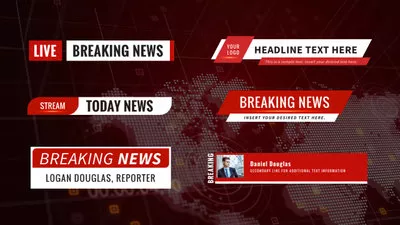 News Titles Package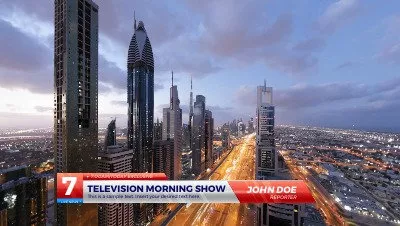 Fake News Sample Video
If you don't have a mic or an anchorman/woman who reports the news, you can use FlexClip's
free AI voice generator
to add human-like AI voiceovers to take your newscast videos to a professional level. There are 400 lifelike AI voices in 140 languages and accents for you to choose from, with controls for voice styles like newscast, emotions, speed, and pitch.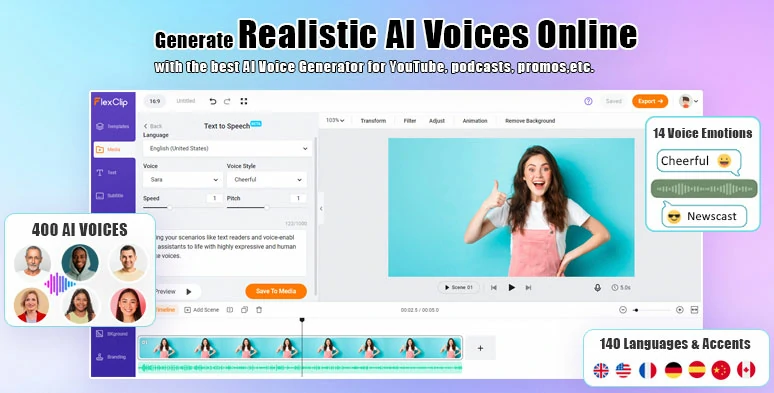 Add realistic AI newscast voiceovers to your newcast video by FlexClip AI voice generator online.
You may also use FlexClip's
auto AI subtitle generator
to auto-generate subtitles for your news reports with the click of a button and the accuracy is up to 95%, which can be a great timesaver.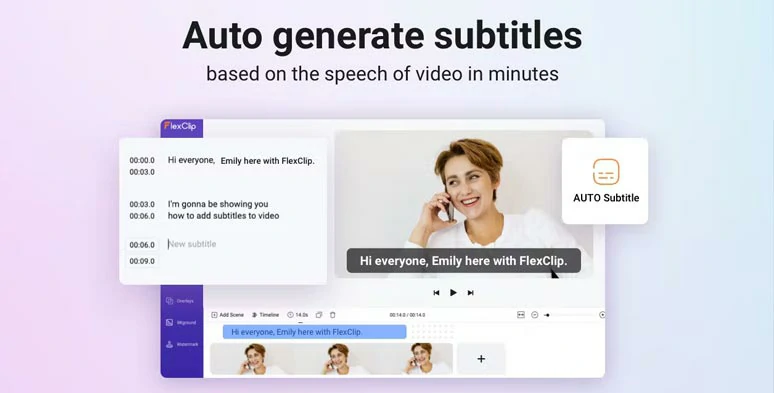 Automatically generate subtitles for your newscast video with FlexClip's AI subtitle generator.
The intuitive timeline and diverse image and
video tools and effects
, such as image background remover, picture-in-picture effects, screen recorder, speed control, etc. make it extremely user-friendly for beginners.

Select a news ticker template.
Step 2
Upload your video assets to FlexClip from your PC, phone, Google Drive, One Drive, Dropbox, Instagram, Facebook, or Google Photos.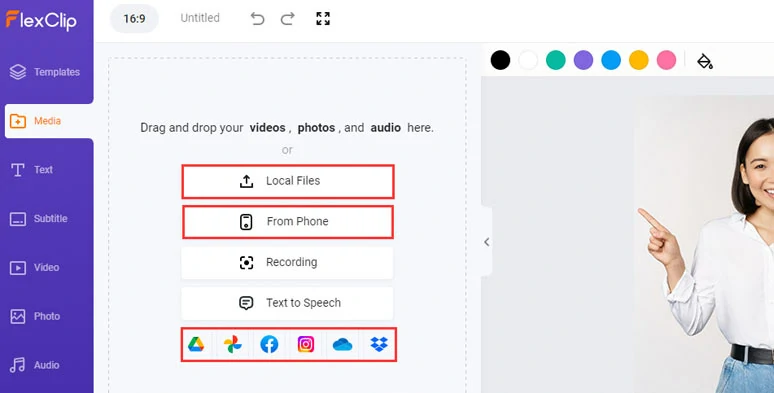 Upload your footage and images to FlexClip.
Step 3
Drag and drop your video/image to replace the video background or images in the pre-made video template.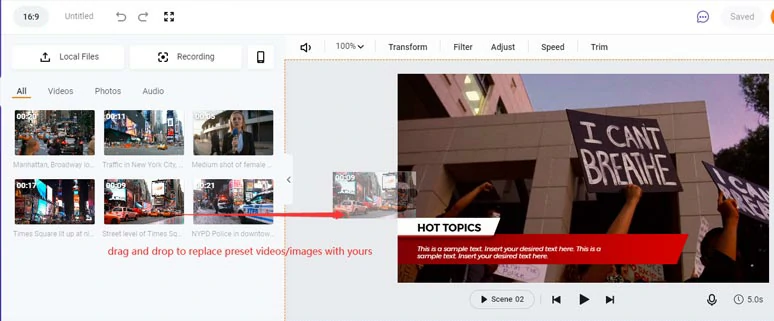 Drag and drop to replace pre-made videos or images with yours.
Step 4
Customize the news ticker.
With a ready-made news title selected, type in your texts > customize the text font, color, style, size, layer, opacity, spacing, etc. If you don't like the preset news ticker, click the Text tab and scroll down to find more compelling breaking news title animations.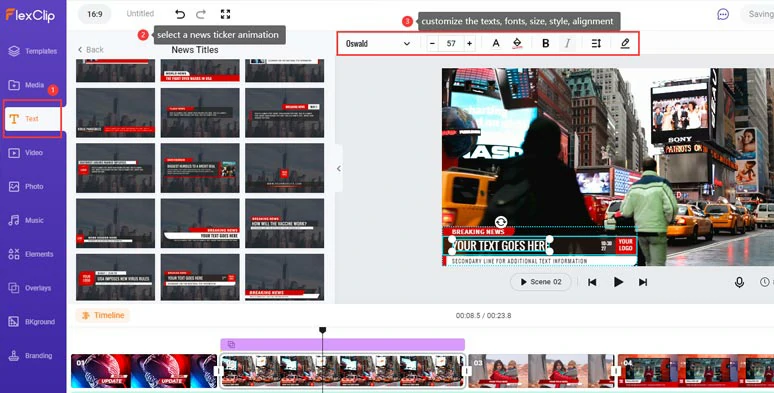 Select a news ticker title and customize the texts, fonts, spacing, etc.
Step 5
Animate the scrolling news ticker.
Select the news ticker text > click Motion > select Enter & Out > customize the direction of news ticker animation > click Timeline > copy and paste many news tickers you want and customize the texts.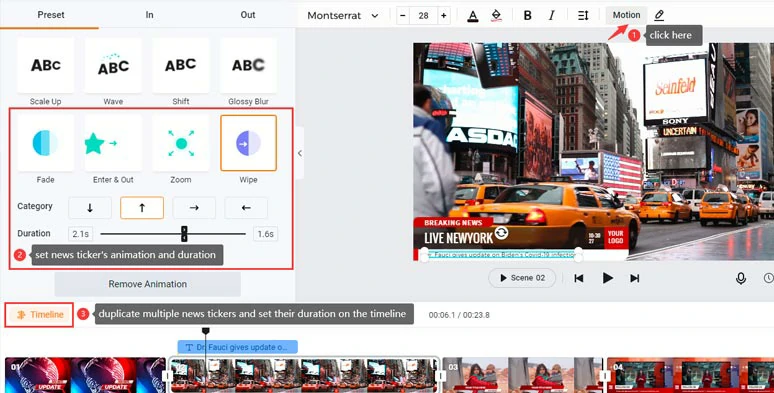 Set a news ticker's animation and duplicate and add more news to the news ticker.
Step 6
Add news background music.
If you leave the pre-made news background music as it is or click the Music tab and type in News and find more royalty-free news intro music and sound effects. You may upload and add your voiceovers as well.
Add royalty-free news intro music, sound effects, and your voiceovers to the news video.
Bonus: Use the Picture-in-picture Effect to Add a B roll for Storytelling
Click the picture-in-picture tool. Then you can add a video/image to the video to report the news from a different perspective like adding live interview footage.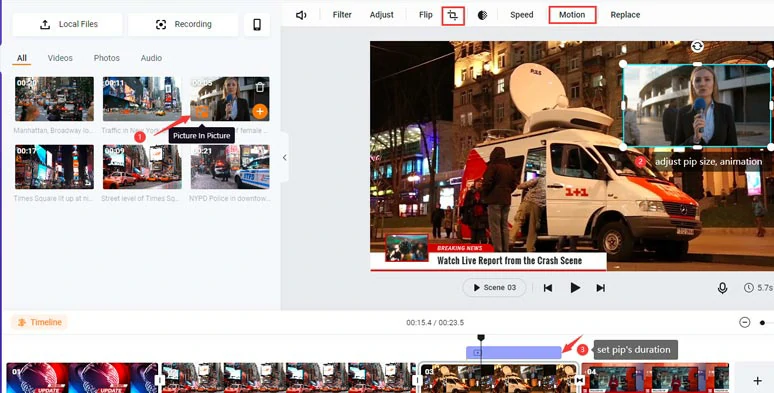 Add B roll as a picture-in-picture in your video.
So, let's check the scrolling news ticker from the above example:
A realistic scrolling news ticker created by FlexClip
Alternatively, to take your newscast video up a notch, click the AI text-to-speech icon > select the language and variant needed > select an ideal AI voice avatar to your liking > set voice style to newscast and customize the voice speed, and pitch > type in your texts > preview > add AI-generated newscast voiceovers to your video.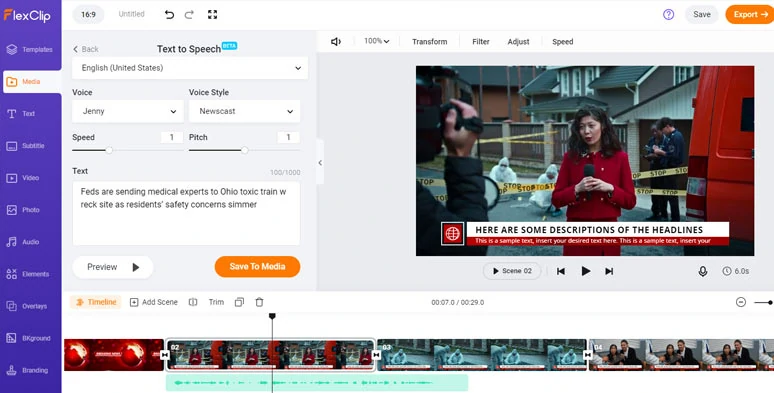 Create realistic AI newscast voiceovers for your newscast video.
Or click the Photo tab > auto AI subtitle > identify the source language in your news video > click Next > customize the styles of your news subtitles > click the Generate Subtitle buttons.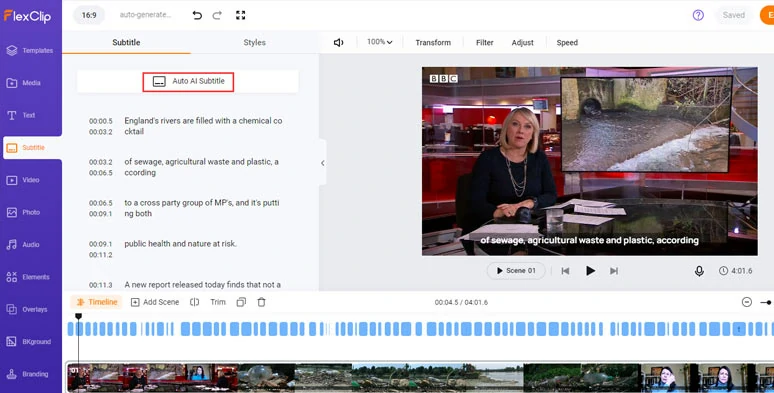 Use the AI subtitle generator to auto-generate subtitles for your newscast video.
Step 7
Preview and share.
Click the Export button to download the video to your local PC. Or directly share it to YouTube, Google Drive, One Drive, Dropbox, or TikTok. A clickable link and embed code are also available for your blogs, newsletter, or other repurposings.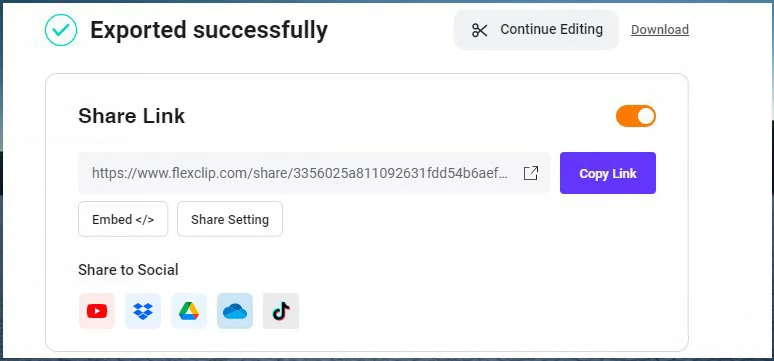 Multiple ways to share your video.
How to Make a News Ticker by Premiere Pro
As a workhorse of video editing, Adobe Premiere Pro also offers you flexible ways to create crawling or running new tickers. You can use Rectangle Tool to draw a news title bar, then add news ticker text and animate the crawling news ticker with keyframes. Or another workaround is to google free news ticker templates (Mogrt files) and import them to Premiere Pro for customization.
Compared with FlexClip, the only downside is that it takes tons of time to find and download limited free news ticker templates online and Premiere Pro doesn't have royalty-free news intro music, ready-made news title animations, and dynamic elements.
How to create crawling new tickers in Premiere Pro
Step 1
Add a clip to the timeline in Premiere Pro.
Step 2
Add news texts for the news ticker.
Click Graphics > Title > left-click on the lower third of the video and paste your news texts > change the font to Helvetica or CNN Sans > adjust the size of texts > drag the text layer to match the duration of the clip on the timeline.
Step 3
Animate the news ticker text.
With the text selected, go to Effect Controls > Transform > drag the first property of Position to the right till the news ticker is off the screen from the right side > click the Stopwatch to add the first keyframe > move the playhead to the right before the end of the clip > hold the Shift and left-drag the position of the news ticker to the left until all the news is shown. Then the end keyframe will be automatically added. Or change the background color.
Step 4
Add a colored background for the news ticker.
Select the Pen tool on the Graphic workspace > Rectangle Tool > click and drag a rectangle on the screen > move the rectangle bar over the news ticker > on the right panel, drag the shape layer below the text to reveal the news ticker text > select the two layers and align them to the center. Done. Also, read how to create a realistic typewriter effect in Premiere Pro.
3 Other Sites to Get Great News Ticker Templates
So, as mentioned above, you can use the news ticker templates for Premiere Pro or After Effects. Here, we would like to offer you 3 reliable sites with great news ticker templates if you often use PR or AE for video editing. Of course, no news music is included in the news ticker templates.
1. Adobe Stock
As a valuable online source for high-quality and royalty-free images, videos and audio, etc, Adobe Stock offers you limited licensed news ticker templates for free download. You can download the royalty-free news ticker template in Mogrt and import it into PR for customization.

Get a limited free news ticker template from Adobe Stock
2. Motion Array
Motion Array is a professional online platform, offering high-quality video assets, including images, videos, audio, Premiere Pro plugins, etc. for content creators and filmmakers. On Motion Array, you can find diverse news ticker templates for Premiere Pro, and downloads are exclusively for subscribed users. For individuals, the pricing starts from $29.99/month.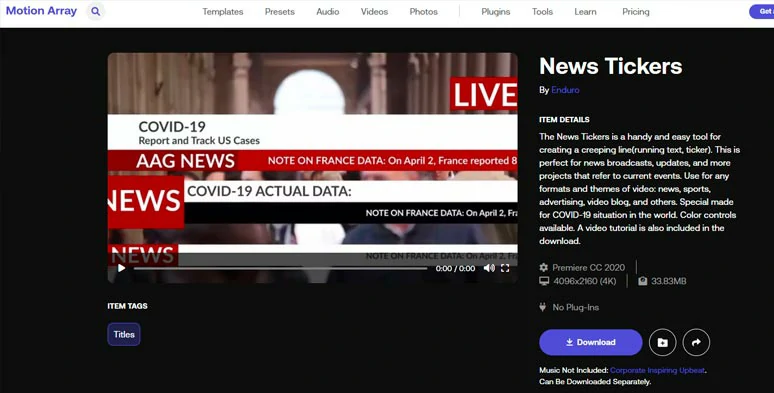 Quality news ticker template without audio in Motion Array.
3. Storyblocks
As one of the leading platforms for studio-like image, audio, and video assets, Storyblock is another ultimate choice for finding great news ticker templates. It offers you HD and 4K resolution news ticker video templates for PR, AE, and Apple Motion file types. The pricing of Storyblocks starts from $19.99USD/Month for the starter.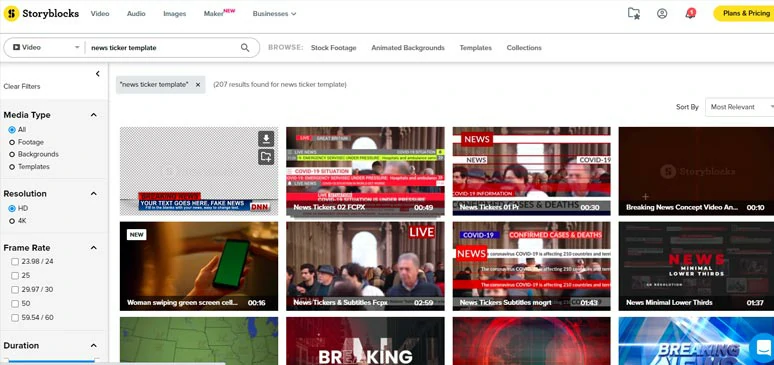 News ticker templates for subscribed users on Storyblocks.
Now, It's Your Move
Creating a scrolling or crawling news ticker offers you a great way to present news broadcasts scenes for your video projects. For beginners and those who are pressed for time, FlexClip is your best solution for making a great news ticker, given the abundant news ticker templates, news title animations, and royalty-free news intro music. While for experienced video editors, PR or AE should be your man.
If you find this tutorial helpful, don't forget to share it on your Facebook or Twitter and leave your comments for us. Much appreciated!