A hype video or hype reel is a bite-sized promo video made to boost morale and get sports fans hyped up about upcoming sports events. For its action-packed tempo and emotionally arousing music, hype videos are also widely used for brand and product promo, etc.
So, if you are looking for the right tool to edit your footage into a compelling hype video, we've got you covered!
In this post, we've rounded up 3 versatile hype video makers and will walk through their pros and cons of editing a hype video. So, you can pick the most ideal hype video maker and make a sizzling sports hype video or a product hype video in a breeze.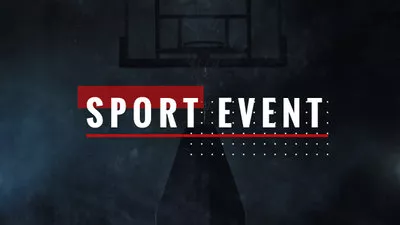 Sport Hype Intro
Football Hype
Here's What You Will Learn:
Also, read top 3 sports intro makers with free sports intro templates.
1. FlexClip
If you are a newbie to video editing or couldn't afford the time to create complex motion graphics, and text animations from scratch and need studio-like music, sound effects, and other video assets, etc. then FlexClip online hype video maker will be your great timesaver to create a professional-looking hype videos with ease.
Create scroll-stopping hype videos by FlexClip hype video maker online.
Best Features to Make a Hype Video with FlexClip:
Select from well-crafted and fully-customizable
hype video templates
, covering sports hype videos, brand hype videos, product hype videos, etc., and with easy drag and drop, you can customize them into a thrilling hype video.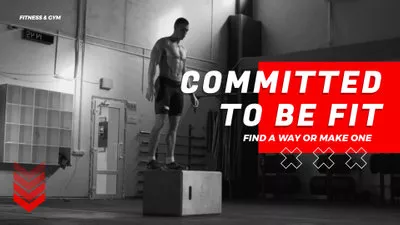 GYM hype video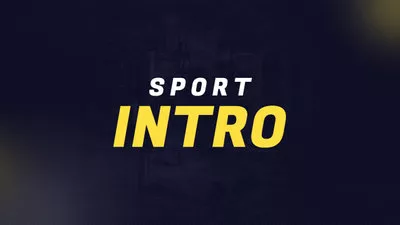 sports hype video intro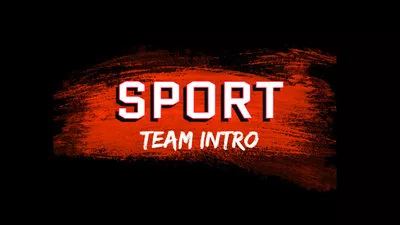 NFL hype video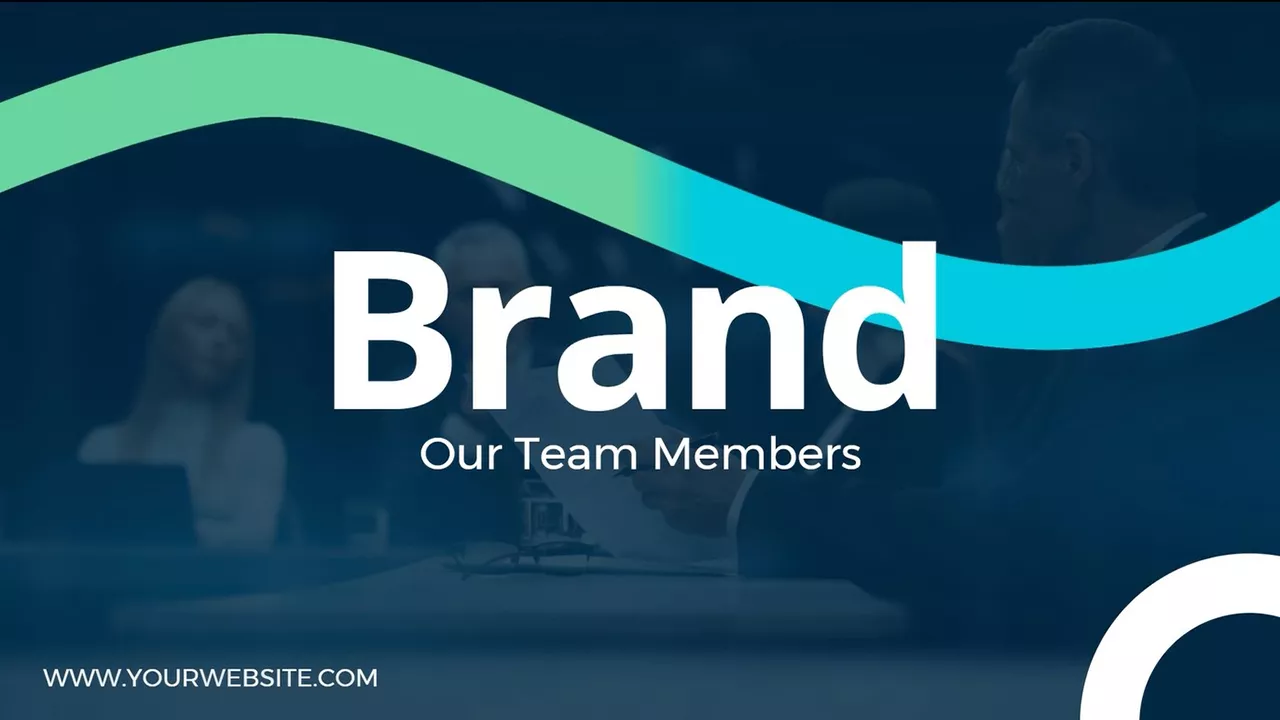 brand hype video
Easily animate and combine motion graphics with animated texts, animate elements on the intuitive timeline, without using keyframes.
Use
AI image background remover
to remove sports image background to highlight players in the sports videos and easily animate images with styles.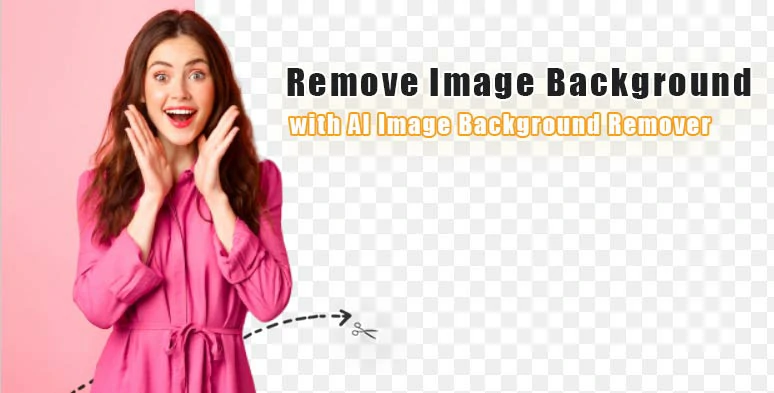 Easily remove the image background for hype videos.
Choose from 74,000+ royalty-free and high-quality music tracks and sound effects to match your footage with upbeat hype video songs and SFX and do audio layering and edit to the beat of the music/SFX.
Use the
free text-to-speech generator
to add realistic AI voices to hype videos to connect with viewers and evoke fiery emotions for the upcoming games.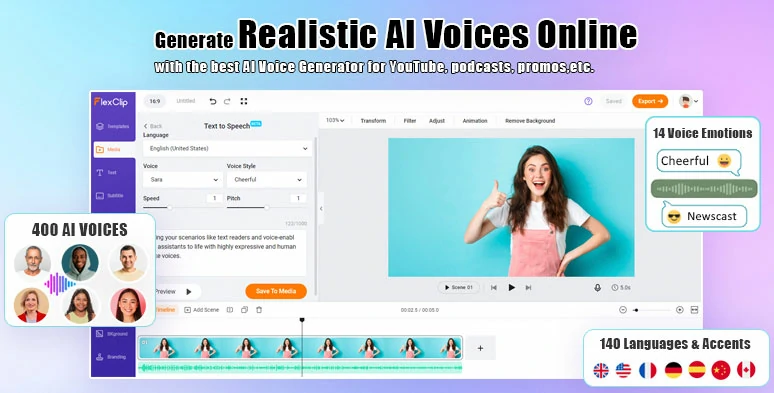 Add realistic AI voices for audio narrations of hype videos.
Use the
AI subtitle generator
to instantly transcribe dialogues, audio narrations, and lyrics to text for the burned-in subtitles in your hype videos, with an accuracy of up to 95%. And you can customize the text styles as well.
Auto-generate subtitles for hype videos.
Spice up your hype videos with color grading, crop mask, trendy transitions, and
effect overlays
, such as fire, rain, lens flares, light leaks, neon, cinematic film grains, etc.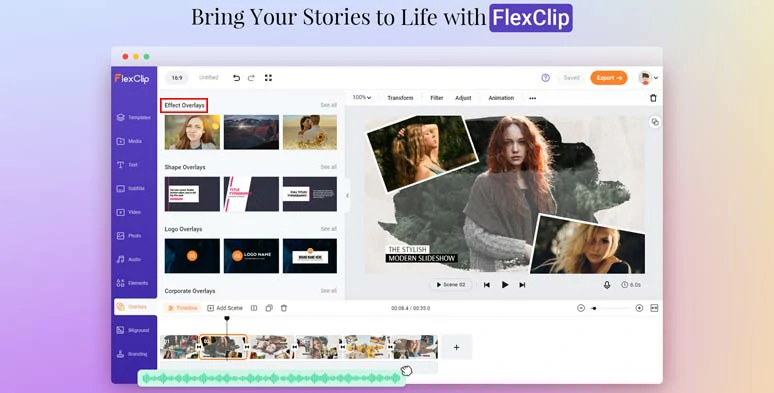 Use effects overlays to create vibes for your hype videos.
When caught up in the editing block, you can use the
team collaboration feature
and send an email or a link to invite your colleagues or friends to work with you to create a viral hype video.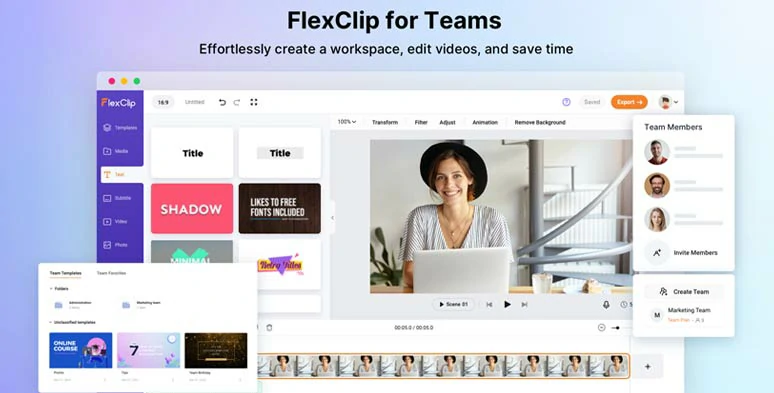 Work with your colleagues or friends to create sizzling hype videos.
Adjust video speed (0.2-8x) to add rhythm to your hype video.
Create picture-in-picture effects for videos or photo collages.
Simultaneously sync your video projects to Clouds to avoid project loss and fast video rendering.
How to Make a Hype Video by FlexClip Online: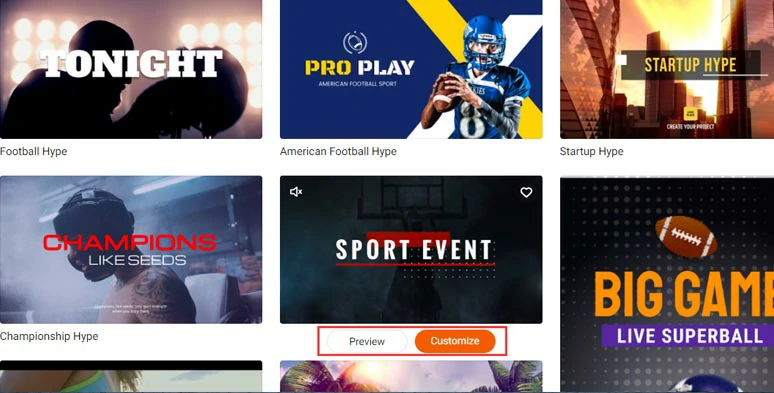 Select a sports hype intro video template.
Step 2
Upload your video assets to FlexClip from your PC, phone, Google Drive, One Drive, Dropbox, or Google Photos.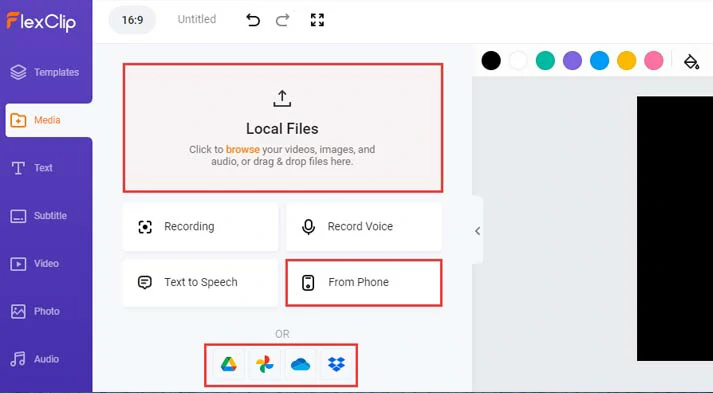 Upload your sports hype video assets to FlexClip.
Step 3
Drag and drop your clips to replace the premade video elements or left-click the clip and select a portion of highlighted video moment like a slam dunk to replace the readymade video in the template. You may drag and hold to trim a clip or split it when needed.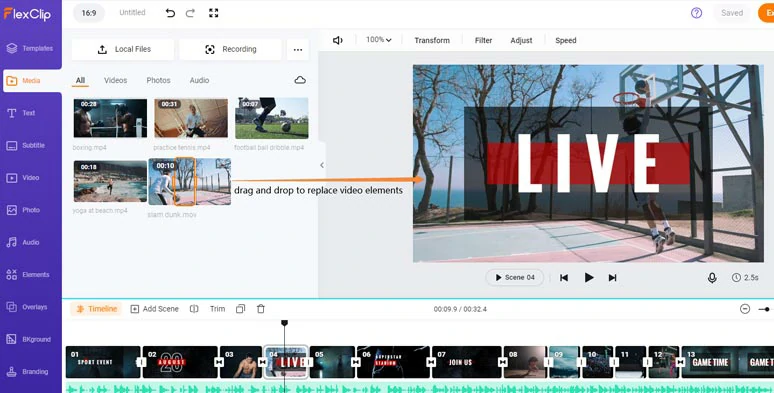 Drag and drop to replace premade video elements with yours.
If you need to highlight a specific player, you can use image background remover to remove the image background and click the Motion tool to easily animate the image with styles in your hype video.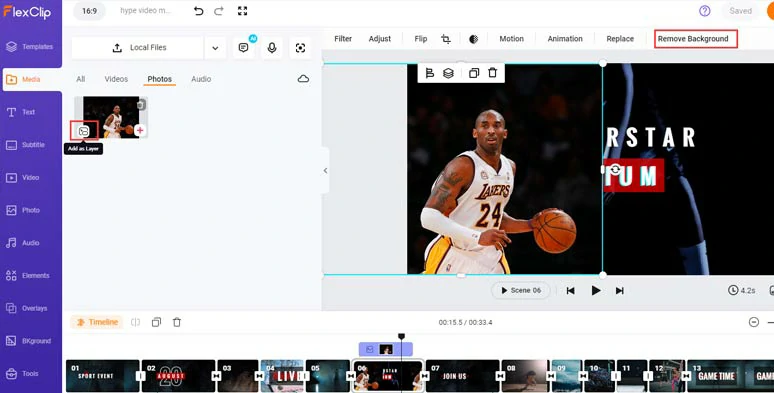 Layer the player's image over the hype video and remove the image's background.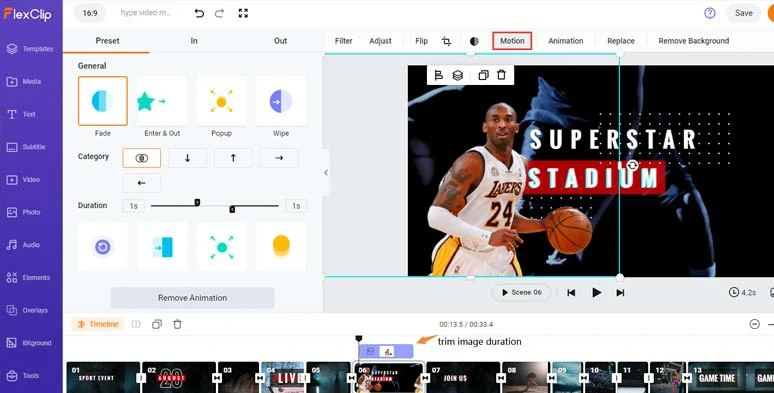 Easily animate the image with styles.
Step 4
Customize the text animations and motion graphics.
Double-click the text and you can customize the text, text styles, fonts, size, color, alignment, opacity, duration, and layer.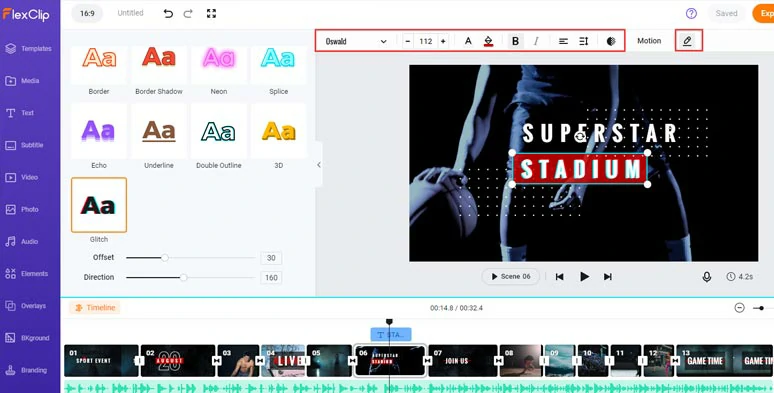 Customize the styles, colors, fonts, and size of text animations.
With the text or motion graphics selected, you can click Motion and easily animate the text or motion graphics with typewriter effects, bounce, burst, stomp, etc. while controlling the direction, speed, and styles of text animations.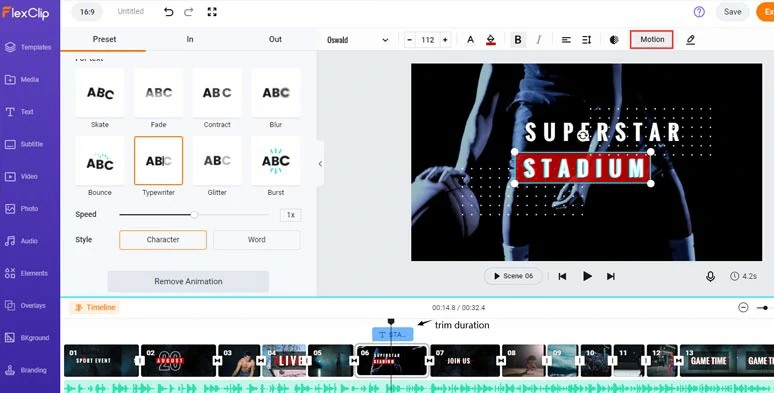 Animate the texts with various styles.
Alternatively, if you don't like the premade text animations, click the Text tab and scroll down to select more custom text animations, such as lower thirds, likes comments and subscribe buttons, broadcast titles, profile titles, quotes, callout titles, and location titles, etc.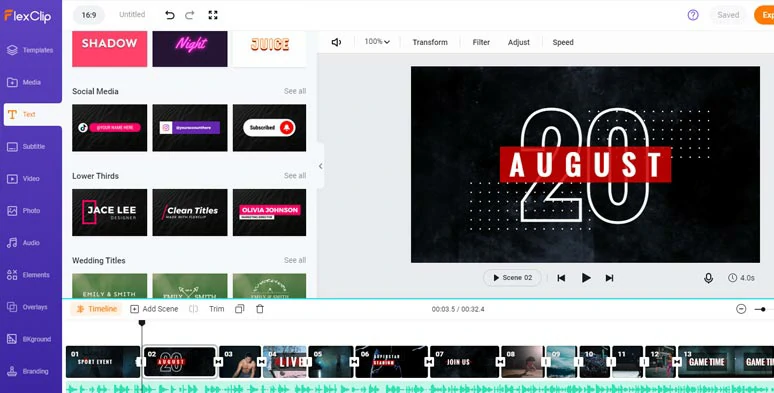 Use more readymade and custom text animations for your sports hype videos.
Step 5
Spice up your hype videos with more video effects.
There are 200+ seamless video transitions available for you to connect one scene to another, such as glitch, zoom, liquid, circle, displacement, etc.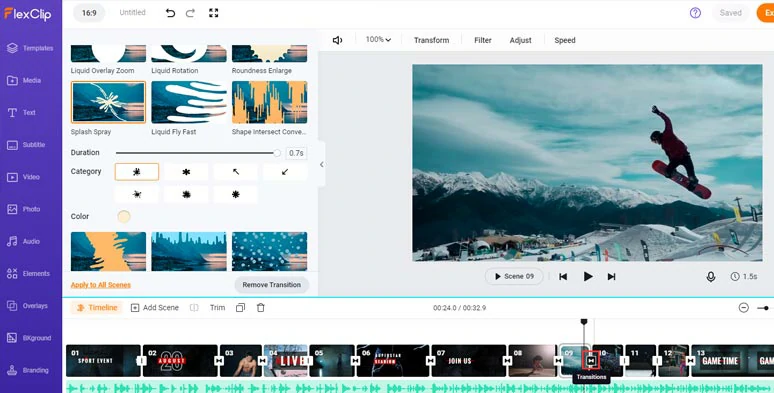 Add trendy transitions to connect different scenes.
Click Overlays > Effect Overlays > scroll down to use a fire, smoke, lens flare, or other lifelike special effect overlays to fuel your hype video with energy and creativity.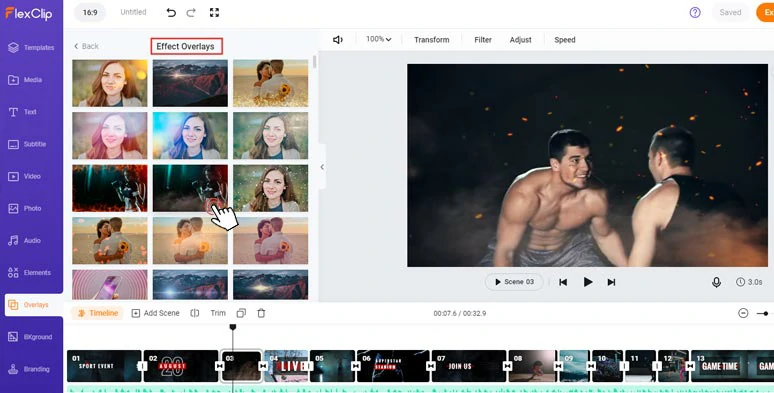 Add fire effect overlays to create the vibes for sports hype videos.
Don't forget to speed up or slow down parts of the video to highlight the movement and add rhythm to a sports hype video.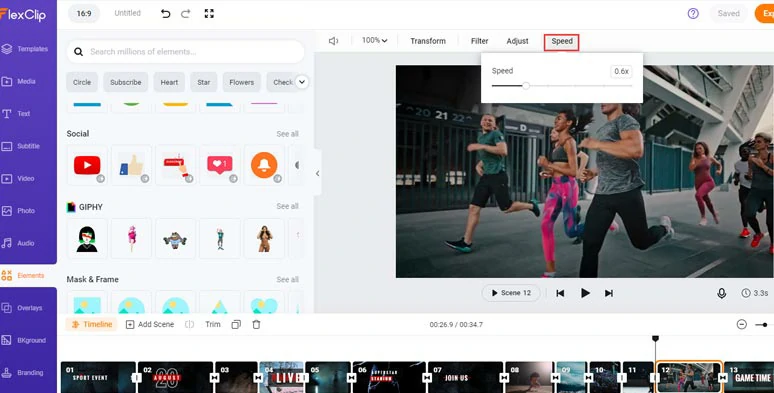 Adjust the speed of sports hype video for dramatic visual effects.
Step 6
Use the free text-to-speech generator to add realistic AI voices.
Adding audio narrations makes your hype videos look more professional and helps connect with viewers. With FlexClip's AI text-to-speech generator, you can easily do that. There are 400 realistic AI voices to choose from in 140 languages and accents. You can control AI voices' gender, age, voice style, speed, and pitch. Incredibly helpful!
Just click the Media tab > Text to Speech > select the language > preview AI voice avatars' voice and choose the one to your liking > set voice styles (such as newscast, friendly, hopefully, excited, etc. ) > set voice speed and pitch > copy and paste your vice scripts > preview the AI-generated voice > hit Save to Media button.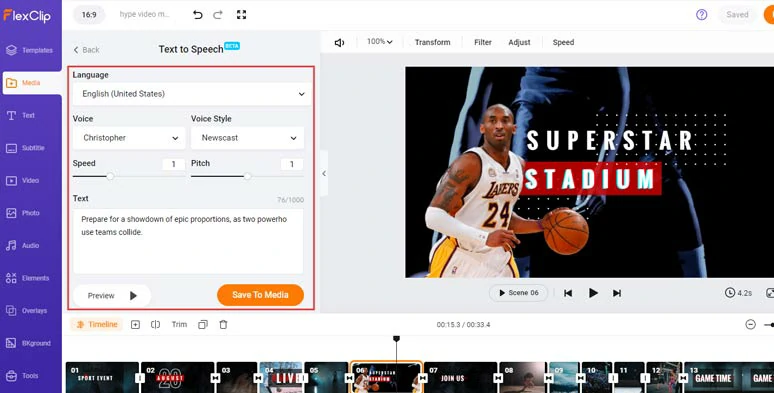 Convert text to realistic AI voices for your hype videos.
Then, you can add AI voices from Media Library to match different video scenes > trim or split audio and adjust volume as well. FlexClip will also save AI voices in WAV format to your PC for backup.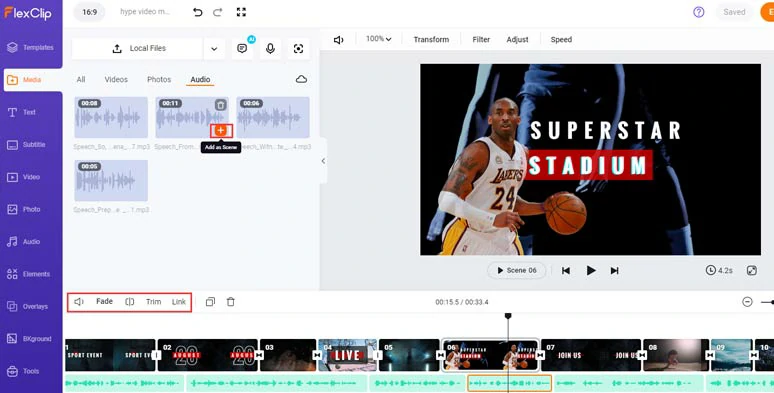 Add AI voices to match different hype video scenes.
To make your video content accessible to all viewers, you may use FlexClip's AI auto subtitle generator to add burned-in subtitles to your hype video.
Just click the Subtitle tab > Auto AI Subtitle > identify the language in your video > hit Next > set the style of the subtitle > hit the Generate Subtitles button.

Automatically add subtitles to hype videos.
Later, you can proofread the auto-generated subtitles > fine-tune the text font, text size, color, background fill, opacity, alignment, etc. to your heart's content.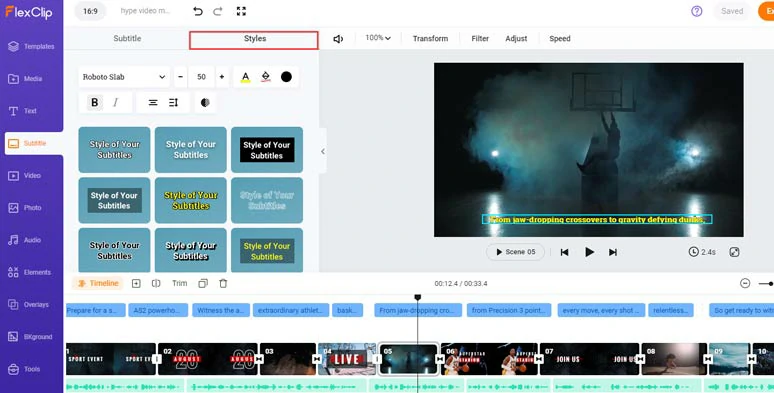 Customize the styles of auto-generated subtitles.
If one subtitle seems too long, you can press "Enter" to split it into two or merge two short subtitles with one click. Pretty handy!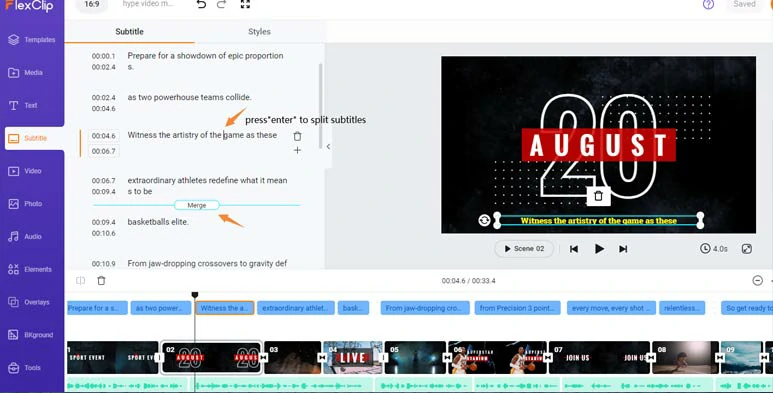 Easily split or merge subtitles.
Step 7
Add royalty-free music, and sound effects and do audio mixing.
Editing to the beat is essential to enhancing the vibes in a sports hype video. Click the Audio tab and type in "hype" in the Music tab and add multiple action-packed hype video songs to the audio tracks. You can trim and split the audio and adjust its volume and fade in/out effect.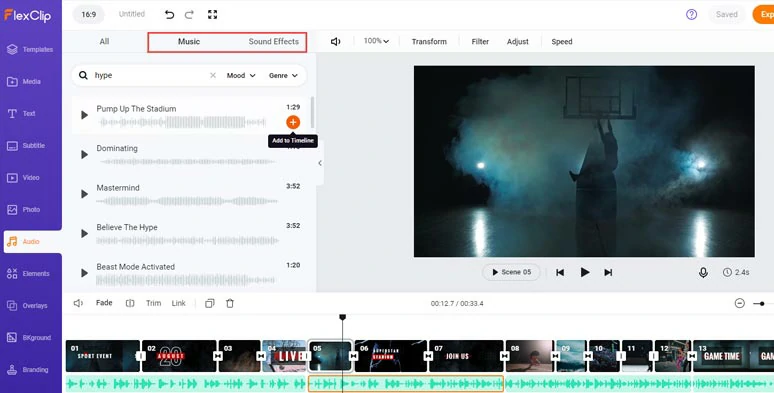 Add upbeat hype video songs to create the vibes for sports hype videos.
Click the Sound Effects tab, type in "riser", "swoosh", and "hit" and you can use these cinematic sound effects for transitions, or impactful movements like player hitting, falling, etc. to add a cinematic touch to your sports hype video.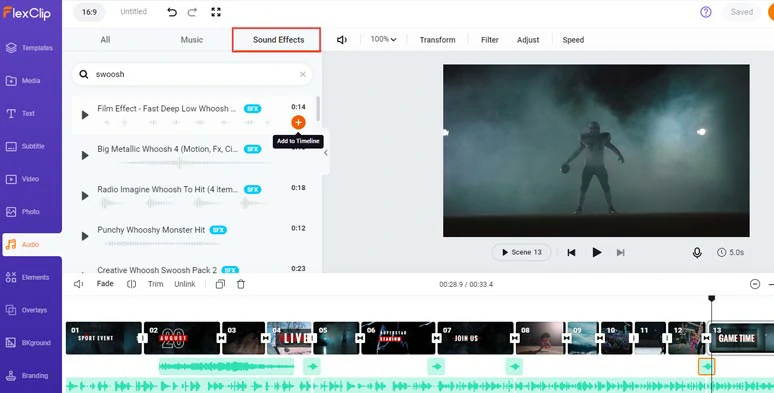 Add cinematic transition sound effects like impact, swoosh and riser for sports hype video.
Step 8
Preview and share.
Done with the editing. You can download the 1080P hype video to your hard drive or directly share it to your YouTube, Google Drive, Dropbox, One Drive, or TikTok; a clickable link is also available for your blog posts, newsletters, or other repurposings. Super helpful!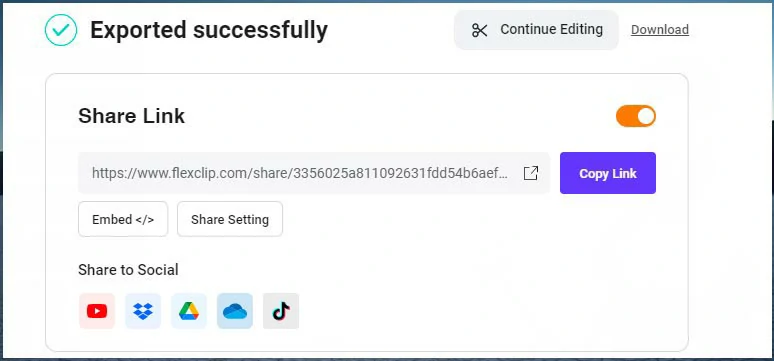 Easily share your hype videos in different ways.
Downside:
No 3D hype video templates available.
Our Verdits:
Overall, as a user-friendly and feature-rich online hype video maker, FlexClip removes the steep learning curves for video editing by offering you diverse and editable hype video templates, an intuitive timeline and tons of helpful AI video editing tools, and high-quality video assets.
For all content creators, FlexClip hype video maker is your great timesaver and one-stop solution to create sizzling hype videos that wow viewers on YouTube, Instagram, TikTok, etc. for more likes, comments, and subscribers.
2. iMovie
As a built-in and free video editor on Mac, iMovie is another easy-to-use hype video maker to create sports hype videos for school projects or simple YouTube hype video projects. No complex video editing skills and advanced features are involved and it is extremely user-friendly for beginners. Also read, how to add subtitles to iMovie.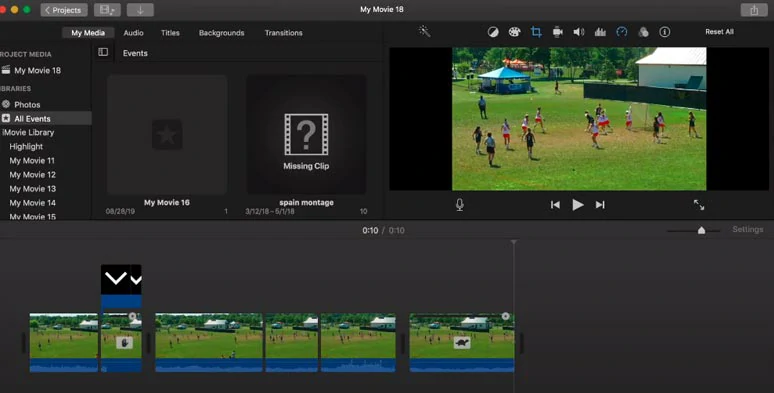 Create sports hype videos with iMovie.
Best Features to Make a Hype Video with iMovie:
Easy-to-use timeline to trim, split, crop, rotate, and combine sports footage.
Create picture-in-picture effects to overlay videos and images.
Use the green screen to separate the subject from the video or image.
Add basic titles, transitions, and video backgrounds.
How to Make a Hype Video by iMovie:
Step 1
Create a new movie project in iMovie and import sports footage into it.
Step 2
Add all the clips to the timeline and do the rough cut by trimming or splitting (CMD+B) the clip to only keep the highlighted video moments and adjust their sequence on the timeline.
Step 3
Add hype video songs to the audio tracks and align the clips with the climactic music beats or adjust the clips' volume for audio ducking.
Step 4
Click the Titles and Transitions tab to select titles and transitions for your hype videos.
Step 5
Preview and share the hype video to your desktop on your Mac.
Downside:
Limited built-in titles, theme music and SFX, and cheesy transitions.
Can't directly add voiceovers through iMovie.
No photo and video assets available.
Can't have too many layers for editing on the timeline.
Our Verdits:
Well, given the fact that iMovie is a free video editor, you can't blame it too much for its limited features. iMovie offers you an easy hype video maker for novice users to create simple and decent sports hype videos for YouTube. Hopefully, iMovie can support more video aspects. So, you can directly edit and export 9:16 hype videos for Instagram Reels and TikTok, etc.
3. PowerDirector
Last but not least, PowerDirector is a versatile and robust hype video maker available on both Windows and Mac. Apart from basic tools to trim, split clips and add transitions, and video effects, PowerDirector offers you advanced tools like motion tracking and keyframe controls, audio denoise, etc. for you to create a professional sports hype video.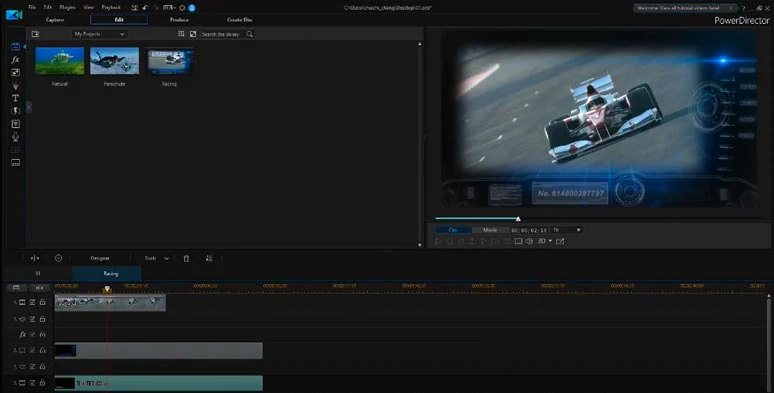 Make great sports hype videos by PowerDirector.
Best Features to Make a Hype Video with PowerDirector:
Full mode, storyboard mode, slideshow creator mode, and audio mode for different needs.
Apart from creating 16:9, 1:1; 9:16; 4:3 video aspect ratios, you can even make 360 hype videos.
Directly download media from Shutterstock.
Easily add or remove video and audio tracks for edits.
Tons of transitions and effects overlays available.
Create picture-in-picture effects and color-grade hype videos.
Premium features include keyframes, masking, and motion tracking for sports hype video, proxy editing for large footage, LUT support, image stabilization, green screen, etc.
How to Make a Hype Video by PowerDirector:
Step 1
Open PowerDirector and select the video aspect ratio and editing mode (full mode recommended) and create a new hype video project.
Step 2
Import your hype video assets into PowerDirector and add all the clips to the timeline for the rough cuts through trimming, splitting, and deleting unwanted video moments.
Step 3
Add titles, transitions, and hype video songs, and do the beat edits to your hype video.
Step 4
Preview and share.
Downside:
Annoying ads pop up sporadically to ask you to upgrade the products.
Rendering of the video is rather slow and you may encounter lags during edits.
Our Verdits:
With an intuitive interface and a wide array of features, PowerDirector is a viable desktop option for both PC and Mac users to for create quality hype videos. If you have some video editing experience and want to add unique effects to your hype videos and have a good CPU and GPU, it is worth giving it a shot.
FAQs about Making Great Hype Videos
1. What is the best video length for a hype video?
The best video length of a hype video is around 90 secs to 2 mins.
2. How to pick hype video songs?
To stir excitement and vibes for a hype video, it's advisable to use music that gradually builds up until a climactic finish and has a varied tempo. Besides, cinematic sound effects like impact, hit, riser, etc. are also recommended for a sports hype video.
3. How to edit a sports hype video on the timeline?
*Only keep the most dramatic moments of the clips, and jump cuts are preferred.
*Use emotional close-up shots to show the face of players for storytelling.
*Edit the clips to the music beats like a tackle, ball catch, basketball blocking, hitting, etc.
*Use speed change/ramp to add rhythm to your hype video and draw viewers' attention.
*Spice up your hype video with color-grading, effects overlays, dynamic transitions, etc.
*Listen to your friend's feedback for adjustment.
Now, It's Your Move
So, here are the 3 versatile hype video makers you can use to make a great hype video. Now, the question is which hype video maker works best for you? Feel free to try them a try and share this post on your Facebook or Twitter and tag us and leave your thoughts to us. Cheers!