No video transition is complete without proper transition sound effects. If you often hear some cool transitions sound effects on YouTube or in films, yet don't know their names for googling and download. No worries!
In this tutorial, we've rounded up a list of the 9 most popular transition sound effects used in films and will walk you through when to use these transition sound effects for your videos, plus 3 recommended sites for finding royalty-free and studio-like transition sound effects.
Here's What You Will Learn:
Here is a quick takeaway for transition sound effects:
Transition sound effects are sounds created by professional foley artists to enhance the vibes and audio quality from one scene to another in films or videos.
Transition sound effects are so crucial in post-production for they can add depth to the transitional scenes and evoke certain emotions in viewers for particular scenes, like actions, horror, suspense, etc.
In actual editing, one or multiple transition sound effects are employed to accompany transition scenes/shots.
1. Whoosh
Use Whoosh transition SFX for action scenes.
Whoosh is the most widely-used transition sound effect in films, YouTube videos, ads, and TV news reports, animation, etc. Interestingly, unless you are in the field of video editing, only a handful of people know its big name. Another similar transition sound effect to Whoosh is Swoosh, used to refer to an object or person moving at a high speed.
When to use Whoosh transition sound effects:
Whoosh is often used to highlight quick transitional scenes, esp, showing a fast-moving object or person, or displaying dynamism and any other quick movements and action scenes. You may also hear it in parkour videos on YouTube or watch a replay of an
NFL highlights video
or in a TV news report.
2. Riser
Use Riser transition SFX to create suspense and add climactic rhythm to the video/film.
As its name suggests, Riser adds a climactic rhythm to combine the two scenes. The sound effects gradually rise and expand from the bottom and end abruptly when reaching the climax at the top pitch.
Due to its distinct sound feature, Riser is one of the favorite transition sound effects by Hollywood filmmakers and advertisers to create suspense and an intense atmosphere or show the strong emotions of characters in films and videos. Also, read how to make a cinematic video.
When to use Riser transition sound effects:
You may add Riser in the transition scenes to create suspense or display the conflicting emotions of the characters or use Riser as an audio intro for a film or video teaser.
3. Impact/Hit
Impact/hit transition SFX for movie trailer or intro of titles to draw viewers' attention
Impact, also known as Hit, is another trending transition sound effect to grasp viewers' attention by making a deep and cinematic thud. You can take it as an audio close-up for a particular scene or movement in the film or video.
Impact transition sound effects are often synchronized to the beat and applied to many movie trailers or Apple ads for the transitional scenes.
When to use Impact transition sound effects:
To make an impactful deep sound to draw viewers' attention to a particular scene or a detailed movement of the protagonist in the video or film. It's also extremely popular for the
movie intro
, text reveal,
webinar teaser
, etc.
When placing the Impact transition sound effects, move the play head to 1-2 frames after the text reveal or transition starts, so you can cut to the beat more naturally.
4. Drone
Use Drone transition SFX to create suspense and unease, and mystery.
Drone is an underrated yet frequently-used sound effect to create an atmosphere of anxiety, suspense, mystery, and a sense of unease in films and videos. When used as transition sound effects, the ominous Done sounds often appear before the actual scene arrives, which is also known as J Cut in video editing.
When to use Drone transition sound effects:
Create a sense of suspense, unease, and mystery in your video.
Add the Drone transition sound effects before its actual scene arrives.
You may also combine Drone with sounds of whispers, and heartbeats to stress the tension.
5. Slow Motion
Use Slow Motion transition SFX to show the change of speed or highlight space perception.
Slow Motion is another artificially-made transition sound effect that often goes with the sound of Whoosh or Ambience and Impact, even melody, etc. to convey the sense of space and speed change to the viewers.
Some of the great cases in point are Fireworks in slow motion, slow motion sounds of a propeller, or the slow-motion car chase scene in Mission Impossible II. Also, read how to slow down a video in Premiere Pro.
When to use Slow Motion transition sound effects:
Highlight the space perception or the speed change from one fast-moving scene to a slow-motion scene.
Very often, the Slow Motion transition sound effects are coupled with Whoosh sound effects.
6. Ear Ringing
Use Ear Ringing transition SFX to show injury and emotional trauma and drunkness,etc.
Ear Ringing is a distinctive transition sound effect. In films, Ear Ringing can be used to evoke the real physical response of ear ringing when a bomb exploded around a soldier. It may also be used as transition sound effects to indicate that the protagonist is either drunk or sick, frightened, or is losing consciousness.
When to use Ear Ringing transition sound effects:
Indicate the character's drunkness, confusion, and falling consciousness as a result of physical injuries and emotional trauma.
Unlike Impact sounds, Ear Ringings are long transition sound effects that cover two scenes.
7. Sting
Use Sting transition SFX to show spine-chilling atmosphere and panic of characters,etc.
If you are a movie bug of horror films, you must be familiar with the creepy Sting sound effects, created by foley artists using Waterphone and scrubbing of metals.
Due to the terrifying Sting sounds, Sting is the perfect transition sound effect to connect spooky scenes, such as a man walking into a haunted house, or to highlight the intense and frighting emotions of characters. Also, read how to make a jump scare video.
When to use Sting transition sound effects:
Highlight the spine-chilling atmosphere, indicate a feeling of sheer panic in characters, or pave the way for something ominous and supernatural that is going to happen in the next scene.
8. Drum Loops
Use Drum Loops transition sound effects to indicate courage and unyielding determination,etc.
Drum Loops can be symbolically used to indicate the main characters' strong determination to accomplish a mission. While the low drum beats, which are similar to our heartbeat, may also be used to show the emotional change of a character when making a hard decision or being challenged. Two classic examples are the Drum Loops in the movie: Leon—the Professional and Joker.
When to use Drum Loops transition sound effects:
Use powerful Drum Loops to show courage and unyielding determination.
Use the low Drum Loops to imitate our heartbeats to show the subtle change of emotions of characters to combine different scenes.
9. Braam
Use Braam transition SFX to connect or create the epic scenes,etc.
With a powerful and explosive roaring, Braam is a popular transition sound effect often used in epic films. In movies, Braam can be used to signal a grave danger the protagonist is facing or depicts the darkness and evil ambition of the antihero. You may also hear Braam as transition sound effects when a movie's title leads to a grand scene in the movie, such as in the movie Troy.
When to use Braam transition sound effects:
Connect an epic scene with movie titles.
Show the change of storyline or portray the emotional change of characters, etc.
Bonus: 3 Great Sites to Get Royalty-free Transition Sound Effects
1. FlexClip
As a feature-packed online video maker, FlexClip is a treasure trove for all content creators. With 4M+ stock photo, video, and audio assets, FlexClip offers you thousands of royalty-free music and transition sound effects, ambience sound effects, atmosphere sound effects, and high-res videos to choose from for video editing.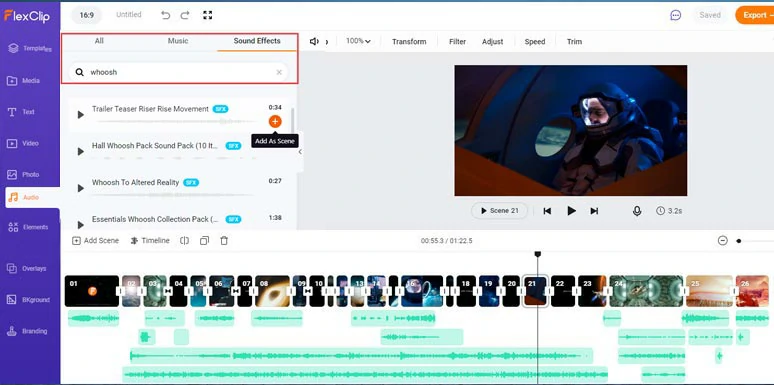 Add royalty-free various transition sound effects and music to videos by FlexClip.
You can easily upload your footage and do the rough cut and then select the transition sound effects you need for the transitional shots/scenes and add diverse video effects. All can be done in your browser in just clicks away, without software download and experience needed.
The intuitive timeline makes it easier for you to add do J Cut or L Cut for the transition sound effects. While the designer-made and fully customizable video templates will get your creative juice flowing for video editing. Try using the following free templates to discover more.
Movie Intro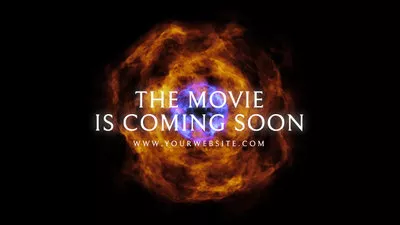 Cinematic Intro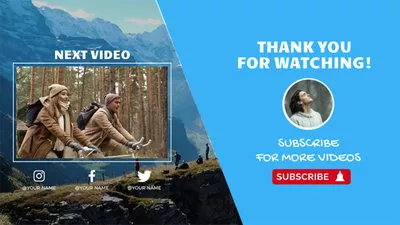 Youtube Travel Outro
Animated Sport Intro
2. Artlist.io
Artlist is another valuable online source for studio-like music and sound effects and footage for video creators. For both a personal content creator and commercial video ads, you can subscribe to Artlist's different plans and get license covers for using transition sound effects, BGM, or footage on YouTube, Facebook, Instagram, or other commercial podcasts without hidden costs.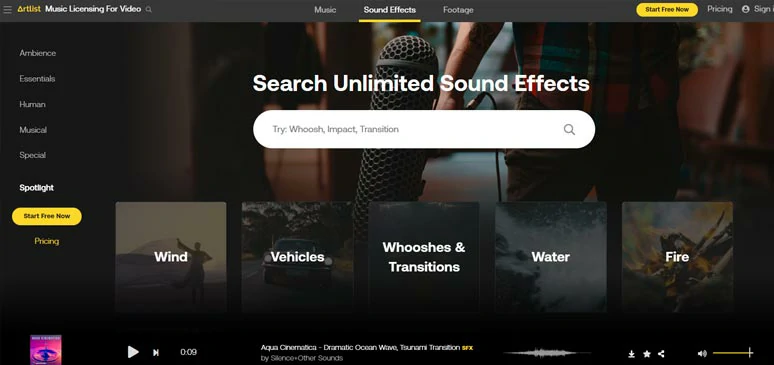 Search for transition sound effects on Artlist.io
3. Freesound.org
As its name suggests, Freesound.org is a massive audio database of sound effects, most of which are under Creative Commons Licenses. Boasting more than 500,000 sounds and effects, and 8 million registered users, Freesound.org is a global community of sounds and sound effects for video and content creators. You can easily search for the transition sound effects you need and download them for personal use.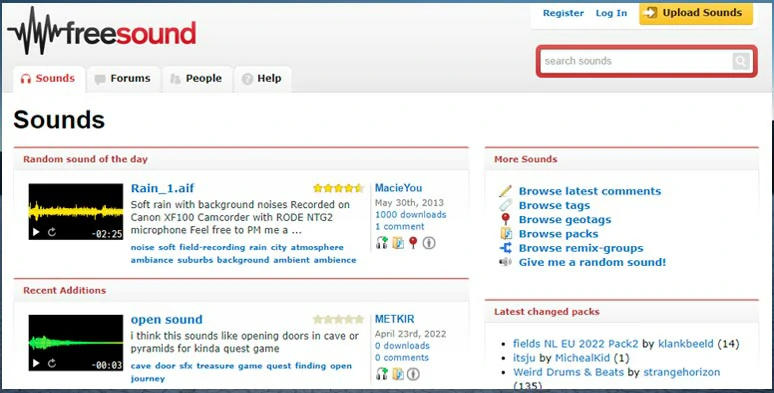 Download free transition sound effects from Freesound.org
FAQs about Adding Transition Sound Effects in Videos
1. How should I add transition sound effects to my videos?
Well, though there are no strict rules for using transition sound effects, here are some rules of thumb for you to keep in mind:
Match transition sound effects with the visual. For example, it makes more sense to add a whoosh or swoosh transition sound effects for a whip pan transition or to connect two fast-moving scenes like running or jumping than using a riser or slow-motion transition sound effects. You can take it as a match cut between visual and auditory experience.
Kee it subtle and moderate. Don't use too many transition sound effects because it can get annoying and keep the volume of transition sound effects lower than that of the BGM, and dialogue otherwise it may distract the viewers.
Use J Cut or L Cut. Sometimes, transition sound effects can be the ambience sounds like a dog's barking or a person's mumbling, you can use these J Cut or L Cut for a smooth scene transition from A to B or B to A.
Find the sweet spot for transition SFX. Many amateurs would place transition sound effects right at the start of a video transition. However, since our human beings perceive audio faster than visual, very often you can't perfectly align the visual with the transition sound effects. So, the best place to place a transition sound effect is at 1-2 frames after the video transition kicks in.
2. Can I create transition sound effects myself?
Theoretically, yes, you can. However, in reality, 90% of the sound effects including transition sound effects, ambiance sound effects, or other special sound effects are made by professional foley artists in studios.
Besides, the learning curves to create transition sound effects and the cost of time and the professional audio capturing device and post-production can be too high for ordinary videographers and YouTube content creators.
So, the best option is to get royalty-free transition sound effects from FlexClip or Artlist, etc. to boost the editing efficiency.
3. What are popular transition sound effects used by YouTubers?
Some of the popular transition sound effects include whoosh, swoosh, whip, riser, braam, bubbles, impact, hit, accents, drones, downshifters, etc. Again, each transition sound effect has distinctive auditory experiences and emotions. You may use it based on your actual footage, the visuals, and the emotions you wish viewers to have.
Now, It's Your Move
So, now you know the names of different transition sound effects and how to use each one of these for your transition shots and scenes. Anyway, to quickly add transition sound effects into your videos and preview the overall effects, FlexClip online video maker can be your best bet. If you find our tutorial helpful, don't forget to share it on Facebook or Twitter and tag us to leave your comments.