Jump scare videos use abrupt scary scenes with frightening sound effects to scare the heck out of viewers. So, whether you plan to make a jump scare video prank to scare your friends or look for jump scare videos ideas for Halloween, in this video, we've you all covered.
We will walk you through the origin of jump scare videos and introduce you to the 4 great ingredients for making hair-raising jump scare videos and offer you an A-to-Z tutorial on how to make a great jump scare video online plus the kind reminder of using jump scare videos. So, let's rock and roll now!
A funny jump scare video prank
Here is what you will learn:
What Are Jump Scare Videos
Jump scare videos originated from the film-making technique—"Jump Scare", which uses a sudden pop-up of a ghost, a murder, or a monster from darkness and spooky sound effects to startle the audiences. Nowadays, jump-scare videos are an indispensable ingredient for horror movies or horror games.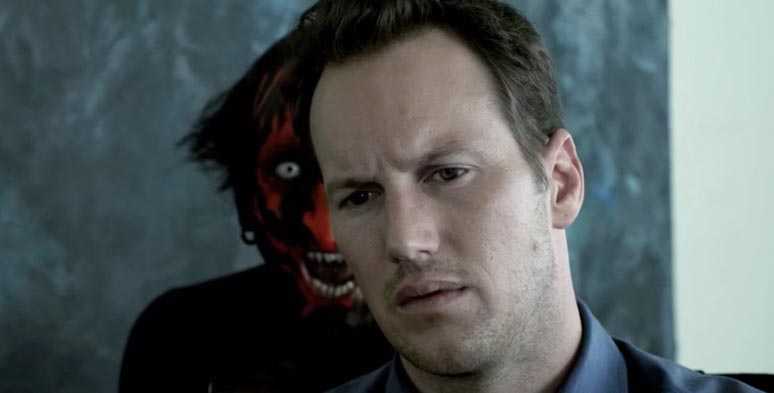 Classic jump scare scene in Insidious, 2010
What Makes Great Jump Scare Videos
Not every jump scare video can make viewers scream out and spring out of the chair. To create a hair-raising jump scare video, you need to figure out what triggers the fear emotion in your brain.
Based on the horror film-making techniques and the psychological impact of fear on the human brain, we put together these 4 proven strategies to help you make an adrenaline-rush scare video.
1. Create a False Illusion
A successful jump scare video is an eerie calm before a thunderstorm. So, in the first 30 secs of the video, you can present seemingly peaceful and carefree scenes to let viewers lose their guard. Yet, within a split second, a ghost or monster pops up out of nowhere to get them the goosebump. Learn to make a horror intro.
2. Color-grade Your Jump Scare Video
The second strategy deals with the psychological impact of colors on our brains. In most horror movies, the use of black and green colors can be frequently seen.
Black evokes powerful emotions towards dark, mysterious, and evil things.
Green symbolizes the vibrance and unknown natural world.
Color-grade the jump scare video with black and green color
When these two colors are combined, they work together to trigger the primal fear of the unknown towards the unfathomable world and potential danger at night, a fear shared by our ancestors for survival.
So, you can apply this color theory and color-grade your scare videos to produce ominous and spooky vibes. With FlexClip, a free and versatile online video maker, you can easily adjust the color temperature and hue, saturation, and exposure to evoke the fear emotions.

Add video filter or use adjustment tool to color jump scare videos by FlexClip
3. Add Music and SFX
The frightening music and sound effects often go hand in hand with scary visuals in a successful jump scare video. They help to evoke scary emotions and set the tone for a jump scare video. Check the top 5 sites to get free spooky Halloween sound effects.
It can be the screaming or groan of the ghost or moody and creepy ambient sounds like footsteps, chains and death knell, wicked waves of laughter, etc. Do take time to find the right horror music and SFX and use them to spice up your jump scare videos.
4. Keep It Short and Punchy
Jump scare videos work best when the scene and atmosphere change abruptly. So, keep it short and punchy. 30secs to 1 min is the best duration for a great jump scare video prank.
How to Make a Spooky Jump Scare Video Online
Now, you know the secret formula for making a great jump scare video. Next, we will walk you through how to use FlexClip, a free and feature-packed online video editor, to easily create a scary jump scare video in a minute.
Use free and feature-rich FlexClip to edit jump scare videos
Step 2
Add Two Peaceful Videos to the Storyboard
Go to the "Video" tab on the left sidebar > select one or two normal video assets and add them to the storyboard. You may trim the duration as well.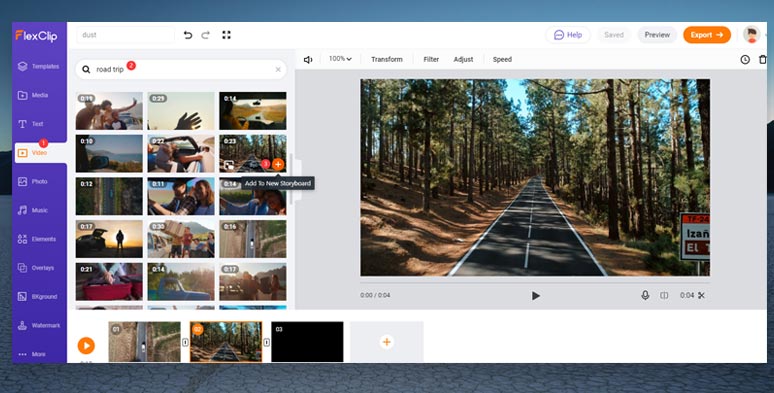 Add two normal videos before the jump scare scene
Step 3
Add Jump Sacre Video to the Next Scene
Head to the " Photo" tab and click on the "GIF" icon. > enter the keyword "Jump Scare" and select a ghost or monster GIF> add it to the storyboard and drag and drop to fill the screen.

Add the jump scare scene to the video
Of course, if you have your own video/photo assets, you can add them from your local PC.
Step 3
Add Music and Scary SFX
Go to the "Music" tab > add calm music for the first normal scene > enter keywords " horror or ghost or screaming" and add this sound effect for the jump scare scene.

Add a frightening sound effect to the jump scare video
Step 4
Preview and Download
Done with the editing. You can preview and later download the jump scare video in MP4 (1080P) or directly share it to your YouTube channel or save it to Dropbox. You may also convert it to an animated GIF as well.
The resulting jump scare video from the example above:
A road trip jump scare video made by FlexClip
Jump Scare Videos Are Not For Everyone
Well, to the majority of the people, exposing them to jump scare videos can do little more than giving the creeps. However, that doesn't mean everyone can handle a jump scare, esp. not for the following people:
Be careful with whom you show the jump scare videos to
The elderly people with pre-existing health conditions
Individuals with mental illness
Please don't show jump scare videos to the above people for they are more likely than average people to suffer from faintness, chest pain, or even a sudden cardiac arrest.
Now, It's Your Move
Fear or phobia is one of the essential emotions that keep us alive. Being scared is a survival gene that has been passed down from our ancestors. So, let's be fearless to face our fear and be creative to make jump scare videos and use them wisely. Now, start making your first scary video with FlexClip.