Summary: Struggling to find the right free sound effects for your video? Check the best 7 free sound effects site and find the best sound effects.
Where can I find royalty-free sound effects? - A question from Quora.
Sometimes you may encounter the same question as above. Although adding music files is one way to jazz up your video, but that's usually if you want a long background track for your video.
How about a sound that matches some action in your video?
If you want to find the right sound effects for the action that's happening in the video, you may always look for the free sound effects on the web. Here are 7 great sites to find the perfect royalty-free sound effects for your video. Check them out!
Also Read: Best 7 Free Stock Video Sites to Help You Make Videos in 2019 >
Where to Find the Free Sound Effects for Your Videos
There are many websites out there that offer sounds which you can download for free. Here we list 7 of the best free sound effects sites.
Storyblocks is a huge library that offers stock media: video, audio(including music, sound effects, and loops), and image. It owns 783,000+ stock videos, 125,000+ audios, and 408,000+ images now. This number is increasing because new popular contents are being added each week.
In this vast library of royalty-free stock media, you can find all you need, and of course, the sound effects you want. You can use the categories to the left to find the perfect sound effects for your videos quickly and easily.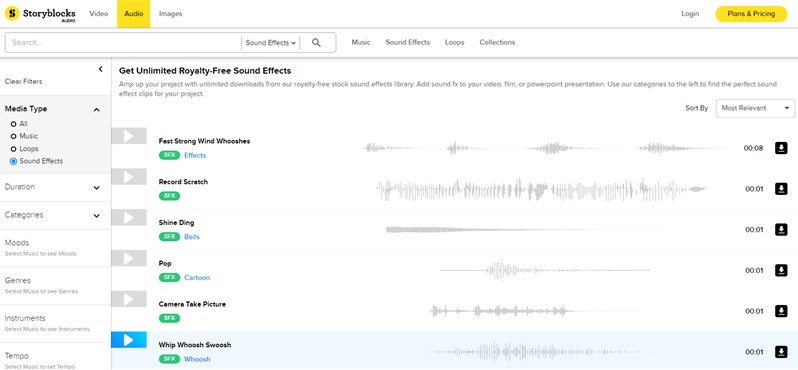 Image Board: Free Sound Effects Site: Storyblocks
FreeSound is a popular sound-effect website with a variety of sounds and sound effects to use in your videos. All the sounds are released under creative commons license, making it easier to see which sound effect you can do anything with, which ones you have to attribute and which ones you can't sell in a commercial product.
You can browse through its sound effects and also can search for the wanted sound effect by entering the related keyword in the search box on the top right. You can preview the sounds but have to set up an account and login to download.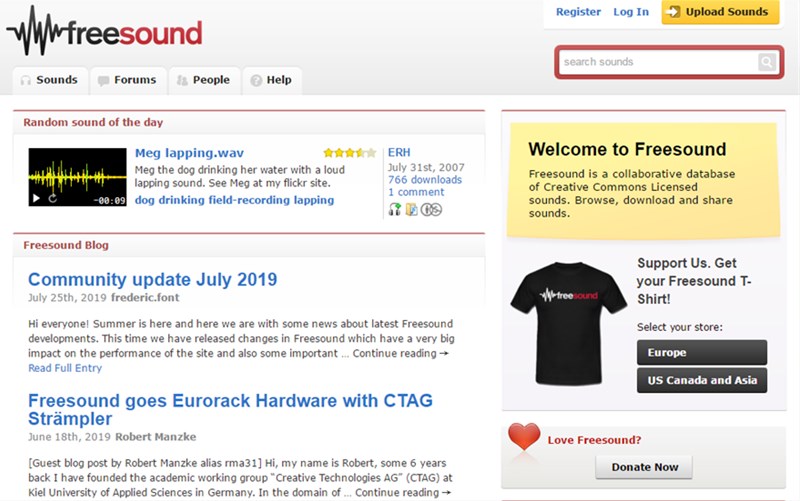 Image Board: Free Sound Effects Site: FreeSound
SoundEffect+ provides over 5000 free sound effects that recorded, designed and produced by the site's team of audio professionals. Their team owns the copyrights to all the sound effects on this website, and users can use them in their videos safely. All of their sound effects are royalty-free and available in MP3 and WAV formats.
Like most of these sites, registering to download the sound effects is required, but its registration form is a little longer than most that only ask for your email address and password.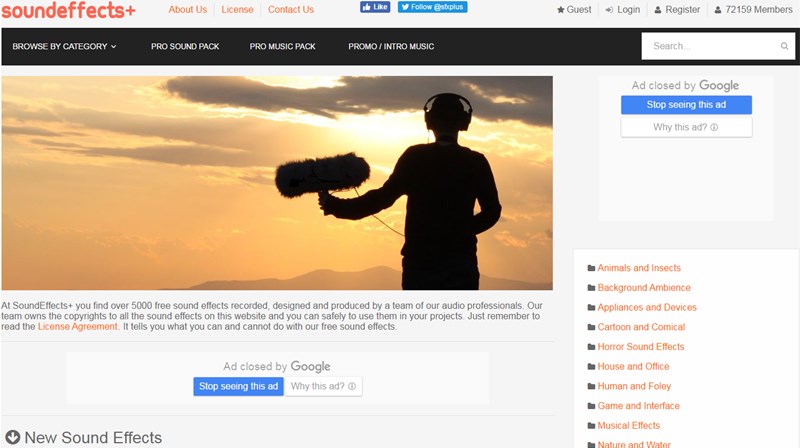 Image Board: Free Sound Effects Site: SoundEffects+
Sound Effects for Free for Free offers a wide range of free sound effects in both mp3 and wav formats. This site is great for people who are new to the world of sound effects. It even has a 'New? Start Here' section that breaks everything down.
This site offers completely free sound effects, no fees, no catch, and unlimited downloads for users. All you need to do is to sign up with your Facebook account or email address, and you can download the sound effects for free.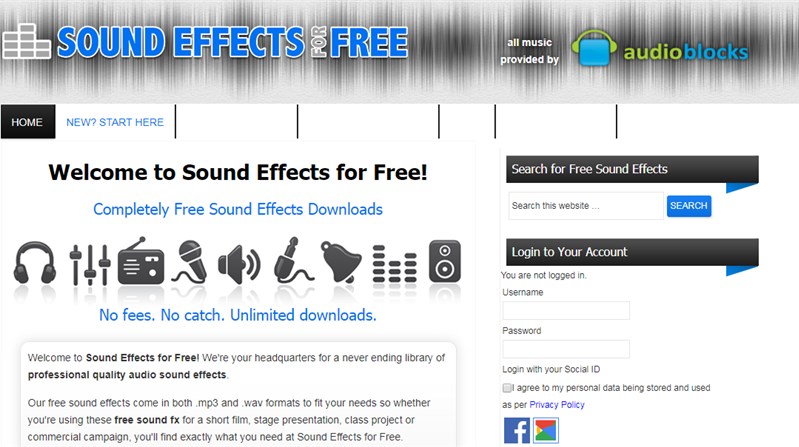 Image Board: Free Sound Effects Site: Sound Effects for Free
AudioMicro is a huge site that provides stock music as well as sound effects. As you can see, the search bar is unmissable on its home page, making your search easier and faster. You need to create an account with the site to download your desired sound effects.
Although the homepage boasts free sound effects, the majority of those on the site isn't free. Here are over 420,000 sound effects, with around 2,000 of those being free.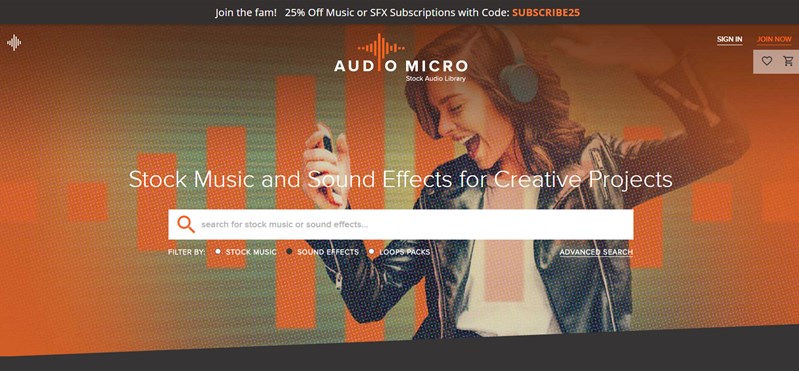 Image Board: Free Sound Effects Site: AudioMicro
99Sounds has a bunch of collections of high-quality sounds created by various sound designers. It aims at providing free sound effects and sample libraries of commercial quality. All of their products will always be 100% royalty-free and offered for both commercial and non-commercial use.
To be exact, it more like a small collection of themed sound effects. You can only download a themed collection, instead of an individual sound in 99Sounds.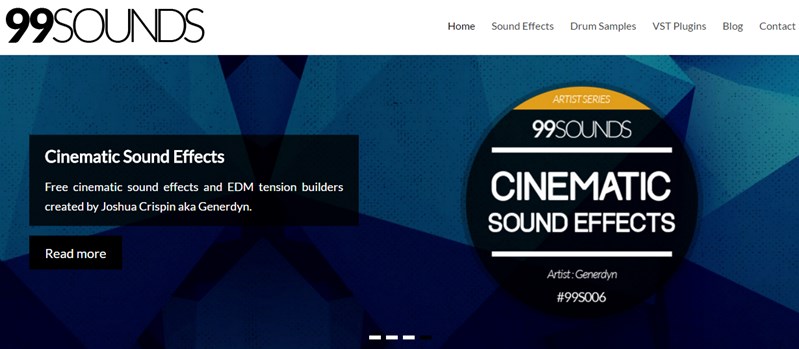 Image Board: Free Sound Effects Site: 99Sounds
Partners in Rhyme is another website for you to download sound effects without registration. These free sound effects are generally available on the web but are not owned by Partners In Rhyme. Not all sound effects are free.
Here is a well-organized directory of sound effects, making it easy to find what you're looking for. You can also search the sound effect you need via keyword.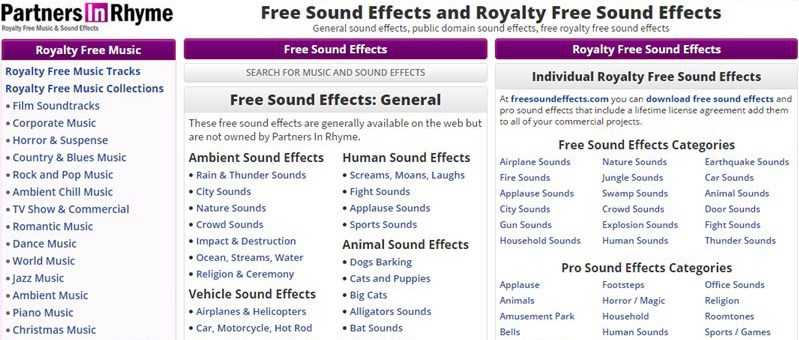 Image Board: Free Sound Effects Site: Partners in Rhyme
How to Add the Sound Effects to Your Video
To help you add the sound effects to your video, we highly recommended an easy-to-use video editor - FlexClip to you. It should be noted that this software has a media library containing all music from Storyboard (the free sound effects sites we mentioned at first), including those free sound effects.
With FlexClip, you can add the sound effects to your video quickly and easily. What's more, FlexClip offers various free sound effects, and you can find your desired ones directly in the software.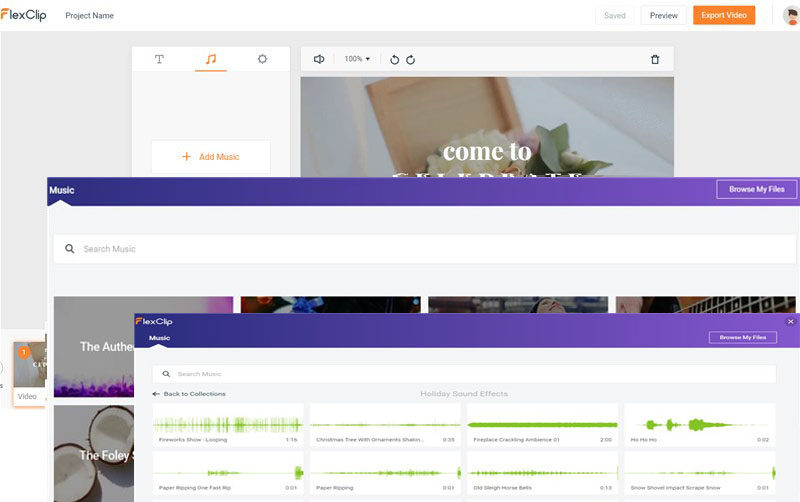 Image Board: Add Sound Effects to Videos with FlexClip
Check the details about how to add sound effects to your videos: Add Sound Effects to a Video with FlexClip Video Editor.
While you're in the editor, you can use FlexClip's tools to make any other edits you'd like to your video:
Inspired? Go to FlexClip and make a video with excellent sound effects and visual effects right now.