Need stock footages for your video? Check the top 10 free stock video site and find the best stock videos for free.
Videos are awesome! A video helps normal people collect all sweet moments and helps businessmen expand their business. Whatever the reason why you want to make a video is, you need high-quality stock clips that can really bring life to your project, be it a presentation, websites or your own home-made videos.
Through careful selection, we have picked the best 9 free stock video sites where you can find the right store video clips. They are the best combination of video quality, variety of clips, free licensing.
Don't Miss: How to Make a Tik Tok Video >
1. storyblocks.com
Storyblocks offers 325,000+ stock videos, 125,000+ audios, and 411,000 images and this number is skyrocketing. From real people to animals, from landscape to galaxy, you can get nearly any kind of videos in 720p, 1080p, and even 4k (Yes! You can choose the video export dimension). What's even better? After effects are also available under the subscription model.
All stock videos in storyblocks are royalty-free. Once downloaded, stock video clips can be used multiple times for commercial and personal purposes.
+ High-quality stock video clips up to 4K.
+ Wide range of subjects.
+ All videos are royalty-free.
+ Consistent updates.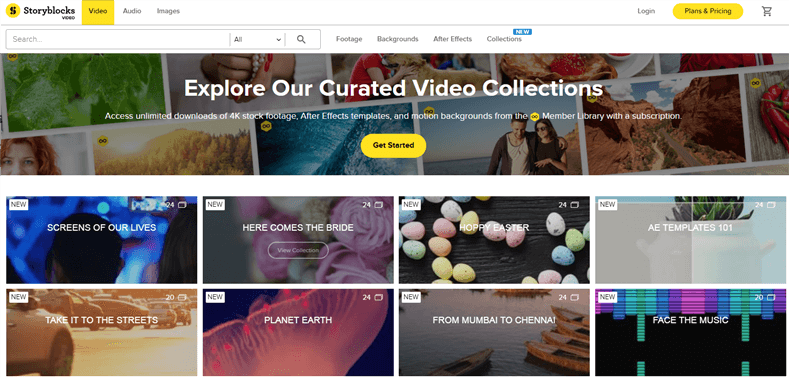 Free Stock Video Sites - storyblocks.com
2. https://www.freepik.com/videos
Freepik Videos is a creative platform that is built around its ever-expanding community of contributors, providing users with quality controlled content such as free-to-use 4K videos and HD resolution video and a heap of additional graphic assets such as stock images, vector graphics, and fonts that will keep your creative juices flowing.
Finding specific content is made easy thanks to its powerful search optimization providing a fluid user experience. Free-to-use stock footage requires attribution. However, premium subscribers will benefit from better quality content, no need for attribution, and a higher download cap.
+ The site offers free 4K and HD stock video footage
+ A huge library of graphic assets to further enhance content creation
- With video content being a new feature, limited free videos are available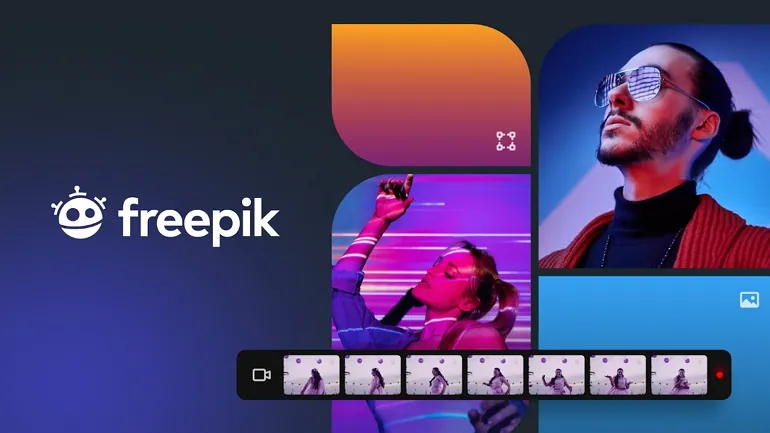 Free Stock Video Sites - freepik.com
3. stockfootageforfree.com
Stockfootageforfree.com is a sponsored program by a stock footage company. So, it is completely for free to download and use all royalty-free stock videos on this website, but there is always watermark on the download videos.
The stock videos on this site are nearly all short clips and it is extremely fast to download it. All downloaded videos are formatted in 1080p HD, MOV.
During the trial, we found that after signing up and logging in, only one stock video clip can be downloaded in a day. This is the biggest shortcomings.
+ Varieties of stock video clips.
+ Completely for free to use.
- All videos are in 1080p HD. NO 4K videos.
- There is always watermark.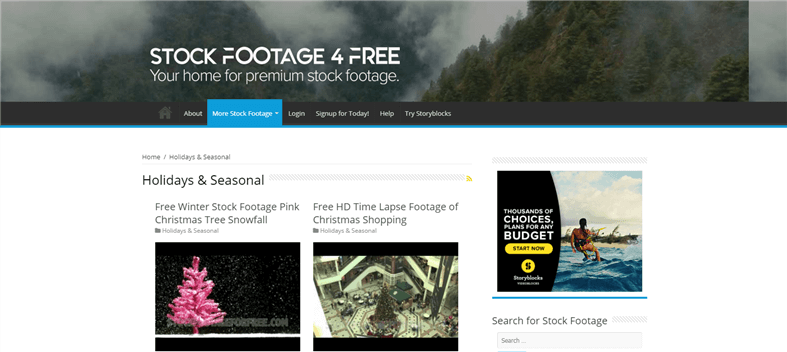 Free Stock Video Sites - stockfootageforfree.com
4. videvo.net
Videvo.net has the ambition to create the world's largest resource of free, safe-to-use video content on the web. It contains only over 7600 free stock footages, but you can directly download and use them without sign-up. To access the extended library or be free from crediting the author, there are always reasonable premium plans.
+ Videos are always watermark-free.
+ Motion graphics are also available.
- Limited royal-free videos. To use the majority of stock videos, you must credit the author or go premium plan.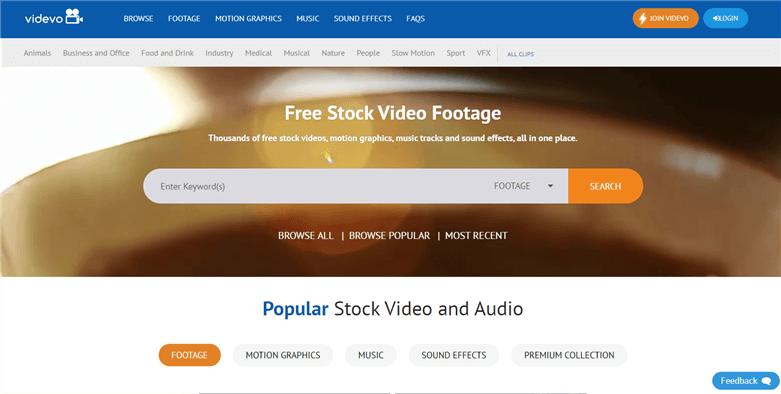 Free Stock Video Sites - videvo.net
5. pexels.com/videos/
Pexels.com can be said one of the best stock video sites. It helps designers, bloggers who are looking for videos, images for free. Any videos and photos can be used for commercial and personal purposes without crediting the author.
+ Offers varieties of stock videos.
+ All videos are watermark-free and royalty free.
+ No credit is required for using videos.
- No 4k videos.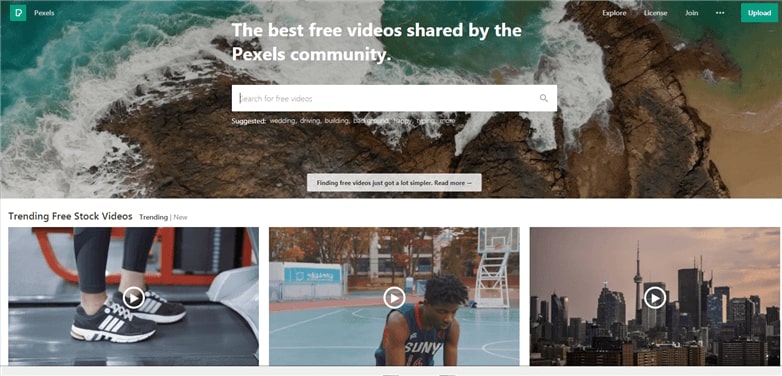 Free Stock Video Sites - pexels.com/videos/
6. pixabay.com
Pixabay is better known as a free stock photo site. However, it also provides royalty-free video clips that are completely free to download and use.
All photos and videos of pixabay.com are submitted by Pixabay's community of users. You can choose the export resolution up to 1080p HD. Some videos can be exported in the resolution of 4K. Of course, you can use them without crediting the author.
+ Wide range of videos to choose from.
+ Selection of resolution up to 1080p HD.
+ No attribution is needed.
- Short of 4K videos.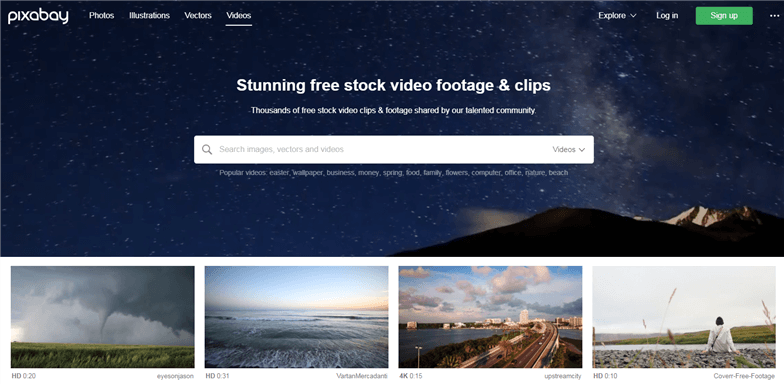 Free Stock Video Sites - pixabay.com
7. videezy.com
Videezy.com is a community of videographers who download and share free stock video clips. Enter the keywords of the stock video you need, you are displayed with all video clips that might meet your needs. Click the download button, it will be saved to your computer in a few minutes later.
This site offers 480p, 720p, 1080p and 4k videos. You can select stock videos via resolution. It is worth to mention that there are no notifications about privacy on this website. Please contact videezy before using any elements.
+ This site offers many free stock video clips, templates, and even after effects templates.
+ This website offers tips and tricks from professional filmmakers.
- Comparing with other stock video sites, it would be slow to download a free stock clip from videezy.com.
- This website doesn't have any notifications about privacy. It is suggested to contact this website before using any videos.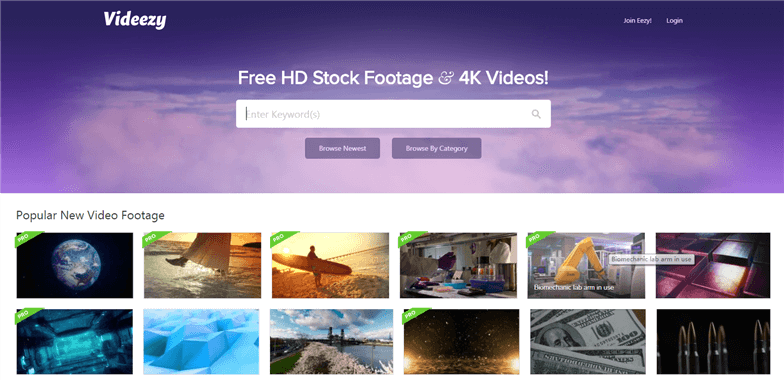 Free Stock Video Sites - videezy.com
8. motionelements.com
MotionElements has 3,000,000+ video stock footages and it is adding more videos on weekly basis. You can download 5 free stock videos each week after sign-up and receive up to 30 free elements by inviting friends. Check this stock video site often and see if there are any free video clips you like.
+ To download free stock videos, you need to sign up.
+ All stock videos, even free ones, are royalty-free.
- Free stock videos are quite few.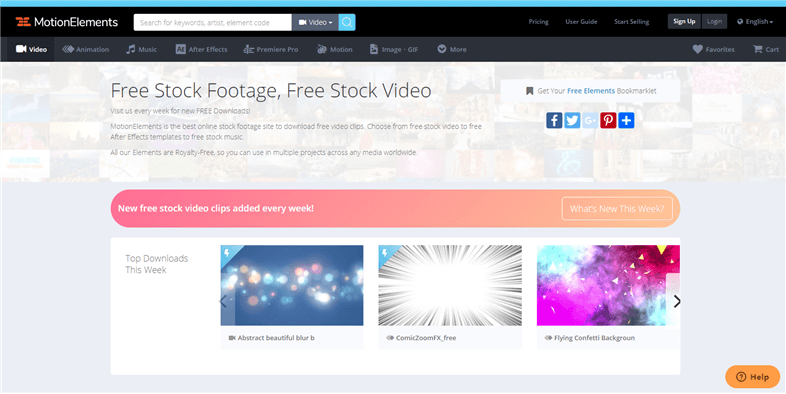 Free Stock Video Sites - motionelements.com
9. splitshire.com
Splitshire has very professional video clips featuring outdoor views and the people. The style of free stock videos from splitshire is quite unique. Because all photos are created by a single person – Daniel Nanescu, all works remain a unified style.
+ All store video clips can be downloaded for free.
+ All store video clips are royalty-free and of high-quality.
- The videos mainly emphasize on views and people.
- This website contains ads.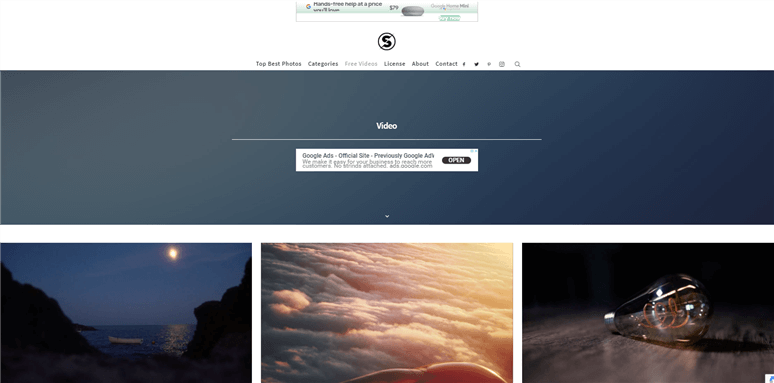 Free Stock Video Sites - Splitshire.com
Mixkit is a free website for video creators, with stock videos, music, sound effects & video templates.
Mixkit's free assets are ready to use in commercial and personal projects such as website backgrounds, b-roll, music visuals, marketing videos, ads, presentations, vlogs and more. There's no attribution and no sign up required, simply download what you need from the constantly growing library and start creating extraordinary videos.
+ All videos, templates & sounds are available to download for free.
+ No attribution is needed.
+ New videos added weekly.
- All videos are in 1080p HD. 4K available only on request.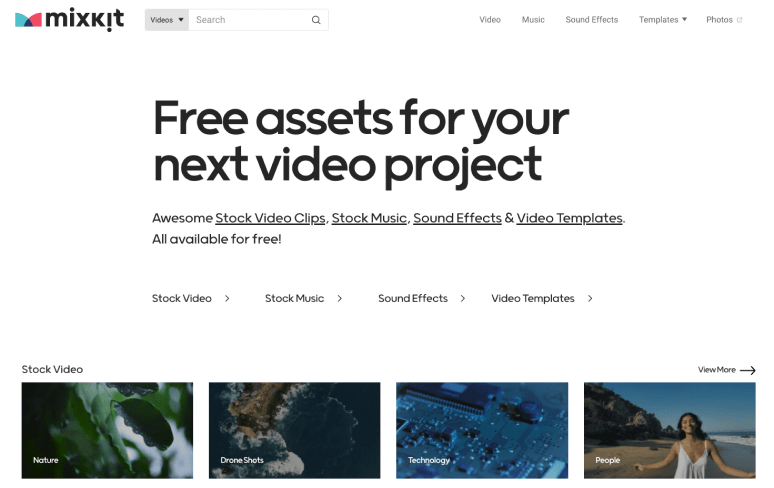 Free Stock Video Sites - mixkit.com