The National Football League (NFL) is the world's largest professional American football league and the world's most commercially valuable sports league. There are more than 20 million NFL fans globally, many of whom love to watch NFL highlight videos over and over again.
So, whether you want to make some NFL highlight videos for your favorite teams like Dallas Cowboys highlights and New York Giants, or to relive the top 10 plays of this year's NFL season?
Here, we will walk you through where to get the NFL video footage and how to use a flexible sports video maker to create an action-filled NFL highlights video online in a breeze.
Here is what you will learn:
Where to Get NFL Videos for Editing
Before you make any edits to your NFL highlight videos, the first step is to find the NFL highlights video footage you need. Here, we've summed up 4 ways to get NFL clips.
Reddit's NFL Subreddit
. This is an NFL game discussion community where you can find many useful NFL video highlights uploaded by many users.
NFL YouTube Channel. You may browse through the NFL videos of your favorite NFL games and use the third-party tool to download the one you need.
NFL's official website
. This is the official website of the NFL. You can find tons of NFL game highlights footage.
All the NFL video footage on NFL's YouTube channel or NFL's website is copyrighted content. You may email NFL to see if you can get licensed footage. No video footage should be used for commercial purposes and without the permission from NFL or relevant parties.
How to Make NFL Highlights Videos Online
After you've gathered NFL video footage needed, now all you need is a great video editor to edit all these NFL clips into an impactful NFL highlights video. The tool we recommend is FlexClip, a free and versatile online sports video editor.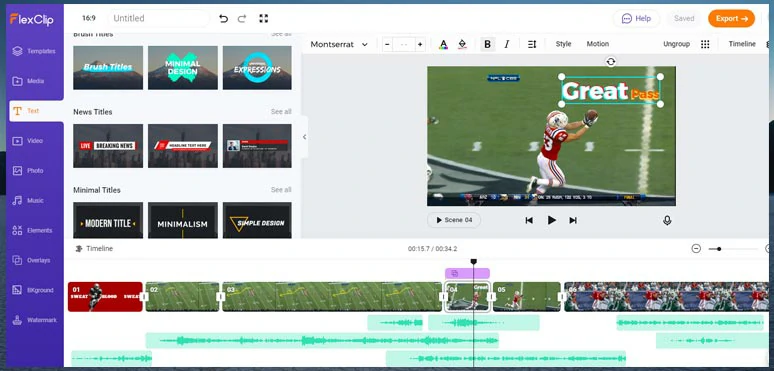 Create NFL highlights videos by FlexClip
FlexClip offers you dozens of designer-made sports video templates. You can drag and drop your NFL video footage or images to replace the preset ones and trim, split and merge videos. Or add sports intros and cool video effects like video transition, animated texts, elements, speed controlsor add royalty-free music and sound effects, etc. to create a thrilling NFL highlights video in minutes.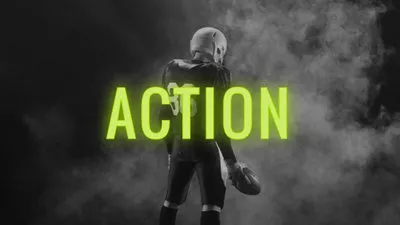 Football Highlights
So, now walk with us to make an NFL highlights video using FlexClip:
Step 1: Upload NFL Video Footage and Images to FlexClip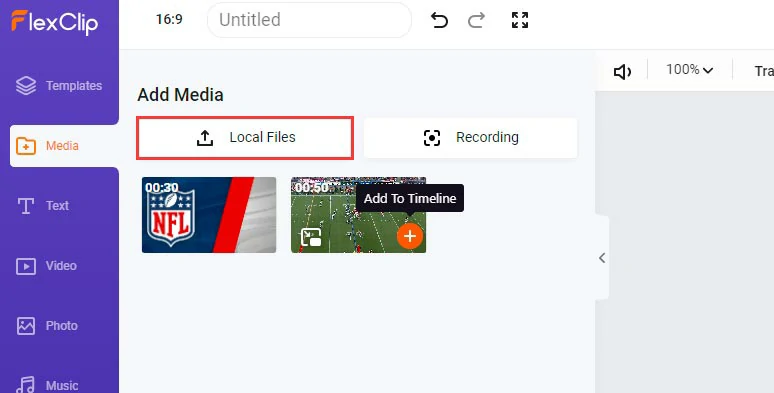 Add NFL footage to FlexClip
Step 2: Select an NFL Highlight Video Intro Template
Click the "Template" tab on the left menu > enter "Sports Highlight" in the search bar" > find a football sports highlights intro, preview, and add to the storyboard.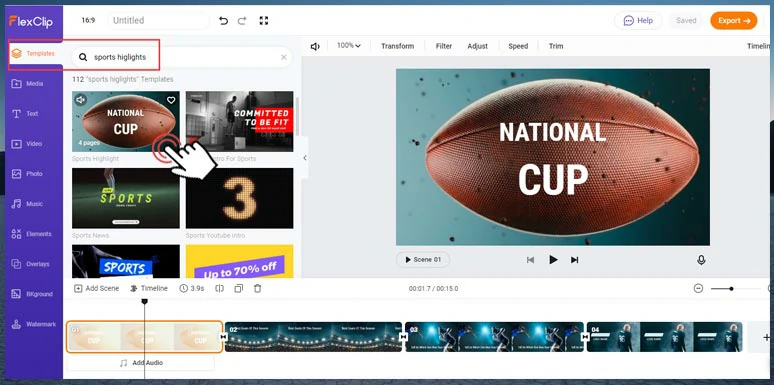 Add an NFL intro video template to the storyboard
Step 3: Drag and Drop New NFL Footage to Replace Template's Videos
As you drag the new NFL footage to the preset one, FlexClip will automatically replace them.

Drag and drop NFL footage to replace template's videos
Step 4: Trim, Split and Merge NFL Clips
Drag the slider of each clip to trim the unwanted NFL clips. Or use Split tool to cut one NFL video into short clips to leave only the most impactful movements like catching the football, tackling the player or collusion of NFL players, or a successful touchdown.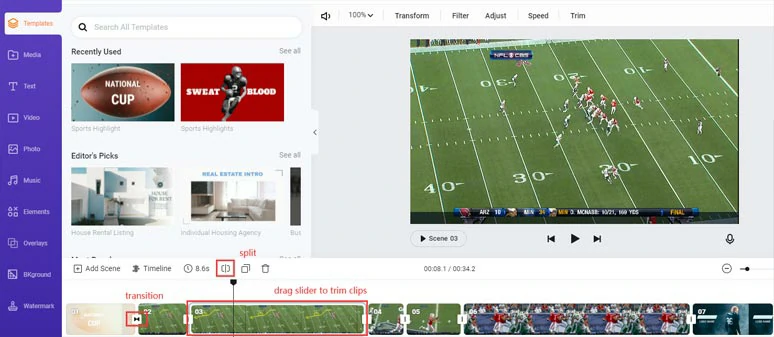 Trim, split or merge NFL footage or add video transitions
You may also use Jump Cut or add a video transition to merge two running scenes. Make sure your NFL highlights video has a rhythm and preferably ends in a climactic finish.
Step 5: Add Animated Captions or Elements
Go to the "Text" tab, you can select from hundreds of designer-made text to highlight a player or tackle in the NFL game or use dynamic elements like countdown timers and arrows to draw the attention of viewers to a particular player or scene.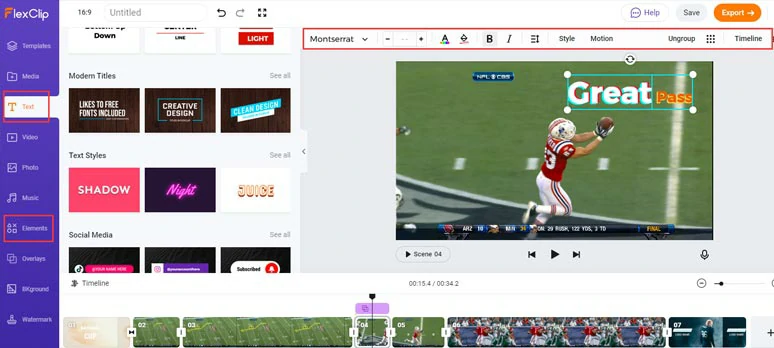 Add animated captions or elements to NFL highlights videos
Step 6: Match Impactful Movements with Right Music and Sound Effects
Head to the "Music" tab on the left menu, where thousands of royalty-free music and sound effects are readily available. Add a couple of music for the background music and cinematic hit sound effects to highlight the impactful movements like running, scoring, or close-up shots. You can use soundwaves to locate the position of clips as well.
Add multiple studio-like BGM and SFX to NFL highlights video
You may also FlexClip's speed controls to slow down or speed up a running scene to create the cinematic vibes for your NFL highlights video. While the best video length for an NFL highlights video is 90 secs to 3 mins. Do keep it short and sweet.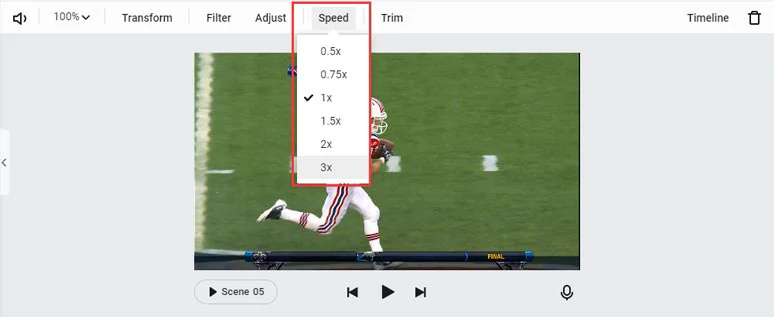 Speed up the NFL highlights video to create the dynamic.
Step 7: Export and Share
Preview the NFL highlights video and click the "Export" button to download the video as a 1080P MP4 to your hard drive or share it to your YouTube channel or Google Drive, Dropbox. FlexCLip will also generate a clickable link and embed code for a private share or your blogging.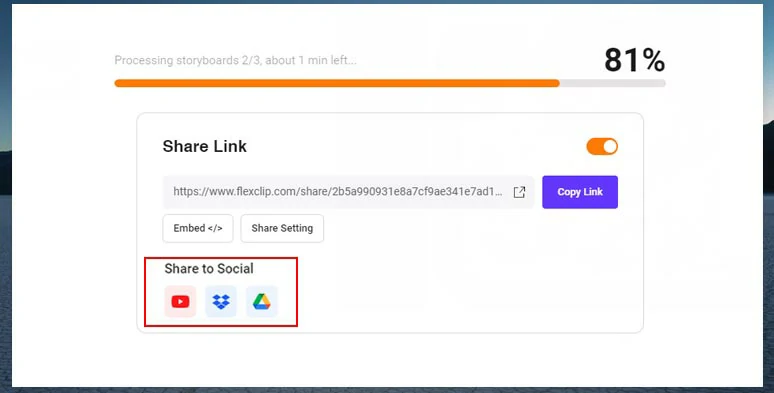 Multiple ways to share your NFL highlights video
Now, It's Your Move
That's all about how to make NFL highlight videos with the help of FlexClip. Hopefully, you will find our tutorial helpful and inspirational. If you have more questions to make NFL highlights videos or sports highlight videos of any kind, don't hesitate to reach us on your Facebook. So, now, start creating your first NFL highlights video with FlexClip!