A video overlay is a thin layer of video laid over your footage to add textures and creative video effects like smoke, lens flare, film grain, dreamy lens bokeh, light leaks, glitches, snow, fire, etc. for the original video.
In this post, we will walk you through the 11 best ways to find high-quality and free video overlays for your video edits. So, you can easily create creative video effects for your video projects in a breeze.
Here's What You Will Learn:
Add Royalty-free Video Overlays by FlexClip Online
Well, although you can google "free video overlays" and get multiple suggested websites for free download, the downsides are so obvious:
It takes tons of time for you to check each website for an ideal video overlay.
The
video quality
and aspect ratio of free video overlays on different sites are often not consistent.
Your computer is likely to fall prey to malware and computer viruses through clickbaits.
You can't instantly add the video overlay to your clips and preview the video effects.
So, one of the one-stop solutions to add high-quality video overlays to your video is using FlexClip online video maker online.
Add royalty-free and high-quality video overlays by FlexClip online.
With 350+ royalty-free and transparent video overlays, you can select from a wide array of cinematic video overlays as shown below, and blend a video overlay into your footage to create realistic video effects with one click.
Besides, you can add royalty-free sound effects like flame SFX, glitch SFX, and ambient SFX to accompany your video overlays to enhance both the visual and auditory experience for viewers.
Another bonus is that you use thousands of designer-made and fully-customizable video templates and drag and drop your video assets to create a captivating video in clicks away within your browser, which is extremely user-friendly to the beginner.
Movie Intro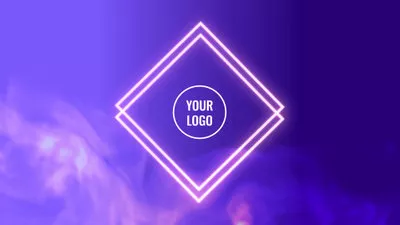 Dynamic Square Outro
Heaven Biography Obituary Funeral Video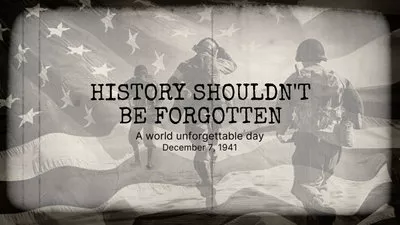 History Narration
Step 1
Access FlexClip and upload your footage from your PC or phone.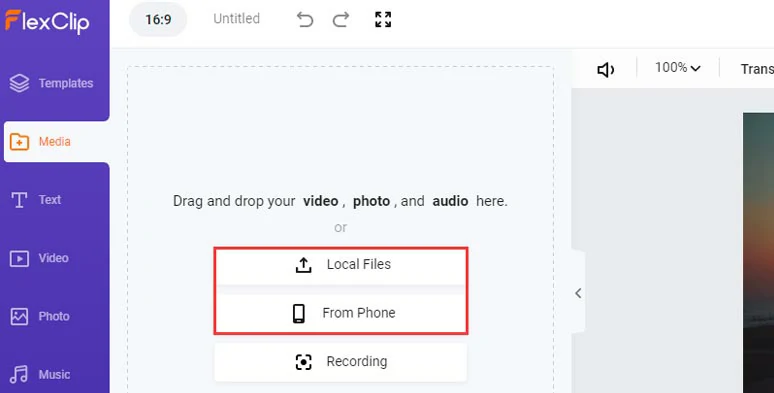 Upload your footage to FlexClip.
Step 2
Add clips to the timeline and do the rough cut.
Click the "+" button to add clips to the timeline. You drag the slider to trim the clips or split clips or drag and hold to adjust the sequence of the clips on the intuitive timeline.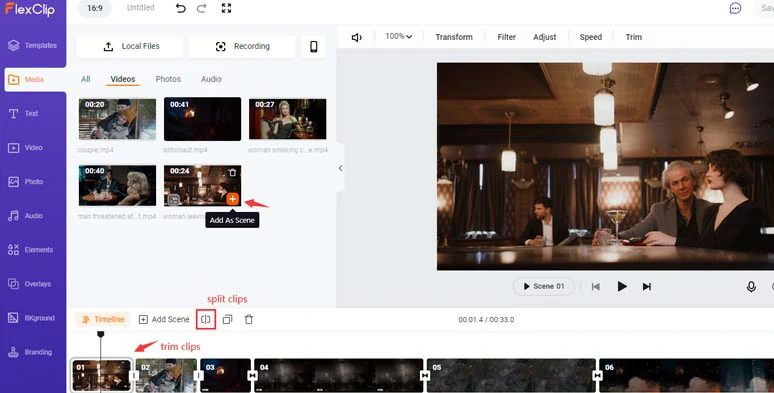 Add clips to the timeline and trim or split clips.
Step 3
Apply a transparent video overlay to your footage.
With the footage selected, click the Overlays tab > scroll down to select smoke overlays or glitch overlays, lens flare video overlays, fire overlays, snow overlays, etc. to make the creative video effects for your video. You may adjust the blending mode, opacity, and direction to create realistic video effects.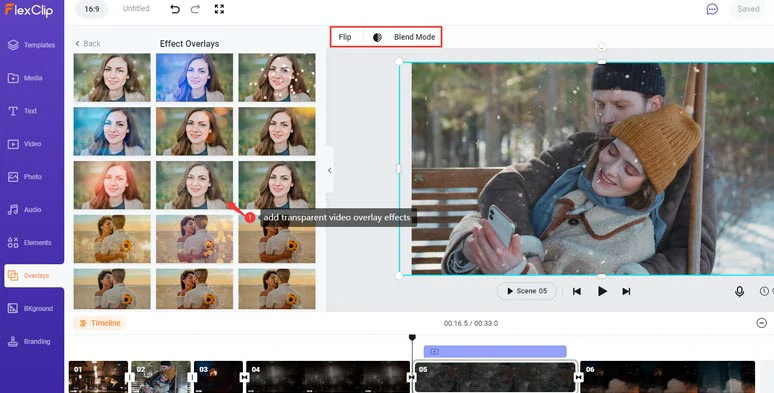 Add different video overlay effects to your footage.
So, let's check the before and after video from the example above:
Apply different video overlays to clips by FlexClip.
Step 4
Jazz up the video with more video effects.
Then, you can add text animations, like typewriter, glitter, bounce, blur, fade, etc., and royalty-free music and sound effects and video transitions and GIPHY stickers or add B rolls with picture-in-picture, adjust video speed, etc. to take your video up a notch.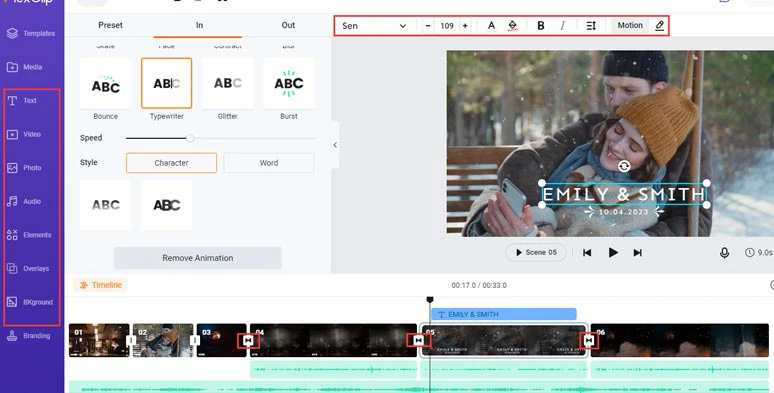 Add text animations, transitions and music, sound effects, and more video effects.
Step 5
Preview and share.
Down with the editing. You can download the video to your hard drive or directly share it to YouTube, Google Drive, or Dropbox; a shareable link and embed code are also available for private share, blogging, and other repurposings.
Other 10 Sources to Get Free Video Overlays
Apart from FlexClip, we've also handpicked the 10 sites for safe and free download of video overlay packs for you. Just feel free to scroll down and pick your favorite ones.
1. Smoke Effect Video Overlays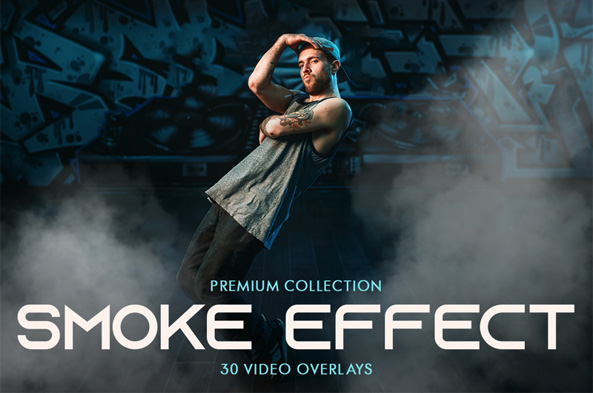 30 cool smoke video overlays(source from PremiumBeat)
If you want to spice up your clips with natural-looking volumes of smoke, you should definitely download this smoke effect video overlays collection. These free video effects make your footage mysterious and eye-catching.
The best base video is the clip recorded on a cloudy day with dark tones prevailing. However, you can try other types of videos as well, since your imagination is the only limit.
2. Lens Flare Effect Video Overlays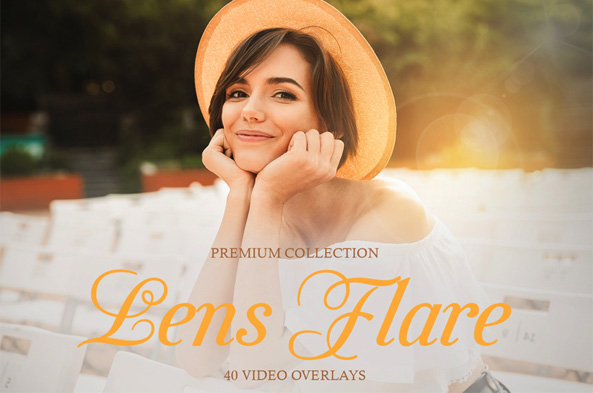 Use lens flare video overlay to create a romantic atmosphere
You can make your video very special without going the extra mile with the help of this lens flare effect video overlay collection.
Look through the pack and decide which overlay can perfectly complement your particular video, changing the initial color gamut, brightness, and hue. The result is sure to look amazing.
Insider Tips:
While using free video overlays, you need to check the licensing requirements. Some developers require the attribution, which means you have to indicate their name somewhere on the video as a credit, others allow using the effects without any reference. Just learn that in advance to be on the safe side.
3. Free Computer and HUD SFX
Sci-Fi video overlay (source from PremiumBeat)
Add futuristic touches to your projects, using these 29 free video overlays and backgrounds. Such videos can be posted on your website, clarifying what sort of activities you are engaged in.
4. 8mm Film Grain Overlay
Aesthetic film grain video overlay
Make sure you get this 8mm video overlays free collection because the author worked hard to create this cinematic-inspired set and provide you with efficient tools, which you can use to add an old film atmosphere to your clips. The nice bonus is a handy manual featured with the pack.
5. Free 4K Fog Overlays
Transparent fog video overlays (source from Premium Beat)
Indispensable 4K video fog overlays for trouble-free work with videos and motion graphics. They were produced in a manageable studio environment with real fog and haze involved.
Such an approach guarantees realistic results, which you now can get without stepping outdoors in foggy weather.
6. Matte Transition Overlays
Pretty useful video transition overlays
A package of matte free video overlays coming together with a step-by-step guide. These free tools are transition overlays only.
7. Sliced Light Overlay
Dazzling light video overlay
Video editors have got used to Light Leak video overlays offered on the net. However, this bundle is a bit different, comprising beautiful effects with rainbow-colored light glitches added to the central part of the frame. Remember to check the licensing info on this collection.
8. Free Camera Overlays
Cute camera video overlays (source from Premium Beat)
The kit consists of 5 free camera overlays for video editing – Video Camera, CCTV, Drone, Video Chat, and DSLR.
It may seem that such a selection of tools can be applied to a narrow range of footage, which is partly true, but it is always great to have such professional effects within easy reach.
9. Free Light and Dust Overlays
Catchy light and dust video overlays
There are 16 top-grade overlays,i.e. light & dust leak effects and Super 8 video styles. They are of tremendous help if you aim at creating emotional videos, for instance, wedding clips and commercials.
10. Free Film Grains Overlays
Another set of high-quality film video overlays
Mimicking the atmosphere of old films becomes a breeze with these free film grains video overlays & effects, which cover a broad variety of formats (8mm, 16mm and 35mm).
Another advantage of these tools is the natural look of grain added, with the result being in line with the best samples of cinematic art.
Now, It's Your Move
To sum up, juxtaposing a video overlay with another video is a proven way to give a dramatic flair to your video in post-production. With FlexClip's vast assets of free video overlays and user-friendly video editing tools, you can easily find and make overlay edits in no time. So, start creating your first overlay video with FlexClip now.