Smoke is such a great prop in videography that can add depth and artistic flair to your footage. Apart from using the smoke bomb or fog machine to produce artificial smoke for shooting, another workaround is adding the smoke overlay into your footage to create the smoke effect in video editing.
Here, we've rounded up the 6 best sites for you to get tons of free and paid high-quality smoke overlay packs for your video projects. So, you can easily blend these smoke overlays into your footage using Premiere Pro, After Effects, Final Cut Pro, Davinci Resolve, etc.
Here is what you will learn:
1. FlexClip
For YouTubers and other content creators, FlexClip online video maker offers you a one-stop solution to layer a transparent smoke overlay over your footage with one click.
Add smoke overlays to your footage with the versatile FlexClip online video maker.
With FlexClip, you don't need to download the smoke overlay and import it to the PR or AE and set the blending mode to the screen to blend the smoke overlay into the video. All the edits are made on the intuitive timeline with one click within your browser, which is extremely time-saving and user-friendly for the beginner.
Besides, you can select from thousands of designer-made and fully-customizable
video templates
and drag and drop your video assets to create a compelling video for YouTube, TikTok, IG, etc. in minutes.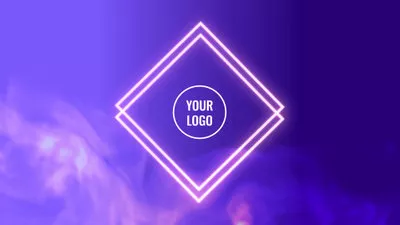 Dynamic Square Outro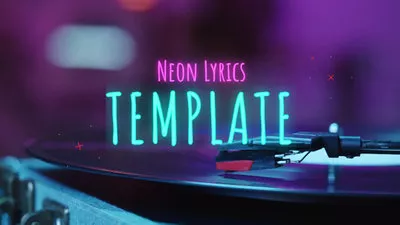 Animated Neon Lyrics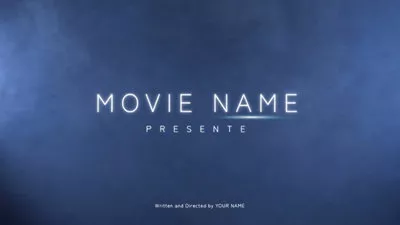 Coming Soon Teaser
Animated Sport Intro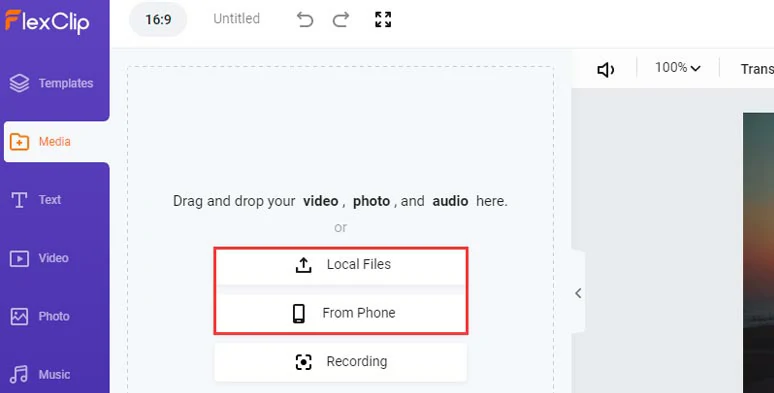 Upload your footage to FlexClip.
Step 2
Add your footage to the timeline.
Click the "+" button to add your footage to the timeline. Then you can drag the slider inward to trim your clips or split clips for the video moments needed, or drag and hold to adjust their sequence.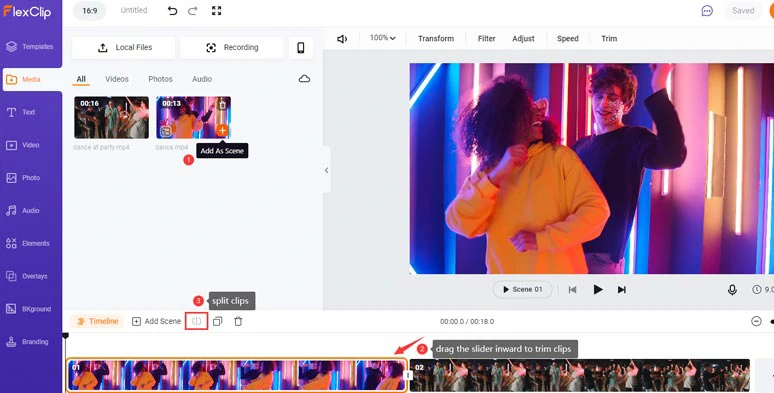 Add clips to FlexClip and trim and split clips.
Step 3
Create the smoke effect with a transparent smoke overlay.
Click the Overlays tab > Effect Overlays > scroll down to find the ideal smoke overlays that fit your footage, such as swirling smoke overlay, slow smoke overlay that wafts horizontally or vertically, looming smoke overlay for spooky and suspense effects, or colorful smoke overlay that works best for dance videos and party scenes.
With one click, the transparent smoke overlay will be laid over your footage. You can adjust the opacity, direction, and blending mode to create a realistic smoke effect.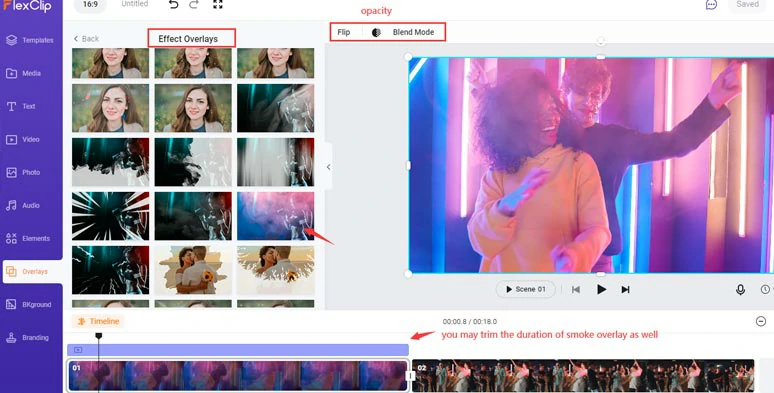 Add colorful and transparent smoke overlay to the dance clips and adjust its opacity, and blending mode.
So, here is the resulting video from the example above:
Add colorful and transparent smoke overlays for dance videos by FlexClip.
Step 4
Make more edits. (optional)
You may also add texts and customize their styles, fonts, and colors and animate them with plenty of text animations, such as typewriter, bounce, glitter, stomp, burst, blur, etc. Or you can add royalty-free music, and sound effects to add rhythm and emotions to the clips. And tons of trendy video transitions, such as circle, liquid, and glitch, are also available. Free free to explore.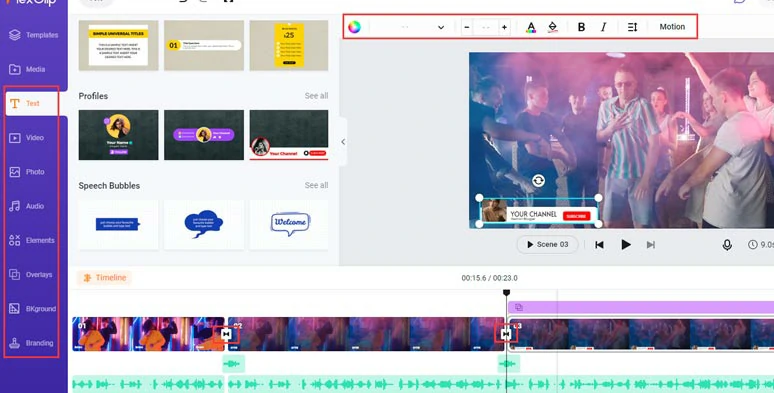 Add text animations, transitions, royalty-free music and sound effects, etc. to videos.
Bonus: Use more royalty-free stock smoke videos within FlexClip.
If the ready-made transparent smoke overlays seem so limited in numbers, no worries! Just click the Video tab > search for "smoke" in the search box > you can get hundreds of 1080P/30FPS smoke overlays with black backgrounds, suitable for smoke transitions, concerts, colorful smoke bomb effects, etc.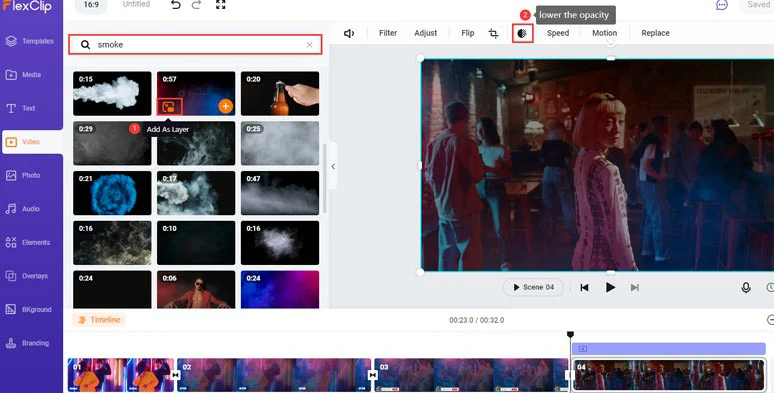 Find more high-quality smoke overlays in FlexClip's stock videos.
You can either layer a high-quality smoke overlay over your footage and adjust its opacity to blend the smoke into your clips or directly add the smoke overlay on the timeline and export it as a 1080P MP4 to your PC and use PR to remove the black background with Alpha channel or screen blending mode for your footage. Also, read the 5 best ways to remove background from logos.
2. YouTube
Well, YouTube is more than a video hosting platform. It's also a treasure trove where valuable and copyright-free video and audio assets are shared by generous YouTubers for creative video editors. So, you can also find much copyright-free music, sound effects, and video elements like smoke overlays on YouTube.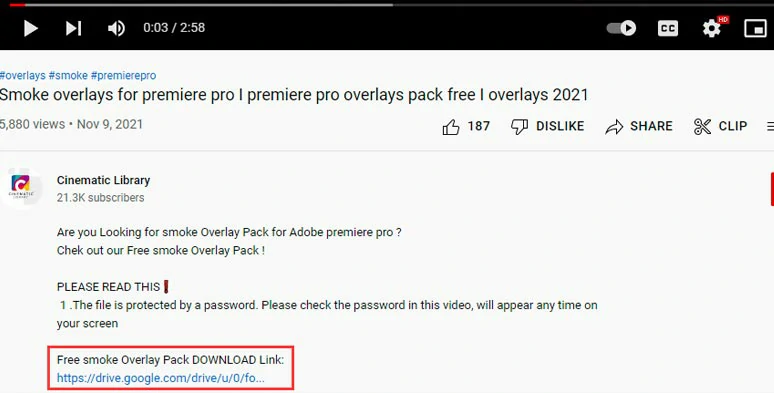 Download free smoke overlay packs from YouTube.
To download copyright-free smoke overlays from YouTube, simply search for "free smoke overlays" in the search box on YouTube. Then, you can check these YouTube videos. If you get lucky, you can get links to free smoke overlay packs in the video description.
Well, the only drawback of searching for free smoke overlays on YouTube is that it takes time to verify the valid link. And chances are that you might end up with a hyperbolic clickbait or the download ZIP file has a password. Yeap, it can be tricky sometimes. Also, read the 9 best sites to get royalty-free YouTube sound effects.
3. Pexels
To graphic designers and videographers, Pexels is a go-to place to find high-quality and copyright-free photo and video assets. Just search for smoke on Pexels, you can find dozens of smoke overlays with a black background, such as cigarette smoke rings, smoke rising from a coffee cup, white smoke swirling vertically and horizontally, etc.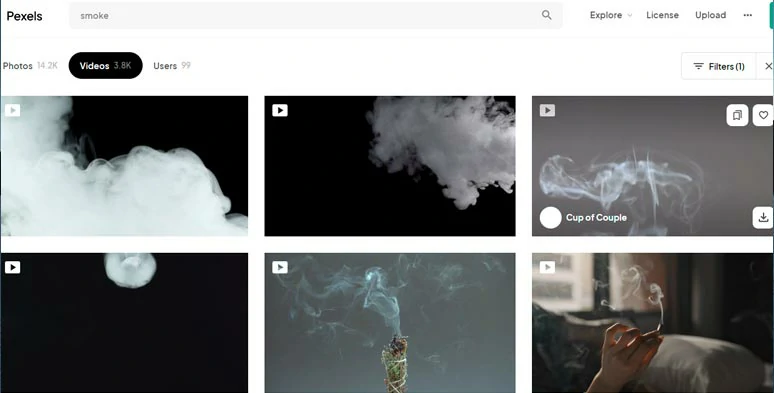 Download free smoke overlays from Pexels.
And the smoke overlays found on Pexels have a great quality from 1080P up to 4K resolution with both horizontal and vertical aspect ratios. You can use them for various footage in your video projects.
Since all of the photos and videos on Pexels are contributed by global photographers and videographers and are free to use for both personal and commercial purposes, so you can freely add these smoke overlays to your YouTube videos without copyright strikes and still can monetize on them.
The only drawback of finding smoke overlays on Pexels is that all kinds of smoke videos will be randomly displayed in the search result. So, it may take quite a while for you to find the ideal smoke overlays for downloads. The sponsored video ads will also show up in the search result and might accidentally take you to other paid stock sites like iStock.
4. Vecteezy
If Pexels is a gem for designers and videographers with its free stock photos and videos, then Vecteezy takes the free creative assets to the next level. Not only can you find free photos and quality smoke overlay videos, but also download vector graphics, mockups, templates, 3D illustrations, etc. for free.
Get free smoke overlays from Vecteezy.
You can find tons of free and realistic smoke overlays with a black background for your video projects. Unlike Pexels where you don't need to provide attribution to the video contributor. For free resources from Vecteezy, you need to provide clear attribution. If you don't want to offer attribution, you can pay for a pro license.
Besides, both the diversity of smoke overlays and the search engine on Vecteezy are much better than that of Pexels. So, overall, you will love using Vecteezy to download great smoke overlays with a dark background for your footage.
5. Videezy
Designed to offer high-quality stock videos for videographers and filmmakers, Videezy allows you to download 40+ 4k smoke overlays for free use.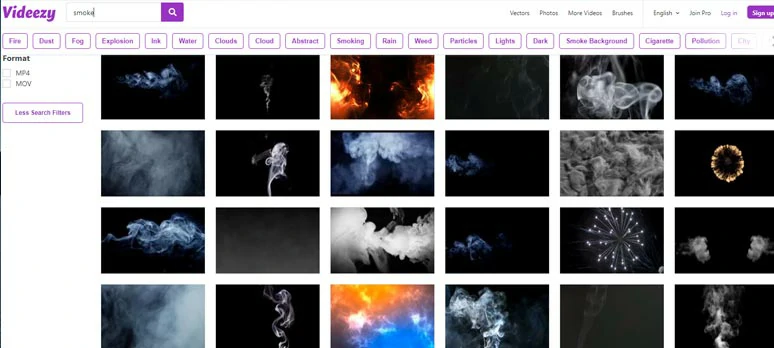 Download free and quality smoke overlays from Videezy.
You can find all sorts of smoke overlays with dramatic movements before the dark background, such as spirals of smoke, plasma effect created by swirls of white smoke, two streams of smoke coming from two sides and colliding at the center, or smoke moving quickly from one side to another, colorful rainbow smoke, etc.
These smoke overlays will work for smoke transitions, creating mystical effects, suspense, dance, party footage, etc. One thing worth mentioning is that Videezy has a strict licensing policy for TV and web use of free stock assets. If you don't want to offer attribution to Videezy, you may purchase the free videos.
6. Motion Array
If what you are looking for is professional smoke overlays with styles, then Motion Array can be your best bet at an affordable price ($29.99/mo). Unlike all the free stock video sites, all the smoke overlays on Motion Array are designed and created by professional videographers.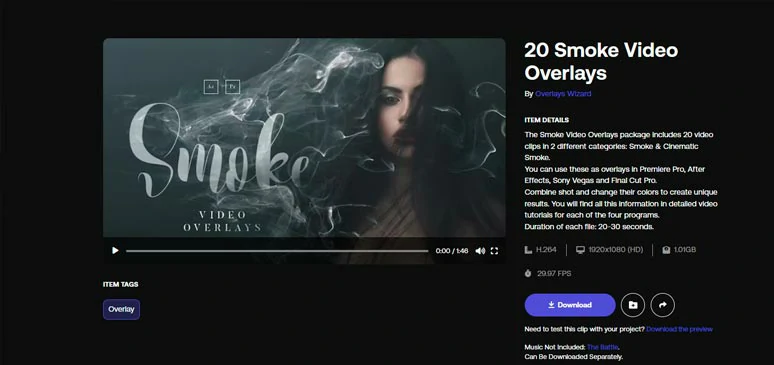 Download royalty-free smoke overlay packs from Motion Array.
You can find a wide array of smoke overlays in smoke movements, styles, colors, speed, and creative combinations such as particles, dust, man-made shadows with wafting and swirling smoke, etc.
As subscribed users, you can access unlimited creative assets downloads, including audio, photo, plugins for PR, and 250G storage space. The only downside is that if your subscription is over or canceled, you can't use the previously downloaded assets for the new video project. Besides, the music is not included in the smoke overlay packs.
Other than that, Motion Array is flawless to get professional-looking smoke overlays for your footage.
FAQs about Using Smoke Overlays
1. How should I add smoke overlays in Premiere Pro and Final Cut Pro?
To blend the smoke overlay into your footage, you need to set the blending mode to the screen to remove the original black background in the smoke overlay. Here is how to do it in Premiere Pro and Final Cut Pro:
PR: Layer the smoke overlay above your clip > go to Effect Controls > Opacity > set the Blending Mode to Screen.
FCP: Drag the smoke overlay above the footage > go to Compositing tab > set the Blending Mode to Screen.
One thing worth mentioning is that if your original footage is 1080P while the smoke overlay is in 4K. You need to check "Scale to Frame Size" to align the size of the two clips in Premiere Pro, while in After Effects you can right-click the smoke overlay and select Transform, and hit Fit to Comp to scale down the 4K video for the original footage.
2. What footage works best with smoke overlays?
Well, smoke overlays work best to imitate the artificial smoke on the dance floor, at parties, at concerts, or for smoke video transition, logo reveal, or emulate the fog in woods and at lakeside or create the vibes for spooky effects, mysterious and special effects, etc.
3. How can I make the smoke overlay look more realistic in my video?
Low the opacity: After you layer the smoke overlay above your footage, lower its opacity to make the smoke effect look more subtle and get the best look, rather than distracting viewers' attention.
Layer multiple smoke overlays: The same as how you layer multiple sound effects to create depth for your video. Layering different smoke overlays allows you to create depth and dimension for the natural smoke effects. Then you can position different smoke layers, and adjust the opacity of each smoke overlay individually to create a realistic smoke effect.
Match the visual: Very often the movements of smoke in the smoke overlay might seem odd when added above your footage. So, you can flip or rotate the smoke overlay to match the smoke movement with the camera movement or subject in the footage.
Use mask tool: Use the mask tool in PR, AE, and FCP to set where you want the smoke to appear in parts of the video, rather than the whole screen. Besides, do increase the feathering of the smoke overlay to remove its hard edges.
Match the color tone: Normally, the color of smoke in the smoke overlay is white; however, if you blend this smoke overlay into the footage, it might look unnatural in a different ambient light in the original footage. So, in PR, you can add an adjustment layer (Lumetri color ) to match the color of the smoke overlay with the ambient color in your footage.
Now, It's Your Move
So, to sum up, adding a smoke overlay to your footage is a flexible way to spread light and create depth and dimension in your footage. Hopefully, you can create a realistic smoke effect in your video with the sources recommended for quality and free smoke overlay with a black background. If you find this post helpful, do share it on your Facebook or Twitter and leave your comments to us. See you there!