Fed up with the mundane dissolve or fade to black video transitions? It's time to spice up your videos with trendy liquid transitions. In fact, the liquid transition is such a catchy video transition that is gaining ground in YouTube videos, sizzle reels, beauty & makeup videos, video openers, presentations, slideshows, etc.
So, in this tutorial, we will walk you through how to easily create a liquid transition in your videos online and offer 2 valuable online stock sites where you can find quality liquid transition packs for downloads.
Here is what you will learn:
What Is Liquid Transition
Literally, a liquid transition or wave transition is a video transition that imitates the swirling movements of liquid or waves to connect one scene to another. Due to its random and visually-appealing liquid splashing moments, liquid transitions add distinctive interest and dynamic vibes to your videos.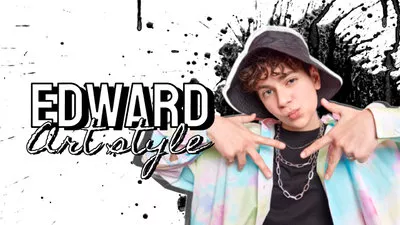 Art Style Intro Outro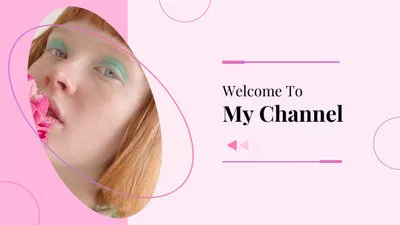 Makeup Vogue Intro Outro
How to Easily Create a Liquid Transition by FlxClip Online
Well, theoretically, to create great liquid transitions, Adobe After Effects should be the top choice for making intricate liquid movement animations. However, the steep learning curve and the time-consuming process often leave beginners hopeless. So, a more user-friendly liquid transition maker you can use is FlexClip online video maker.
Use the feature-rich FlexClip online video maker to create liquid transitions.
With FlexClip, you can :
Easily select from 12+ designer-made liquid transitions, such as liquid fly, flow splash, splash split, liquid random, etc., and add a liquid transition between two clips on the intuitive timeline and drag and drop to customize the color, direction, and speed of the liquid transition.
Besides, you may also add multiple royalty-free "splash", "water movement" and "water bubbles" sound effects to pair with the liquid transitions.
In addition, FlexClip offers you thousands of fully-customizable
video templates
with ready-made liquid transitions. So, you can easily drag and drop your video assets to customize a video with liquid transitions in a breeze.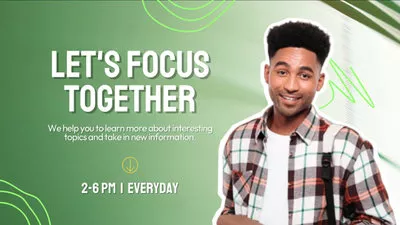 Educational Vlogger Intro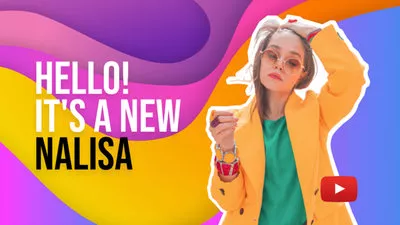 Colorful Intro Outro
Cooking At Home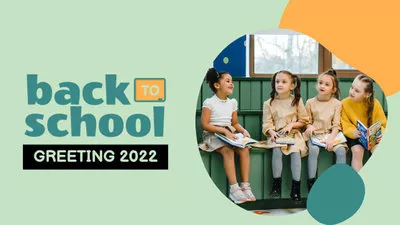 Back To School Greeting
So, it would be extremely handy to beginners of video editing and YouTube content creators who have limited time for creating eye-catching liquid transition animations.
Step 1
Select any video template to your liking.

Select a video template.
Step 2
Upload your clips and images to FlexClip from your PC or phone.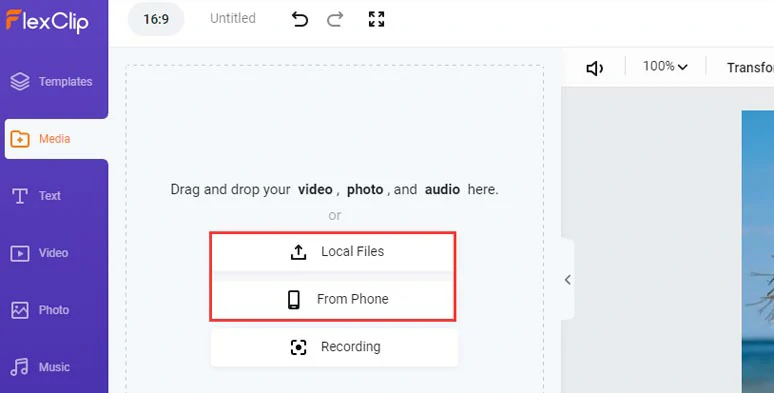 Upload your video assets to FlexClip.
Step 3
Replace the pre-made video elements and do the rough cut.
Drag and drop your clips or images to replace the video background and other elements. You may also add other clips to the timeline and trim or split clips for the rough cut.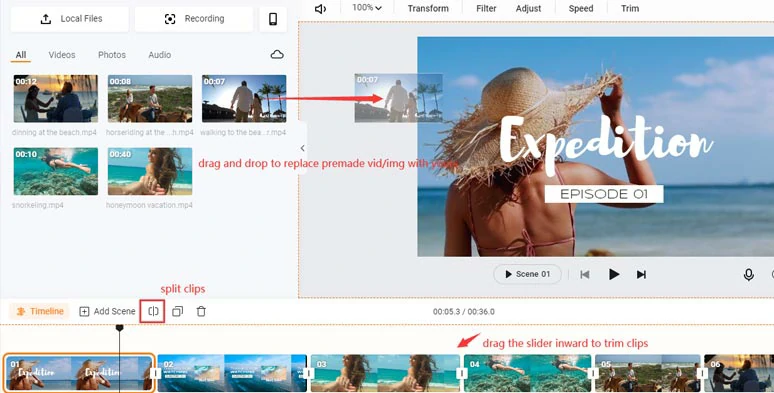 Drag and drop to replace the premade video elements with yours and do the rough cut.
Step 4
Customize the liquid transitions.
Click the transition button > select a liquid transition you like > set the duration, direction, and color of the liquid transition.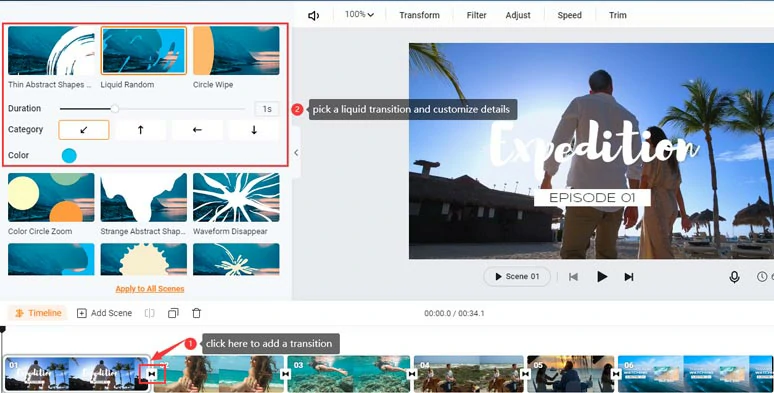 Add and customize the liquid transitions for the video.
Step 5
Add royalty-free liquid transition sound effects.
Click the Music tab > type in "splash" or "water movement", "water bubbles" in the search box > move the playhead and add the sound effects of liquid movements to the video moment needed. You may also trim or split the liquid transition sound effects.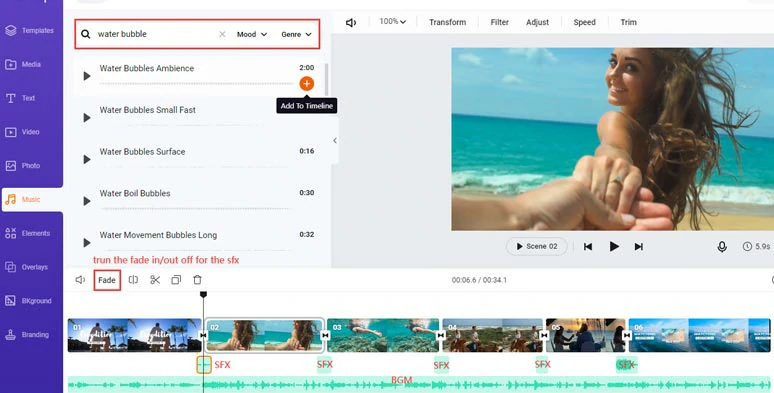 Pair the liquid transitions with water bubble transition sound effects.
Customize the texts, and their fonts and color; click the Motion tab to add text animations like the typewriter, glitter, etc., or add royalty-free BGM; adjust video speed and color-grade the video, etc. Have fun playing around.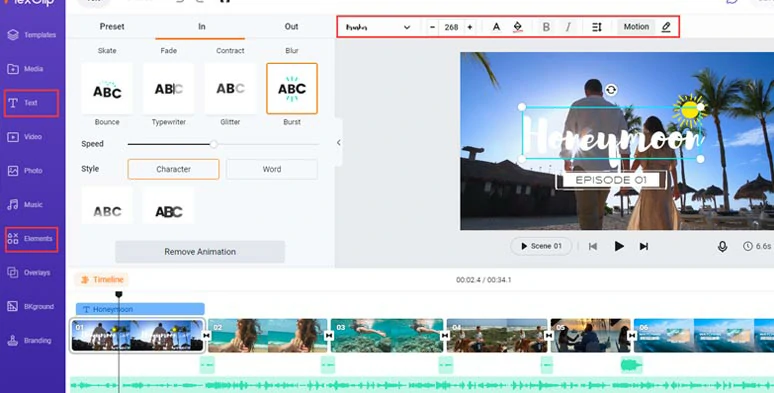 Set text animations and add other video effects.
So, let's check the final video with liquid transitions and liquid transition SFX from the example above:
Stylish liquid transitions with water bubble SFX in the video made by FlexClip.
Step 7
Preview and share.
Done with the editing, click the Export button to download the video with liquid transitions to your local PC; or directly share it to YouTube; Google Drive, or Dropbox; a clickable link and embed code are also available for blogging or a private share.
2 Great Stock Sites to Get Quality Liquid Transition Packs
Well, if you still prefer using Adobe After Effects to make liquid transitions for your videos, but don't wanna create a liquid transition from scratch. A great solution is to use a liquid transition template or preset and import it to AE for customization.
Here, we'd love to offer you 2 valuable stock sites to download high-quality liquid transition packs. Of course, it is only available to subscribed users for downloads.
1. Motion Array
As one of the popular stock sites for video content creators and filmmakers, Motion Array offers you a huge number of 1920x1080 FHD liquid transitions for customizations in AE.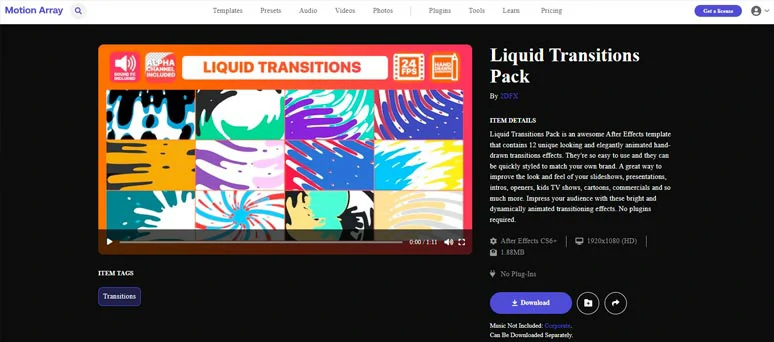 Cool liquid transition packs from Motion Array for AE.
The pricing starts from $29.99/month for individuals. The only downside is that liquid transition SFX is not available in the liquid transition packs. So, you need to purchase it separately.
2. Envato Elements
Envato Elements is another successful stock site with over 1.6 million video assets for content creators. Compared with the liquid transitions packs on Motion Array, Envato Elements offers more liquid transitions assets that cater to the users of After Effects, Final Cut Pro X, and Premiere Pro.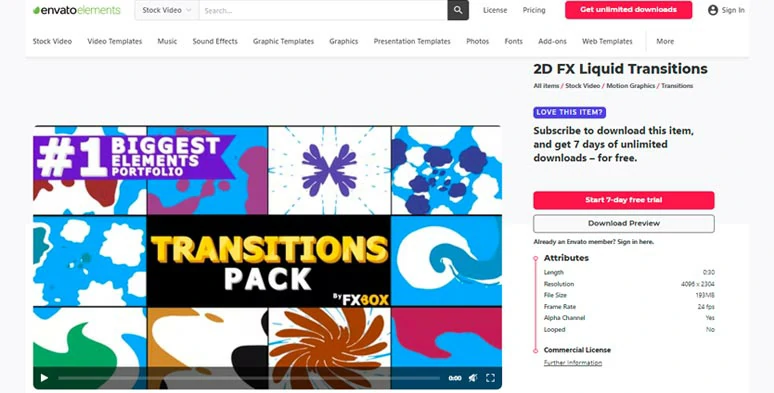 2D liquid transition packs available on Envato Elements.
Besides, liquid transition SFX and Alpha channel are also included in the pack. Pretty convenient. For an individual plan, the pricing starts from $16.5/month.
Now, It's Your Move
So, to sum up, creating liquid transitions in your videos is a fantastic way to jazz up your video and engage viewers for promo and vlogging, YouTube intros, etc. For beginners and content creators with limited time, FlexClip's customizable liquid transitions and royalty-free liquid transition SFX will make your edits 10x faster and much easier. Feel free to experiment. If you find this tutorial helpful, don't forget to share it with friends on Facebook, Twitter, etc., and leave your comments to use. Much Appreciated!