Keen to share your jaw-dropping dance moves on TikTok and see the number of likes and followers soar overnight? You gotta revamp your skills to make a thump-stopping dance video on your phone as never before.
So, in this post, we will walk you through some of the technical know-how and proven strategies to make captivating dance videos yourself for TikTok on your phone.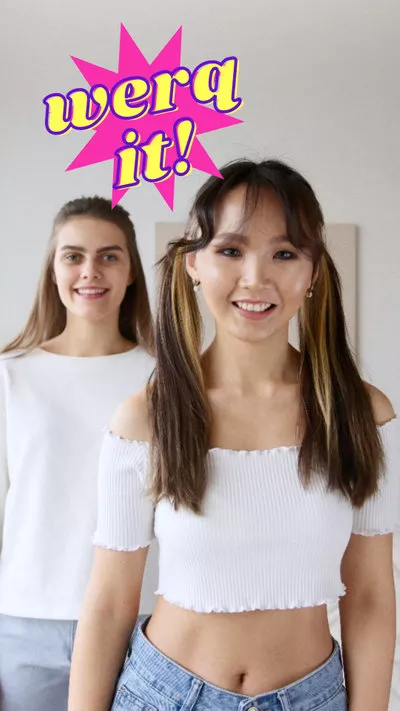 Dance Battle
Hot TikTok Outro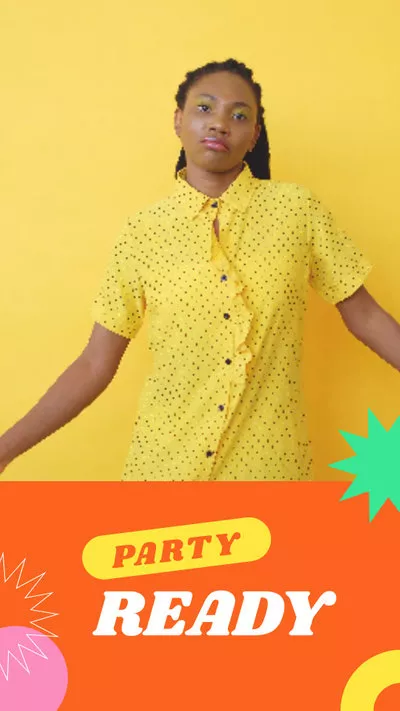 Party Dance
Here's What You Will Learn:
Also, read How to Add Music to TikTok in 2023: 3 Best Ways.
Make a Dance Video in a Professional Way
More haste, less speed. The worst mistake to make any video, including a dance video, is to record clips without thoughtful planning. Based on the experience we gathered from professional videographers and TikTok dancers, here are few things you should do before you make a dance video by your phone: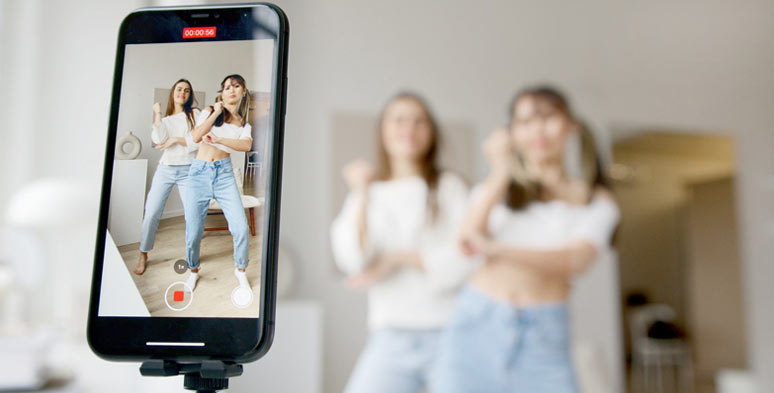 Plan carefully to make a dance video
What Is Your Dance Video for?
Is this dance video made for showing your latest movie-inspired dance moves or this is for a tutorial video for beginner dancers or simply want to display your choreographic talents or make a funny dance video for entertainment, etc?
Knowing the purpose of your dance video is of paramount importance throughout the process of making a dance video. Check top 6 TikTok video editors.
Properly Setup Your Phone
Yes, you will be filming with your iPhone. Yet, it's more than placing your phone on the tripod and have the job done.
Get the Best Composition for You in the Frame
After you mount your iPhone vertically on the tripod, then launch the camera on iPhone and flip the camera icon to the rear camera. By doing so, you can see exactly where you are in the frame. Make sure you are in the center of the frame and your feet are above the 1x button, otherwise, when you post the dance video on TikTok, your feet will be blocked by comment areas.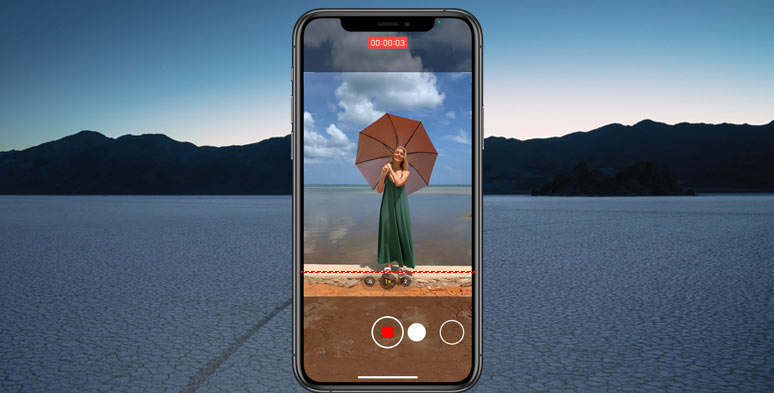 Properly frame yourself in the camera
Set the Perfect Video Quality
Well, 90% of people directly film their dancing with the default camera setting. But, you can do it professionally. To ensure your recorded dancing movement is smoother and crystal clear without motion blur, the best way is to manually set up the recording quality and FPS on your iPhone.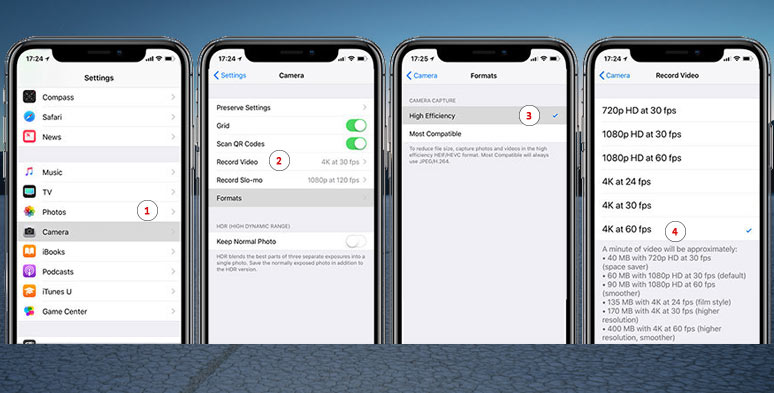 Set the recording quality on iPhone
To do so, go to settings > camera > record video > adjust settings to 4k 60 FPS. Though the video file does take up more spaces on your iPhone, it gives you the edge for the video quality over other TikToker dancers.
Lock Auto Exposure and Auto Focus When Filming
Have ever seen your camera tweaking back and forth for focusing or the exposure goes wrong when you check the recorded dance video? If you have, that is because as you dance in the frame or the light changes, the iPhone might automatically changes the focusing point or exposure to ideal balance. However, it may not work all the time.
So, a trick is to manually lock the auto exposure and autofocus for filming.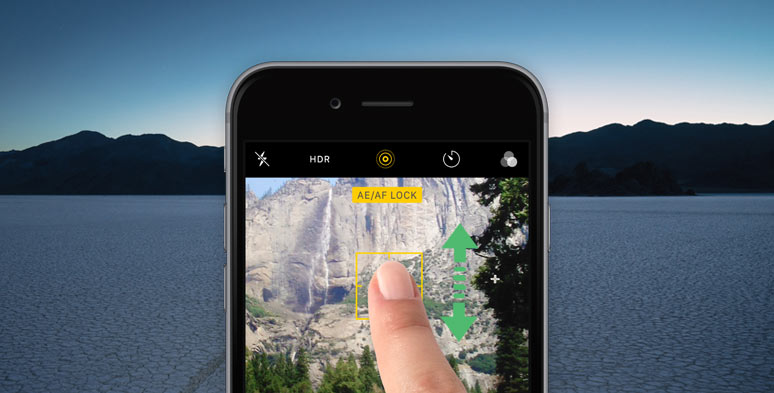 Manually lock the auto exposure and autofocus on iPhone
To do so, launch the camera app > tab and hold the finger down the area you will be dancing till you see "AE/AF Lock" appear on the top screen > slide your finger up and down to set the desired exposure for the recording and lock it.
Obey the Rules of Lighting
Never shoot your dancing with an overhead light or avoid strong backlight from the widow or direct light source below your chin, unless you want to create a Frankenstein dance video for Halloween.

Examples of lighting
Make sure the ample light can cast even light over your face and body and make you pop from the darker background in a room. You may also use warm and cold light to jazz up the color temperature of your dance video or have artificial smoke to create dimensions and cool vibes for a dance video.
Shoot with Multiple Angles and in Many Clips
TikTok values short, original and entertaining videos and it is never a platform for long videos as you see on YouTube. So, during 5 to 3 mins video length, the more diverse the camera angles, the better way to show your choreography and dynamics of the dancing. Of course, don't go extreme with it.
Besides, don't use long take to make a dance video. Instead, shoot many 5-19 secs short clips and combine them effectively to yield the spirited dancing tempo or rhythm for a dance video.
Other Small Yet Useful Tricks
You should always clean your camera lens on the iPhone to have a tack sharp image for shooting. Besides, if you stay far away from your iPhone's camera, never attempt to pinch the screen to zoom in because it will drastically reduce the video quality. The correct way is to move with your feet or with the tripod.
Besides, Don't forget to have a cool dress or haircut or even makeup, etc. . Just make sure you are presentable and eye-catching before the camera. While selecting the wide-angle lens on your iPhone is preferable for shooting in a cramped room. Check how to add filters on TikTok.
Edit Your Dance Video by the Versatile Online Dance Video Editor--FlexClip
Although it's perfectly fine to shoot a dance video with the TikTok app and edit it with the built-in features of TikTok, the secret to making an awesome dance video held by many TikTok influencers is that many of the viral TikTok dance videos are actually edited by a more flexible dance video editor and later get published on TikTok.
While, to most freelancers and student dancers, having a free and versatile online dance video editor for long-term use would be more desirable to make an eye-catching dance video.
To that end, a flexible dance video editor recommended is FlexClip, a user-friendly, and feature-packed online video editor. It has plenty of trendy dance video templates, 4 million royalty-free stock assets (HD videos, photos, and audio), and dozens of use-to-use tools for video editing. You can create unparalleled dance videos in minutes with its intuitive storyboards.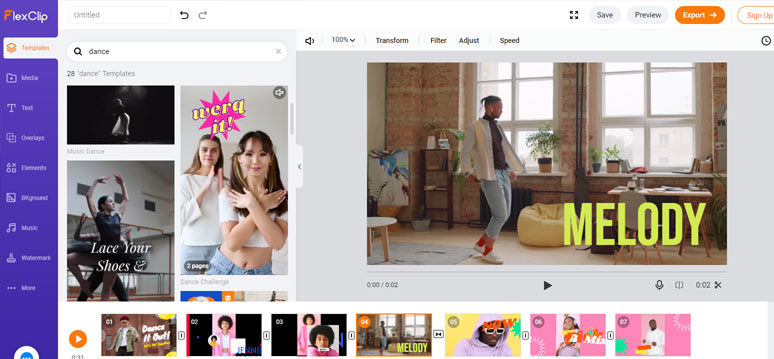 Make a TikTok dance video by FlexClip dance video editor
How to Edit a Dance Video by FlexClip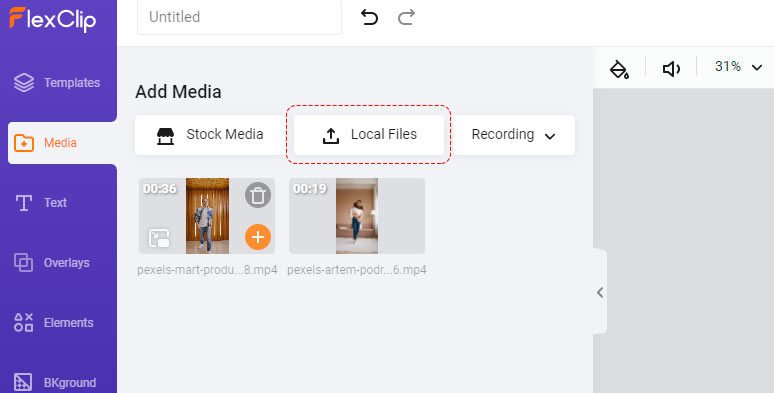 Upload dance clips to FlexClip dance video editor
Step 2
Customize the Aspect Ratio and Add Clips to the Storyboards
Firstly, let's set the aspect ratio to 9:16 to match TikTok's dimension needs. Then, you can add your clips to each storyboard.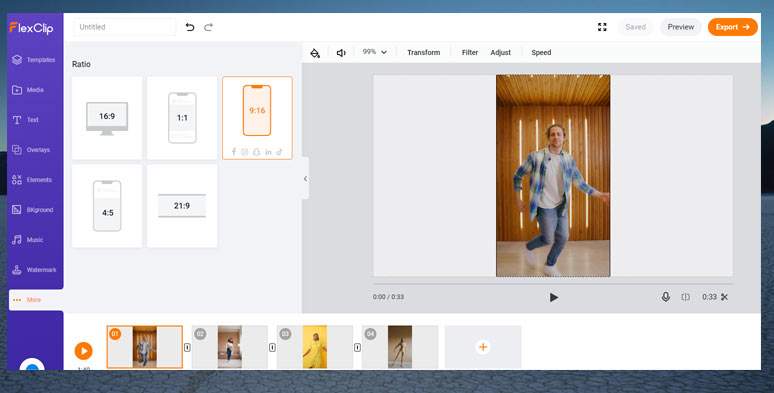 Set and match the aspect ratio of TikTok videos
As you add the clip to the storyboard, you can trim it for the exact frame and duration you want. You may also add another clip as the picture-in-picture effects to show the details of your dancing moves or go for a thrilling dance battle as well.

Add another dance video into your dance clips for a dance battle
Step 3
Further Refine the Dance Video
On the left sidebar, you can select from dozens of professionally designed text blocks and animated elements to take your dance video up a notch. All the fonts, color schemes, motion, styles, etc. are fully customizable. Besides, you can browse through the thousands of royalty-free music and sound effects to match your dancing rhythm. While the stock assets may also provide missing shots and HD photos, etc. You may also upload your watermark to highlight that this is your original works.

Refine the dance video with text, elements, and music tools, etc. available
Besides, video filters, transitions, video speed changer, etc. are also available.
Step 4
Use Premade Dance Templates to Create an Intro and Outro
Hit the template icon, then enter the keywords "dance", then you can apply a readymade dance template and customize it as the intro or outro for your dance video. You may use it for a trailer of your dance video as well.

Select a premade dance template for the intro or outro of a dance video
Step 5
Preview, Export, and Share
Done with the editing. Preview, and later click on the "Export" button to save it as an MP4 file to your local computer or directly share it to your YouTube Channel or Dropbox for storage.
Final Thoughts
Hopefully, you can enjoy our tutorials on how to make a dance video on your iPhone and benefit from these tips for creating thumb-stopping dance videos for TikTok. So, now it's time to start planning your dance video and use FlexClip to make your dance video go viral on TikTok.