How do I get the bubble overlay to make my character look like she is in the bath?
- a question from Creator's Corner
Bubbles always give people a sense of romance and magic. Also it adds fun and interest to your videos. Whether making a car wash ad or a warm family video, a bubble overlay can take your video to the next level.
In this blog, we will talk about how to add bubble overlay to your videos in three ways. Let's get started right now!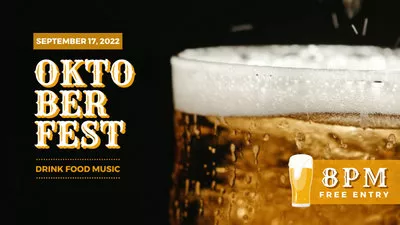 Part 1. An All-in-one Editor to Add Bubble Overlay
To add bubble overlay to your videos or pictures, you need a video editor to cover a transparent bubble effect, bubble image or video onto the video background. There are loads of editing programs on the market for help, but not all are user-friendly and flexible. Don't worry. Here we pick a suitable editor FlexClip for you.
As an all-in-one video editor, FlexClip packs a complete set of media resources, including bubble effects, videos, images and more, to help you create high-quality bubble videos without effort. Besides, it also comes with handy editing tools that you can make edits for free. Generally speaking, FlexClip is a trustworthy video editor for every video lover to unleash their creativity.
Part 2. Add Dreamy Bubble Overlay with Pre-made Effect
FlexClip has a stock of well-designed overlay effects that you can add to your videos for free. Be it fire overlay, snow overlay, glitch overlay or bubble overlay, this editor can make it achievable with the quickest solution.
Follow the steps below to see how to add a bubble overlay with pre-made effects.
Step 1
Click on Create a Video button to enter the editor page and upload your videos under the Media panel, then drag them to the timeline.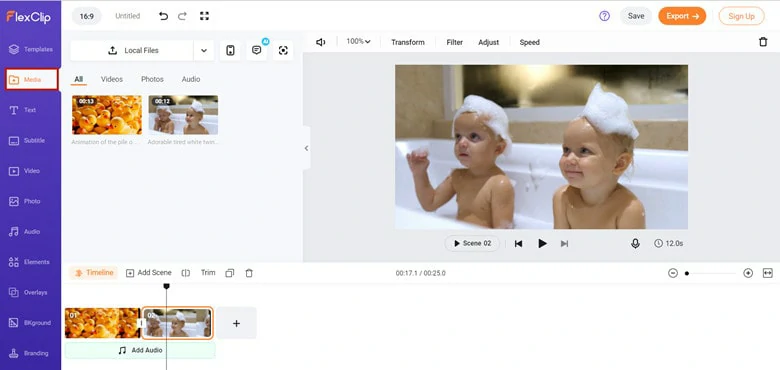 Upload Media Resources to FlexClip
Step 2
Move to the Overlays section and choose the Effect Overlays option. You can tap the See all icon to show all the effects.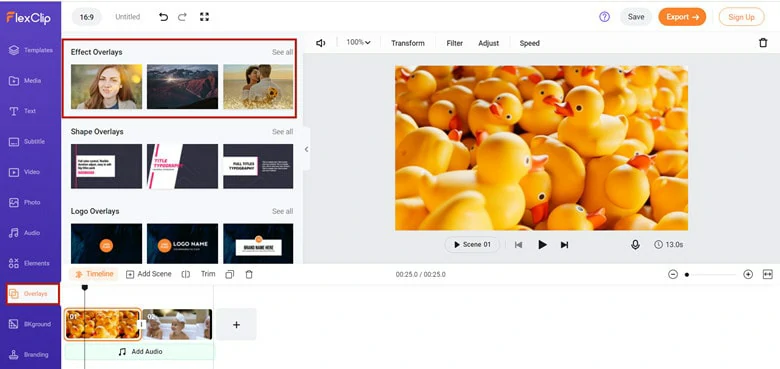 Move to Overlays Section
Step 3
Scroll down to find the bubble overlay and pick your favorite one.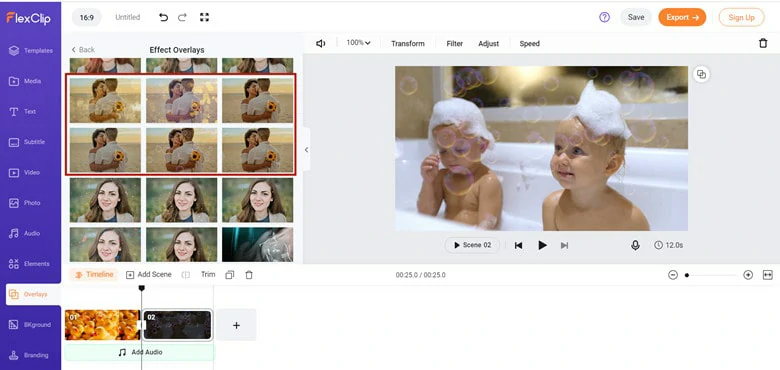 Find Your Favorite Overlay
Step 4
Apply the bubble effect to your video and make it more adaptive by adjusting the opacity value and blend mode.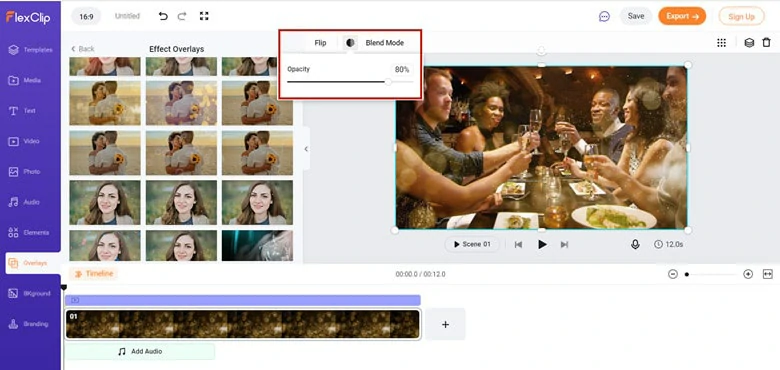 Make Adjustments to Your Bubble Overlay
Part 3. Make Soap Bubble Overlay Effect Using Soap Video or Picture
Besides the dreamy bubble effect, FlexClip also allows you to create a soap bubble overlay to cover your picture taken in the bath, perfect your ads for car washing services or any video that needs more fun.
Learn how to add it with the steps below
Step 1
Import your videos to FlexClip's editor and apply them to the timeline.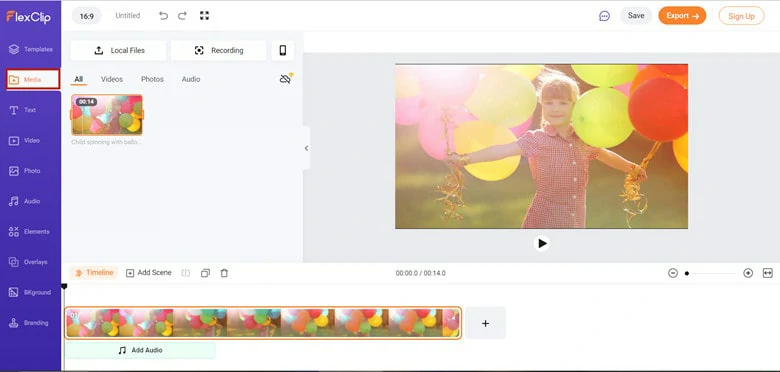 Import Video to FlexClip
Step 2
Find the soap bubble video or image you want to use. If you have personal resources as an overlay, load it directly. If not, go to the Video or Photo library to get the incredible bubble footage.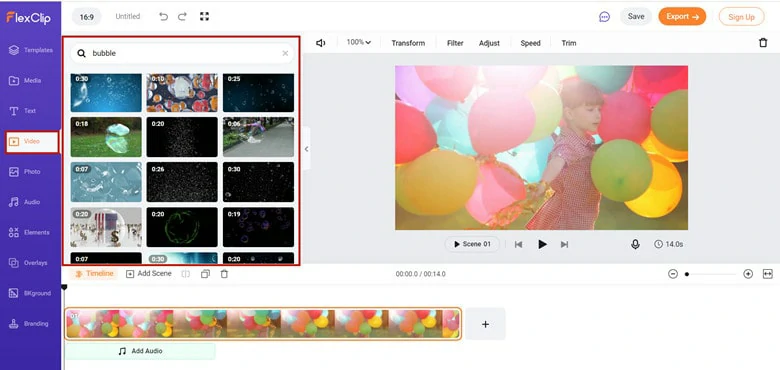 Find a Soap Bubble Video
Step 3
Now, simply click Add As Layer icon to apply this bubble footage. Once it's loaded, drag and drop the sidebar to cover the whole background.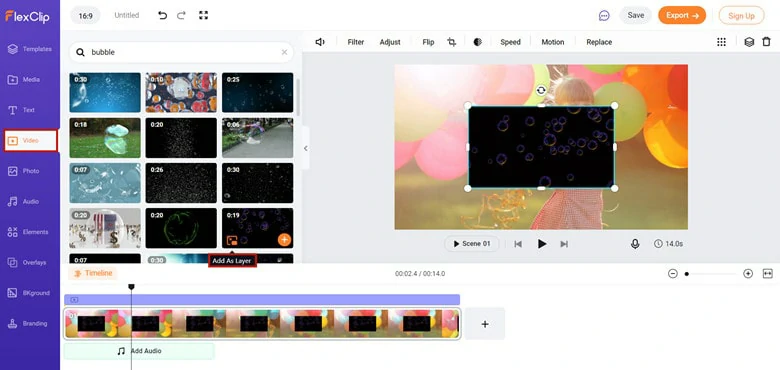 Add the Video as an Overlay
Step 4
Customize the soap bubble overlay by changing its opacity value, speed and filter to polish the video.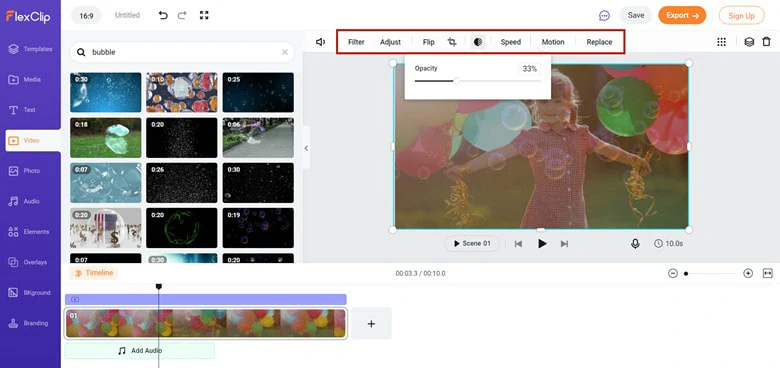 Customize the Soap Bubble Overlay
Part 4. Use Colorful Bubble Animations to Create Bubble Overlay
Aside from transparent bubble overlays, you can also apply colorful bubble animations to create the bubble effect. Keep reading to see how it works.
Step 1
Click on the Media icon to add videos you want to use and drag them to the timeline.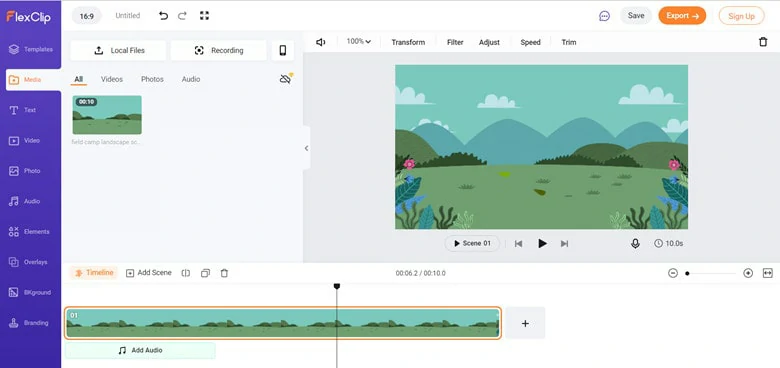 Customize the Soap Bubble Overlay
Step 2
Move the cursor to Elements and type in bubble to find bubble animations. You'll see loads of bubble animations.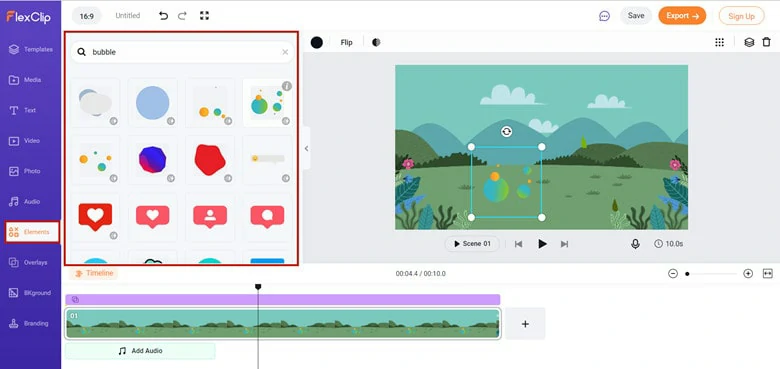 Go to Elements to Find a Bubble Video
Step 3
Add your favorite option and adjust the size, position and color to match your needs.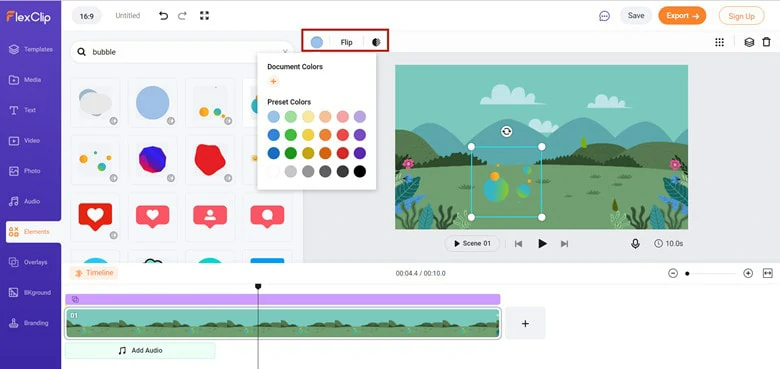 Add it to Video and Edit
The Bottom Line
That's three ways to add bubble overlay using FlexClip. Pick your favorite method and make your bubble video. Now, it's your move.