As a free and pre-installed app on Mac and iPhone, iMovie offers you some basic features to add subtitles to a video when you don't have a professional video editor to caption your videos.
So, in this tutorial, we will walk you through how to add subtitles to iMovie using its pre-made iMovie title templates, plus practical tips to add captions in iMovie with styles and make your iMovie subtitles sync with the video properly, etc.
Besides, since iMovie only allows you to manually add subtitles to a video, we will also offer you a great workaround to add automatic subtitles in iMovie online with great accuracy.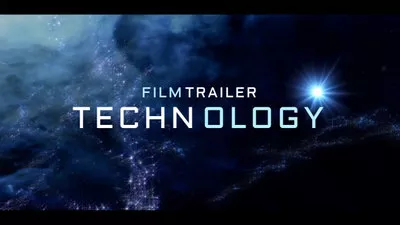 Tech Movie Trailers Technology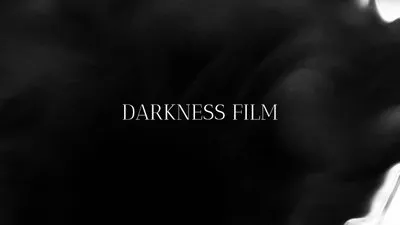 Black And White Paint Ink Film Credit
Here's What You Will Learn:
Also, read why iMovie crops my videos and 3 easy solutions to fix it.
How to Add Subtitles to iMovie on Mac
Step 1
Launch your iMovie on Mac and import the clips to the timeline.
Step 2
Select an iMovie title template for the subtitle.
Head to the Titles tab, here you can find dozens of premade iMovie titles, such as Reveal, Ticker, Zoom, etc. > select the title called Lower Third, which works best for a subtitle > drag and drop this title over a clip on the timeline.

Select a lower-third iMovie title and drag and drop it to the timeline.
Step 3
Customize the iMovie subtitle.
Double-click the iMovie title template> customize the subtitle's font, size, and alignment (left, center, right), or make the subtitle bold, italic or add text outline to it. You may also use a color picker to customize the text color or reset all the parameters.

Customize the subtitle's font, size, color, and other styles in iMovie.
Step 4
Sync the subtitle with the audio narration in the video.
Listen to the voiceovers in the video > drag the subtitle to where the audio narration begins > drag one end of this title bracket to make it longer or shorter. So, the subtitle can perfectly sync with the video timestamps.

Drag either end of the subtitle bracket to extend or shorten it.
Step 5
Once one subtitle is made, press Command C and Command V to duplicate the subtitle and repeat the same steps above to add more subtitles for the rest of the video.

Add more subtitles for the voiceovers in iMovie.
Bonus: How to add theme titles to a video in iMovie
Well, apart from the readymade titles in the Title tab in iMovie, you can click the Settings button > Theme > select from 12+ themes in iMovie > hit Change > go back to Titles panel > add cool themed subtitles to your videos.

Add new themed titles for subtitles in iMovie.
After you've applied a theme to your video project, iMovie will add pre-made transitions to your clips. If you don't like it, you can manually delete them.
How to Add Subtitles to iMovie on iPhone
Compared with the iMovie on Mac and iPad, the iMovie on iPhone offers you far limited ways to add subtitles to your videos.
Step 1
Create a New Movie project and import your video into the iMovie on your iPhone.
Step 2
Tap the video > tap the T icon > select from 12 pre-made titles for your subtitles.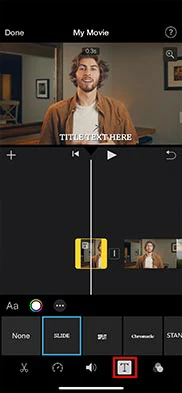 Tap the text icon and select premade texts for your subtitles in iMovie on iPhone.
Step 3
Type in your texts > you may use your fingers to pinch the text to make it smaller or larger or drag and hold to position it in the video.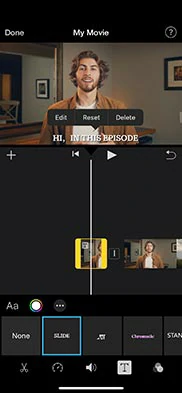 Customize the subtitles in iMovie on iPhone.
Step 4
With the text selected, tap the A icon to customize the font of your subtitle. Or tap the color tool and select a color for your subtitle.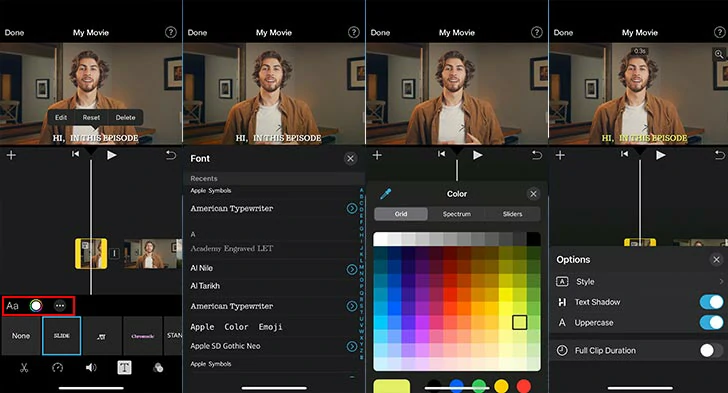 Customize the font, color and styles of your subtitles in iMovie on iPhone.
Step 5
Tap three dots > you can change the text style to the low third or add text shadows. If you don't like the change, just tap the subtitle and select Reset.
However, duration our hands-on test, we found that you can't control the duration of your subtitles to align with the audio in the video. Besides, if you wish to add multiple subtitles to one clip, you have to split it into different portions. So, it can be a big headache when adding subtitles to iMovie on iPhone.
Great Workaround: How to Add Automatic Subtitles in iMovie
As you can see above that though iMovie allows you to add subtitles to a video in a basic way, it is way time-consuming and not that user-friendly if you need to add captions to an iMovie video that is more than 20 mins. Besides, the most annoying thing is that iMovie crops your video if it is not the 16:9 aspect ratio.
So, a great workaround to add automatic subtitles in iMovie for YouTube videos, Instagram Reels, or TikTok videos is FlexClip online video maker. With FlexClip's auto subtitle generator, you can automatically add subtitles to an iMovie video with one click and up to 95% accuracy.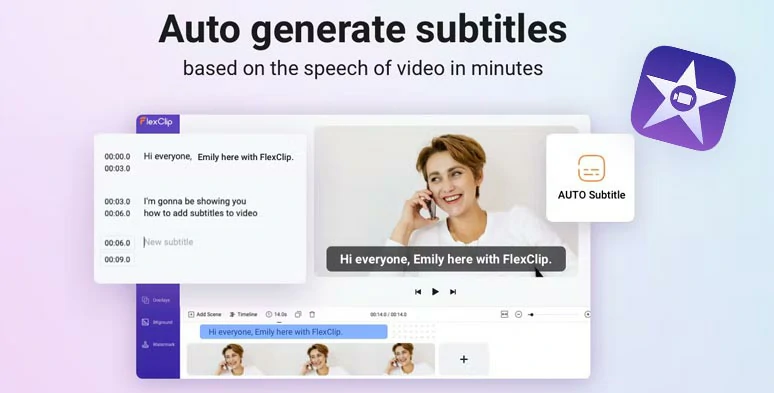 Add automatic subtitles to iMovie videos by FlexClip's auto subtitle generator online.
Besides, FlexClip can identify 140+ languages with different accents and automatically transcribe both video and audio to texts. So, you can sit back and enjoy a cup of coffee while waiting for the subtitles to get ready. Then, you may easily stylize your subtitles and make some adjustments when needed.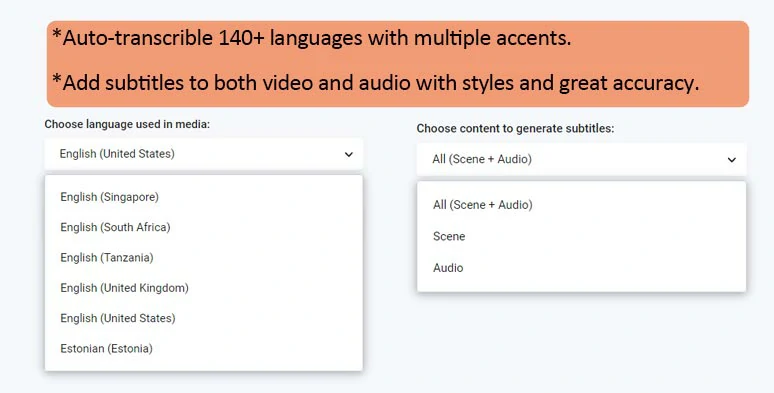 Easily add subtitles to your video and audio with different languages and accents in a breeze.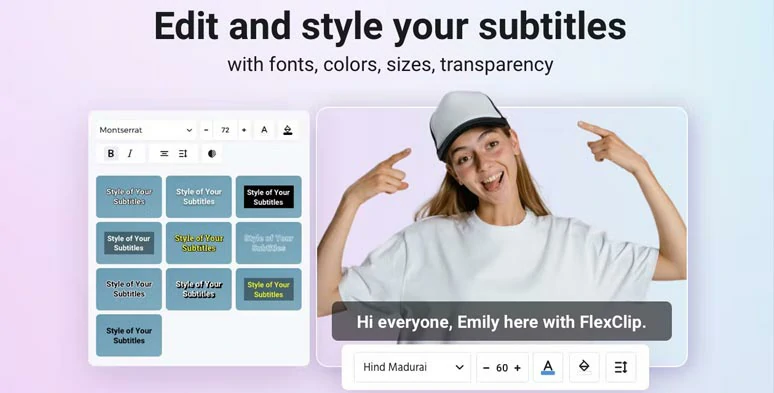 Easily customize the styles of auto-generated subtitles by FlexClip.
What's more, with FlexClip, you may use a free text-to-speech generator to easily add realistic AI voices for the audio narration of your iMovie video and auto-generate the subtitles to it, which can drastically boost your productivity. And 74,000+ royalty-free music and sound effects are also available to enhance the text animation reveal, etc.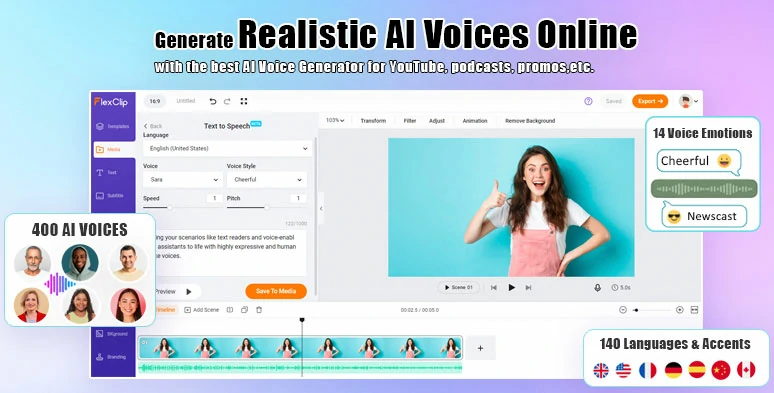 Add realistic text-to-speech AI voices and generate subtitles with one click.
As a bonus, you may also use extensive designer-made and fully-customizable movie trailer and film credit subtitle templates. So, you can easily drag and drop to replace the premade video elements with yours to create cinematic subtitles for movie intro,etc..
Technology Movie Style Trailer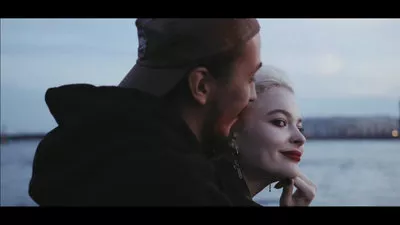 Golden Movie Style Proposal Video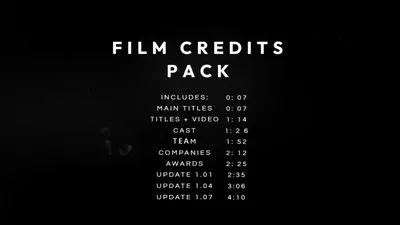 Film Title Package Credits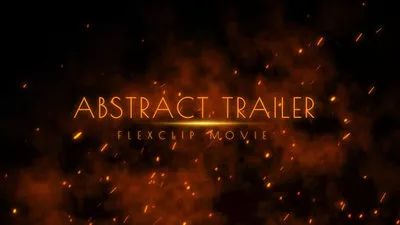 Abstract Golden Movie Trailer
Step 1
Access FlexClip
and upload your clips from your PC, phone, Google Drive, One Drive, Dropbox, etc.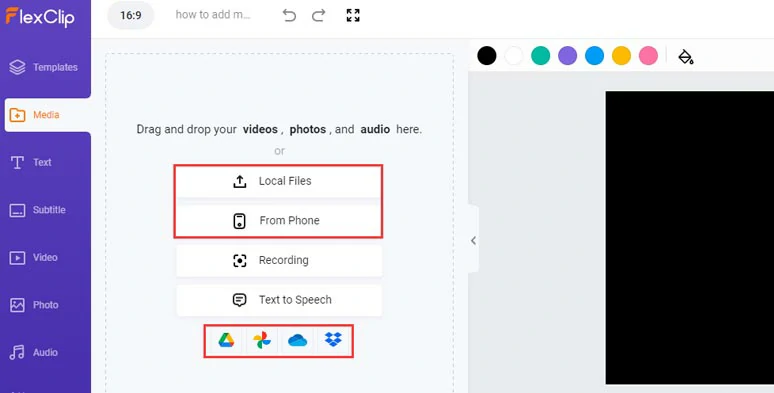 Upload your iMovie videos and other video assets to FlexClip.
Step 2
Click the plus sign to add your video to the magnetic timeline or click the footage and select parts of the video needed and directly add it to the timeline.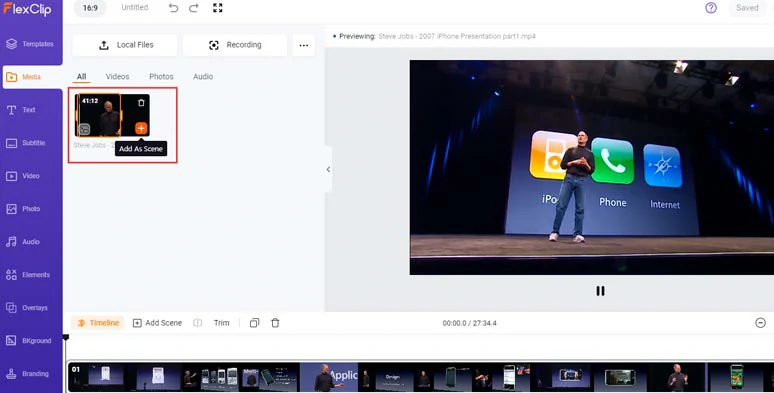 Add the video to the timeline.
Step 3
Automatically generate subtitles for the video.
Click the Subtitle tab > Auto AI Subtitle > select the source language and its accent in the video and hit Next. (If you want to add subtitles to an audio file, you may select audio) > select from 10 styles for your subtitles. No worries, you can change it whenever you want later > hit the Generate Subtitles button.

Automatically add subtitles to your video.
Then, FlexClip will automatically add subtitles to your video with exact timestamps. How long it will take depends on your video length and bandwidth.
Step 4
Proofread the subtitles and make some changes.
After the subtitles are automatically created, you may play the video and check if the spelling is correct and correct the errors. If you find a subtitle that is too long, you can find that subtitle and press Enter to separate it into two or merge two short subtitles into one. Or change the style, fonts, text color, the color of background fill, opacity, position, etc. Pretty convenient!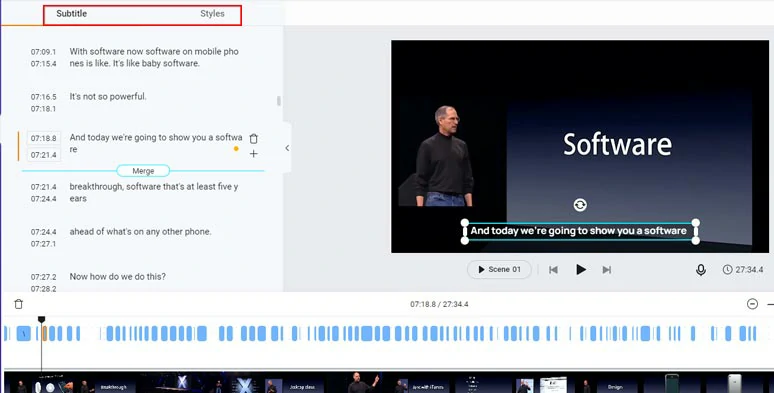 Proofread the auto-generated subtitle and stylize it and make some changes.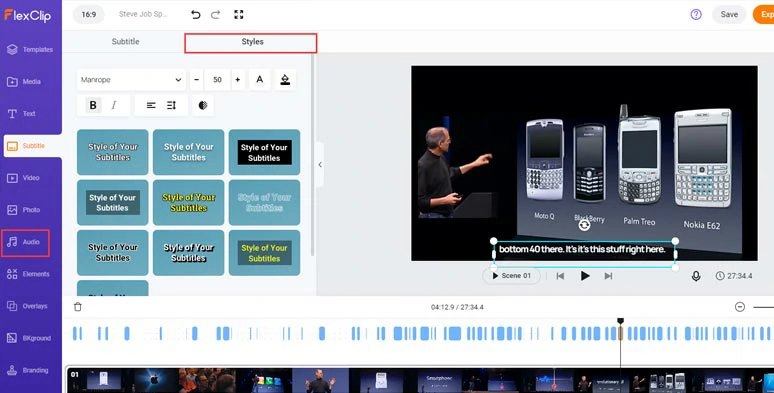 Customize the text font, text styles and text color, etc. of auto-generated subtitles.
Alternatively, if you need to add new text animations to your iMovie videos, just click the Text tab, where you can use 1,000 readymade text animations for your videos, such as profile titles, lower thirds, modern, minimal, news titles, call-out titles, etc, All the text fonts, text styles, and text animations, alignment, etc. are fully customizable.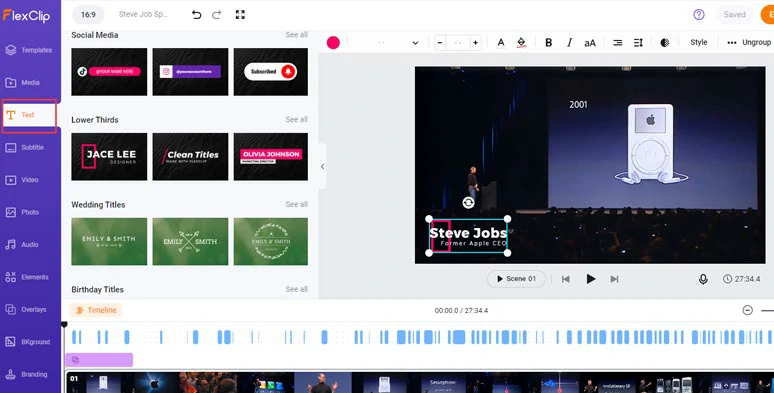 Add lower thirds text animations to iMovie videos.
Step 5
Preview and share.
Done with captioning the video. You can download the FHD video to your hard drive or directly share it to your YouTube channel, TikTok, Dropbox, or Google Drive; a clickable link is also available for your newsletter, blogs, or other repurposing.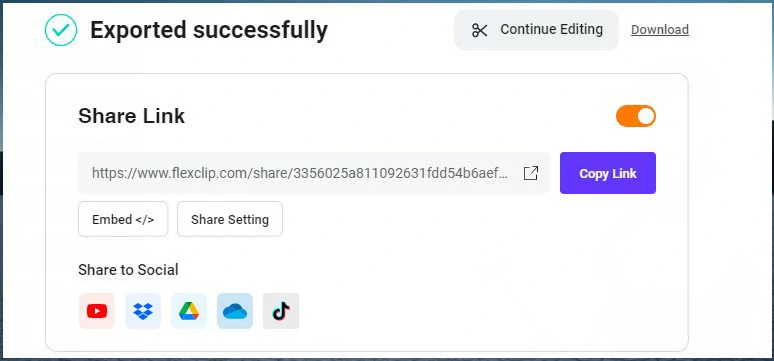 Multiple ways to share and repurpose your videos.
FAQs about How to Add Subtitles to iMovie
1. Does iMovie have automatic subtitles?
Well, currently iMovie doesn't have audio to text feature, meaning you have to add subtitles to iMovie manually. To make it less time-consuming when adding your subtitles, there are some workarounds.
You can upload your video to online MP4 to SRT services like Happyscribe or Sonix. You can use their free trial services to get the SRT file of your videos. Then open the SRT file in a text file and copy and paste the subtitles into iMovie.
2. How to remove the fade effect as I add subtitles to iMovie?
Well, if you layer a text video or PNG file with transparent background to another clip in iMovie, by default iMovie will add a fade effect to it. To remove the fade effect, click the overlay tool > Dissolve and set it to zero. Then the fade effect will be gone. However, currently, there is no way to remove the fade effect using iMovie on iPhone.
3. How to add a black background for subtitles in iMovie?
If your wanna separate your white subtitles from the video and make it look more clearly, you can download a black PNG rectangle image to your PC and then import it to iMovie > click the Overlay Tool to add it as a picture in picture and place it below the text as a black background.
Now, It's Your Move
So, that's how you can add subtitles in iMovie. For a simple video project without too much audio, iMovie can be a free choice to add subtitles to your videos. However, it's too time-consuming. Hopefully, Apple can update iMovie to bring you a seamless caption editing experience. Currently, using FlexClip's auto subtitle generator to add subtitles to a video would be a better solution.