Meme fonts or meme texts are essential elements to create an instantly-recognizable meme. If you are looking for the name of the popular meme fonts and wanna add it to your meme, whether a meme video or meme GIF, we've got you covered.
In this post, we will walk you through the 6 best meme fonts for creating a meme and show you how to create a meme video online with custom meme fonts, and how to use meme fonts to make the funniest meme that everyone loves.
Here is what you will learn:
What Front Is the Meme Font
An iconic meme font enjoys the following features. In most cases, the text is made bold to draw one's attention and always placed at the top and bottom of an image. Meanwhile, the font is often in white with a thin black border or outline.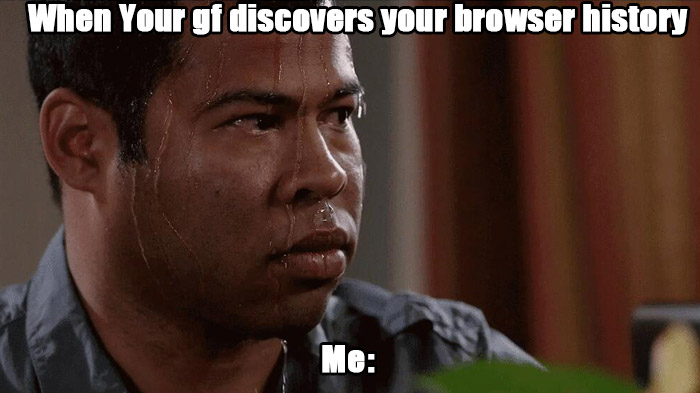 A classic meme with Impact meme font
Together with the meme font is either a hilarious facial expression or movement of an animal (like a frog, cat, dog), celebrity, or a screenshot of a movie.
Well, though any font can be the meme font, certain fonts do win the special favor with meme lovers. Here are some of the most popular meme fonts on the internet.
No.1 Impact--the Most Popular Meme Font
With thick strokes, compressed letterspacing, and minimal interior design, Impact is by far the most classic and popular font for a meme by meme makers. This sans-serif typeface, designed by Geoffrey Lee in 1965, is meant to be used for headlines with its industrial and grotesque style.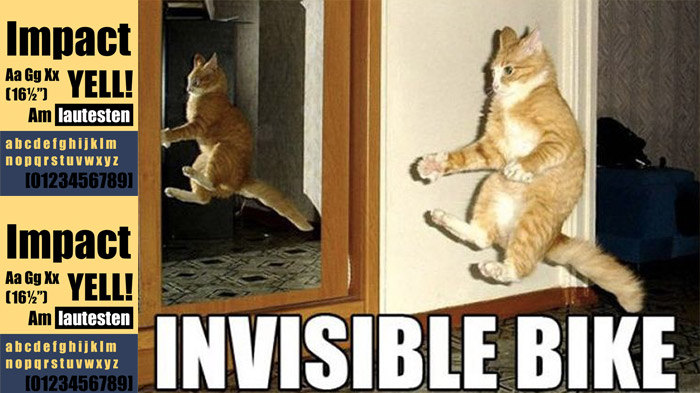 LoL cat meme with Impact meme font
Probably, it is because of its bold, condensed, and straightforward looks that many meme lovers prefer to use Impact to satirize a scenario or dilemma that people can relate to. Check the top 5 meme makers online.
No2. Arial
Co-designed by Robin Nicholas and Patricia Saunders, Arial is another classic meme font used by the new generation. With its Neo-grotesque and sans serif design, Arial is believed to carry a more humanist character.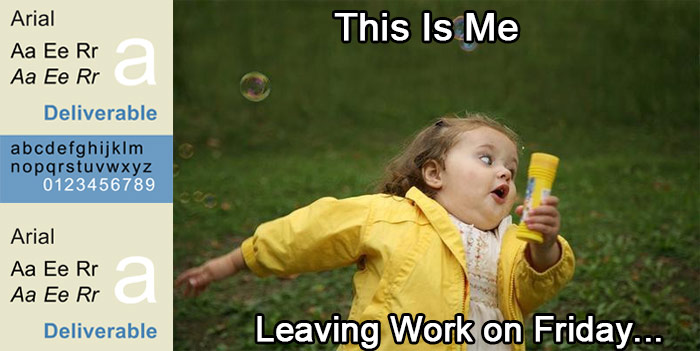 Arial font used as meme font for a funny meme
The curves and shapes of Arial are softer and fuller than the font used in the industrial age while the terminal strokes are generally rounder making it less dull and mechanical. It is widely used in newspapers, magazines, ads, etc.
No3 Comic Sans
As the name suggests that Comic Sans is a casual script font inspired by comic book lettering. It is designed by Vincent Connare and brought to the public by Microsoft in Oct 1994.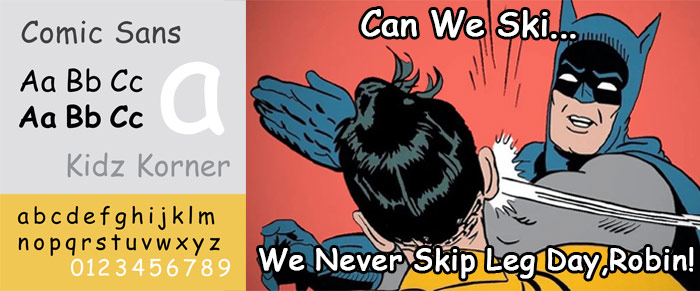 Comic Sans font for Batman meme
Meme creators love to use Comic Sans as the font of a meme to crack a joke, esp when the image of the meme is a cartoon or comic character.
No.4 Myriad Pro
Introduced by Adobe in 2000, Myriad Pro is a neutral and general-purpose font. In fact, the logo of some of the biggest brands like Apple, Linkedin, and Walmart are all written with Myriad Pro.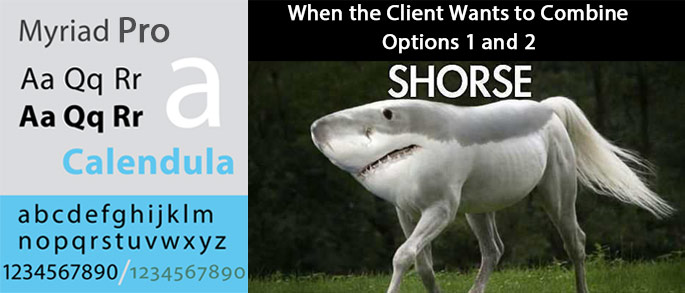 Use Myriad Pro for the meme font
Myriad Pro produces an objective and neutral tone when used by meme makers to have their voice heard through a meme image, gifs, or short videos. Check how to make a button meme in minutes.
No.5 Helvetica
Created by Swiss typeface designer Max Miedinger, Helvetica is one of the neo-grotesque sans serifs, featuring a high x-height and extraordinary tight spacing between letters. The meme with Helvetica font gives a dense and solid vibe.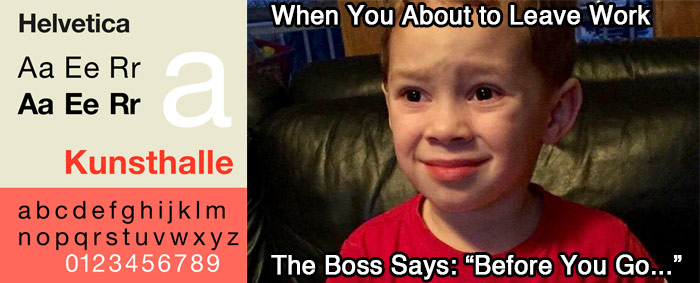 Use Helvetica font as meme font
No. 6 Montserrat
Montserrat is a modern geometric font designed by Julieta Ulanovsky in 2010. It is one of the popular fonts used by Google for its geometric simplicity. The high x-height, cute tail shown by the letter 'Q' and 'Y' and rounder shape and wider spacing yield a feeling of trust and dynamics.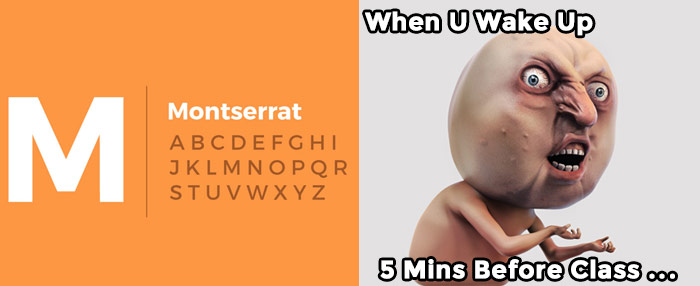 Montserrat font for a meme font
How to Make a Meme Video with Custom Meme Font
Now, you know the names of popular meme fonts used in a meme. Here, we would like to walk you through how to easily create a before and after meme video with a custom impact meme font. The tool we will be using is FlexClip, both a free meme generator and an online video maker.
Use FlexClip online meme video maker to create meme videos with custom meme fonts.
With FlexClip meme video generator, you can select from 60+ hilarious meme video templates and upload your favorite meme fonts, and drag and drop to customize meme fonts' color, size, animations, and other video elements to make a custom meme video with royalty-free music and sound effects in clicks away.
Man In Dark Glasses Meme
Sad Face Dog Meme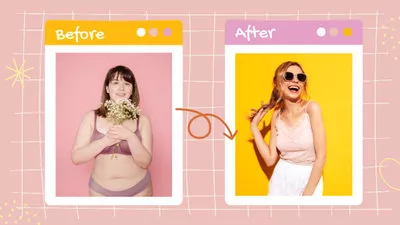 Before And After Meme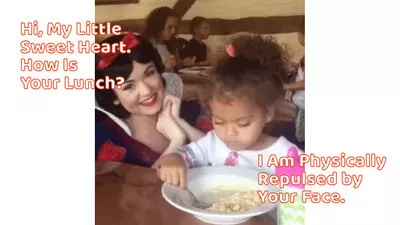 Have No Appetite Meme
Step 1
Select a free meme video template, preview it and click the Customize button.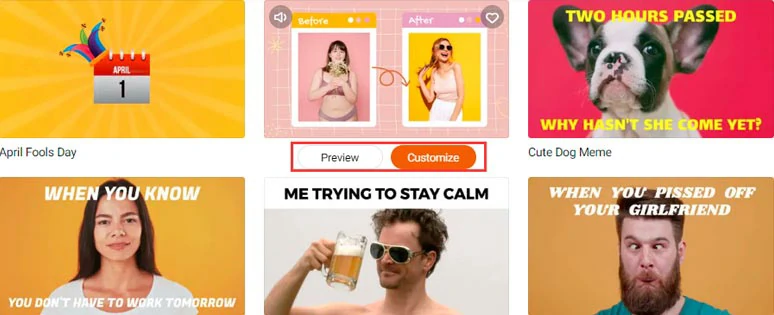 Select a free before and after meme video template.
Step 2
Upload your meme photos or clips to FlexClip from your PC or phone.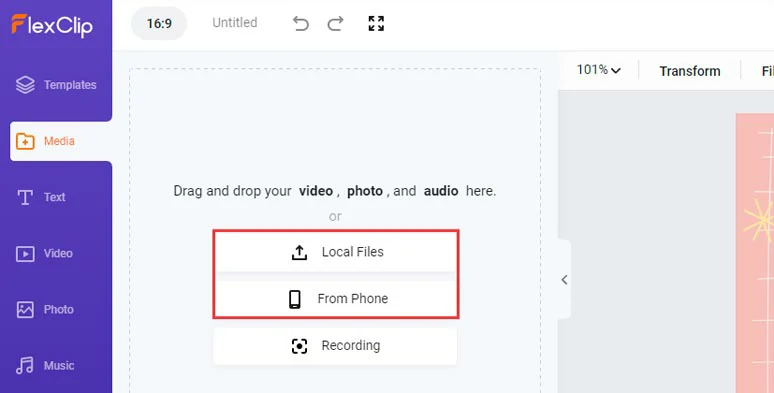 Upload your meme photos or footage to FlexClip.
Step 3
Drag and drop your photos to replace the pre-made meme photos.
After you replace the meme photos with yours. You can click the Crop tool above to adjust the position of meme photos.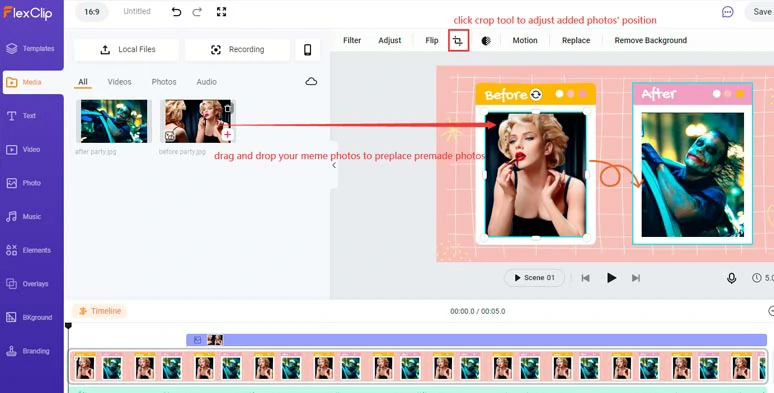 Drag and drop your meme photos to replace the premade photos.
Step 4
Customize the meme font and text animation.
The default meme font in FlexClip is "Montserrat". You may download a free Impact meme font or Comic Sans font online and upload them to FlexClip and customize the font, color, size, alignment, styles, etc.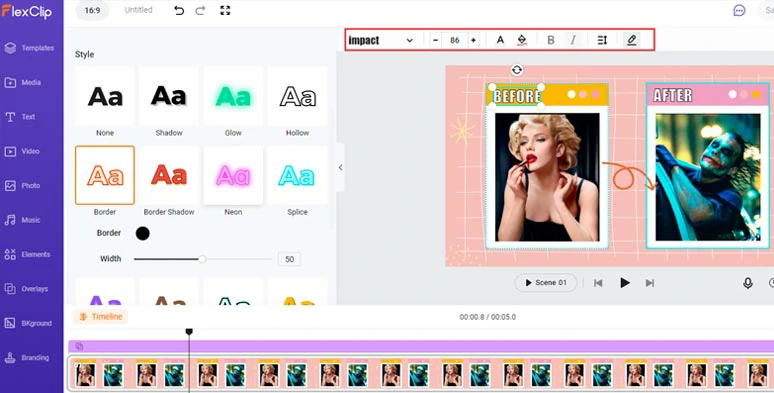 Customize the impact meme font and its color and styles, etc.
Click the Motion tool, then you can pair your meme fonts with a custom text animation, such as typewriter, bounce, fade in, stomp, glitter, flicking neon texts, etc. to spice up your meme video.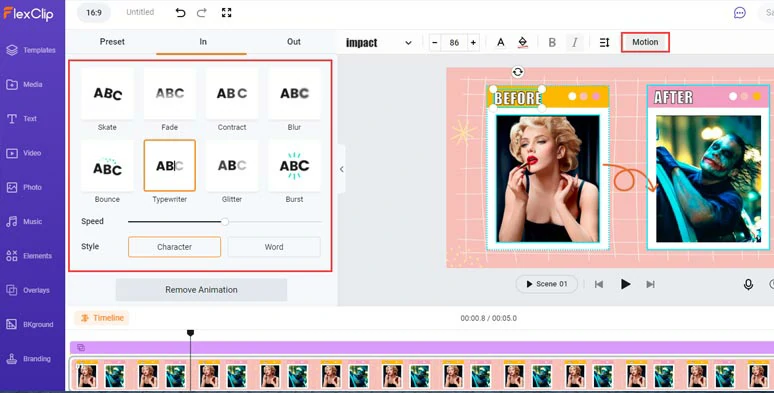 Set text animations to the impact meme fonts.
Step 5
Duplicate the first clip to create the looping GIF effect. (optional)
You can click the duplicate button, and duplicate many clips as you want. so the meme video will loop as if an animated GIF.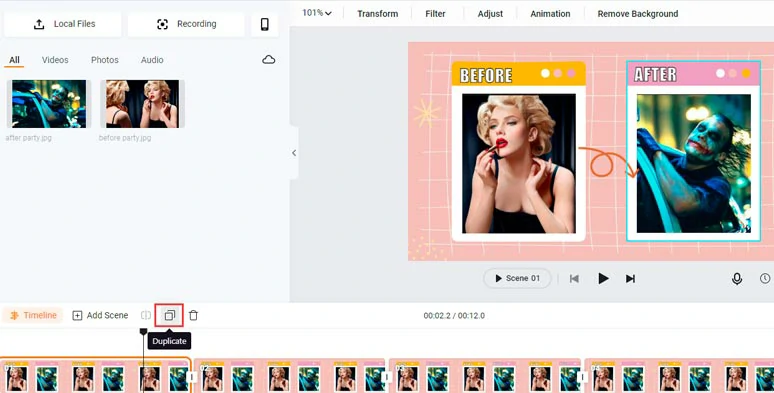 Duplicate the clips many times to create the looping GIF effects for the meme video.
Step 6
Add royalty-free music or sound effects.
Click the Music tab and add free music or sound effects to evoke the vibes for your meme video. You may upload and add your audio as well.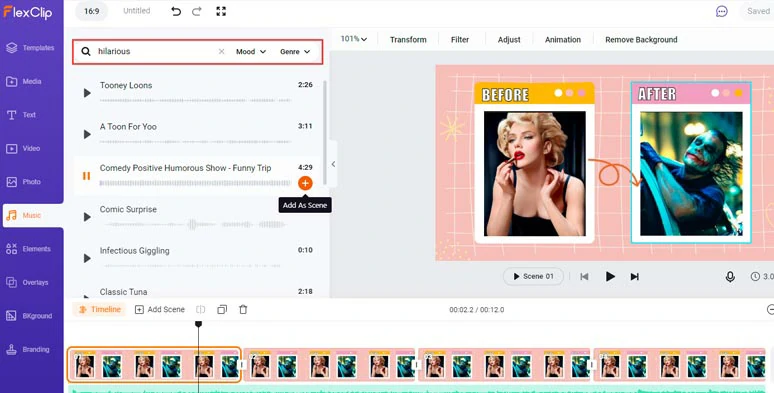 Add royalty-free music and sound effects to your meme video.
Step 7
Preview and share.
Done with the editing. You can directly download the meme video to your local PC or convert it to an animated meme GIF. Or share it to Google Drive, Dropbox, etc. A clickable link and embed code are also available for private share or blogging.
Bonus Tips: Directly Use GIPHY's GIF assets to Make an Impact Font Meme
Since FlexClip has a fine integration with popular GIF sharing site GIPHY, you can search for a funny GIF and add it to the storyboard to make an Impact font meme in seconds.
Just head to the "Photo" tab on the left side > search for an ideal meme > properly place the GIF on the blank canvas and add Impact fonts. Done.

Add GIPHY's funny GIFs to your meme
Best Ways to Incorporate Meme Font into Memes
Now, you know how to customize a meme font for a meme. Well, let's take one step forward by inviting you to have an interesting experiment. In the 3 following memes, which one you believe is the funniest?

Pick one meme you believe the funniest
Well, all of the three memes use the most popular meme font Impact, yet, the amusing effects they produce vary tremendously. If we got it right, the third one is the funniest one of three we all agree with, because the content of meme text is something everyone can relate to and a sense of humor is involved.
Having a standard meme font does matter. Yet, it is far from giving you the most hilarious meme that everyone loves.
Instead, focus on the message and emotion your meme delivers to target viewers. You will discover that the best formula for making the funniest and timeless meme is any font + your insight+ an overflowing sense of humor.
We summed up the following tips for making memes. Hopefully, you will find them useful apart from making your unique meme font.
Keep a Keen Eye for Observation: From the hottest global events such as the American presidential campaign down to trivial matters like doing clothes shopping with your girlfriend, anything that can strike a chord with almost everyone can be used for making a meme.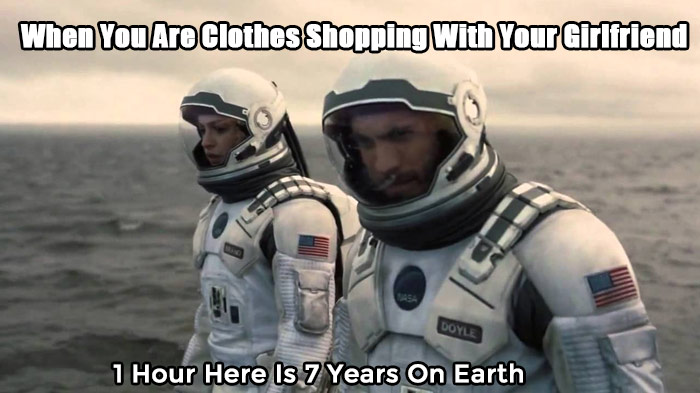 A hilarious meme when shopping with your gf
Use Black Humor to Make Your Point: Well, to some extent, a meme is a joke out of everyday frustration, a joke out of tears. So, do use witty words and black humor to share a day-to-day awkwardness. Let's satirize the issue for a sign of relief and move on.
Make Your Meme Relatable: Make sure your meme has a target audience and the issue in your meme can evoke common emotions most people can identify with, esp. when making a meme for your brand.
Use Side-by-Side Comparison: The image of 'what you think' and ' the reality' is the most commonly seen formula for a meme to end with a surprise or twist. It sparks jointly-share emotions and reminds us of the embarrassing moments we all have.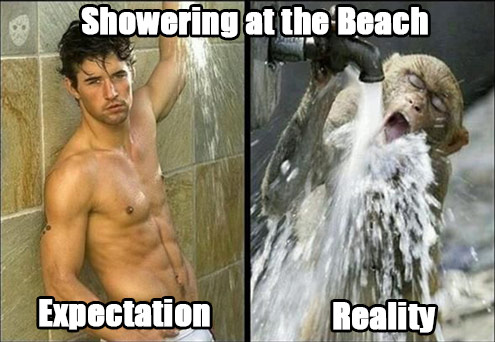 Expectation Vs Reality meme
Don't Be Confined by So-called Rules: No one says a meme must have a standard meme font like Impact or Arial, etc., or having them placed either at the top and bottom of an image. Just give full play to your creativity and keep up with the latest trends like in YouTube or Reddit and other social media, you will new ideas for making original memes.
Now, It's Your Move
Having added a classic meme font like Impact, Montserrat, etc. is only part of the ingredients for creating a funny meme on the internet. It is how you articulate the sharing frustration in a humorous way that holds the key to making a meme of an all-time favorite. So start creating your meme videos with custom meme fonts with FlexClip now.