Flickering neon texts are perfect elements to add a kind of nostalgic and vintage vibes to your videos. If you are looking for great ways to create the iconic glowing neon text effects for your videos, photos, and GIFs, we've got you covered.
In this tutorial, we've rounded up a list of the 7 best neon text generators, both online, on PC, and phone, and will walk you through their best features for making cool neon texts. So, you can create custom neon texts for your videos, photos, or neon text GIFs and post them on social media.
Create flickering neon texts.
Here's what you'll learn:
Best Neon Text Generators Online
Best Free Neon Text Generators on Phone
Best Neon Text Generators Online
1. FlexClip
As your best one-stop online solution to create flickering neon texts in videos, the FlexClip neon text generator strikes a perfect balance between making custom neon texts and ease of use.
Use FlexClip online neon text generator to create flickering neon texts in videos.
With FlexClip, you don't need to fumble with complex text layers and text effects to create the iconic glowing neon texts as you do in PhotoShop. All you need to do is type in your text and add neon text effect and animate the text with flickering neon animation on the intuitive timeline in clicks away. Extremely user-friendly to beginners!
Besides, what distinguishes FlexClip from other neon text generators is that you can select from plenty of designer-made and fully-customizable neon video templates and drag and drop to create dazzling animated neon lyrics videos, neon gameplay videos, neon promo videos, stylish neon YouTube outro, etc. to vow your viewers on YouTube, Instagram, and Tiktok, etc.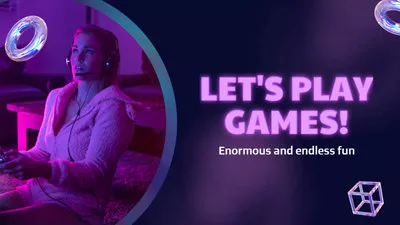 Neon Game Host Intro Outro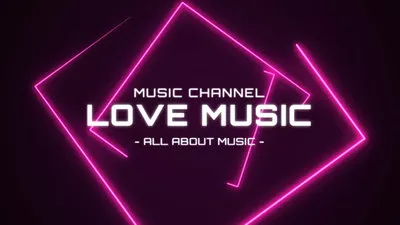 Music Channel Intro Outro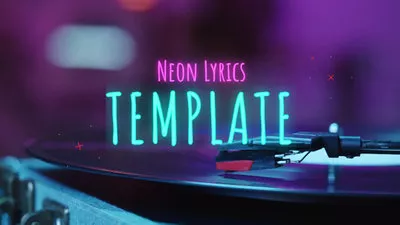 Animated Neon Lyrics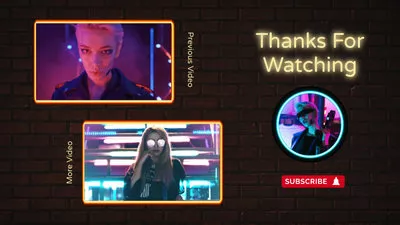 Neon Youtube Outro End Screen
Apart from that, you can even add royalty-free neon flickering sound effects and free BGM to create realistic neon, not to mention tons of handy image and video tools. Feel free to get your creative juices flowing.
Step 1
Select a video template you like.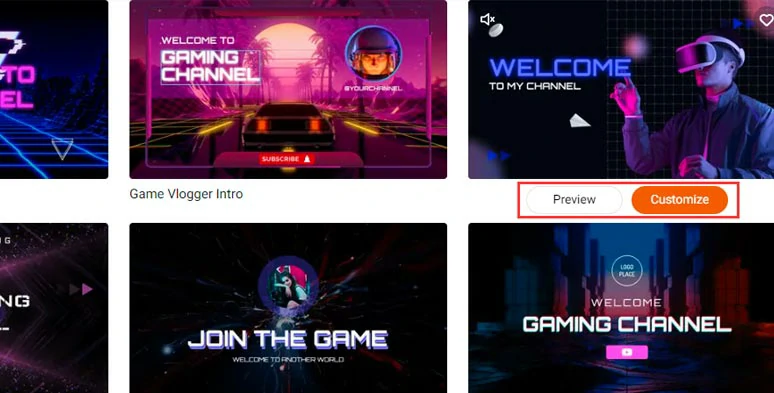 Select a free video template.
Step 2
Customize the text and add neon text effects.
Double-click the pre-made text > set its style to Neon, then the text will automatically acquire the iconic neon flowing > drag the slider to customize width, blur, and opacity to your liking > customize the text font, size, color, spacing, etc.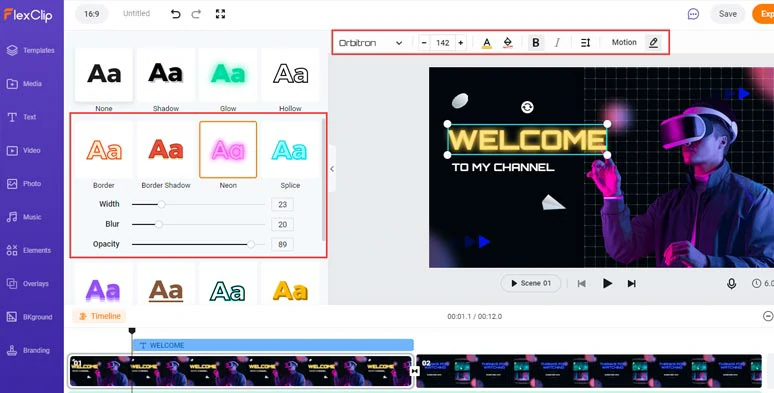 Add neon text effects to the texts and customize details.
Step 3
Animate the neon text with flickering neon animation.
With the text selected, click the Motion tool > scroll down to select Neon > you can drag the slider to control the speed of neon animation. Or drag and trim the slider of the neon text animation on the timeline to decide when the animated neon text shows up/off in the video.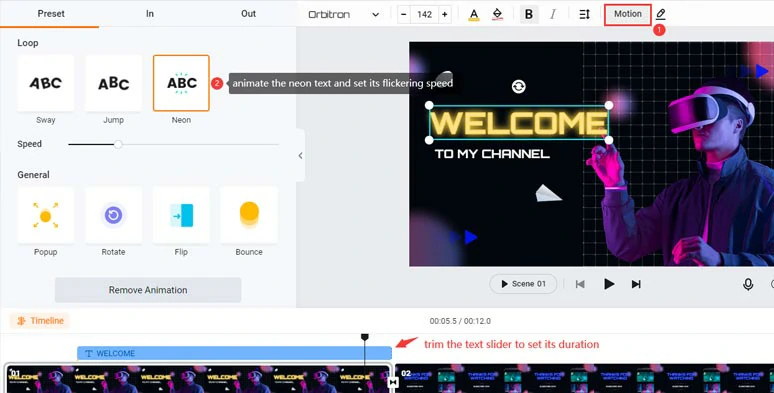 Animate the neon texts with iconic flickering neon animation.
Step 4
Add royalty-free music and neon flickering sound effects (optional).
To make your animated neon texts more realistic, you can click the Music tab and type in "Neon buzzing" in the search box and add neon sound effects when the flickering neon texts show up. Or add royalty-free music to make your videos come alive.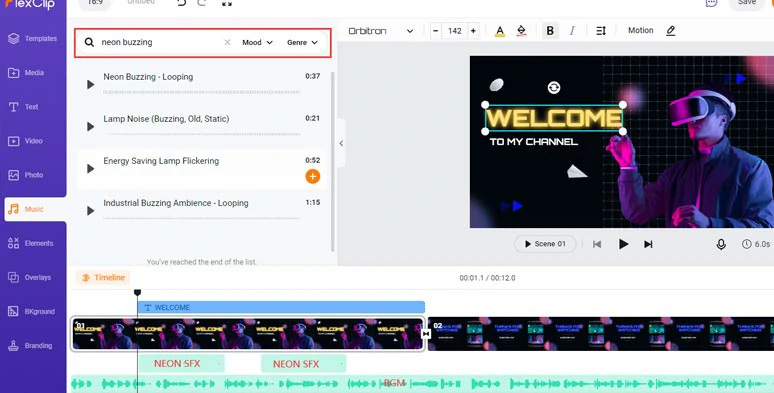 Add royalty-free music and neon sound effects to enhance the video.
Step 5
Preview and share.
Of course, you can upload your clips or images from your PC or phone to replace the pre-made video elements. After the editing is done. Click the Export button to download the video with animated neon texts to your local PC. Or directly share it to YouTube, Google Drive, or Dropbox. A clickable link and embed code are also available for repurposing. Or you can directly download the flickering neon texts as a GIF. Also, read the top 7 animated text generators online.
2. TextStudio
If you find the 2D neon texts a bit ordinary, then the TextStudio would be a great online neon text generator to help you create trendy 3D neon texts in a breeze.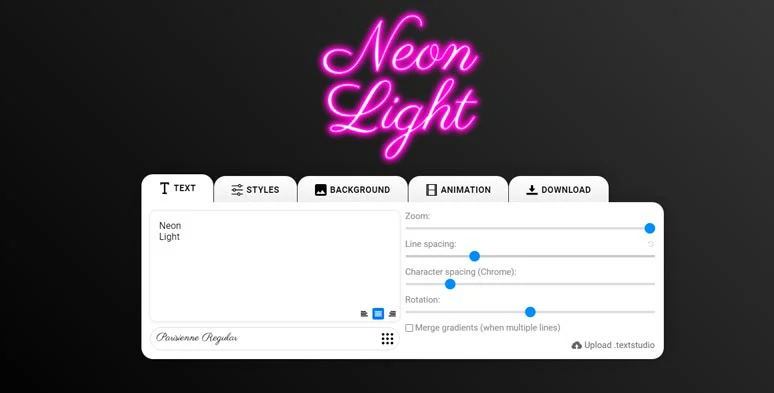 Use TextStudio neon text generator to create 3D neon texts.
Select a 3D neon text template and follow the intuitive interface to customize text, neon text styles, background, and neon text animation and download it as an animated GIF for free.
What you will like most about TextStudio neon text generator is its extensive fonts, gradient backgrounds, and animations available. You can customize the details like 3D & filling and outline, shadows, and duration and pause of the neon texts.
The only downside we found is that there is no undo button and many advanced neon text animations and high-quality GIF and WebM format downloads are only available to premium users.
3. TextDrom
Similar to TextStudio, TextDrom is a free and souped-up online neon text generator that is capable of creating custom 2D and 3D neon texts. Amid its flattering neon text templates, what impressed us most is its GIF neon text templates where some of the letters of neon texts can flicker randomly with arresting neon glow. Exactly what you've seen of the flickering neon signs or neon lights on the street night in the 90s.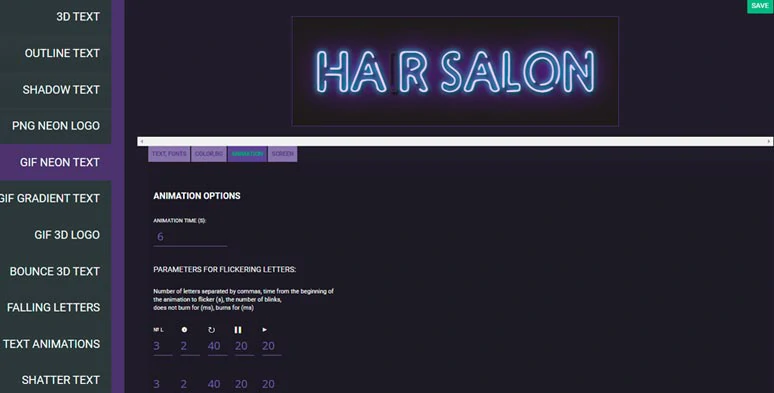 TextDorm neon text generator creates 3D flickering neon texts online.
To create a GIF neon text by TextDrom, you select a neon text template and then customize the text, text fonts and size, and style, and then set the letter color.
The magic happens when you customize the number of blinks and flicking animation times to create the realistic flickering of neon signs. Then the neon text can flicker randomly. Finally, set the width and height of the screen and download the GIF neon text to your PC.
The only drawback is that there is no undo button for you to reverse your previous adjustment. Also, read how to create realistic typewriter effects.
4. Adobe Neon Sign Maker
Adobe Neon Sign Maker is a free online neon text generator, dedicated to making glowing neon signs for phone background, flyers, posters, Instagram feed, etc. Unlike the online neon text generators mentioned above, Adobe Neon Sign Maker can only export static PNG, JPG, and PDF with glowing neon texts.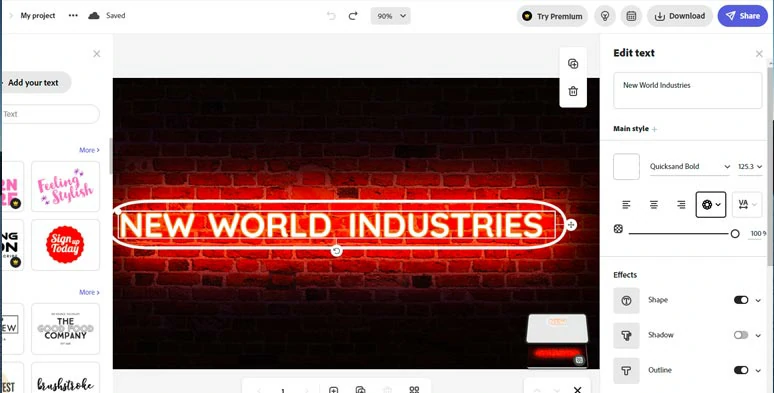 Adobe neon sign maker creates photos with glowing neon texts.
Likewise, you select from dozens of ready-made neon sign templates and keep on customizing the neon texts, neon sign shapes, and colors of the neon texts' shadow and outline. You can even upload your brand logos to make the neon sign uniquely yours for social posts.
The only bug we found was that when you change the neon text background to another new background, the realistic neon glow reflected on the wall will also disappear, making it less lifelike.
Best Free Neon Text Generators on Phone
Well, though we've tested out around 6 apps on mobile phones that can create neon texts, we only kept these 2 free neon text generator apps that work efficiently both for iPhone and Android users.
1. CapCut (iPhone & Android)
The free and powerful CapCut is more of a feature-packed video editor than a simple neon text generator. You can import both images and clips to CapCut and add texts and select the glowing neon text effect and animate the neon text with a flashy loop or color glitch to create the neon vibes to your liking. Besides, the speed of neon text animation is also customizable.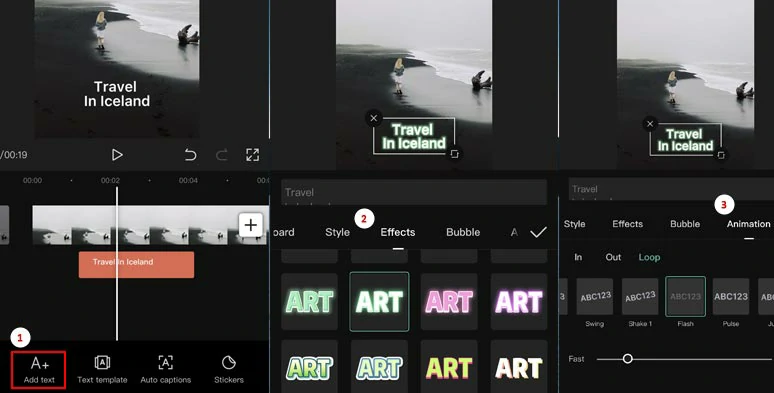 Create neon texts by CapCut on iPhone and Android.
You will be very likely to be amazed by the tons of text styles, text effects, and animations available on the CapCut neon text generator. Finally, you can export the HD video to your phone for easy sharing to YouTube, TikTok, IG, etc.
2. Neon GIF & Text Video Effects
As the name suggests that Neon GIF & Text Video Effects is a professional neon text generator, specializing in creating animated GIF neon texts and video neon texts. Unlike other online neon text generators, Neon Video Effects allows you to select from 40+ animated neon text backgrounds or import a photo from your photo gallery to create neon text effects.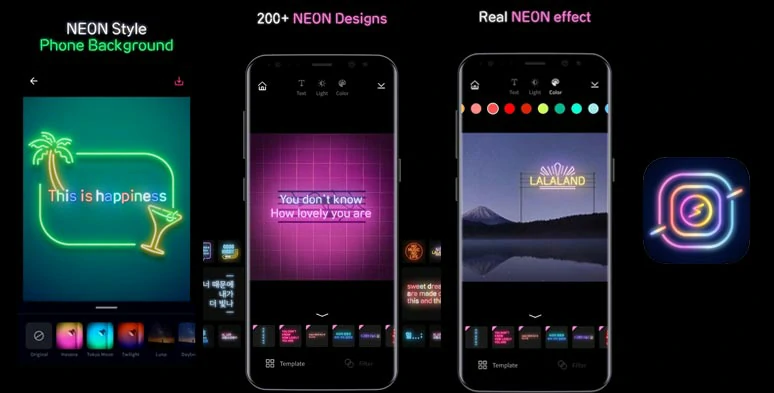 Use Neon GIF and Text Video Effects to create GIF and video neon texts on phone.
Next, you can pick a pre-made neon sign that matches the neon video background and keep on customizing the neon text effects, such as text, font, color scheme, size, etc. Neon Video Effects also offers you dozens of filters to spice up the neon video background or photo background. Once you are satisfied with the neon text effects, then you can export the neon texts as an animated GIF or a 5-second neon video.
The downside of the neon text generator is that the free neon video background and neon signs are so limited and you have no control of the duration and speed of the flickering of the neon texts and neon signs. But, the good thing is that you can enjoy the 3-day free trial.
Overall, Neon Video Effects still offers you a great workaround for creating flickering neon text video/GIF for free for both iPhone and Android users.
Best Neon Text Generators on PC--PhotoShop
If you have basic knowledge of using the text layers and text effects in PhotoShop, then PhotoShop is definitely your ultimate neon text generator on the desktop. All you need to do is add both inner and outer glow to two text layers respectively to create the neon text effect. Here is how to create neon texts using PhotoShop.
Create neon text effects by PhotoShop on PC
Step 1
Create a dark background layer and add your text over it.
Step 2
Add a light pink color to your text and duplicate this text layer.
Step 3
Add the inner glow text effect to the duplicated text layer.
Select the duplicated text layer above > go down to click the FX button > select Inner Glow > set the color to white in the pop-up window. Make sure the Technique is Softer while the Source is Center > drag the slider of Opacity and Choke to create the nice inner glow to your liking > click OK.
Step 4
Create the outer glow for the bottom text layer.
Select the bottom text layer > move down to FX > select Outer Glow > set the Blend Mode to Vivid Light > change the color to match your text > adjust the property of Opacity and Spread until you get the ideal glowing neon text effect > click Ok.
Now, It's Your Move
So, that's how you can use different neon text generators to create and add the flickering neon texts to videos, GIFs, and photos. So, which one works best for you? Share this post on Facebook or Twitter and leave your comments for us. Hopefully, you can create compelling next texts and grow more likes and subscribers on YouTube, TikTok, etc. with the neon text generators recommended.