Having vibrant colors and rhythms to dance, animated texts bring your videos to life and effectively grasp viewers' attention for strong call-to-action words. While these days making animated texts couldn't be easier.
With free and easy-to-use online animated text generators, you can easily create professional-looking animated texts in minutes, which previously can only be done by pro-level software like Adobe After Effects, Premiere Pro, etc.
In this post, we will introduce you to the 7 best free online animated text generators and their best features for making an animated text. So, you can pick one that works best for you and create animated text with styles for both videos and images.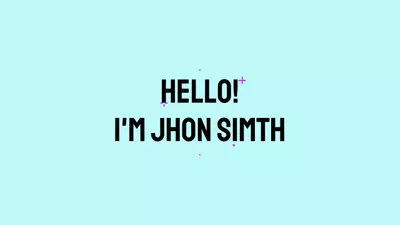 Personal Introduction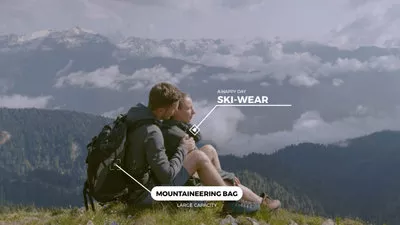 Callout Samples
Here is what you will learn:
Also, read the top 5 memorial video makers online.
1. FlexClip Animated Text Generator
If you want to create compelling animated texts with styles for your YouTube videos, Instagram or TikTok, yet you either couldn't afford the time to do it from scratch or like me don't have the skills for design, then FlexClip animated text generator can be your one-stop solution.
Animate texts with FlexClip animated text generator and video maker in a breeze.
With a wide array of designer-made and fully customizable text animation templates, you can easily create professionally-made animated texts in clicks away. No software download and design experience are needed.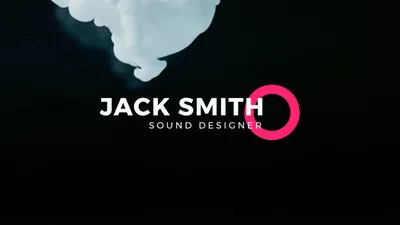 Motion Typography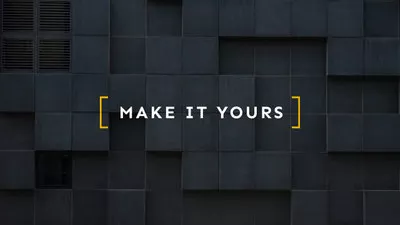 Simple Typography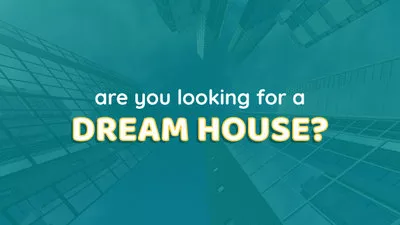 Real Estate Products Service Promo
Animated Sport Intro
Simply upload your clips to FlexClip from your PC, phone, Google Drive, Instagram, or Facebook and select a designer-made animated text template and customize its fonts, color schemes, styles, motions, alignment, layer, opacity, and duration. Besides, you can enjoy free access to 4M+ royalty-free and high-res videos, photos, music, and sound effects. It's just like the icing on the cake.
Best features:
Extensive
animated text templates
, including various social media, lower thirds, news titles, promo badges, brush titles, profiles, speech bubbles,
search bars
, quotes, wedding and location titles, callout titles,etc.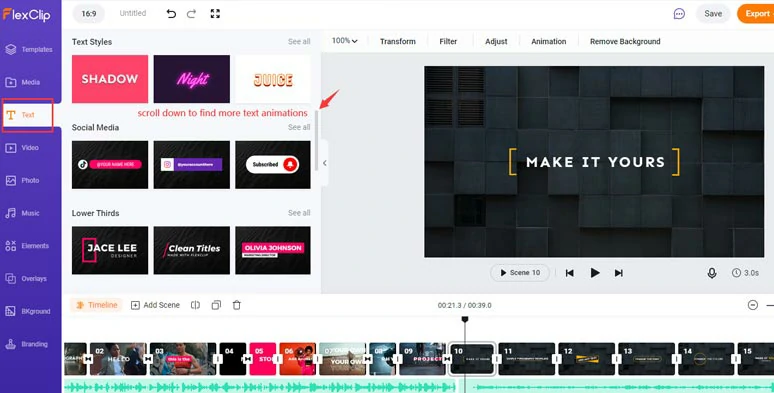 Tons of animated text templates and categories are available for customization.
Select from 13 text styles such as neon, glitch, 3D, border shadow, splice, echo, etc., and animate the text (32 text animations) with cinematic
typewriter effects
, glitter effects, bounce, blur, fade animations, etc. with details controls to text speed, direction, and duration.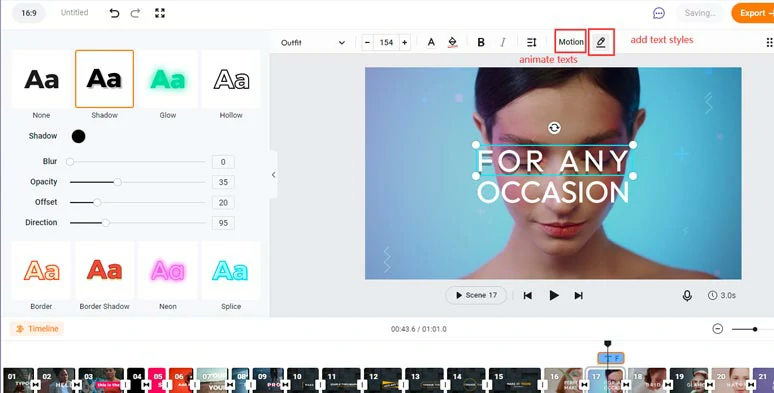 Add text styles and animate the texts.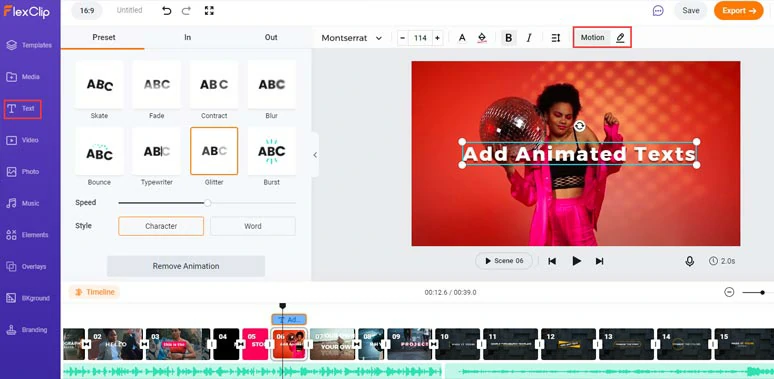 Animate the texts with different styles with one click.
Add dynamic elements such as shapes, arrows, share and subscribe social media icons, emojis, illustrations, promo, etc. to match the animated texts.
Support uploading your favorite fonts and customizing styles, motions, colors, spacing, opacity, layer, etc.
Easily group text animations with motion graphics and set the duration and animations of text reveal without using keyframes on the intuitive timeline.
Access 4M+ royalty-free stock assets: videos, photos and music, and SFX, GIPHY GIFs, etc.
Simultaneous Clouds sync to avoid project loss and video share to YouTube, Google Drive, One Drive, Dropbox, and TikTok; a clickable link and an embed code are also available for your blogs, newsletter, or other repurposing.
Limitations:
Max 30 mins video length for video export.
Limited 3D text animation.
Who Is FlexClip Best Suited For?
For all content creators and small businesses, FlexClip will fuel your creativity for making the most compelling animated texts for strong call-to-action words. While its valuable stock assets and diverse video and image tools will take your promo videos or social sharing to a whole new level.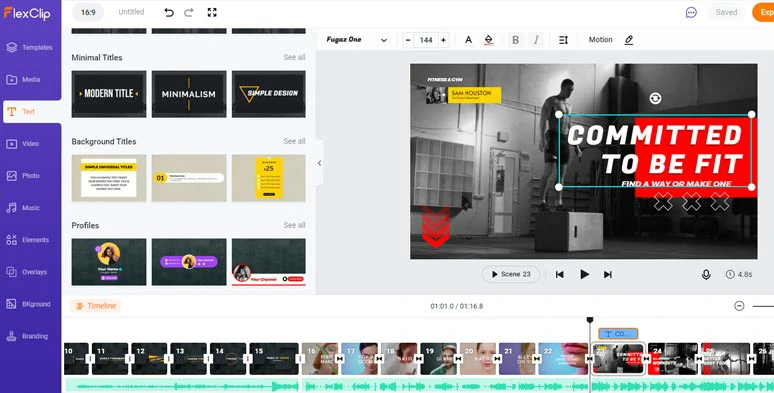 Create compelling text animations by FlexClip animated text generator.
2. Adobe Spark Animated Text Generator
If you want to add animated texts to your photos and export them as an MP4, another alternative is to use Adobe Spark. As an image editing or branding tool online, Adobe Spark empowers you to create professional-looking images with trendy image templates and many useful tools.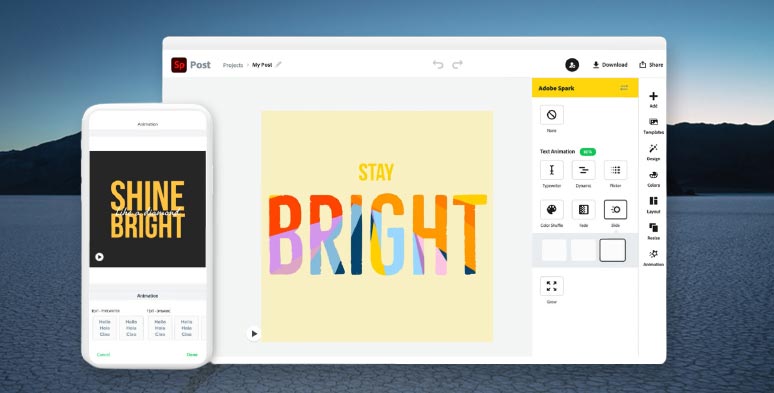 Adobe Spark Animated Text Generator
The newly added text animation tool allows you to quickly select an animated text template and customize its color and aspect ratio and export it as an MP4 file for social sharing. It's available for both PC and mobile users.
Best Features:
Powerful text tools, with hundreds of fonts, including uploading yours, text effects
Tons of text animation templates
Hundreds of color presets to select from
16 text animation styles available: such as typewriter, dynamic, flicker, color shuffle, fade, etc.
Multiple aspect ratios for different social media like Instagram Story/Portrait, Facebook, Pinterest, YouTube thumbnail, Linkedin blog post, Snapchat story, Twitter, etc.
Download the project as an MP4 (720P), PNG, JPG, PDF
Decorative elements like illustrations and icons
Limitations:
No music and video assets available
Most of the templates are for subscribed users
Watermarked video and image for free users
Limited choices to customize texts' style and motion
No way to download animated texts as a GIF
Can't directly add an animated text to a video
Who Is Adobe Spark Best Suited For?
If you intend to use an animated text generator that works across platforms on both PC and mobile app, Adobe Spark's easy-to-use text animation features and premade image template can work for you.
3. Loading.IO
Loading.io is a handy online animated text generator, offering you flexible tools to make elevated animated texts in secs. It promises you 100+ premade animation types and is capable of exporting your project in GIF, SVG, and APNG.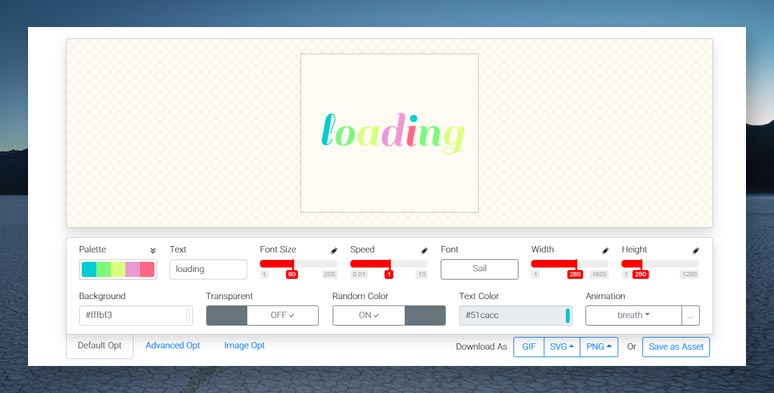 Loading.io animated text generator
Its palette feature opens up a helpful editor where you can use filters such as brand or artwork, concept, etc. to match your text animations with pleasing color combinations used by big brands like Google, IKEA, IG, etc.
Then you can customize text, font size, animation speed, font, width and height, text color, and select from hundreds of text animations for your texts.
Best Features:
Powerful palette tools that offer you loads of color combinations and fully customizable
3 formats for download (GIF, SVG, APNG)
Customize FPS and repeat count, edging smoothing for downloading
Thousands of fonts are available, mostly for premium users
Awful lots of choice for text animations
Limitations:
Only 12 text animations are available and limited free fonts for non-subscribed users.
Who Is Loading.IO Best Suited For?
If you have no idea or professional experience in choosing the right color for your animated texts, then Loading's versatile palette tool is exactly what you need. Those who need to create high-quality and smoother animated texts in GIF format since Loading.IO can generate animated text GIFs up to 60 FPS. Check how to edit GIF frames.
4. RenderForest 3D Animated Text Generator
Renderforest is an awesome 3D animated text generator and online video editor. It offers you studio-like 3D title pack templates like glitch animated text effects to quickly produce captivating videos for promo and social media.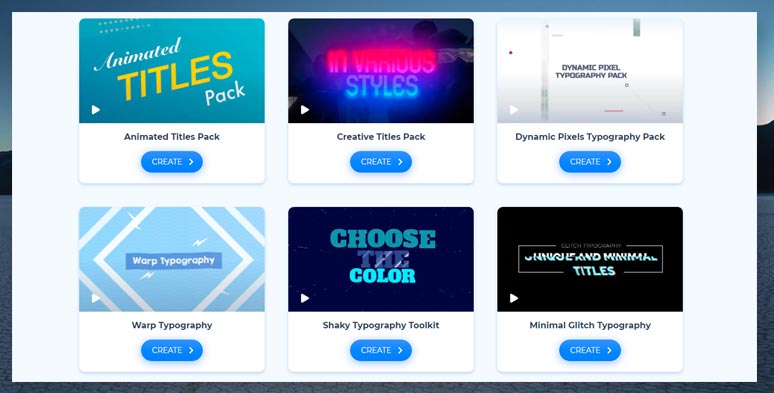 RenderForest 3D animated text generator's text packs
All you need to do is select a pre-made 3d title template and then replace the original texts with your and customize the font, add music and then preview and download the video.
Best Features:
Plenty of 3d animated text templates and stylish typography
AI system to create a 3D logo for your brand
Lots of fonts and music to choose from
Limitations:
The rendering time of the video takes too long
Watermarked video for free users
There is no way to customize the motion of animation texts and limited choices for changing background colors of the texts
Who Is RenderForest Best Suited For?
If you want to create studio-like animated texts for promo videos or movie trailers and don't know or have no time to use high-end software like Adobe After Effects, RenderForest's readymade 3D text animations will boost your performance on editing.
5. TextStudio 3D Animated Text Generator
Textstudio is one of the latest 3D animated text generators on the market. It offers you hundreds of chic animated text templates and thousands of free fonts to choose from.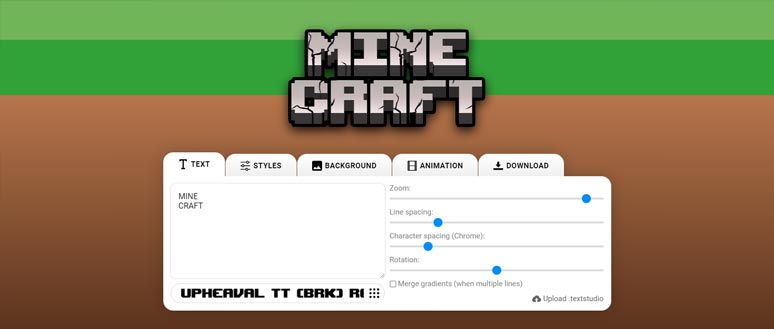 Textstudio 3D animated text generator
Its user-friendly UI and real-time display of 3D texts make the customization of the animated texts so easy. Add texts, select font, style, background color, and animation. Then customize the quality, aspect ratio and generate your 3D animated texts for download.
For free users, you can download 3D animated text as an animated GIF or save it as a draft as a TEXTSUTDIO file. For premium users, you can download APNG, WEBM, HD GIF, and Zip files. TextStudio also offers English, French, Portuguese, Russian, Spanish, Italian, and Turkish.
Best Features:
Dazzling text animation templates with an aesthetic design like Minecraft, TikTok , vintage and cartoon styles, etc.
Thousands of free fonts to use
Up to 7 languages available for different users
Multiple ways to download the animated texts
Limitations:
High-quality GIF download and many more text animations are only for the premium users.
Who Is TextStudio Best Suited For?
Anyone who likes to create stylish and eye-catching 3D animated texts in minutes for brands' profile logos and promo videos, without knowing how to use Adobe AE and PR.
6. GFTO 3D Animated Text Generator
GFTO is a free and easy-to-use animated text generator online. You can easily use its 24 animated 3D text templates to customize the fonts, text animations, speed, color scheme, screen size. You can apply the text animation effects and preview it immediately and finally output it as an animated GIF.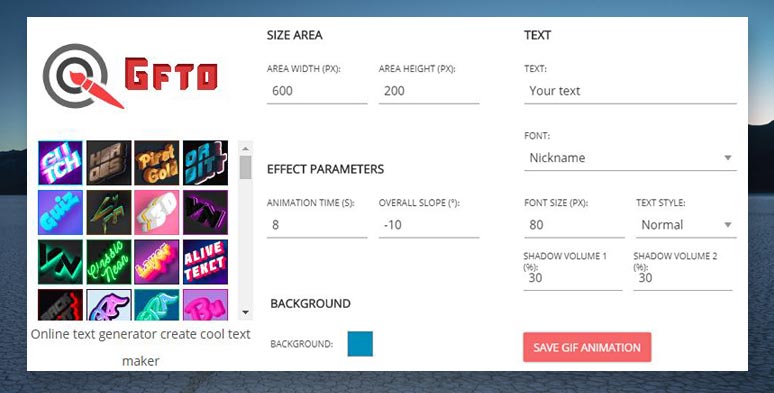 GFTO animated text generator
Best Features:
Create customizable animated 3D texts
Export it in animated GIF
PNG format is also available
One-click to share your animated texts on Facebook, Twitter, and Moimir, etc.
Limitations:
Can't customize the text style, and there is no way to add color to the border of the texts
Who Is GFTO Best Suited For?
Someone who needs to create simple 3D animated texts for profile logos or use animated texts in a video.
7. Textanim Animated Text Generator
Textanim is a classic online text generator that allows you to make animated texts within 10 secs. Textanim offers English, French, Spanish, Italian languages for its editing interface, which makes it easier for different people to make animated texts online.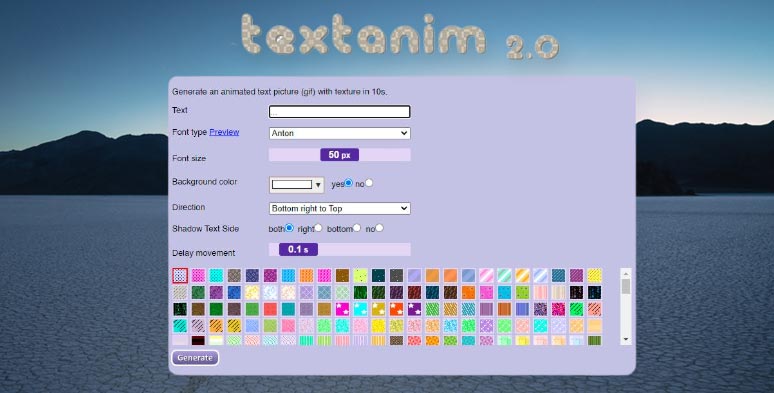 Textanim animated text generator
You can customize text, fonts, font size, background color, the direction of text animation, the shadow of texts, delay time, background pattern. Then hit the "Generate" button to preview the effect.
Best Features:
Create animations within the texts
Offer lots of fonts for text animations
4 languages for different native language speakers
Export the text animation as a GIF
Generate embed code for blogging
Limitations:
No real-time preview as you customize different properties like color, font, the background of an animated text
The animations only occur within the border of the text.
You can't animate each letter of texts
Can't customize the size of the canvas
Who Is Textanim Best-suited For?
If you want to create the vintage style of text animations for your profile logo, or don't need fancy text animations, Textanim can be an option.
Now, It's Your Move
| &nbsp | Best Features | 3D Effect | Export Format |
| --- | --- | --- | --- |
| FlexClip | 24 animated texts categories; 4M+ video, photo, music assets; fully-customizable with diverse styles and motions; upload your fonts; intuitive timeline | Basic | GIF, MP4 |
| Adobe Spark | Add animated texts to images; 16 animated text styles | No | MP4 (720P), PNG, JPG, PDF |
| Loading.IO | Powerful color tool; plenty of animated styles | No | GIF, SVG, APNG |
| RenderForest | Studio-like 3D animated text templates; AI 3D logo creation | Elaborate | MP4 |
| TextStudio | Stylish 3D animated texts; fully-customizable styles; multiple languages | Fancy | GIF, raw file; APNG, WEBM, HD GIF, and Zip file |
| GFTO | Simple 3D animated texts | Basic | GIF |
| Textanim | Vintage animated texts within the border of texts; multiple languages | No | GIF |
Of all the animated text generators, FlexClip has an edge over the other 6 for its vast stock assets and widest animated texts templates for different fields. While for creating 3D animated texts, RenderForest and TextStudio prove to be more flexible. Of course, the best animated text generator is the one that works best for your needs. So, start experimenting and creating your animated texts from FlexClip, now!