You happened to have discovered a funny GIF yet there was no caption on it and the color and its looping animation, etc. were not the way you wanted it to be. So, how can you fix it?
No worries! Let's edit the frames of this GIF to turn rocks into diamonds.
We've tested out a number of user-friendly online GIF makers and Adobe Photoshop and put together their best features for editing GIF frames. So, please walk with us to find out how to easily edit GIF frames of an existing GIF using varied Online GIF makers and Adobe Photoshop.
Here's What You Will Learn:
How to Easily Edit GIF Frames by Online GIF Makers
Well, a looping animated GIF consists of multiple frames or images. So, to edit a GIF like adding captions or change its speed, color, or reverse animation, split and crop GIFs, etc, you need to either edit an individual frame of a GIF or adjust multiple, even all frames of a GIF at once.
Luckily, with free and versatile online GIF makers, you can edit GIF frames as you wish. So, let's find out the distinctive features of different online GIF makers when it comes to editing GIF frames.
1. FlexClip
FlexClip is a feature-rich online video editor with perfect integration with GIPHY's up-to-date GIFs assets. In other words, not only can you upload your GIFs to FlexClip for editing, but also directly harvest GIPHY's trending GIFs and animated stickers within FlexClip GIF maker.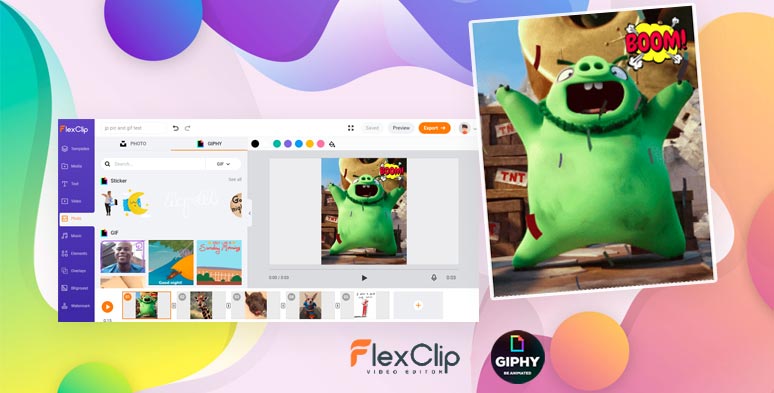 Use FlexClip GIF maker to edit GIF frames
The prominent features for editing GIF frames in FlexClip are that you can easily apply filters to a GIF; resize and crop a GIF into a circle or square; add multiple GIFs to a video or place a single or many GIFs as layers over another GIF; you may also add designer-made text animations or add music to your GIF if you need to convert the looping GIF as an MP4 file for posting on Instagram.
Add Animated Texts to GIF Frames
Animated texts added to all GIF frames by FlexClip
How to do it:
Access FlexClip GIF maker > upload your GIFs or browse through GIPHY's GIFs assets and add one to the storyboard for editing > find "Text" on the left sidebar > select a premade text animation and customize its color scheme, style, font, motion, alignment, duration, etc.

Add text animations to GIF frames and customize them
Add Filters to All GIF Frames
Wanna your GIFs to stand out from the crowds and match the tone of your mood? Then, add filters to all frames of the GIF. There are 21 filters available to you. You can instantly give your GIFs the vintage or cinematic vibes. Or, you can manually adjust the contrast, brightness, saturation, hue, vignettes, etc. of all your GIF frames with clicks.

Add filters to all GIF frames
Add Sound Effects to Parts or All of GIF Frames
Add sound to a GIF? Yep, we know it sounds weird because a GIF is an image format that is not built to support the sound of any kind. But, if you are about to post a GIF on Instagram stories. The video version (an MP4) of a GIF is the only way out. So, this makes it possible to add sound effects to parts or entire frames of a GIF.

Add sound effects to GIF frames
How to do it:
To do so, firstly upload your GIF to FlexClip or look for a GIF from GIPHY's free GIF assets within FlexClip > add the GIF to storyboard > go to "Music" on the left sidebar > search for royalty-free sound effects in FlexClip's vast music library > add it to editor > trim the duration of music to make the sound effects appear at the exact frames of a GIF you want. Pretty simple. Learn how to post a GIF on Instagram.
Add One or Multiple GIFs as an Overlay over a GIF
Not only can you add a GIF over a video, but you can also add one or multiple GIFs as overlays over a GIF as well. With FlexClip, you do it in clicks.
4 GIFs were added over a GIF by FlexClip
How to do it:
Click on the "Photo" in the left sidebar > search for GIFs you want from GIPHY's GIF assets > add GIFs to storyboard > drag and drop the first GIF as the background > place other GIFs in the proper place > use "Adust Time" tool on the top right corner to set the time when GIFs appear or use "Motion" tool to add the moving direction and style to a GIF appears or disappears over another GIF or video. That's it. Playback and export it as a GIF by FlexClip.

Find and customize multiple GIF frames
2. Ezgif
Ezgif is another easy-to-use online GIF maker. Unlike FlexClip where all the editing is done within a video editor and with seamless integration with GIPHY's GIF assets, Ezgif is purely a GIF editing tool and breaks down all its GIF editing features into various small tools.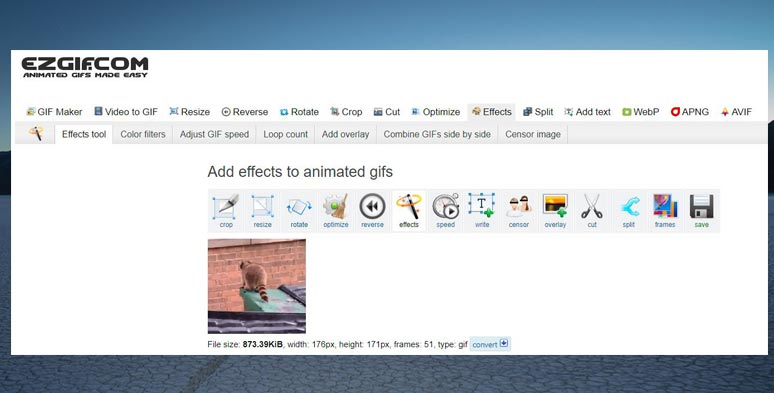 Use Ezgif to edit GIF frames
Once you upload a GIF to Ezgif, you may opt to crop, resize and compress all frames of a GIF, reverse GIF frames sequences, add texts to an individual frame, speed up or slow down GIF frames, add another GIF as an overlay or add mosaic to parts of the frames, etc. So, we will cover some of its handy features.
Add Texts to a Single Frame of the GIF
Once you click on the "Text" tool, the original animated GIF will be divided into multiple still images. And you add the exact texts to particular frames of a GIF to your needs. Besides, fonts, size, frames, border and color, and alignment are all customizable.
Crop All Frames to Remove Watermark
If your downloaded GIF has an annoying watermark around the corner, you can use Ezgif's crop tools to easily remove the watermark. Just upload a GIF to Ezgif > Click on the "Crop" tool > drag and drop to select the square to select the cropping area > hit "Crop image". Done. Check the 5 best GIF croppers online.
Change Speed of All GIF Frames
To change the tempo of your GIF, click on the "Speed" icon, then you can adjust the percentage of the current speed of the GIF to either speed up or slow down the looping speed of GIF frames.
Click on the "Reverse" icon, you may choose to reserve the entire frames or allow the GIF to run to the end and reverse back to the start, which will create amusing effects for the action scene. Or you may opt to change the looping times for the GIF.
Reverse GIF frames to achieve amazing playback effects
Add Mosaic to the GIF Frames
If parts of the GIF frames are controversial or are not meant to be shown publicly, then click on the "Censor" button, Ezgif will allow you to drag and drop to select parts of the GIF and add a solid black color to it or blur it as you wish. Pretty useful.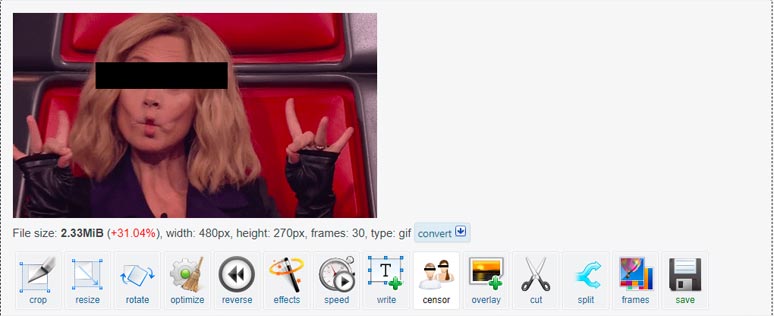 Add solid color to block parts of the GIF frames
3. Gifgit
Gifgit is another user-friendly online GIF maker, a simplified version of Ezgif so to speak. Upload your GiF, then the animated GIF will be broken down into many static images. You can duplicate or delete an individual frame of the GIF or crop the entire frames of the GIF or add texts to it. In its "Effects" option, you can blur GIF frames, adjust their brightness, saturation, change colors, etc. Overall, Gifgit is a quick and helpful online GIF maker to edit GIF frames in a flash. No advanced feature is available.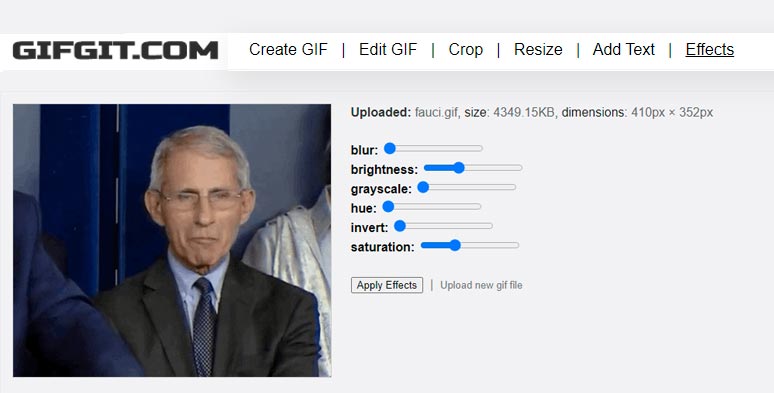 Edit GIF frames by Gifgit
4. Veed
Based in London, Veed is one of the latest online video editors with flexible GIF editing tools. It uses a timeline for both GIF and video editing. You can easily add a GIF over a video and add texts, filters, change speed to refine GIF frames. The only drawback is as you export your GIF, there will be a watermark on the top left corner for free users. However, three of its distinct features are worth mentioning: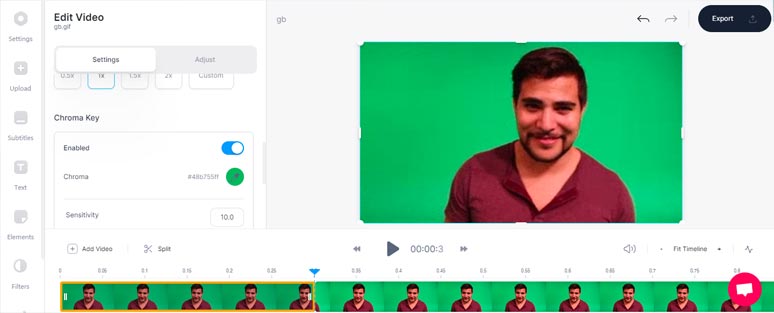 Split GIF frames and use Chroma key to remove green background
Use Drawing Tool to Mark Parts of GIF Frames
Once you upload a GIF to Veed, it will be added to the timeline. Click on the "Draw" icon, you can select a brushstroke to mark parts of the GIF frames with custom colors.
Scrub through the playhead to decide where to cut the GIF frames; then click on the "Split" tool, you can instantly cut the entire frames of GIF into two, which makes it easy to divide a long GIF into different interesting segments.
Use Chroma Key to Remove GIF Background
If your downloaded GIF has a solid color like black and green in its background, and you want to remove it. Just click on the "Chroma Key" option and use the eyedropper to sample the color of that GIF background color. Then, you will have a brand-new GIF with the background removed.
How to Edit GIF Frames in Photoshop
As a powerhouse for image editing, Adobe Photoshop is also adept at creating and editing GIF frames. If you frequently use Photoshop for photo retouching and editing, then editing GIF frames in Photoshop should come naturally for you. All you need is a simple tutorial. Learn how to create a GIF from images and a video in Photoshop.
Change Speed of a Looping GIF in Photoshop
Launch Photoshop > go to "File" > open > browse a folder to import a GIF > the imported GIF will become every single layer in Photoshop while an individual frame will appear in the timeline > hold Shift key to select all frames in the timeline > reset the delay time (the bigger the number, the slower the looping speed of GIF, and vice versa > playback > export > save for web (legacy) > select GIF as the format and set "Loop Option" as forever > hit save button.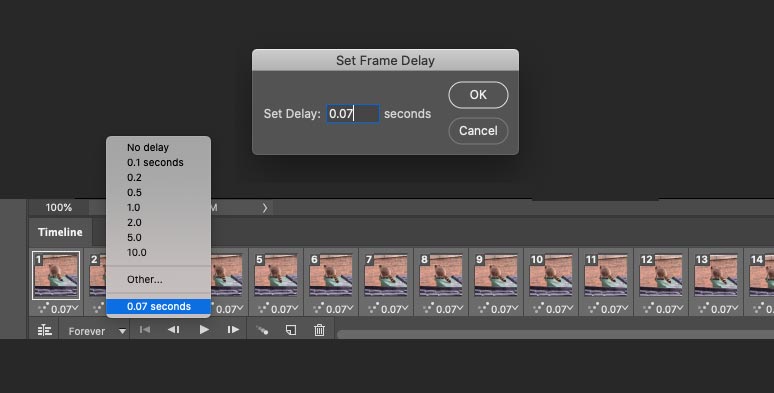 Reset GIF frame delay to change the speed of GIF
Change Color of GIF Frames in PhotoShop
After you import a GIF to Photoshop as different layers > hold the Shift key to select all the layers on the right > use "Select Color" or "Color Balance" or "Curve" tool to adjust the color tone of all frames of the GIF > Export as a GIF.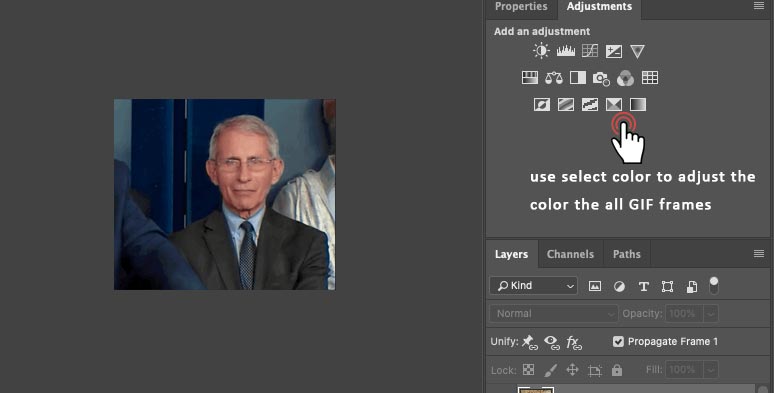 Adjust the color of all GIF frames in Photoshop
Make GIF Frames Go Forward and Back in Photoshop
Reversed GIF: Raccoon jumps back and forth
How to do it:
After you import a GIF into Photoshop > go to the timeline and select the frames between the first and last frames (let's say your GIF have 51 frames, you select the 2nd to 50th frames ) > click on 4 lines icon > select "Copy Frames" > left-click on the last frame and click on 4 lines icon > select "Paste Frames" > press "Paste After Selection" > again click on 4 lines icon > select "Reverse Frames". Now as you playback the GIF, the Gif will run to the end and reverse back to start.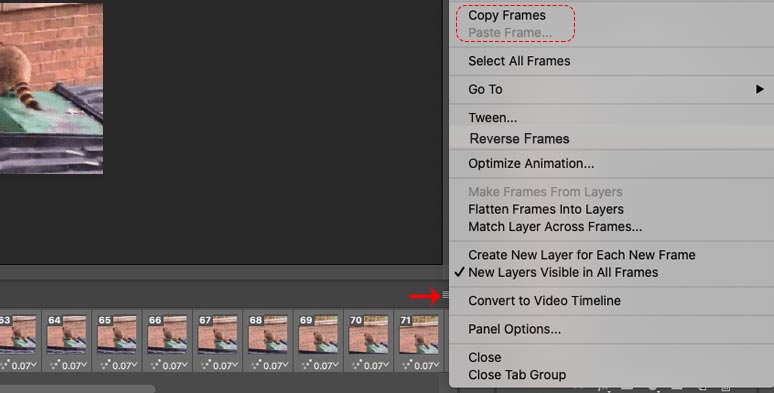 Reverse parts of GIF frames to create funny GIFs in Photoshop
Add Multiple Texts to Different Frames of a GIF in Photoshop
After a Gif is imported into the Photoshop > use the text tool to add one text in the middle of the layers (let's say you have 60, you add this text to around the 30th layer). Next, we need to add the second layer of text right before the end of all frames but hide it from view in the first 30 layers. So go to Window> select Timeline > hold shift key to select the roughly half of the frames (around 1 to 33 frames) > go the second text layer> uncheck the eye icon > then playback the GIF. The two texts will appear one after another.
How to add multiple texts in different frames of a GIF in Photoshop
Final Thoughts
So, to spice up an existing GIF, the best way is to edit different frames of this gif to add your flair. Whether you want to change the speed of a GIF or make it run to the end and go back or add professional-made text and a new color, the above online GIF makers and Photoshop offer you a variety of choices. In terms of easy access to GIPHY's GIF assets and versatility for both editing GIF frames and video editing, FlexClip has the edge over others. Highly recommended. So, start editing GIF frames from FlexClip now.