GIFs add so much fun to online chatting, and it can be said the emotional currency on the web. Basically, you can find the right GIFs to express your feelings. However, there must be times when you want to create GIFs from some interesting video clips.
Luckily, everyone has access to many online GIF makers which you can use to extract from YouTube or turn yourself into a GIF. Which GIF maker deserves a try? In this guide, we will show you the top 7 free online GIF makers. They all work well in creating GIFs. Pick one GIF creator you like most.
Can't Miss: Best Free Slideshow Makers You Should Know>
Sad Face Dog Meme
Man In Dark Glasses Meme
Top 8 Free GIF Makers Online for PC & Mac
1. FlexClip
FlexClip, an easy-to-use online tool, ranks #1 on GIF maker top list. It easily converts any photo/video to animated GIFs. What makes it outstanding among others is its rich media library and editing tool. At FlexClip, you have access to millions of interesting photos and videos for creating GIFs. Some already-made GIF templates are ready to be applied. Editing tools like transitions, filters, video speed changer will level up your video.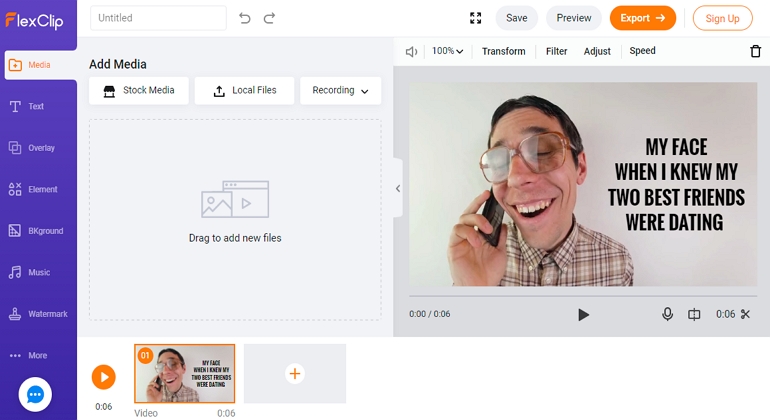 Top GIF Maker - FlexClip
2. ezgif.com
ezgif.com is an online video converter that helps you convert MP4, AVI, WebM, FLV, WMV files, and even still pictures to high-quality animated GIFs. Source files can be uploaded from your computer or another server by URL. After uploading, you can choose the start time and end time, crop or change the dimensions of the video and then convert it to GIF.
Some minor shortcomings exist. To begin with, some flash files are not supported. Besides, the uploaded items can't excess 100M. Moreover, you can't add text to the video while converting to GIF. Last but not least, the conversion may take a few while, especially when it turns to some long GIFs with high frame rate.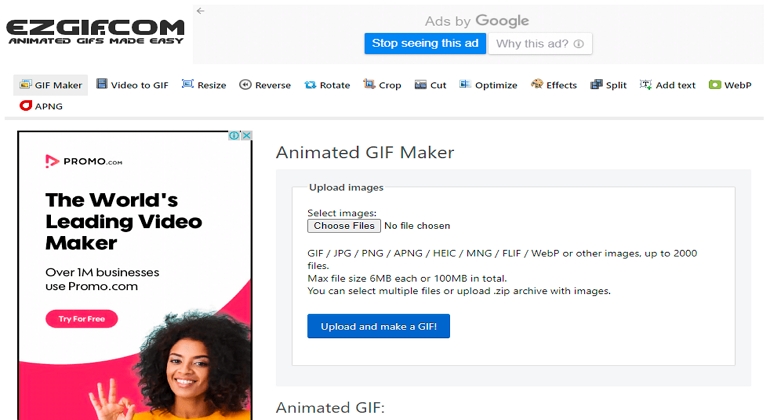 Top GIF Maker - EZgif
3. giphy.com
Under the slogan of "creating GIFs is fast, easy and fun!", giphy.com dedicated to providing a fun and safe way to create, search and share the best GIFs on the Internet. While using giphy.com to create GIFs, it is rather convenient. Besides uploading photos or videos from the computer, while watching videos online, you can add gifs to the video's URL and directly go to the GIF creating page. After uploading, you can add stickers, tags to it and then export.
The shortcomings are, you must sign up and log in to start editing, and community policies are rather strict.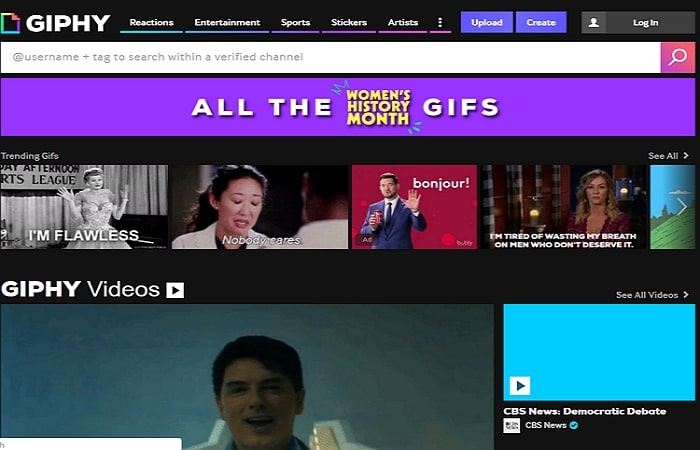 Top GIF Maker - Giphy
4. hnet.com
hnet.com is specialized in video format converting. On this website, you can only convert videos of any formats to GIFs. The editing panel is quite practical, like start time, image width, image height, frames. The maximum video size that can be uploaded is 100M. No extra features.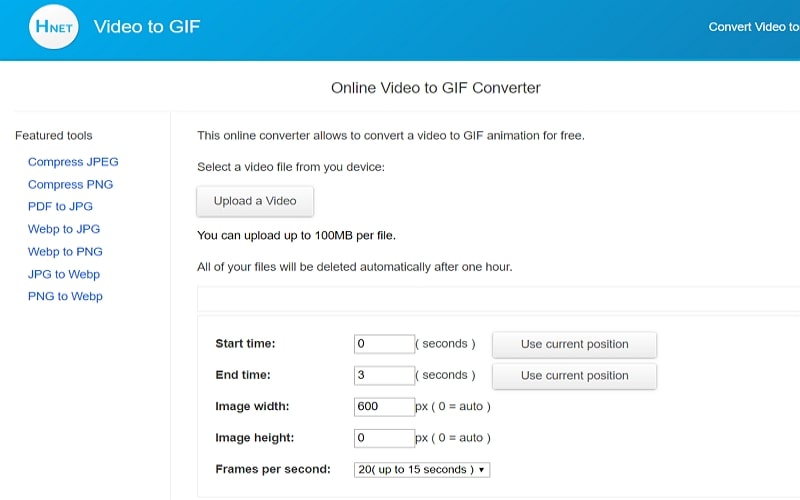 Top GIF Maker - Hnet
5. imgflip.com
imgfilp.com is where you can also upload images or videos to GIF. Supported video format includes flv, avi, mov, mp4, mpg, mpeg, wmv, 3gp and a hundred more. If you are creating GIFs from videos that have audio, then the GIF will have audio. However, you can also add music or sound to the GIF.
The GIFs created on imgflip.com may not be supported on Facebook. Exported GIFs may contain watermarks.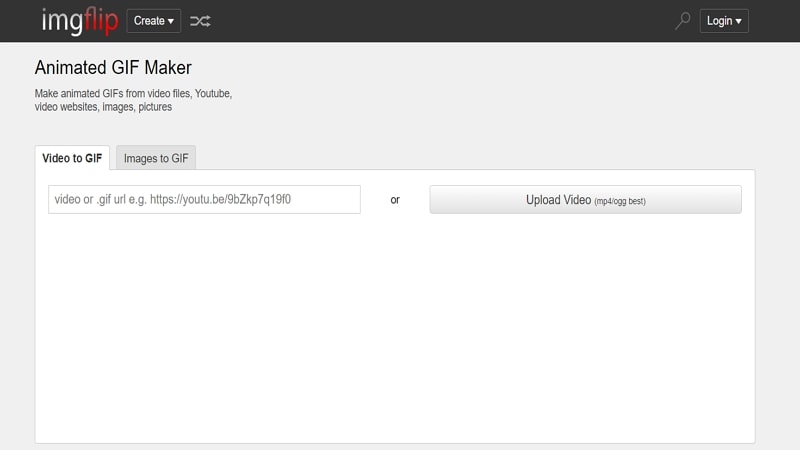 Top GIF Maker - imgflip
6. makeagif.com
makeagif.com provides all tools that are needed to create wonderful GIFs. You can use it to convert pictures, and videos in local folders or social platforms like YouTube, Facebook, DailyMotion, even existing GIFs. The maximum video size is 25M. You can also add captions and stickers to it.
To create GIFs in the highest quality and remove the watermark, you might need to pay to subscribe.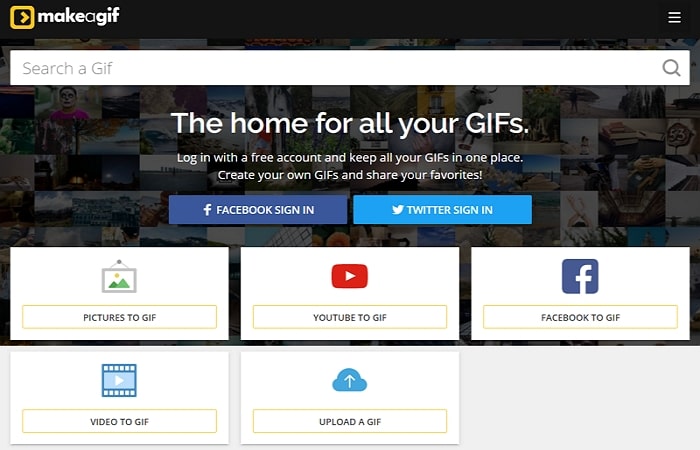 Top GIF Maker - makeagif
7. bannersnack.com
bannersnack.com is the best platform to create ad GIFs. It doesn't only have professional editing tools, but also GIF templates for social media platforms and websites. Since this platform is for business, you need to register and subscribe to use it.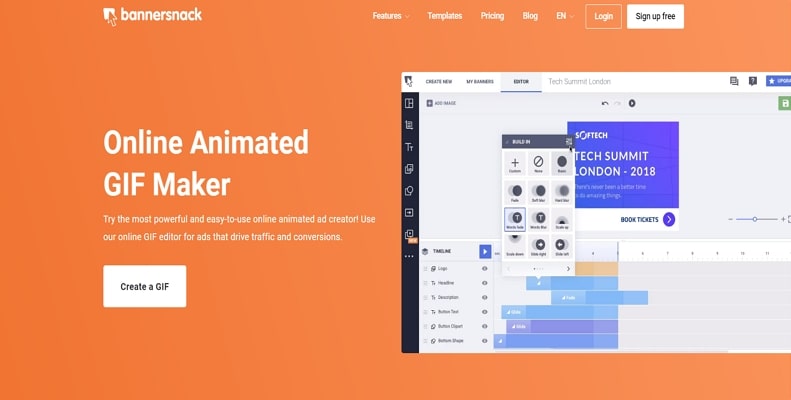 Top GIF Maker - bannersnack
8. freegifmaker.me
freegifmaker.me is a completely free GIF creating platform. It has great video editing tools which convert photos and YouTube videos to GIF. However, it doesn't support creating GIFs from videos on the computer. Some interesting GIF effects are also available to add more fun to your GIFs. Yet, these ads can be quite annoying.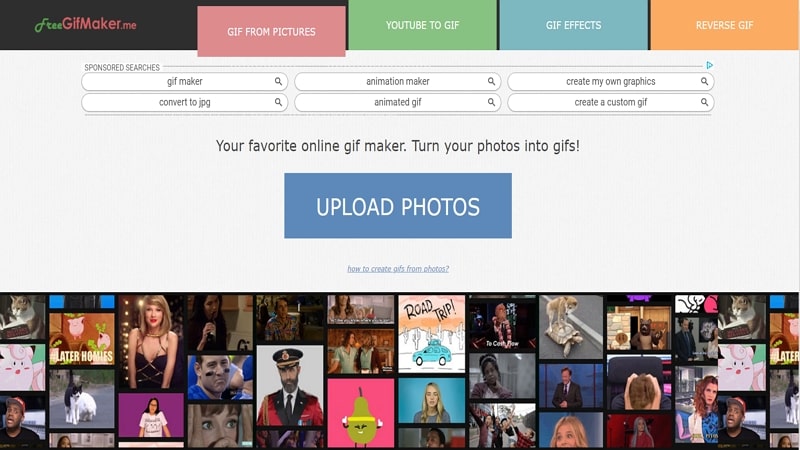 Top GIF Maker - freegifmakerme
The Bottom Line
What's your favorite GIF maker among the 8? Tell us via Facebook! If you have other recommendations, let us know.