After reading this blog, you will have access to 60+ free video transition effects and know how to use them properly. Keep reading and get more.
All videos, no matter a 2-minute commercial advertisement, or a long TV series, are comprised of numerous video clips. To connect these clips, a basic cut where the first scene got replaced by the second will do under most circumstances. Besides that, you can also see many cool transition effects between video clips.
Technically speaking, video transitions are a post-production technique used to join two clips together. Compared with basic cuts, video transition effects can level up the whole video better by conveying a particular atmosphere, spicing up the narration, or moving backward or forward the timeline.
Want to get some transition effects for your videos? Here in this article, we will offer you 19 free video transition effects that are famous and some tips to use them. Now, find the best video transitions for your video and get to know how to apply transition effects properly in the following parts. Let's get started.
Also Read: How to Make a Video Your Lockscreen >
Diverse video transition effects are available on Ps and other professional editing software. Yet, only a few types of video transition effects are used frequently.
Fade to White/Black
Fade to white/black means a scene gradually changes to white or black. The way of scene changing is the same, what makes the difference is the color. Though the difference is slight, the two transitions fit perfectly on different parts.
Fade to white is often used to emphasize the change of timeline. For instance, on videos with lots of plots, the actor may think of things in the past or imagine things that don't exist. Fade to white joins the real and imaginative scenes best.
At the end of a film, to give credit, you need a black screen. That's where fade to black kicks in. It can also combine two scenes where literal explanation is needed.
Depict video: Fade to White/Black Introduction & Examples
Zoom in/out
When an aperture opens and closes, a picture is captured. The zoom and the capture are quite alike. A circle in a scene quickly opens or closes to brought another scene. The zoom in/out transitions help to move the scene to the next very quickly, thus, it is always used on some fast-paced videos.
Depict video: Zoom In/Out Examples
Wipe left/right/up/down
Frankly, you can make a swipe transition effect without any edits. You can just quickly move your camera in a way that brings obstructions on the video. If you find two scenes don't fit very well, cut the obstructed scenes a little bit.
For these who want to give out a sense of history, a slower version of swipe effects are needed. Check this montage and see how wonderful this effect turns a video into.
Depict video: Swipe Left/Right/Up/Down Examples
Cross Dissolve, Linear Blur, Morph
Stick two scenes up against one another, the first scene disappears while the other one appears gradually. This is what cross dissolve is. Basically, it also represents the time passing. Most directors also use it on the openings of TV series.
The linear blur, morph and cross dissolve are similar. The fading process is what makes them vary.
Depict video: Cross Dissolve, Linear Blur, Morph Examples
Other Popular Video Transition Effects
Radial, cube, swap, window slice, bow tie vertical, Grid flip, Inverted page curl, etc. These obvious video transition effects may seem out of date, they are frequently used on short videos to notice people the change of scenes.
Video transition effects are available on many professional video editing software like Ps. People also offer folders with transition effects online, but you need to apply them in person.
No need to find video transition effects in the online sea. No need to get trapped in using complicated video editing software in order to apply any transition effects. FlexClip has everything you want.
FlexClip is an easy-to-use free video editor with all popular video transitions. Click the transition effect you like, you can join two video clips together without extra trims. Moreover, this program also allows you to make other cool video edits, like adding watermarks, adjusting aspect ratios, adding dynamic texts, adding voice-over. Last but not least, FlexClip has a media library containing rich music, photo, video resources, waiting to enrich your video.
Check this detailed post to know how to add video transition effects with FlexClip.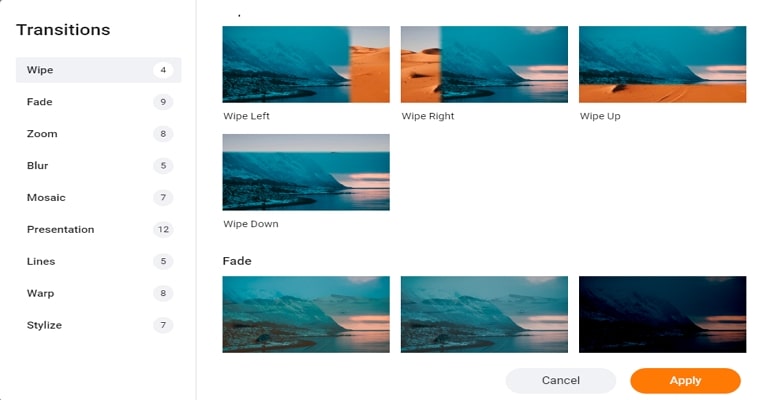 Image Board: FlexClip Video Transitions Overview
1 > Don't Overuse Video Transitions
Video transition effects are just methods to combine video clips together. Too much video transitions can distract people's attention from the video content.
2 > Study the Video Transition Effects Thoroughly
Each video transition effect has its own places. Get to know where these transitions effects fit best.
3 > Keep It Simple
It is not recommended to use many video transitions in a single video. Stick to up to three video transition effects for a single video.
4 > Keep the Video Smooth
After adding video transition effects like cross dissolve, the video may seem jumpy or give an unnatural look. Preview the video and see if there are rooms for editing.