Want to animate a still picture to make it move or even add movements or animations to your images and transform those photo into an animated videos? Here in this tutorial, we'll show you how to make images move with animation and motion effects and turn your still images into a video in FlexClip, a powerful online video editor.
Whether you want to add animation to your photos or create a slideshow with dynamic motion effects, FlexClip makes it pretty easy to animate your pictures and give motion to the still images to make your photos into an animated motion video in a few clicks.
Can't-miss: Photo to Video Maker AI: How to Convert Image to Video with AI >
Awesome Videos Generated from Still Photos You Might Love:
Summer Travel Seaside Vlog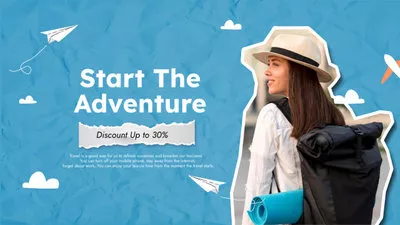 Travel Agency Service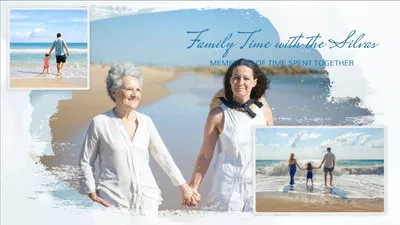 Simple Family Photo Collage Memory Slideshow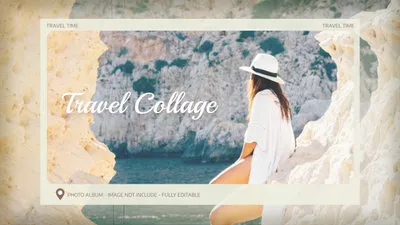 Travel Photos Memories Slideshow Collage Collection
How to Make Still Pictures Move and Make an Animated Photo Video
Now, let's get into the easiest way you can make your still images move with FlexClip. It provides flexible ways for you to make moving image effects: animate the picture for moving effect using the simple photo animation feature or give motion to your still photo overlays and make them come alive with the pip motion option.
Are you ready? Let's dive in how to make dynamic moving images with animations and motions and more other special effects to turn yur images into an animated video with FlexClip.
Step 1 Access FlexClip abd Upload Your Still Images
Visit FlexClip Homepage and then you can choose to start with a template or from scratch. Or you can also click one of the buttons above to get started directly.
When yo access FlexClip editor, just go to the Media tab to upload your pictures from a local folder or from your phone. You can also find stunning images in FlexClip's extensive Photo library and use them for free in your project.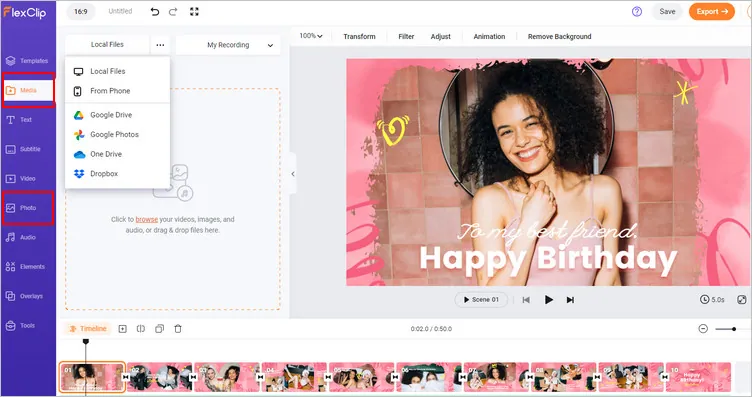 Image Board: Make Moving Pictures: Upload Images
Pro Tip: Feel free to try FlexClip's advanced AI image generator and more other AI features to explore the possibilities of AI tools to save time and effort on video creation.
FlexClip's AI Walkthrough
Step 2 Make an Image Move with Animation or Motion
Now let's get to the fun part - make your still picture moving. There are 2 ways you can make moving picture effect at FlexClip: add animation to an image to animate the still photo scene, or add motion effects to image overlays to make them move.
Both of them are pretty simple to operate. Just follow us and learn how you can easily make a picture move using the 2 features in FlexClip.
Method 1: Add Animation to an Image to Animate the Still Photo Scene
Let's begin with the photo animation feature to animate the still images and make them moving.
First, you need to add your images to the Timeline as scenes. Simply go to the Media library and click the Add as Scene icon in the lower right corner of the photo thumbnail to add the image to the Timeline.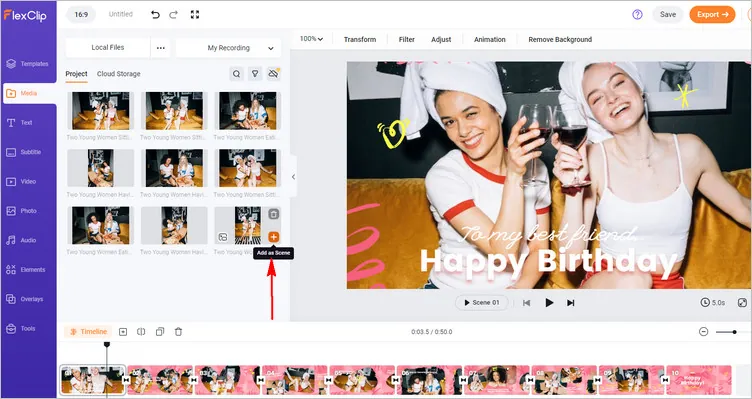 Image Board: Make Moving Pictures: Add as Scene
Now, you can quickly animate the still image with the Animation feature on the top of the screen. Here you can choose various effects for your photo: zoom in/out, move to left/right, etc., and make them moving in different animations.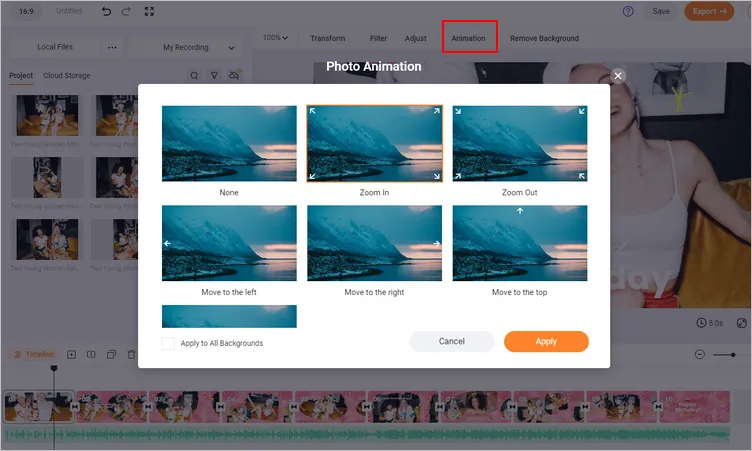 Image Board: Make Moving Pictures: Animate an Image with Photo Animation
Method 2: Add Motion Effects to Image Overlays to Make Them Move
Now let's look at how to make multiple moving pictures in one frame by applying motion animation to those image overlays.
Locate the images that you want to add as overlays, and click the Add as Layer icon in the lower left corner of the photo thumbnail to add the image to the Canvas. Then you can make easy drag-and-drop to adjust your image overlays on their size and location, and also try the crop feature to crop your image into a circle or other shape you like.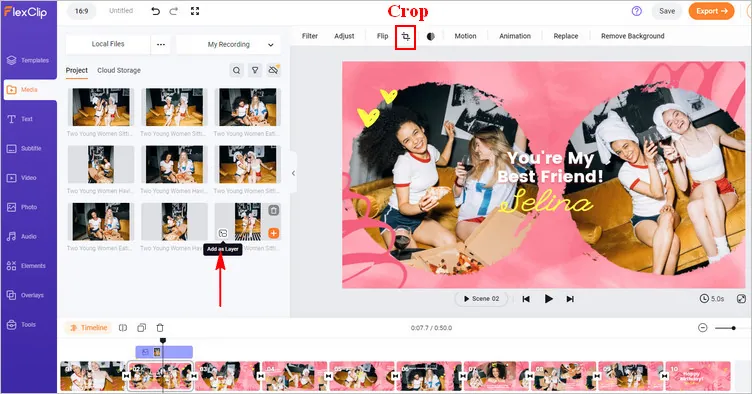 Image Board: Make Moving Pictures: Add as Layer
Once done, you can select the overlay on the Canvas and click the Motion button on the top menu to give motion to the photo and make it moving as you wish, such as wipe, fade, popup, bounce, and more. You can choose a different motion animation for the entry and exit of the image overlay.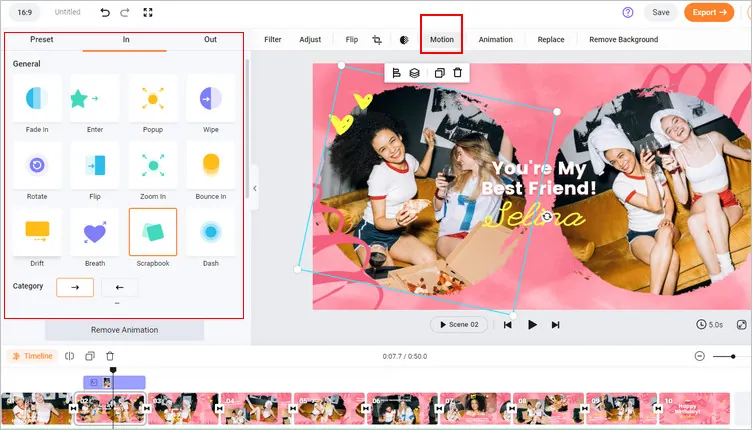 Image Board: Make Moving Pictures: Add Photo to Photo
Step 3 Preview and Fine-tune Your Moving Pictures
Well, you've got your moving images ready! You can explore more editing tools and stunning effects, like music and text editor, transition and overlay effects, etc. to add the final touch to your moving pictures.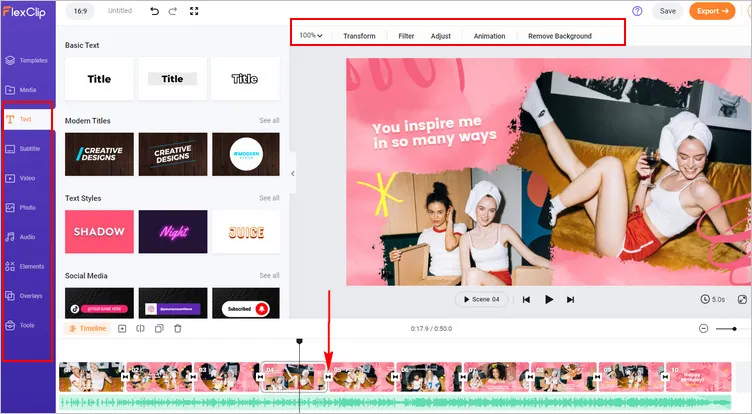 Image Board: Make Moving Pictures: More Edits
Once you're done, you can preview the project to check the final effect and download the moving pictures effect video to your computer directly, or seamlessly share it via a link, or post to social media and beyond.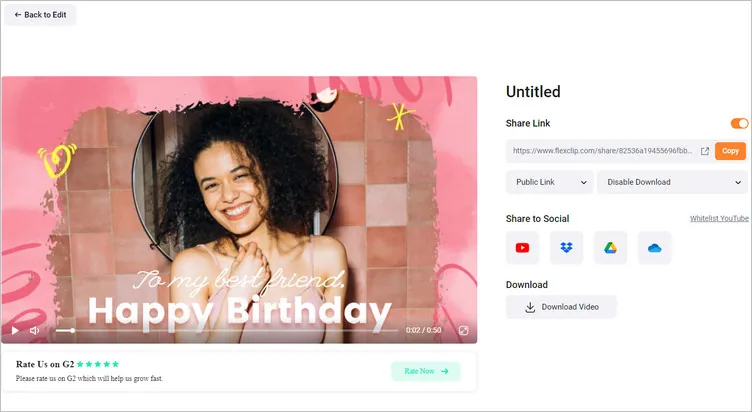 Image Board: Make Moving Pictures: Download and Share
Making Your Moving Picture More Dynamic - Killer Tips
Now, you've mastered the way to animate a photo, here we want to show you how to level up your moving picture to make it more dynamic and appealing.
A moving picture with dynamic text is far more appealing than a still photo. With FlexClip, you can easily add the dynamic text to the moving photo in a few clicks.
Simply go to the sidebar and focus on the text section, scroll down to pick your desired text effect, add it to your picture, then you can enter your content and customize it in the font, color, position, and duration.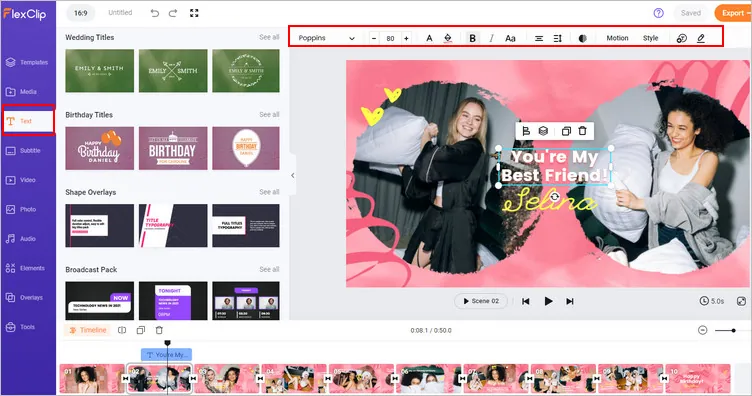 Image Board: Add Animated Text to the Moving Picture
Tip 2: Add Animated Effects to the Moving Picture
FlexClip also provides various stunning elements - emoji stickers, speech bubbles, and more shapes - you can add to your moving pictures to make them more dynamic and attractive.
It is pretty easy to and the animated effects to your images. Just go to the sidebar and switch to the Elements option, here you will see a lot of elements, both the dynamic element and other simple elements. You can either choose to pick a ready-made dynamic element or choose a simple element then add animation to them manually.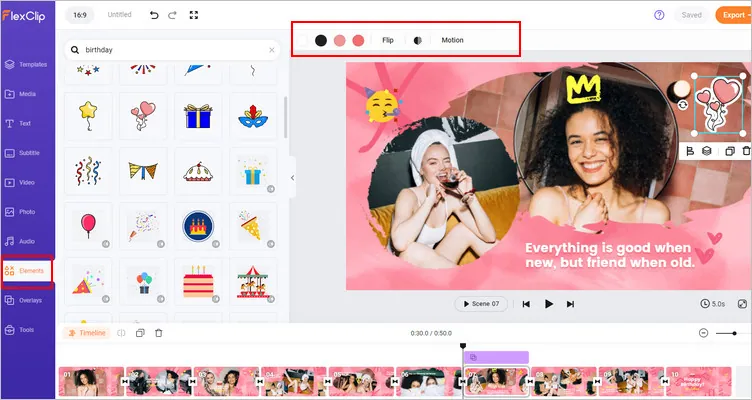 Image Board: Add Animated Element o the Moving Picture
Tip 3: Go along with a Rhythmic Music Track
You might already know the importance of the music, and you'll not surprise that different background music of a video can convey different feelings to viewers. If you want to make your moving picture more dynamic, rhythmic music must be the best choice.
Final Words
That's all for how to animate a still picture and make moving images effects in a video. Hopefully, with the tool, instructions, and tips we shared here, everyone can make the still photo move and create appealing moving pictures in a video with great ease.