For all the photo and video works you created, it would be better if the people, pets, or plants in it could tell their story, profess their love, or share information. The speech/thought bubbles are ready to help.
Adding text bubbles to a video or photo to show dialogue or or convey emotion can inject a little humor into your work and help tell a story in an adorable way. Speech bubbles or thought bubbles make your characters do the talking and thinking and bring them to life with speech, thoughts, and dialogue.
Free Customizable Speech Bubble Effect Video Templates: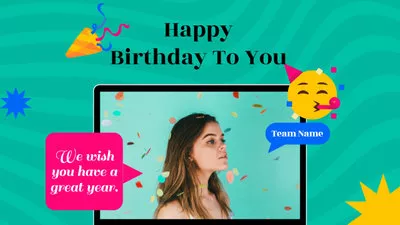 Birthday Wishes From Team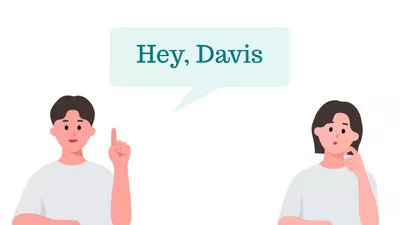 Offboarding Farewell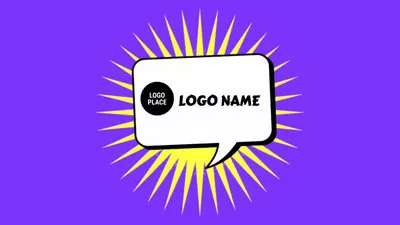 Cartoon Speech Bubble Intro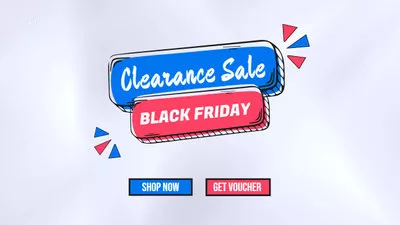 Hand Drawn Bubbles Clearance Sale
Also Read: How to Add a Subscribe Button to Your Videos>
How to Add Speech Bubbles to a Video Online for Free
Looking for some online speech bubble generators to add text bubbles to your video? Here FlexClip is ready to help.
FlexClip was originally designed as a powerful online video maker/editor, but it also works as a robust text bubble maker to help you add speech bubbles or thought bubbles to a video with great ease. It is developed with the easiest-to-use features, no registration required, and most importantly, it is absolutely free to add speech bubbles to a video. What's more, it provides you with rich text bubble animation templates to choose from, including speech bubbles and comic bubbles.
Just click the Get Started now button below to add the text bubble to your video or pics to make a speech bubble effect now.
Step 1 Upload Your Video or Photo to FlexClip
Go to the Media option to upload your video or photo to FlexClip's video editor from a Local File in your computer or drag and drop them directly, then apply them to the Timeline.
Have your footage on your phone? No worries! FlexClip allows you to upload media from the mobile device simply by scanning the QR code.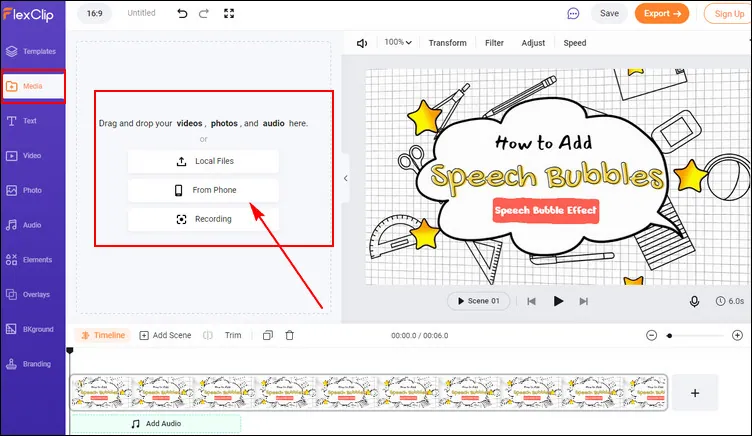 FlexClip Add Speech Bubbles - Upload
Step 2 Choose the Bubble Template for Your Video/Pics
Next, go to the Text option, browse through the text effects, and find the Speech Bubbles or Comic Bubbles. Here are various text bubble animation templates that you can use for free, just pick your desired text bubble effect freely.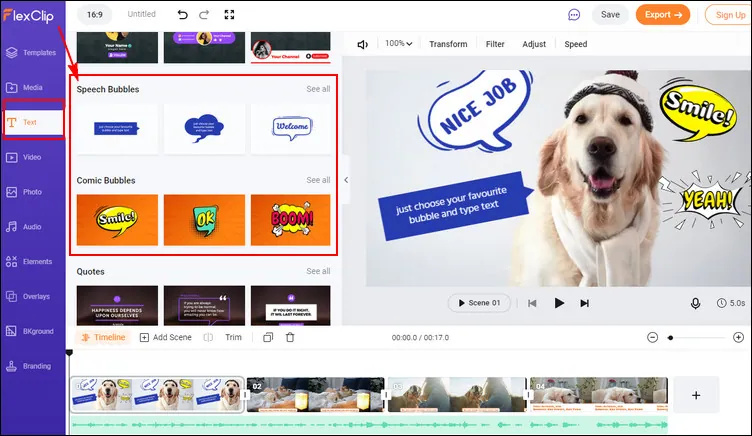 FlexClip Add Speech Bubbles - Select
Step 3 Enter Your Message and Customize the Speech Bubble
Once you've selected your desired text bubble effect, just enter your bubble text by double-clicking the textbox. Then, you can make some adjustments to customize the text bubble freely - change the text's font, size, color, placement, and adjust the animations and duration.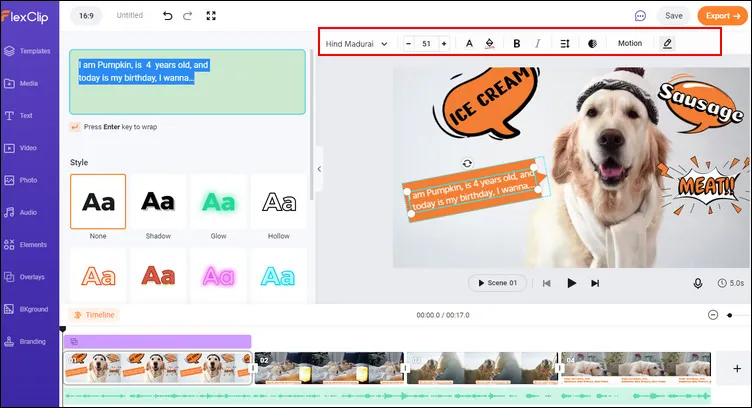 FlexClip Add Speech Bubbles - Customize
Step 4 Preview and Save Your Bubble Effect Video
Now, you've got the desired speech or thought bubble on your video or photo, and you can preview the final result and save it to your computer and share it with others.
While you're in FlexClip editor, you can make more edits to level up your speech bubble video:
Final Words
That's all for the how to add speech bubbles to a video. Hopefully, with the tool and steps we shared, everyone can add the text/ thought bubble to a video or image with great ease. Try FlexClip to add speech bubbles to your videos or pics! Make your characters talk right now!
FAQs about Speech Bubbles
A speech bubble is a round or similar shape next to the head of a character. Inside of the speech bubble, the character's words or thoughts are presented. That's to say, speech bubbles are used as text holders to make your characters do the talking and thinking.
What's the subject of your speech bubble?
Custom speech, thoughts, and dialogue doesn't even have to be a person. The speech bubbles are great for using in any subject - it can be your dog, a cartoon character, or even an inanimate object.
What can you put in your speech bubble?
The possibilities of the words you can put in a speech bubble are limited only by your imagination. You can show a conversation, a sound effect, or the thought of the subject, etc. Whatever the caption, you can add the speech or thought bubble overlays to your photos or videos and type away!