When you're listening to a song, you might suddenly have this feeling: it sounds too similar to another song you know! Is it possible to put them together and make a new song?
Well, that's the very basis of a mashup, a type of remix that takes two different songs and combines them into one. You can even make it a song mashup video for sharing on YouTube to gain more views!
In this article, we'll show you how to make a songs mashup with Audacity, turn it into a video and share it to YouTube with FlexClip.
Be We Begin… Is It Okay to Make Mashups?
"Is it legal to create a mashup of two different songs or videos and post it on YouTube?"- Question from Quora
Have you ever wondered whether it's legal to use samples of different songs for your mashup? Frankly speaking, this is a highly controversial topic, and no one entirely agrees on the legal implications.
Generally, it's okay to make song mashups you enjoy privately, but it may be an entirely different matter if you are making a mashup for commercial use or plan to release it on social platforms, such as YouTube.
Making a song mashup from YouTube and posting it on your own channel may infringe on copyright laws. Then how can you make a song mashup for release? Here, we suggest going through the appropriate channels for clearance and also citing all sources used in your post.
How to Mashup the Songs with Audacity
"I want to create a mash-up of two songs. How do I do that or what software do I need to do so?" - Question from Quora
In fact, several software options are available for creating mashups of songs. Here we'll show you how to use Audacity to create a song mashup.
Step 1 Get the Songs Ready for Your Mashup
Before you start, you need to figure out which two songs you want to mash up and determine which song you want to use for vocals and which song you want to use for the background.
Once determined, you need to get the cappella version of one song and the instrumental version of the other song ready to start your song mashup. Downloading the music from YouTube is a good way to go!
Step 2 Import the Audio Materials into Audacity
Now, you can open the Audacity app and import both songs. To import the audio files, click File on the top left, and select Import from the drop-down, then Import Audio, select both the music files by holding down Ctrl (or ⌘Command) while clicking on them, and finally click Open to add them to Audacity.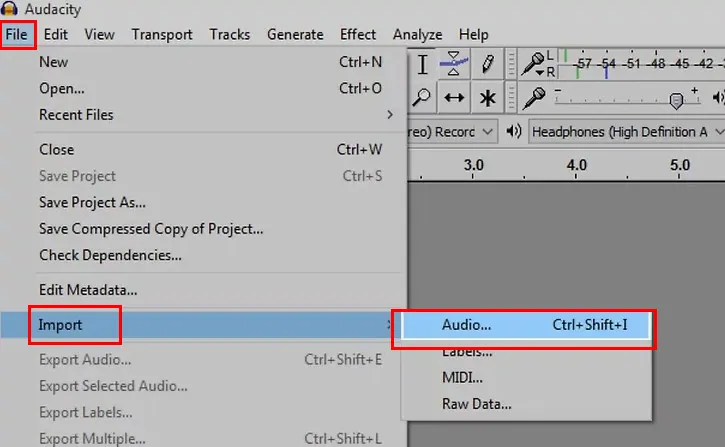 How to Make Songs Mashup with Audacity - Import the Audio Materials
Step 3 Edit the Audio Tracks
Manipulate your audio tracks for the vocal's pitch and their tempo to make them really go together.
To change the vocals' pitch, you need to select the vocals-only track and click the Effect tab on the top menu, then a drop-down will appear, and select Change Pitch to raise or lower your song's pitch as needed.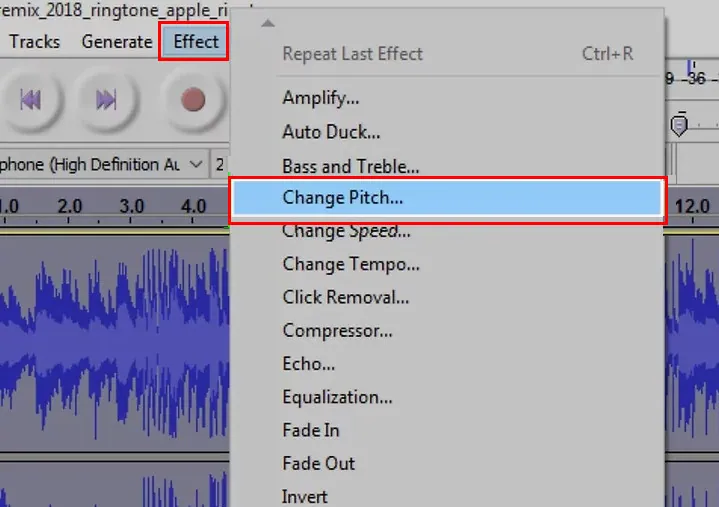 How to Make Songs Mashup with Audacity - Edit the Audio Pitch
Once your vocals' pitch matches your instrumental, you can proceed with synchronizing the files' tempo to make your tracks line up with each other.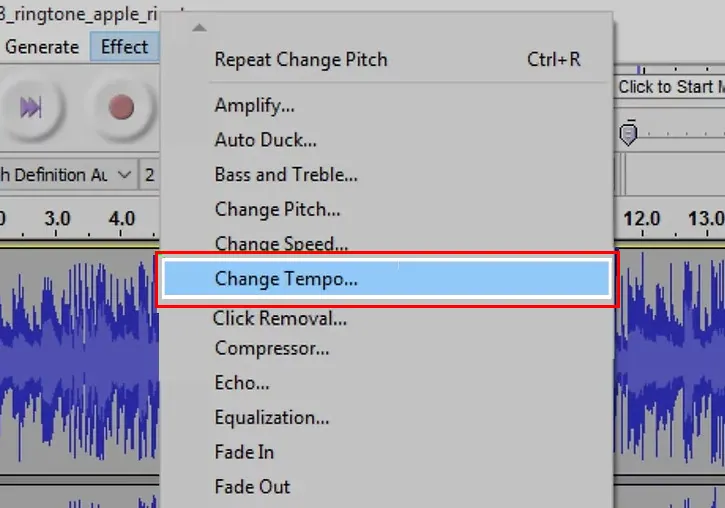 How to Make Songs Mashup with Audacity - Edit the Audio Tempo
Step 4 Lining up the Vocals with the Beat
Well, almost done! It's time to line up the vocals with the beat. First, select the point in the instrumental's soundwave where you want to insert the vocals, then click on it to mark a make. Now, you can drag your vocals left or right to the point you marked.
Step 5 Export the Song Mashup
Once done and happy with the result, you can finally move on to exporting your song mashup by clicking on File > Export Audio, then you can rename the new music file, select a save location for your song mashup, and click Save to add any tag if necessary, finally click OK to save your project in your selected location as an MP3 file.
How to Make Songs Mashup Video with FlexClip
Got your song mashup ready and try to share it to YouTube? You know an audio-only file can't be uploaded directly to the video platform. Turn it into a video file is necessary for uploading to YouTube!
So here, we'd like to show you how to use FlexClip, the powerful online video editor, to turn your song mashup into a stunning video with photos and effects worth sharing on YouTube.
Besides making a song mashup video, with FlexClip, you can mix and match the best prank clips for a funny video, create a seamless sports highlight video or the ideal dance compilation, etc.
Step 1 Add Video Clips or Images
Go to FlexClip video editor directly and switch to Media to upload your footage, like any photos or video clips you want to use in your song mashup video. Here, you can drag or drop them directly, or click the Local File to select your footage. Try to use some footage on your phone or some third-party platform? FlexClip also offers the option to do so!
Have no proper footage in your hands? FlexClip integrates with resource-rich stock media providers to offer high-quality videos and photos. You can browse through its Video/Photo library to find your desired one.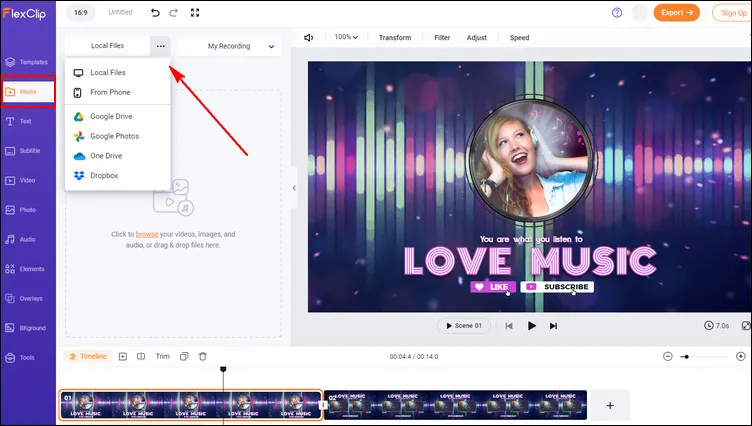 How to Make Songs Mashup Video with FlexClip - Upload
Step 2 Upload or Generate Comic Materials
Once the footage is ready, you can add them to the Timeline and mix them together.
Here, you can drag and drop each of them to reorder your footage, trim, or remove the unwanted parts in any clips.
To make your footage go smoothly from one to another, you can apply any transition effect you like, such as adding a fade effect to make your clips fade in and fade out gradually.
Make sure to add enough footage or adjust the duration of some photos to make it the same length as your song mashup.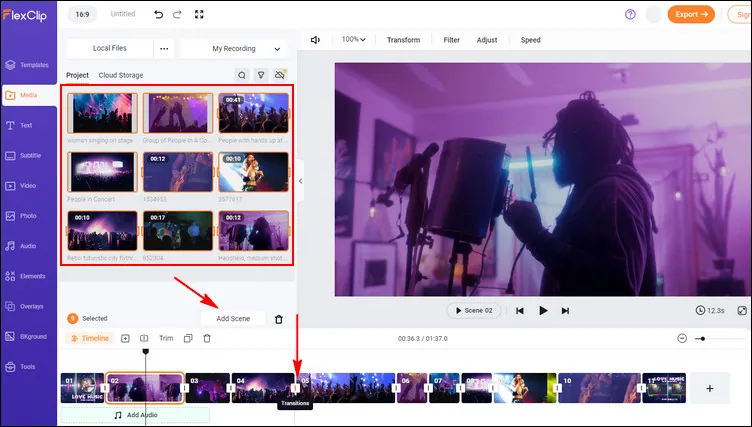 How to Make Songs Mashup Video with FlexClip - Mix Footage
Step 3 Add Your Song Mashup
Now, it's time to add your song mashup. Simply tap on the "Add audio" button below the Timeline.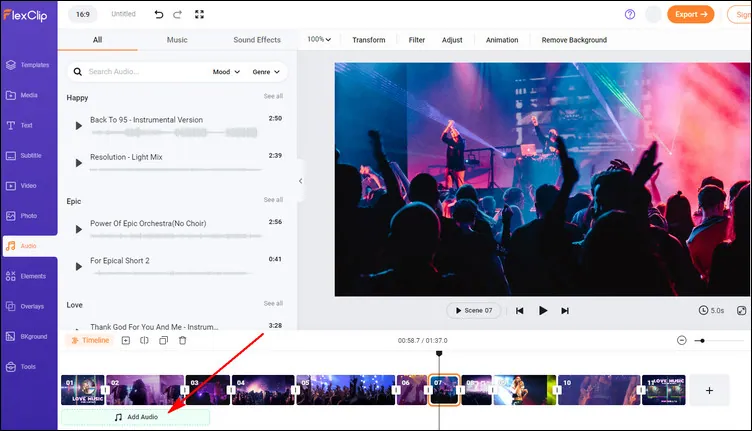 How to Make Songs Mashup Video with FlexClip - Add Song Mashup
Besides using the song mashup you create with Audacity, you can also mash up multiple songs into one track at FlexClip, as it allows you to add multiple audio tracks and edit them with easy trimmer.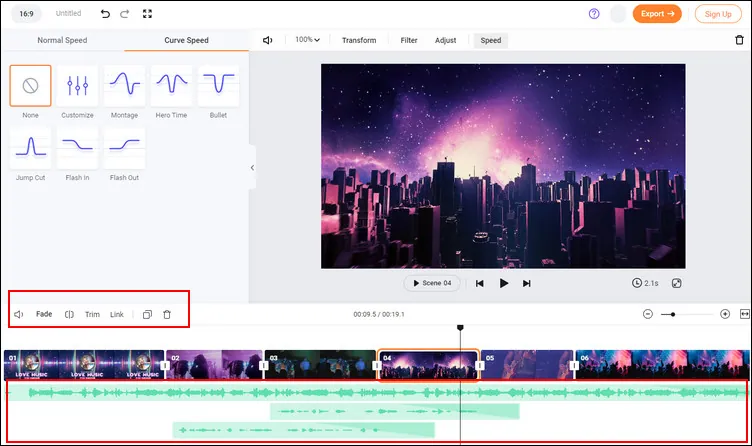 How to Make Songs Mashup Video with FlexClip - Mash up Songs
Step 4 Save and Share Your Song Mashup Video
Finally, you can preview the mixed video to see if all looks and feels perfect. If everything in your mashup video looks just the way you want, you can export it with the Export button and share it on YouTube with FlexClip's quick share feature.
The Final Words
That's all for how to make a song mashup videos. We hope this article helps you make your own song video mashup easily and quickly. Just go ahead and make amazing song mashup videos using short and simple steps right now.