Vidnami is an awesome platform, allowing users to create videos for advertising and marketing business quickly. Thanks to its user-friendly interface, automated workflow, and rich media stock features, it has gained popularity among creators.
However, as GoDaddy acquired its technology assets in early 2021, the platform shut down, leaving its die-hard fans shocked and reluctant.
Now that the platform was retired, fans of Vidnami have to look around and find the perfect Vidnami alternative. In this guide, we've gathered the top 10 reliable alternatives to Vidnami and follow this guide to find your favorite one.
Free Customizable Video Templates for You: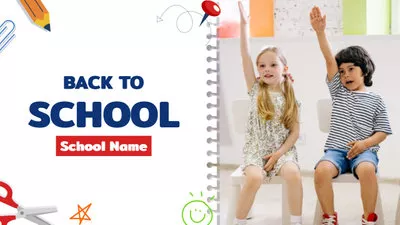 What Factors Need to Consider for Choosing a Vidnami Alternative?
An ideal Vidnami alternative should be easy-to-use, flexible and powerful while offering similar features like rich media stock, text-to-speech service and AI-powered functionality. Having a free version would be the icing on the cake.
Besides, the pricing, customer reviews and shortcomings are all essential parts when choosing an alternative to Vidnami. For all the above factors, we've picked out the top 10 alternatives to Vidnami. Let's check them out.
Top 10 Vidnami Alternatives You Can't Miss
Now that we know what to consider when selecting a Vidnami alternative, let's take a look at the top 10 Vidnami alternatives in 2022 along with their pros, cons and pricing.
#1 FlexClip
FlexClip is a highly reliable online editor that enables you to make engaging videos effortlessly even for the newbies. It provides 4000+ designer-looking templates, 8M+ media stock, a set of AI-powered editing suites and advanced tools that are only available in paid versions of similar platforms.
Moreover, you can customize the video with a brand watermark, personalized font and special effects to make the video distinguishable. With a few clicks, enticing and high-quality videos will be within your reach.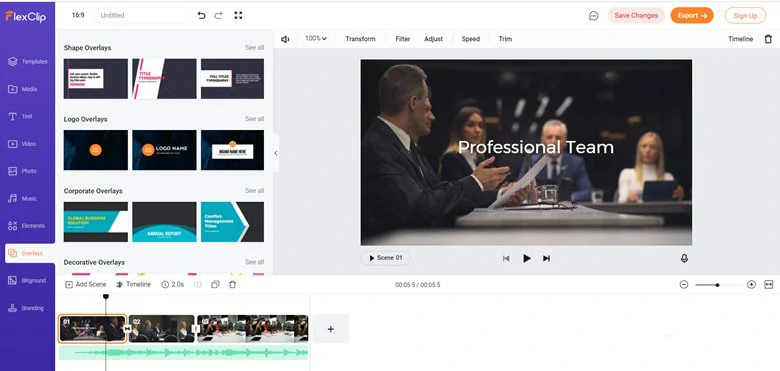 Vidnami Alternative - FlexClip
Key Features of FlexClip:
Provide various AI tools like
text-to-speech
, auto subtitle, image generator and ai script to smooth your editing process..
Real-time cloud storage to avoid video loss.
Instant chat support on video editor to solve your problems.
Convenient import patch either from PC or mobile.
Available to add your branding with watermark and font.
Free apply studio-like music and designer-made clips to your videos.
4000+ professional-looking templates for inspiring your creativity to go viral on social sites.
A wide range of media assets like images, overlays, and Emojis take your video to the next level.
Multiple workarounds for post-sharing and download: Google Drive, Dropbox, clickable links and local download.
Cons:
Not compatible with MKV and AVI files.
The maximum video length is 30 minutes.
Pricing:
#2 Lumen5
Lumen5 is an editor geared towards content marketing, brand awareness and leader thought videos for business. According to the Lumen5 website, businesses like KPMG, Simens, Merck and more have created over 6 million videos with help of this software so far.
This Vidnami alternative supports AI-powered technology that automatically turns your blogs into videos with music and a well-designed layout to draft your business videos. Whether you're a professional or amateur, you can create stunning videos using Lumen5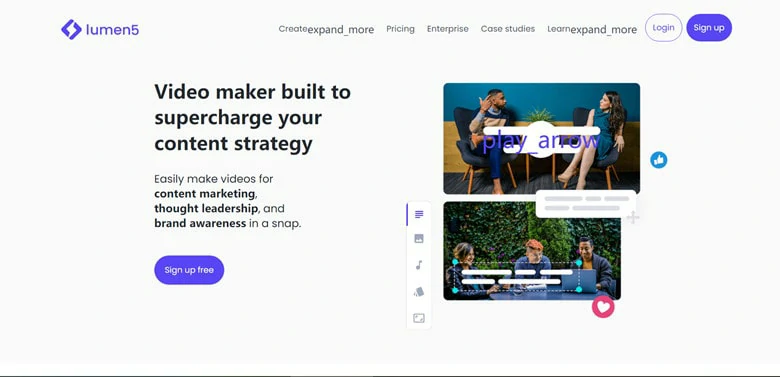 Vidnami Alternative - Lumen5
Key Features of Lumen5:
It's easy-to-use with AI-powered technology.
Ability to add a brand kit to customize videos in one click.
Customize video templates with basic
color changes
and video resolution.
The media library gives you easy access to millions of photos, video clips and audio files.
Cons:
It takes a lot of time to render videos.
The free plan has many function limits.
You need to register first to access the editor.
The maximum length of a Lumen5 video is 5 minutes.
Pricing:
#3 Invideo
Invideo is a popular alternative to Vidnami from business to personal use. Making videos is easy as Invideo has a wealth of stunning features and editing tools.
Regardless of which industry you're in, Invideo's extensive template will cater your needs by offering 5000+ gorgeous options. Besides, you can edit the video by turning text into video, adding voice-over and text with great ease. Once you complete the editing, there is option to share the videos to Instagram, Facebook and Twitter instantly.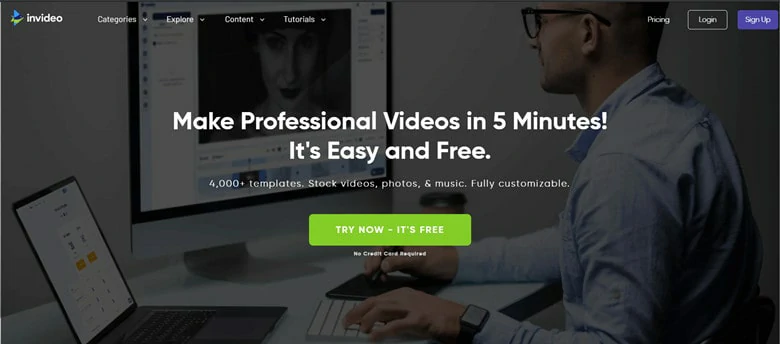 Vidnami Alternative - Invideo
Key Features of Invideo:
Able to convert your blogs to videos.
Access to team members and members sharing.
Offers 5000+ completely customizable templates.
Excellent stock library with 8M+ images and photos.
Brand presets keep videos consistent with your brand's style guide.
Cons:
The loading speed is too slow.
You can only export 60 videos per month.
The free version has many function limits.
The final duration of your video must be under 15 minutes.
Price:
#4 Pictory
Pictory is another AI-powered Vidnami alternative that enables you to create and edit professional-quality videos without prior editing skills. Whether you want to turn an article into a promotion video or grab the best part of your blog to make a video, Pictory is the best tool you're looking for.
Automated workflow, brand kit and customizable settings are the key features of Pictory. There are four ways to input text: article to video, script to video, visuals to video and recorded voice-over to video. If you need to turn loads of articles into videos, Pictory is what you need.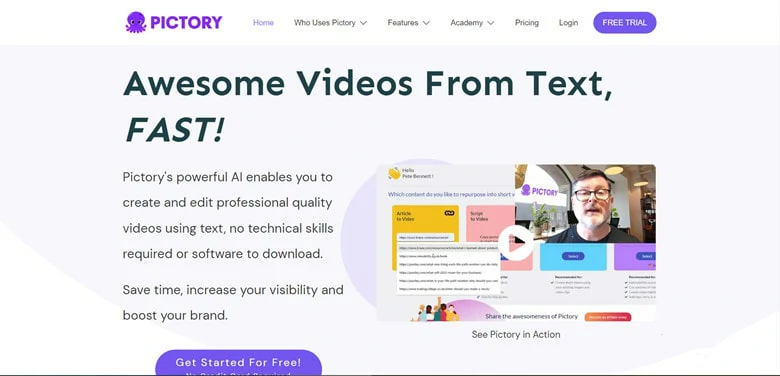 Vidnami Alternative - Pictory
Key Features of Pictory:
It's simple and easy to use.
Four ways to turn text into videos.
It supports AI-powered technology.
Add
captions
, highlights, and voice-over automatically.
Over 3 Million royalty-free video clips, images and music to perfect your video.
Cons:
Only works with Chrome browsers.
Text to video is the key yet only product feature.
The limited number of usable AI text to speech voices.
The video rendering process does take quite a bit of time.
Price:
Enterprise: custom pricing
#5 Promo.com
Targeted at promotional videos and ads, Promo.com is a suitable alternative for former Vidnami fans who want to promote business on their social media channels.
Creating business video is super easy with a large stock media and music library at your fingertips. Just select templates, upload your clips and make it yours by adding the brand logo, animations, music and text. Thanks to its intuitive interface, it's another excellent option for newbies in video editing.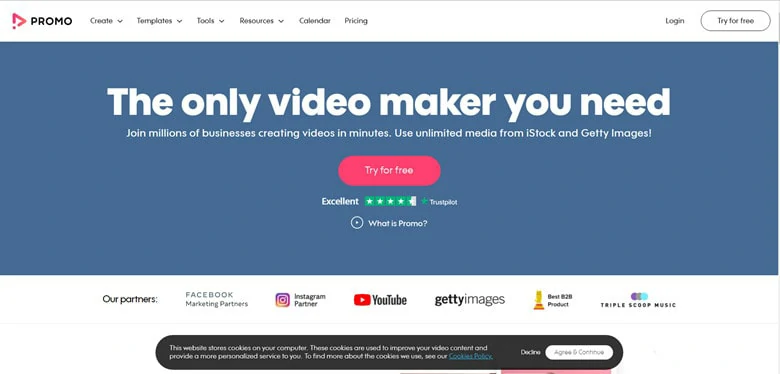 Vidnami Alternative - Promo.com
Key Features of Promo.com:
Secure and reliable 24/7 in-app team support.
It allows brand customization with watermark and custom fonts.
Access to the large stock of photos and videos from Getty Images and iStock.
You can publish directly to social sites through their in-built social media calendar.
Ready-made video templates with basic editing tools including
compressing
, adding music, resizing and text.
Cons:
Limited tools for advanced editing.
Videos can only be exported as MP4.
No free version. Only a free trail is available.
You can't play a specific part to check the edits.
Focused on promotional videos, it isn't a good fit for other videos like vlogs, YouTube videos, and common videos.
Promo.com Pricing (Annual):
#6 Renderforest
Renderforest is a cloud-based video editor that gives you the ability to create videos in minutes. Combined with its pre-made templates, videos can be created on this Vidnami alternative platform quickly for different purposes like slideshows, presentations, intros and more.
This tool allows you to create professional logos and mockups of these logos while requiring no skill experience for branding. Additionally, it has a primary editing tool for cutting, trimming, and adding music and voice-over. If advanced editing tools are necessary, this tool may not be for you.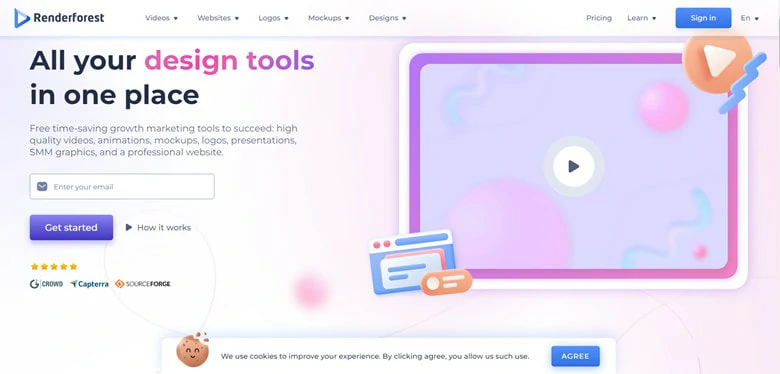 Vidnami Alternative - Renderforest
Key Features of Renderforest:
It syncs your video content to audio for music videos in a flash.
Instant sharing to Twitter, YouTube and Facebook on this platform.
Access to make promotional videos, presentations and explainer videos.
An in-built wizard that offers even more suggestions based on your content.
Rich media stock with templates, photos and toolkits let you create videos in a snap.
Cons:
The export process may reduce video quality.
Limited motion design and typography options.
Only the Business subscribers have the reseller right.
The inconvenient video preview option wastes your time.
Pricing:
#7 Biteable
Biteable is trusted by millions of users to create videos with animations. Simply select a well-designed template, add your content and customize the video using motion effects, animations and text. The editor is so intuitive that it requires no technical skill on the part of the user.
The Vidnami alternative is relatively simple to use. But note that there is no voice-over option and the customization features are limited. What's worse, users find it difficult to change its timings and speed settings.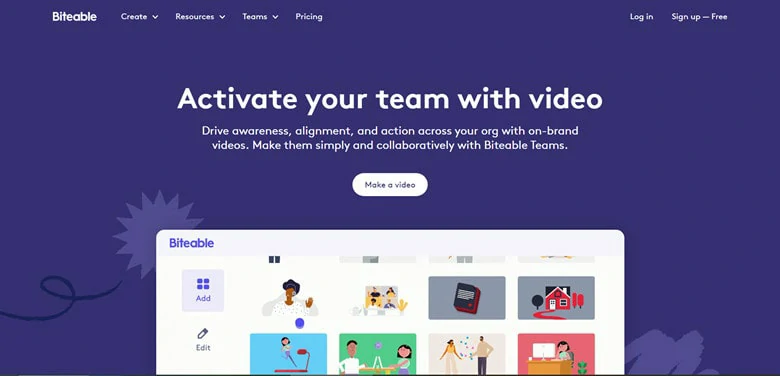 Vidnami Alternative - Biteable
Key Features of Biteable:
Well-designed templates with animation added on.
Uncluttered interface for quick and easy video editing.
Biteable enables you to create 4 types of videos: promotional videos, social media videos,
explainer videos
and animations.
Cons:
It requires a login to edit videos.
The stock music and transition library are quite limited.
The price is relatively high compared to similar products.
There are no voice-over options and customization features are limited.
Pricing:
#8 Animoto
As a web-based video maker, Animoto is competent for combining photos, video clips and music to create videos in minutes. It's primarily used to convert your images and clips into slideshows videos with stunning transitions to make your video stand out.
This workflow of this Vidnami alternative is straightforward: Upload your assets to one pre-made template, customize the video with font and transitions, then save it with a branded song.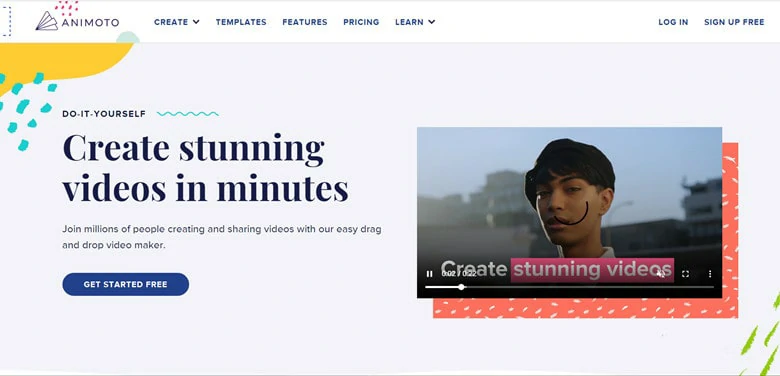 Vidnami Alternative - Animoto
Key Features of Animoto:
Brand your video with a watermark and custom font.
It features basic editing tools like trimmer and
cropper
.
Lots of adjustable templates for personal and business use.
There is an in-built stock library of photos, videos, and music to save your time.
Cons:
Individual clips are not editable in this tool.
Lack advanced editing tools to level up your videos.
You have to log in your account before editing videos.
There are restrictions on the
creative font
, making the tool limited.
Pricing:
#9 WeVideo
With WeVideo, making your videos back to life in a few clicks becomes easy. It offers 1 million videos, images and music stock, letting you create like a pro in no time.
Moreover, some advanced editing features like green screen and multi-track editing support are here to help you get Hollywood-like videos without any editing experience. It's the final choice for most teachers and podcasters because of its flexibility and user-friendly interface.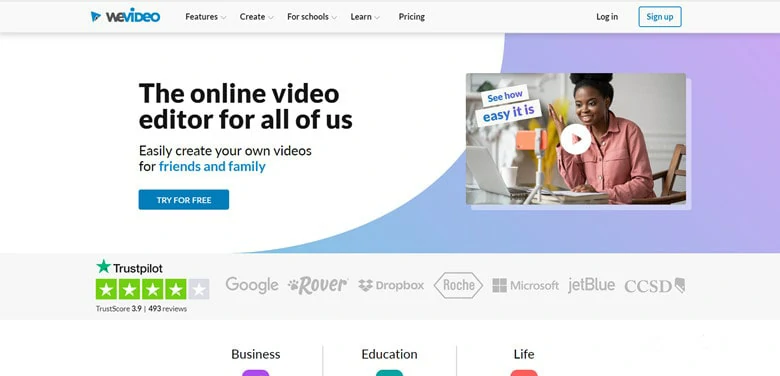 Vidnami Alternative - WeVideo
Key Features of WeVideo:
It offers a solution to multi-track editing.
Even the free users have 1GB of cloud storage.
Collected multiple pre-made templates, especially for teachers.
It allows you to export audio-only, which is ideal for podcast channels.
Advanced editing tools like green screen and slow-motion are available.
Cons:
The motion titles and templates are limited for free version.
The interface is more cluttered than other drag-and-drop editors.
Adding each user to your team requires $19.99 every month.
Only high-end subscribers can directly upload and share videos to Twitter and Facebook.
You need to upgrade at least to Unlimited if you want to record the webcam and screen simultaneously.
Pricing:
Professional: $19.99 month
#10 Animaker
Animaker is a good Vidnami alternative, especially for adding animations. The most outstanding feature is character builder which lets you create unique characters and personalities with great ease.
Over 1000 templates and 100 million assets sparkle your creativity, allowing you to customize videos as your fit. Besides, it supports the text-to-speech feature that automatically converts your texts to the human voice. As it's designed for beginners and amateurs, the whole operation is straightforward.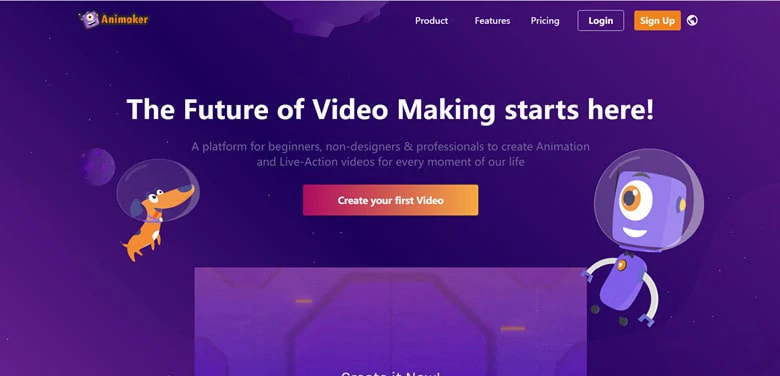 Vidnami Alternative - Animaker
Key Features of Animaker:
Easily convert text to the human voice.
It's user-friendly especially for beginners.
It's the first tool to launch an animated vertical video creator.
It owns 1000 templates and 100 million assets for inspiration.
You can create unique characters and personalities with its character builder.
Cons:
It lacks advanced editing tools.
It's not ideal for high-quality videos.
There is no option for autosave function.
Unable to brand your business videos.
You can't enjoy music with ease since it has number limits.
Pricing:
Enterprising: custom pricing
The Bottom Line
That's all for top 10 Vidnami alternatives you can't miss. After reading this tutorial, you must find your favorite alternative to Vidnami. While if you still can't make up your mind, we recommend you try FlexClip for its high performance and user-friendliness. Now it's your turn!