Video Filters
Enhance your video by applying video filters with FlexClip. No download and video editing experience needed, simply choose a beautiful filter to give your video a perfect look now.
What You Can Do with FlexClip Video Filters
FlexClip provides a great collection of video filters that can make your video creation more impressive. Vintage, retro, black & white, and many more styles for you to choose from. You can find the style you like here.
Vintage Filter
We all love that feeling of vintage footage seen on camcorder. Thanks to FlexClip's pre-made vintage filters, you can have the same retro feel to your videos. Try vintage filters now within simple clicks!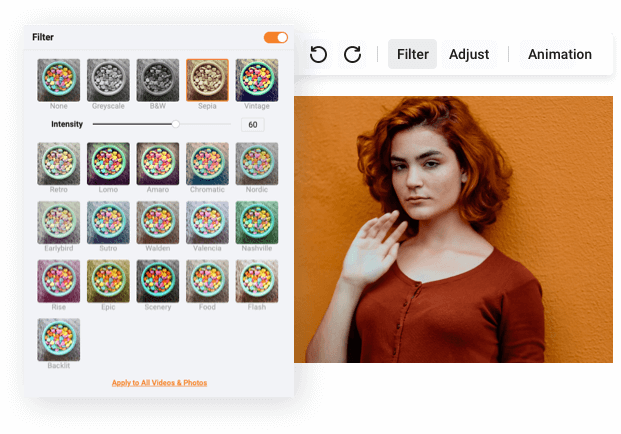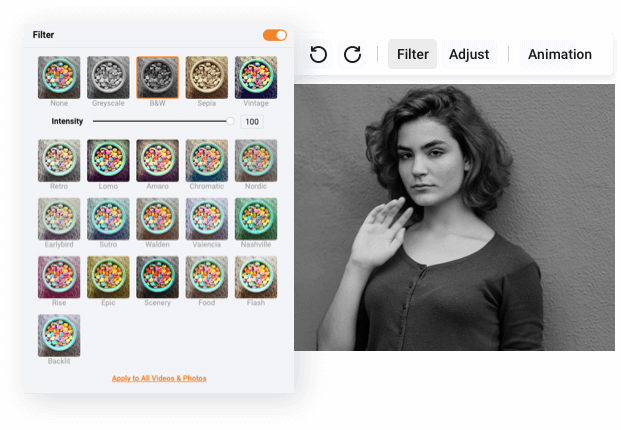 Black and White Filter
Black and white filter is always insurmountable! Give your video a reminiscent style by applying the black and white filters. And you can adjust the intensity to make the black and white effect perfect for you.
Real-Time Preview
It is easily preview what the video you will get after applying a filter. You can choose the filter in the left of the canvas while preview the video in the right.