Adjust Video
FlexClip is the easiest way to adjust videos' brightness, contrast, temperature, tint, saturation and more for better looks. No editing skills, no experience required.
What You Can Do with FlexClip Video Adjustment Tools
Brightness, contrast, temperature, saturation are several elements to adjust to make the video deliver a better look. FlexClip enables you to edit these elements easily. Real-time preview makes sure your video gets the perfect edit. Start to adjust the video to make your video more attractive.
Multiple Options
FlexClip allows you to adjust video's exposure, contrast, brightness, temperature, tint, saturation, highlights, shadows, and vignette. With so many options, you can surely give your video the best look.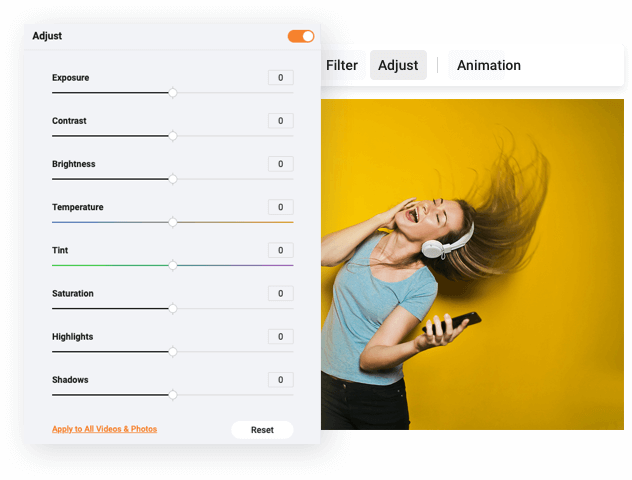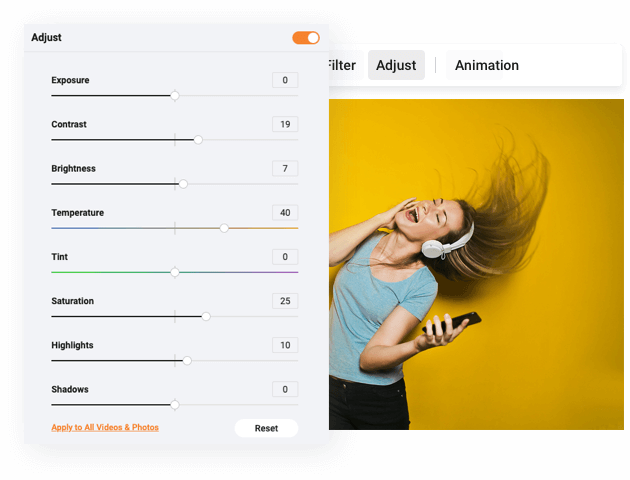 Easy to Use
FlexClip's clean and straightforward interface allows you to adjust video in several steps. You just have to find the right element, and drag the slider to where it is perfect. Even laymen can catch up with it easily.
Easy Reset
If you are not satisfied with the adjustment you have made and find it too complicated to get it back, no worry, FlexClip's Reset option helps you reset all changes and get a fresh start for better editing.