Video Transition Effects
FlexClip provides cool video transition effects that help blend your clips and photos together to create a stunning video. Free to use, add it to your work now.
What You Can Do with Video Transitions
These transition effects provided by FlexClip make it easy to connect one shot to another smoothly. Check out our pre-made cool transition effects and craft an engaging video in minutes.
Popular Video Transition Effects
FlexClip provides popular video transition effects for you, such us Cross Dissolve, Fade to Black/White, Zoom In/Out, Wipe Right/Left, Page Curl and much more. Use them to seamlessly integrate different clips.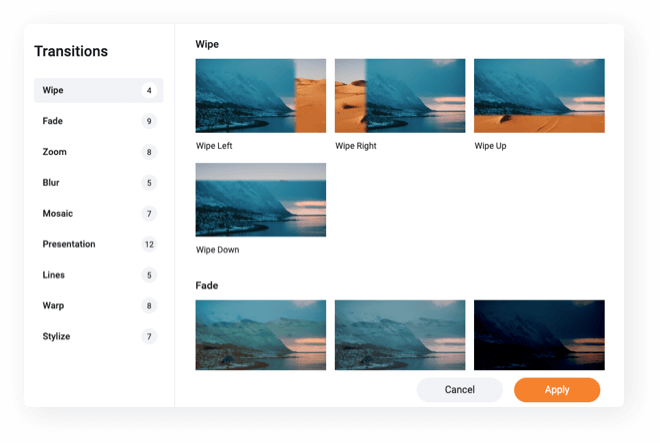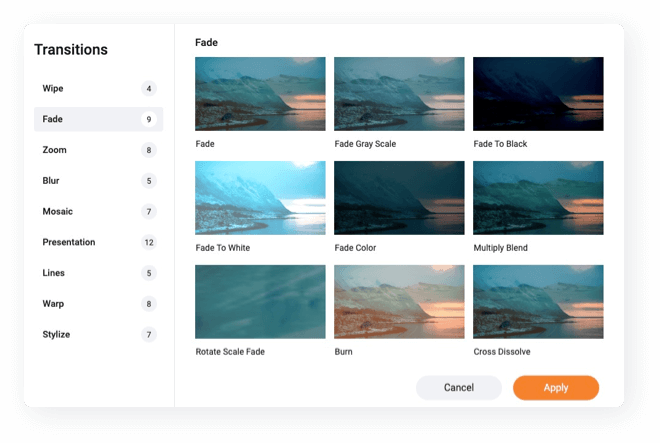 Fade Transitions
Fade is the most common transition type, making you clip gradually becomes invisible by turning the shot into a single color — usually black or white. It is effective to convey the passage of time, popularly used at the end of a film.
Wipe Transitions
Wipe transitions replace the previous scene with another by traveling from the side of the frame to the other. Here are several wipe transitions that can meet your different needs. Try it now to make your video more stylish.