You must know it, bloggers, website builders, scholars, are busy turning their articles to videos. The reasons behind the phenomenon are quite easy to understand. First, people prefer the video version of this same text, probably because of the ease at which the information is digested. Secondly, videos are better to keep people engaged and get higher ranks on any search engines.
Others are editing articles videos manually. This is where you surpass them. The following 6 best article to video converters help generate videos based on your article content in seconds. No editing skills, no registration, or download required. Pick one to help you out!
Best Article to Video Converters to Use
1. FlexClip
Integrated with ChatGPT 3.5, the latest language model and a media stock library with millions of photos, videos, and music, FlexClip can help generate a great article video. Once you copy and paste the article, or the article URL to FlexClip, it will immediately analyze your article, find the best photos, videos, and music, and then pull them up together. Only get a less satisfying video? Replace the photos, videos, add filters, or widgets to make your video more interesting.
FlexClip also provides you other practical AI tools to make video creation effective than ever. For instance, the AI text-to-speech tool helps do professional voiceover in 120 languages; the AI text-to-image tool enables you to create any pictures that fits the script; the AI script generater helps create eye-catching script. Explore endless possibilities with FlexClip.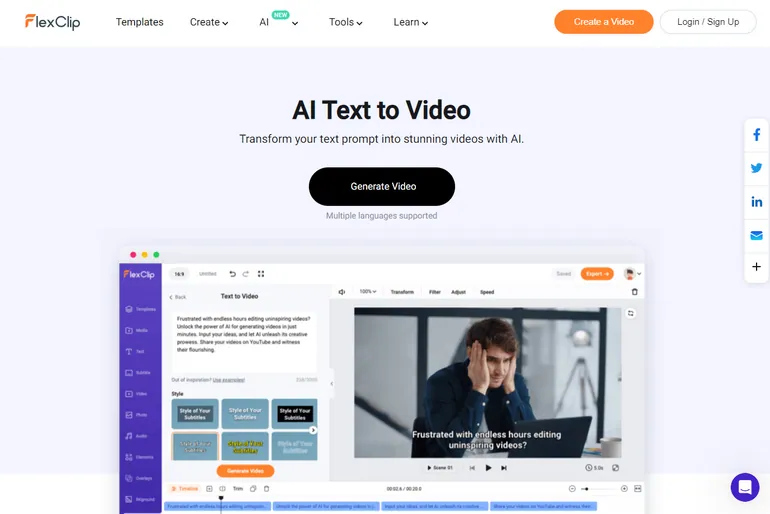 Best Article for Video Converters - FlexClip
2. InVideo
This is a powerful text-to-video converter tool used by over 5000 people globally. It is multipurpose, meaning that you can also use it as a video editor, and it also has the capacity for over 5000 video filters that makes the video stand out. But inVideo is not free; it comes in three packages: Free, Business, and Unlimited. Business package goes for $15/month, while the Unlimited package is $30/month. As for the generating speed and accuracy of this tool, it is very much commendable.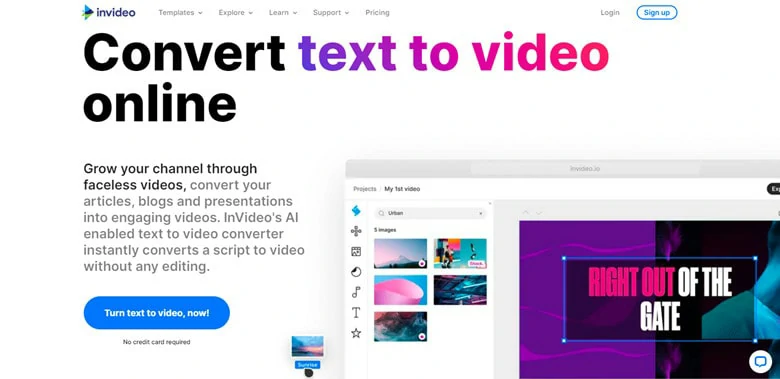 Best Article for Video Converters - InVideo
3. Wave.video
This tool allows you to create, edit, trim, and add subtitles to your videos. This is the sequel to the text-to-video converter feature it is being embedded with. With wave.video, you can stream or record videos from multiple destinations using the streaming studio feature. It has quite an impressive generating speed: about 3-4 minutes depending on the size of the text. We have reasons to believe that the accuracy of this tool depends on the subscription package you have chosen. There are three subscription options: Free, Streamer: $16/month, creator: $36/month, and Business: $48/month – the business package has the most accurate transcription. Again, the conversion is automated, but you will have to do some minor integrations.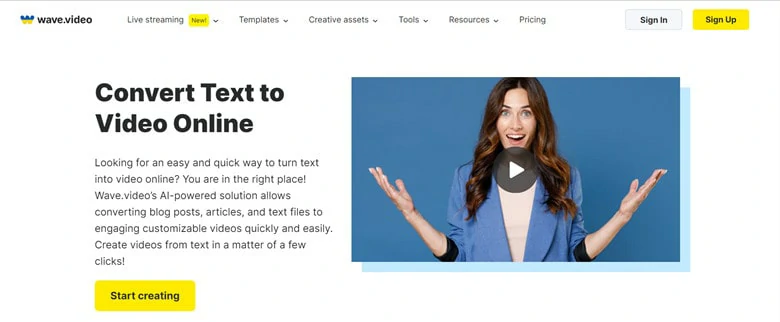 Best Article for Video Converters - Wave.video
4. Lumen5
This is the only AI-powered text-to-video converter tool on the list. Unlike others, Lumen5 is faster in conversion (depending on the quality of your Internet) but cannot be said to be the best in terms of the final outcome – the above mentioned tools are better off. And like its counterparts, Lumen5 comes with great editing features that allow you to adjust your content to your taste. But in totality, it is really a nice tool for text-to-video conversion.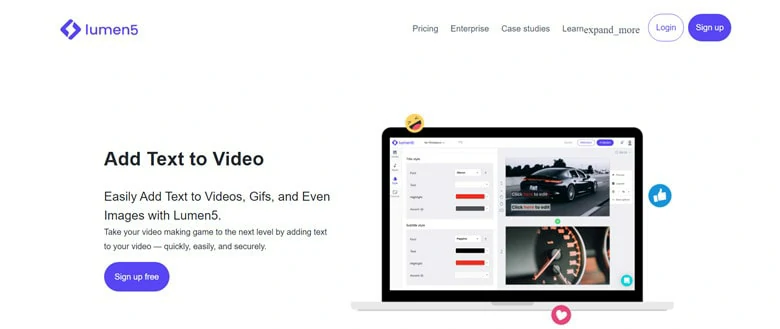 Best Article for Video Converters - Lumen5
5. Renderforest
Renderforest is a tool you need to push your brand to a larger audience if you wish to be noticed. Aside from having an efficient text-to-video converter feature, Renderforest is also developed to help users create professional videos, websites, mockups, and graphics. It comes with impressive editing features that allow you to structure your videos to suit your taste. The quality of video generated by this tool is top-notch and can be compared with others mentioned above. As for the generating speed, it's average.

Best Article for Video Converters - Renderforest
6. ArticleVideoRobot
This is one of the best ways to convert the article to video-free online. Article Video Robot is the world's first Video Robot; it is one of the few early software tools that can convert a plain-text article into a nice marketing video with animation, music, and graphics. Though not free, this app has it all: a fast generating speed, quality video outcome, automated conversion feature, impressive editing features, and lots more.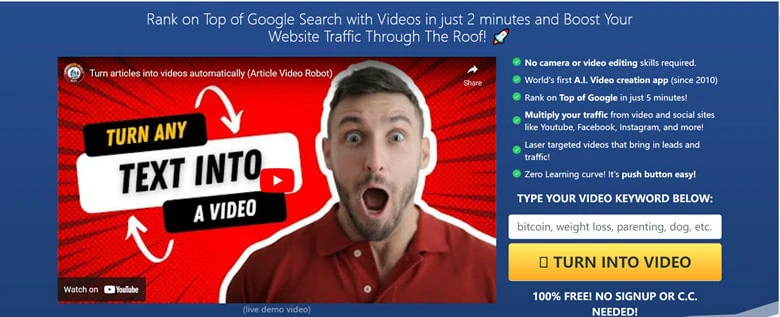 Best Article for Video Converters - ArticleVideoRobot
The Bottom Line
Video content creation is getting easier than we thought, considering the many innovations going on in that sector. But we must warn that the article-to-video process cannot measure up with the traditional method of video content creation. So, don't be stingy with this information; like and share this piece fir the sake of those that might need it. Cheers.