In this tutorial, we're going to show you how to add a mobile frame in videos easily with a free online video editor, FlexClip, which comes with various free phone mockup for you to frame your images and clips easily.
Sometimes adding borders or frames can change the style of a video. And if you add a device frame, such as the mobile phone frame, around an image or video clip, you can quickly give context and a professional look to your video.
Want to learn how to add a mobile frame or any other device frame to your video like the examples below? Continue to read this tutorial.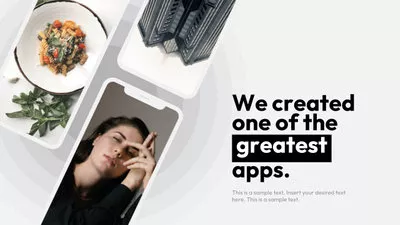 Mobile Frame App Promo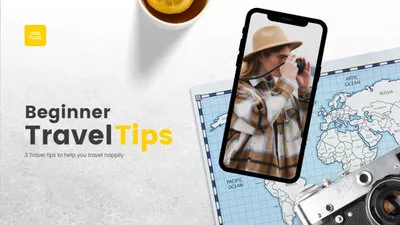 Travel Suggestions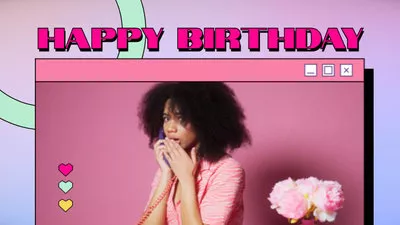 21st Birthday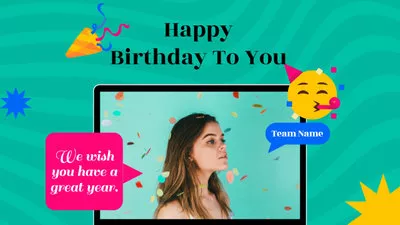 Birthday Wishes From Team
Also Read: How to Add Animated Subscribe Button to YouTube Videos >
How to Add a Mobile Frame to Video Online for Free
To add a mobile frame to video online for free, you can rely on a comprehensive video editor - FlexClip. This FREE video editor comes with various mockup frames and allows you to put image or video clip in the frame within simple steps.
FlexClip helps you easily add a mobile frame to your video in several ways. You can download a mobile phone frame png picture and add the phone frame to your video. Also, it's built with many free frame effects, including mobile phone mockup frames, pc or laptop mockup frames, and more. You can easily add a mobile phone mockup frame to your video or pictures in clicks.
Now let's get FlexClip for free and follow the steps below to add mobile frame and put your images or clips in the phone mockup:
Method 1. Use FlexClip's Free Built-in Mobile Phone Mockup Frames
The first way you can add the mobile phone frames to your video is using FlexClip's built-in mobile phone mockup frame elements. Check the simple steps below:
Step 1 Set the Background for Your Mobile Frame Video
Once you access the FlexClip editor, the first thing you need to do is set a background for your mobile frame video.
You can use your own footage or pick one from FlexClip's media library, and then Add as Scene to make it the background for your mobile frame video; or you can simply use a pure colored background by changing the color of the blank scene.
Add Mobile Phone Mockup Frames to Video - Set Background
Step 2 Add the Free Mobile Mockup Frames
Once the background got ready, it's time to add some mobile phone mockups to the background for framing your images or clips.
Go to the "Elements" tab, scroll down to find "Mask & Frame", click "See all" to browse through all the frames. Or you can search with related keywords in the Elements section to find your desired frame directly. Once you get the desired one, click it to add to the scene, then customize its size, position, etc.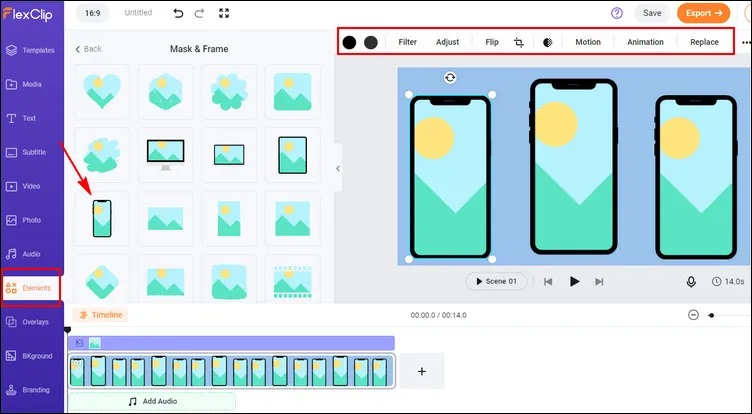 Add Mobile Phone Mockup Frames to Video - Select
Step 3 Put Your Video or Images in the Mobile Frame
Now, you can upload your pictures from yous computer, mobile, or some third-party platforms, like Dropbox, Google Drive, etc., and stat putting your video or images into the mobile phone mockup frames.
You can simply drag your footage from the Media library to the frame, or click the Replace icon on the top of the screen to select your video or image.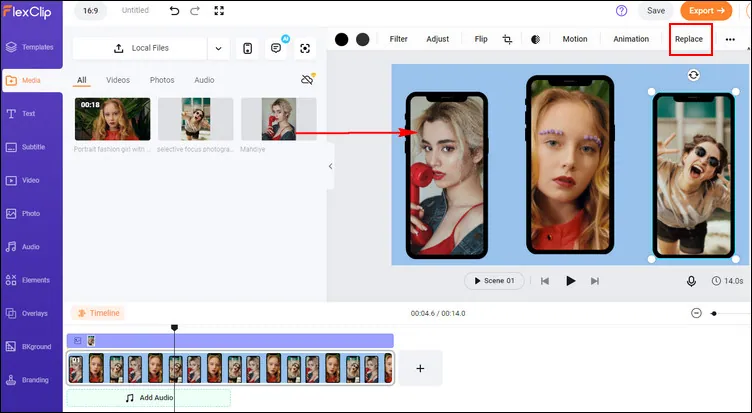 Add Mobile Phone Mockup Frames to Video - Insert Video
Method 2. Upload Your Own Mobile Phone Mockup Frame PNG or Any
Besides using the FlexClip's free built-in frame elements, you can also upload your own mobile phone frame image, and then add it to your video in clicks:
Step 1 Upload Your Mobile Frame Video Footage
Go to the Media section to upload your footage, including your video clip and the mobile frame image you want to use to frame your video. You can use a mobile frame png picture with transparent background or any image that shows a mobile frame, then apply it to the storyboard as a background.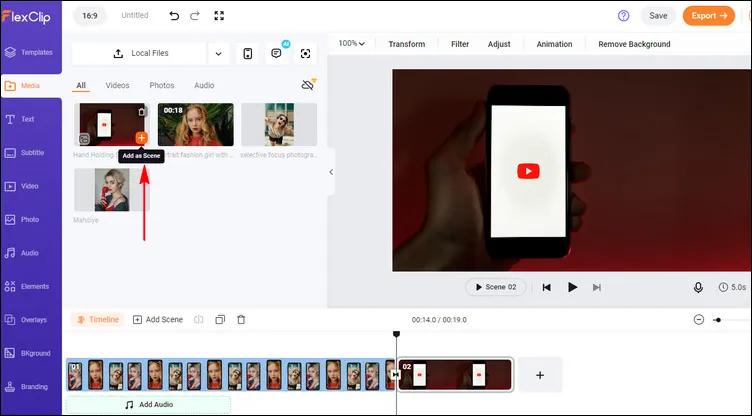 Add Mobile Frames to Video - Upload
Step 2 Put Your Video or Image on the Frame Image with PIP
Now, click the Add as Layer to add your footage to the background image as an overlay with the Picture in Picture feature. Also, remember to set the background image time duration here.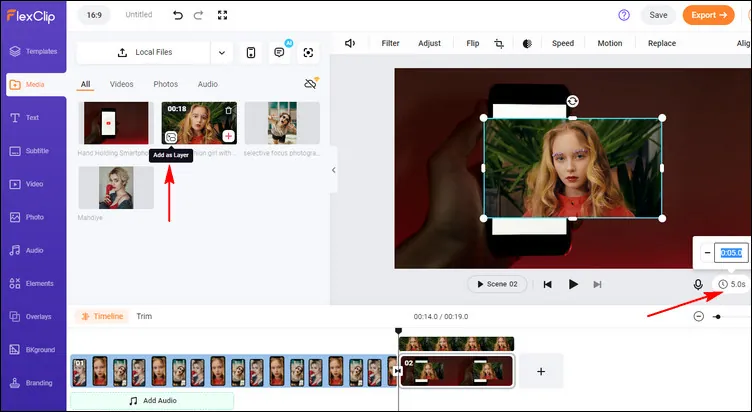 Add Mobile Frames to Video - Add Your Video or Image with PIP
Step 3 Customize Your Mobile Frame Video
Resize and crop the PIP overlay to fit the mobile frame, and place it in the mobile phone frame. Then customize it freely to make it pair perfectly with the phone frame.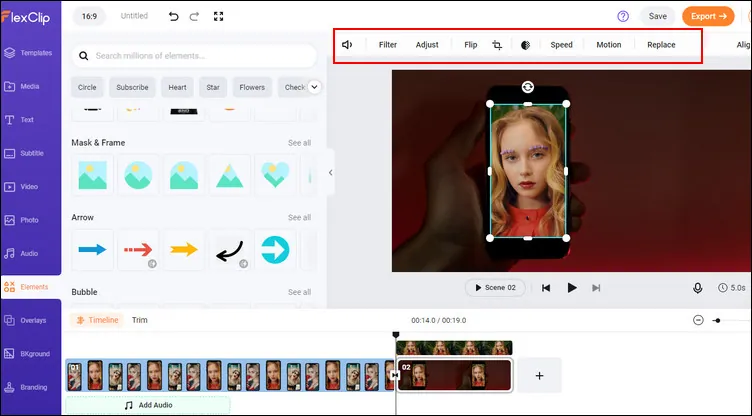 Add Mobile Frames to Video - Customize
Final Words
On this page, we have offered you two easy ways to add mobile phone mockup frames to your video using the free online video editor, FlexClip. It also offers advanced editing features to let you polish your videos. Just try it now for free!