Videos are created from a succession of frames and sometimes we'd like to extract frames from the video to create a thumbnail, a screenshot or the pip effect. For many of us, it seems hard to precisely get images from video in high quality. Don't worry, here we'll take you through 5 best ways to capture frames from your videos on computer, mobile and online. Let's explore it right now.
5 Easy Ways to Extract Frames from Video with High Quality
Also Interested: How to Remove Unwanted Objects from Video>>
Extract One Frame from Video Online for Free
Whether you want to create a thumbnail for your YouTube video or extract one frame from your video as a screenshot, FlexClip allows you to quickly extract high quality images from video online for free without any editing skills needed. Simply with a one-click operation, you can separate one frame from your video and save it as a JPG picture. You can extract as many frames as you want here. No watermark will be added and this tool is totally free!
Besides extracting images from videos, FlexClip stands out for its post-production edits like cropping images, adding text to pictures, AI image remover to change background, etc. All your image ideas can be turned into reality with this all-in-one video & video editor!
How to extract images from video online using FlexClip
Step 1
Upload your video from your computer or mobile to FlexClip. You can also drag and drop this video to the editor.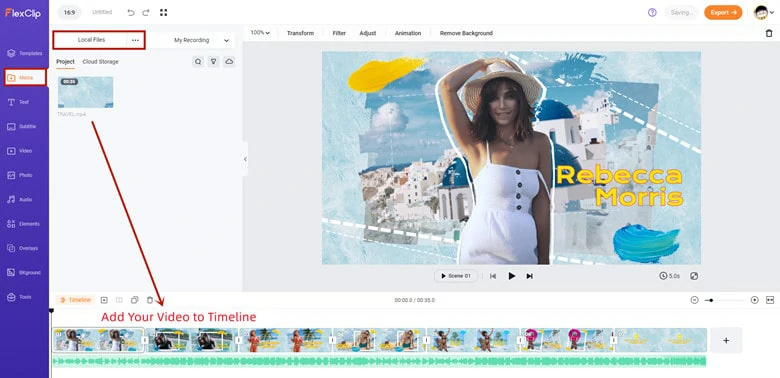 Import the Video You Want to Extract Frames from to FlexClip
Step 2
Move the playhead to the part you want to extract an image from. Once you've selected, right-click the clip and choose the Export Frame option. A window will pop up that asks you to determine the destination and name of the exported image.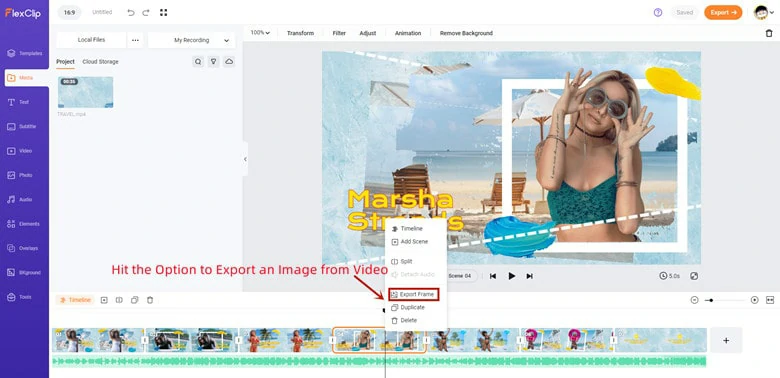 Extract One Frame from Video Using FlexClip
Step 3
When you're ready, hit the Save icon and FlexClip will instantly extract the desired frame for you. If you need more image frames, repeat the process until you're satisfied.
Besides still image extraction, FlexClip also has the ability to create a funny GIF from video in a matter of seconds or edit a photo collage with . It's an easy yet powerful tool to turn your imaginations into life!
How to Extract All Frames from Video on Windows
For Windows 10 users, exporting frames from video is easy with the help of the Photos app. What if you hold a computer running other system versions but still want to capture frames from your video? Here is the trick of using the VLC media player.
VLC is a top-notch media player supporting various video formats and can turn your videos into images in sequential order. Follow the instructions to do the same.
How to Export All Frames from Video Using VLC on Windows
Step 1
Before you use VLC to extract frames, it's necessary to trim the video to the exact part to save time. If you want to extract all frames from your video, directly upload it to VLC Media player.
Step 2
Create a file to save the extracted frames and copy the path. After that, open VLC with the admin right.
Step 3
Head to Tools > Preferences > Select All option at the bottom and in the new interface expand the Filters menu to select Scene Filter. In the Directory path prefix paste the folder path you've already created to save the frames.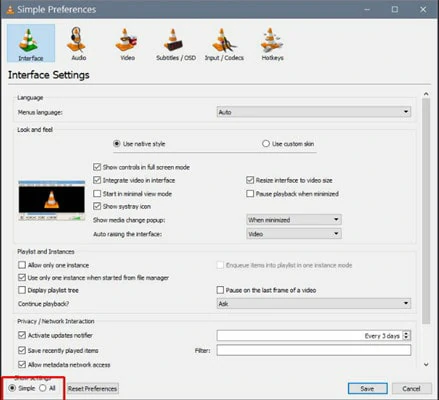 Make Settings of VLC to Extract Frames from Video
Step 4
Hit Media > open File > select your desired video and play it to the end. When it's over, you can check the frames at the specified folder.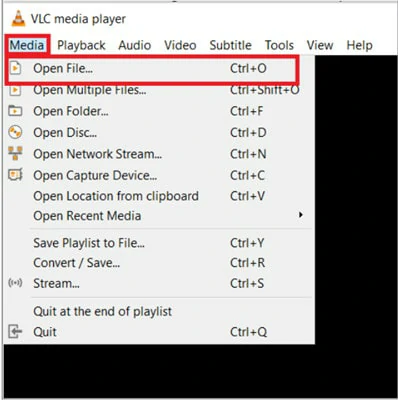 Play the Video and Check the Still Images
Note: If there's nothing in the folder, try to change the Recording ratio and repeat the process again.
How to Extract Photos from Video on Mac
There are a number of ways to take a still from video on Mac and Photos app is the freebie solution you can rely on. Below is the tutorial about how to extract frames from video on Mac using the macOS photos apps.
How to Take a Frame from Video Using Photos on Mac
Step 1
Use the Photos app to open your video and go into playback mode.
Step 2
Just play the video to the frame you wish to capture and hit the Settings icon on the playback controls bar. Here select the Export Frame to Pictures option to extract frames from your video.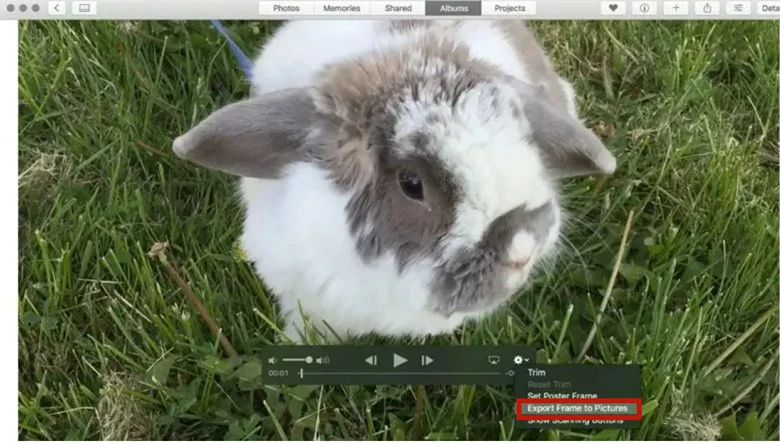 Extract Frames from Video on Mac
Step 3
The specific frame will be saved to the Pictures folder of your Mac as a TIFF image. It will be named as "Frame" followed the date and time it was exported.
How to Capture Still Images from Video on Android
Capturing pictures from video is much easier with a useful tool like Video to Photo. This application is trusted by millions of Android users, proven by 500k+ download volumes and 4.7/5 review rate. Using this tool, you can capture high-quality images from your video. What surprises users is the frame carouse and time interval capture features, helping you precisely get stills from your video in minutes. Check the steps below to see how it works.
Use Video to Photo App to Extract Frames from Video on Android
How to Get Frames from Video Using Video to Photo
Step 1
Download this software from Google Play and launch this application on your Android.
Step 2
Upload the frame you want to extract and you will be prompted to choose from Manual Capture and Time Interval Capture mode to launch the extract process.
Step 3
If you select the Time Interval Capture option, the video will be automatically divided into all the available frames. While for the manual feature, you need to swipe left and right to find the desired frame.
Step 4
When it's ready to extract frames from your video, tap the Save icon to get your pictures.
How to Get Still Images from Video on iPhone
Taking screenshots is a straightforward way to get still images from your video on iPhone. But sometimes the Pause icon may ruin your whole picture. So here we would like to introduce an image grabber called ImgPlay for iPhone users, which is a GIF maker and video editor for iPhone to help you grab still frames from video files snap. Follow the instructions below to get your images from video files.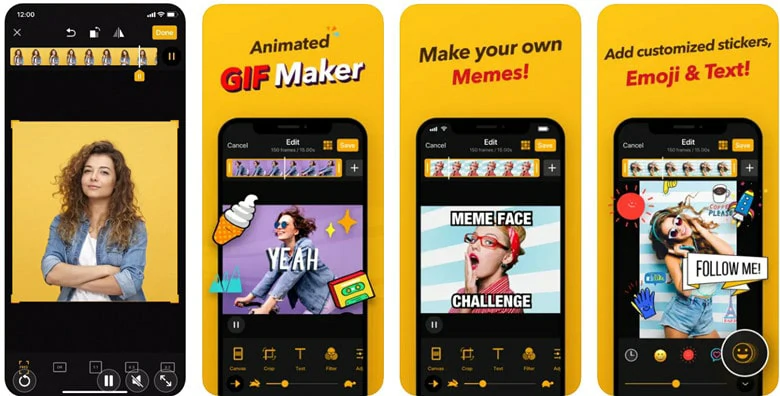 Use ImgPlay App to Extract Frames from Video on iPhone
How to Get a Photo from a Video on iPhone Using ImgPlay
Step 1
Open this app on your iPhone and here you need to choose Video as your source files option.
Step 2
Browse the video in your Photos and load it to this editor. You can use the
trimmer
to narrow down the search for the frames to export from the video if the video is very long.
Step 3
At the top right corner, you can find the Save button along with the Frame View button. Tap on Frame View to preview all frames and photos inside the video.
Step 4
Select the frame you wish to extract and then tap Share or Save > Save Image to save the video frame as image to Photos app on iPhone.
Step 5
The exported frames will be saved as PNG images on your iPhone.
The Bottom Line
That's all for how to extract frames from video on computer, mobile and online. If this tutorial is helpful, do share it across social media. Now pick your exact way to start capturing images from your videos now!